Customized Premix Market Size, Growth, Forecast (2023-2028)
The global Customized Premix Market size was assessed to be USD 955.3 million in 2022 and it is estimated that it will reach a valuation of USD 1.6 billion by the end of 2028 at a CAGR of 5.5% during the conjecture period. Customers prefer ready meals and convenient food, which is the driving force behind the worldwide customized premix market.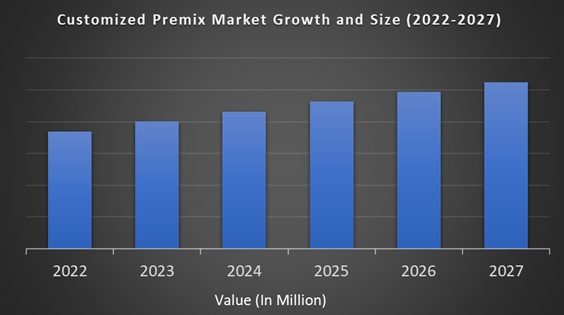 Market Overview:
Customized premixes, in general, integrates different components like minerals, amino acids, functional foods, vitamins, nucleotides, fiber and others. These are convenient to use as a single ingredient instead of multiple ingredients and are the best alternative to provide the nutrients you need. These ingredients combine all the macro and micronutrients to improve the nutritional value of the final product according to the needs of the consumer. People's changing and busy lifestyles have a serious impact on eating habits. It causes nutrient deficiencies in the body's basic vitamins and minerals and increases the prevalence of numerous diseases. Therefore, customized premixes turned out to be the best substitute to offer essential nutrients to the human body. It is a combination of both macro and micronutrients that promotes the nutritional aspects of the desired products. These customized premixes contain nutrients such as amino acids, neuro-functional foods, vitamins, minerals, herbs, and nucleotides.
Recent Developments in Customized Premix Industry:
In August 2019, Buddy Nutrition, a provider of custom food and nutritional supplements, launched a new protein premix solution. The custom protein powder has 7 flavors, including 10 booster supplements and 17 macro ingredients, with a selection of paleo and vegan options.

In February 2019, Glanbia Nutritionals announced the launch of the acquisition process for Watson, a producer of nutrition premixes. The company is strengthening its premix products by expanding a specially developed portfolio based on the combined premix products.
REPORT COVERAGE:
| | |
| --- | --- |
| REPORT METRIC | DETAILS |
| Market Size Available | 2022 – 2028 |
| Base Year | 2022 |
| Forecast Period | 2023 - 2028 |
| CAGR | 5.5% |
| Segments Covered | By Nutrient, Form, Application, Functionality and Region |
| Various Analyses Covered | Global, Regional & Country Level Analysis, Segment-Level Analysis, DROC, PESTLE Analysis, Porter's Five Forces Analysis, Competitive Landscape, Analyst Overview on Investment Opportunities |
| Regions Covered | North America, Europe, APAC, Latin America, Middle East & Africa |
| Market Leaders Profiled | Prinova Group LLC, SternVitamin GmbH & Co. KG, Koninklijke DSM N.V., Jubilant Life Sciences, Archer Daniels Midland Company, Fenchem, Glanbia plc, B&H Biotechnology Co. Ltd, Barentz, Farbest Brands, Lycored, Hexagon Nutrition, Archer Daniels Midland Company, WATSON-INC and Others. |
Customized Premix Market Growth:
Insufficient nutrient supply from food sources and a changing lifestyle lead to a lack of basic nutrients for the body and increase the prevalence of various chronic diseases. These custom premixes have become the best alternatives for supplying the nutrients you need.
Drivers:
The global market for customized premixes was expected to record significant growth during the forecast period as demand for customized premixes increased due to the availability of various nutrients in the form of a single product. Customized premixes are also available in a variety of blends, tastes, flavors, and colors, and are delivered based on the percentage of essential nutrients driving demand for customized premixes and the growth of the global customized premix market. The operational efficiencies of customized premix manufacturing, such as reduced component inventory, reduced quality control costs, supply chain complexity, and shorter lead times, lead to lower costs and custom premix prices and custom premixes on the global customized premix market include vitamins, amino acids, minerals, and nerves. It contains ingredients such as functional foods, nucleotides, and herbs. In a personalized premix, a large number of ingredients are combined to increase the nutritional value of the product according to the user's needs. The personalized premix offers all the desired macro and micronutrients in a single mixture and improves the nutritional value of the product.
Due to the busy lifestyle, people consume processed foods, which are expected to accelerate the growth of the global custom premix market. Advertising and promotional activities also enhance the global custom premix market. As consumer awareness of various nutritional products used in flavors, colors, textures, etc. increases, the demand for improved and functional foods is an important factor that is expected to drive the growth of the customized premix market throughout the world. In addition, there are factors that will drive growth in the target market as healthy and nutritious food increases the consumption of prepared food and the demand for packaged food worldwide. Other factors that are expected to accelerate growth in target markets to some extent, such as increased consumption of processed and ready-to-eat foods in developed and developing countries, increased urbanization, increased incomes and busy lifestyles. People eat packaged foods due to their busy lifestyles, which is supposed to drive the growth of the customized premix industry worldwide. Advertising and promotional campaigns are now driving global demand for customized premixes. Better awareness of proteins and other essential nutrients for health is assumed to play an important role in personalized demand for premixes. Retail penetration is presumed to play a crucial role in increasing sales of these products. As the propensity for health-based foods to increase among consumers and investment in R&D activities in the food sector increases, new revenue opportunities are anticipated for manufacturers functioning in this market.
Restraints:
The high cost of fortified products and incorrect food labeling are key factors that can hinder the growth of the target market to some extent. However, the market debate about the real benefits of custom premixes may hinder the demand for custom premixes and limit the growth of the global market for custom premixes. Few false claims from manufacturers about product ingredients and their applications can distract consumers and slow the growth of the global market for customized premixes.
Customized Premix Market Segmentation Analysis:
By Nutrient:
Vitamins

Minerals

Amino Acids

Nucleotides
By Form:
By Application:
Beverages

Dairy Products

Cereals

Bakery and Confectionary

Nutritional Products

Dietary Supplements
By Functionality:
Bone Health

Skin Health

Energy

Immunity

Digestion
Geographical Segmentation Analysis:
North America - the United States and Canada

Europe - United Kingdom, Spain, Germany, Italy, and France

The Asia Pacific - India, Japan, China, Australia, Singapore, Malaysia, South Korea, New Zealand, and Southeast Asia

Latin America - Brazil, Argentina, Mexico, and Rest of LATAM

The Middle East and Africa - Africa and Middle East (Saudi Arabia, UAE, Lebanon, Jordan, Cyprus)
Regional Analysis:
In terms of geography, the global customized premix market is divided into the regions of North America, Latin America, Europe, Asia Pacific (APAC), and the Middle East and Africa (MEA). North America has contributed key actions in the global market in terms of revenue. The customized premix market in North America is believed to have the largest revenue share contribution and is foreseen to dominate the global market. This advantage is attributed to increased awareness of healthy diets, particularly increased consumption of processed foods due to the poor lifestyle in the United States, along with increased adoption of personalized premixes in the food sector. In addition, the Asia Pacific region has the largest market share of customized premixes as awareness of the health benefits of customized premixes increase and demand for premixes increases.
Asia Pacific is the fastest-growing region of custom premixes as consumer demand for functional foods increases. Additionally, the changing lifestyle of our customers is increasing the demand for food with certain health benefits in the Asia Pacific region. In addition, the increase in imports, purchasing power, and consumer demand for nutritional and health products offer a promising prospect for growth and diversification in the region's food sector. Also, the diversification of eating habits by the Chinese and the Indians will contribute to the growth of the global customized premix market. Europe has registered a slight downward trend in the global market for the last few years. The Latin American and MEA regions are in their infancy and have the lowest market share of customized premixes in terms of sales volume due to low demand from various developing nations in the Middle East and Africa.
Key Players in the Market:
Major Key Players in the Global Customized Premix Market are
Prinova Group LLC.

SternVitamin GmbH & Co. KG

Koninklijke DSM N.V.

Jubilant Life Sciences

Archer Daniels Midland Company

Fenchem

Glanbia plc.

B&H Biotechnology Co. Ltd.

Barentz

Farbest Brands

Lycored

Hexagon Nutrition Pvt. Ltd.

Archer Daniels Midland Company

WATSON-INC