Bioactive Ingredients Market Size, Growth (2023-2028)
The global Bioactive Ingredients Market size was worth USD 27 billion in 2022, and it is estimated to reach a valuation of USD 51.71 billion by the end of 2028, rising at a CAGR of 7.1% during the forecast period. Increased resistance mania among people is likely to boost demand for bioactive ingredients market products.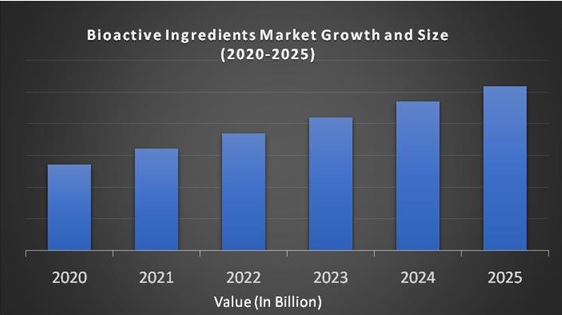 Market Overview:
Bioactive ingredients are naturally occurring essential compounds like prebiotics, amino acids, vitamins and omega-three fatty acids, used in the food and having a positive effect on human and animal health. Bioactive ingredients are food ingredients that have a biological effect on living tissue. They are a type of biomolecules that aid in the metabolic processes of healthy molecules added to food and ingredients. This also plays a vital role in solving the problem of inadequate intake of nutritious food and the inability to maintain a balanced diet. The primary sources of biologically active ingredients are plants, animals, and microorganisms.
Bioactive ingredients are widely applied in the food and beverage industry, pharmaceutical and functional food, personal care products and animal feed. This compound is used in functional foods to treat a variety of chronic diseases like arthritis and diabetes. Bioactive ingredients, such as carotenoids, essential oils, and antioxidants, are increasingly adopted into meals to enhance sensory characteristics or produce nutritional features. The results of several studies have established a relationship between certain bioactive compounds and their effects on various chronic disorders such as hypertension, diabetes, cancer and heart disease.
Recent Developments in Bioactive Ingredients Industry:
BASF SE introduced a new range of bioactive ingredients in June 2019, which can be used in the beauty business. The launch of this product uses rambutan to hydrate, revitalize and revitalize the skin. This program provides above-average income to producers who offer health insurance.

Ingredion Incorporated acquired Penford Corporation, specializing in the production of specialty materials for food and non-food applications.

In April 2019, Lonza launched the H2OBioEVBioactive ingredient used for skin rejuvenation. A multifunctional cosmetic ingredient that rejuvenates and rejuvenates the skin. This launch will help the company expand its business in the cosmetic market.
REPORT COVERAGE:
| | |
| --- | --- |
| REPORT METRIC | DETAILS |
| Market Size Available | 2022 – 2028 |
| Base Year | 2022 |
| Forecast Period | 2023 - 2028 |
| CAGR | 7.1% |
| Segments Covered | By Product, Application, Sources and Region |
| Various Analyses Covered | Global, Regional & Country Level Analysis, Segment-Level Analysis, DROC, PESTLE Analysis, Porter's Five Forces Analysis, Competitive Landscape, Analyst Overview on Investment Opportunities |
| Regions Covered | North America, Europe, APAC, Latin America, Middle East & Africa |
| Market Leaders Profiled | Cargill, Archer Daniels Midland Company, Koninklijke DSM N.V., AJINOMOTO CO. INC, Ingredion Incorporated, BASF SE, Sabinsa Corporation, Arla Foods amba, E. I. du Pont de Nemours and Company, FMC Corporation, Roquette Frères, Nuritas, Mazza Innovation Ltd, Vytrus Biotech, Kuehnle AgroSystems and Others. |
Bioactive Ingredients Market Growth:
The increase in disposable income, along with increased consumer awareness of health, is assumed to help the global Bioactive Ingredients Market.
Drivers:
Increased health awareness, coupled with an increased interest in consumer health, is presumed to drive sales across the industry. Today, people are well aware of maintaining a balanced diet with the proper content of essential nutrients. Consumers are also aware of health, treatment, and disease prevention. Recently, the demand for bioactive ingredients has increased, and this trend is expected to continue throughout the outlook period. People are more concerned about health. They want to lead an active lifestyle without illness or disease, and bioactive ingredients fill this need. Increased awareness of the use of external components or products to meet the body's needs. This increased awareness is supporting the growth of the market. The global market for bioactive ingredients and products is anticipated to lead to innovative products due to increasing health problems and continued research and development in the field of bioactive ingredients.
As older people are more vulnerable to various chronic diseases, an aging population worldwide is suspected of leading the market, so it is best to follow a healthy diet. Since doctors generally prescribe bioactive foods to patients suffering from the chronic diseases mentioned above, the incidence of various chronic diseases such as cancer, diabetes and hypertension is also expected to lead the market for bioactive ingredients and products. Improving foods and beverages with ingredients that provide nutritional benefits without making a significant change in taste is a major factor driving the demand for bioactive ingredients in vitamins, minerals, proteins, and other high-end industries. The bioactive food category is gaining considerable attention due to possible proposals for health benefits.
They are beneficial for enhancing endothelial function, boosting intestinal microbial diversity, reducing bone loss, and improving cognitive function as a whole. Also, it is used in food for the proper growth and development of bioactive ingredients in animals, promoting the growth of the worldwide bioactive ingredient market. With the growing demand for bioactive components in the production of functional foods and beverages and alcoholic beverages, the growth of the global bioactive ingredients market is further accelerated.
Restraints:
Rigorous regulations on increasing management costs, treatment side effects, and approval of new products by governing bodies are some of the limitations of the global market for bioactive ingredients and products. Complex extraction and manufacturing processes are key factors expected to hinder the growth of the global bioactive ingredient business during the projection period.
Bioactive Ingredients Market Segmentation Analysis:
By Product:
Fibre

Vitamin

Probiotic

Prebiotic & Amino Acid

Cartenoids

Phytoextract

Omega 3 Fatty Acid

Others
By Application:
Food & Beverages

Dietary Supplements

Cosmetics

Animal Feed

Pharmaceuticals
By Sources:
Geographical Segmentation Analysis:
North America - the United States and Canada

Europe - United Kingdom, Spain, Germany, Italy, and France

The Asia Pacific - India, Japan, China, Australia, Singapore, Malaysia, South Korea, New Zealand, and Southeast Asia

Latin America - Brazil, Argentina, Mexico, and Rest of LATAM

The Middle East and Africa - Africa and Middle East (Saudi Arabia, UAE, Lebanon, Jordan, Cyprus)
Regional Analysis:
Geographically, the global bioactive ingredients and products market are categorized in the areas of North America, Europe, Latin America, Asia Pacific, and Middle East and Africa. North America is an essential market for bioactive ingredients. Due to the high awareness of people and doctors about the use of bioactive food and beverages in the region, it is leading the global market. Additionally, local markets can witness steady growth in 3-4 years as manufacturers focus on producing healthy nutrients in the form of solid and liquid foods and beverages. Europe and the Asia Pacific follow North America. Increased energy consumption, globalization, and lifestyle changes in the Asia Pacific region are foreseen to increase demand for bioactive ingredients in food. Furthermore, raising awareness of the benefits of bioactive components in several countries, including China, India, Indonesia, Malaysia and Japan, is expected to spur the growth of these ingredients in the food and beverage industry in the next eight years. Along with spending on R&D operations to develop new additives in Europe, market entry for functional food producers is estimated to stimulate demand for bioactive ingredients in the near future.
The increase in disposable income along with demand for dietary supplements and functional foods and beverages are presumed to help the market grow. Recent Chinese medicine has also been carried out in the biosynthesis of bioactive ingredients for Chinese medicinal plants. Plants have been a rich source for drug discovery and cosmetic applications. Potential markets in South America are mainly driven by better performance in Brazil and Argentina. Brazil is the promising regional business for bioactive ingredients in Latin America due to the rising applications in the sectors like food and beverage, beauty and personal care products The bioactive ingredients found in various cuisines of marine origin in Argentina have been shown to have protective properties in relation to hypertension, oxidative stress, inflammation, cardiovascular disease, cancer and other human diseases.
Key Players in the Market:
Major Key Players in the Global Bioactive Ingredients Market are
Cargill (U.S)

Archer Daniels Midland Company (US)

Koninklijke DSM N.V. (Netherlands)

AJINOMOTO CO. INC (Japan)

Ingredion Incorporated (US)

BASF SE (Germany)

Sabinsa Corporation (US)

Arla Foods amba (Denmark)

E. I. du Pont de Nemours and Company (US)

FMC Corporation (US)

Roquette Frères (France)

Nuritas (Ireland)

Mazza Innovation Ltd (Canada)

Vytrus Biotech (Spain)

Kuehnle AgroSystems (US)