Organic Acids Market Growth and Forecast (2023 - 2028):
The global organic acids market Size was estimated to be USD19.5 billion in 2022 and is estimated to reach around USD 31.5 billion by 2028, registering a growth rate of around 8% from 2023 to 2028. The overall market is expanding with the rising use of organic acids in different applications like food and beverages, personal care, and pharmaceutical sectors.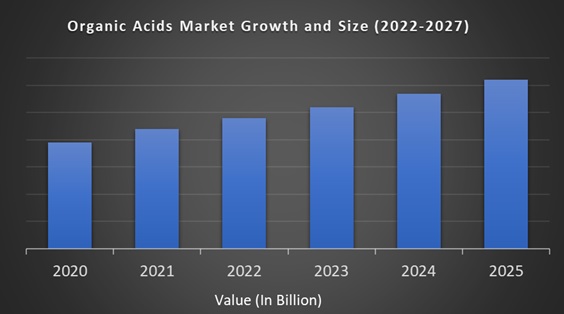 Market Overview:
Organic compounds that have acidity are known as organic acids. Commonly known organic acids are associated with carboxyl -COOH groups whose acidity is inhibited by them. Sulfonic acids, that is, acids with -SO2OH groups, are relatively strong acids. Also, alcohols that have -OH groups can act as acids, but they are relatively weak acids. Its relative stability determines the acidity of the conjugate base of an acid. Uric acid, acetic acid, citric acid, and lactic acid are commonly available organic acids. They are used in various commercial applications, such as colorants, surfactant catalysts, and others. Formaldehyde can be used as an antibacterial agent, but glycerin is used as an energy source in the production of organic acid. Very few organic acids are obtained from the fermentation process of numerous microorganisms and are widely used in the food and beverage industry. Sulfuric acid, proteins, amino acids, acid salts, oils, enzymes, and other raw materials are used in the production of organic acids. Some of the prominent end-user industries in this business are pharmaceutical, food and beverage, textile and adhesive, petrochemical and others.
Recent Developments in Organic Acids Industry:
In November 2018, Celanese Corporation, a chemical and specialty products company, announced that it would expand its acetic acid production facility in Clear Lake, Texas from 1.3 million to 2 million tons by the end of 2021, allowing it to the company reduce production costs. As a synthesis gas, it is the primary raw material for acetic acid.

In May 2019, BASF-YPC, a 50:50 joint venture in Nanjing, China, announced that it had launched a 30-kiloton propionic acid production plant. The total production capacity of both factories increased to 69 kilotons per year.

In July 2019, Royal DSM, a science-based company in the field of nutrition, health and sustainable living, announced an upgrade of its Vitamin C (Ascorbic Acid) facility in Changshan, China, to improve quality, safety, sustainability and production efficiency.
REPORT COVERAGE:
| | |
| --- | --- |
| REPORT METRIC | DETAILS |
| Market Size Available | 2022 – 2028 |
| Base Year | 2022 |
| Forecast Period | 2023 - 2028 |
| CAGR | 8% |
| Segments Covered | By Type, Application and Region |
| Various Analyses Covered | Global, Regional & Country Level Analysis, Segment-Level Analysis, DROC, PESTLE Analysis, Porter's Five Forces Analysis, Competitive Landscape, Analyst Overview on Investment Opportunities |
| Regions Covered | North America, Europe, APAC, Latin America, Middle East & Africa |
| Market Leaders Profiled | Archer Daniels Midland Company, Eastman Chemical Company, Corbion, Myriant Corporation, Cargill, BASF SE, Dow Chemical Company, Henan Jindan Lactic Acid Technology, Polynt-Reichhold, Tate & Lyle, Koninklijke DSM N.V, E.I. Du Pont De Nemours & Company and Others. |
Organic Acids Market Growth:
The growing demand for prepared foods and technological innovation and the creation of organic acid from valuable renewable sources are other factors driving the growth of the market.
Drivers:
The increasing use of organic acids in a variety of applications is a significant driver of growth for the organic acid market worldwide. In industrial applications such as dyes, surfactants and catalysts, the increased demand for organic acids is another factor supporting the growth of the global market. Some types of organic acids are used in fermentation processes in the food industry. The growth of the desired food and beverage industry is another factor driving growth in the target market. In addition, growth in the pharmaceutical industry, coupled with increased microencapsulation, is expected to accelerate growth in the global organic acid market during the projection period. The food and beverage industry is one of the leading end-users of organic acids. A growing world population with GDP growth will increase the demand for organic acids in the coming years. Furthermore, as the use of organic acids in various medications such as aspirin and phenacetin increase, the high growth observed in the pharmaceutical industry is expected to adjust well to the market.
Meanwhile, the demand for organic acids will continue to increase in the food and beverage industry due to the increased production of soft drinks and various food products. Organic acids are well suited for use in the food and beverage industry. Acetic acid accounted for most of the demand for organic acid. Due to its antibacterial and antifungal properties, increased use in the food and beverage industry is a significant growth attribute of the market.
Moreover, in the bakery and confectionery industry, acetic acid and citric acid play a pivotal role in restricting the growth of fungi and bacteria. In addition to being used for antibacterial and antifungal properties, organic acids are useful for controlling acidity and are used in many foods as preservatives, antioxidants, and flavor enhancers. The demand for organic acids is highly dependent on the food and beverage market, the largest end-use industry for organic acids. Therefore, regional population growth and GDP growth are among the main factors that affect the demand for organic acid. The rapid extension of the pharmaceutical industry is also one of the main factors driving the demand for organic acids. As research and development to produce efficient organic acids from sources of biological origin increases, there are assumed to be great opportunities for growth in the market.
Restraints:
Changes in raw material prices are presumed to hamper the growth of the global organic acid market. The production of synthetic organic acids from non-renewable sources (simultaneous fermentation and product recovery) creates a dangerous environment and creates strict regulations on use, limiting market growth.
Organic Acids Market Segmentation Analysis:
By Type:
Acetic Acid

Citric Acid

Formic Acid

Lactic Acid

Propionic Acid

Ascorbic Acid

Gluconic Acid

Fumaric Acid

Malic Acid

Other Acids
By Application:
Food & Beverages

Feed

Pharmaceuticals

Industrial
Geographical Segmentation Analysis:
North America - the United States and Canada

Europe - United Kingdom, Spain, Germany, Italy, and France

The Asia Pacific - India, Japan, China, Australia, Singapore, Malaysia, South Korea, New Zealand, and Southeast Asia

Latin America - Brazil, Argentina, Mexico, and Rest of LATAM

The Middle East and Africa - Africa and Middle East (Saudi Arabia, UAE, Lebanon, Jordan, Cyprus)
Regional Analysis:
Markets in the Asia Pacific region dominate the global organic acids market in terms of revenue and are expected to witness the fastest growth during the outlook period. Asia-Pacific held the ruling portion of the global organic acid market, and the same is anticipated to continue over the prophesized period. The Asia Pacific region is made up of India and China, the two largest countries in terms of population, one of the main factors driving demand for organic acid in the Asia Pacific region. Also, high growth in emerging economies in the Asia-Pacific is expected to drive market growth in various end-user industries, such as pharmaceuticals, food and beverages. Therefore, Asia Pacific is presumed to be the region with the highest demand for organic acid.
Growth in the North American and European markets slowed as the number of regulations to control the use of various synthetic organic acids increased. Bio-based organic acids are foreseen to propel market growth in both North America and Europe. A growing awareness of the benefits of organic acids among consumers is a crucial factor in promoting the growth of target markets in the region. Market North America expects to see a high growth rate in terms of income in the near future, followed by Europe. The presence of major regional players and a large number of existing food processing industries are factors driving growth in the organic acid market in North America.
Key Players in the Market:
Major Key Players in the Global Organic Acids Market are
Archer Daniels Midland Company (U.S.)

Eastman Chemical Company (U.S.)

Corbion (Netherlands)

Myriant Corporation (U.S.)

Cargill (U.S.)

BASF SE (Germany)

Dow Chemical Company (U.S.)

Henan Jindan Lactic Acid Technology Co. Ltd (China)

Polynt-Reichhold (Italy)

Tate & Lyle (U.K.)

Koninklijke DSM N.V. (Netherlands)

E.I. Du Pont De Nemours & Company (U.S.)