Confectionery Market Size and Value Analysis Report 2021-2026:
Confectionery Market size was estimated at USD 184.05 billion in 2019 and is anticipated to reach an extent of USD 232.08 billion by the end of the assessment period, to record a CAGR of 3.4% throughout the estimated period 2021-2026. Our research study includes the confectionery market size, growth, value, company analysis, SWOT analysis, and competitive landscape analysis.
CONFECTIONERY MARKET REPORT COVERAGE:
| | |
| --- | --- |
| REPORT METRIC | DETAILS |
| Market Size Available | 2020 – 2026 |
| Base Year | 2020 |
| Forecast Period | 2021 - 2026 |
| CAGR | 3.4% |
| Segments Covered | By Type, By Distribution Channel, and By Region |
| Various Analyses Covered | Global, Regional & Country Level Analysis, Segment-Level Analysis, DROC, PESTLE Analysis, Porter's Five Forces Analysis, Competitive Landscape, Analyst Overview on Investment Opportunities |
| Regions Covered | North America, Europe, APAC, Latin America, Middle East & Africa |
| Market Leaders Profiled | Brookside Foods, The Hershey Company, Crown Confectionery, Yildiz Holding, Petra Foods, Kegg's Candies, Perfetti Van Melle, United Confectionery Manufacturers, HARIBO Dunhills PLC, Cadbury Ferrero Group, Kraft Foods, Parle Products Pvt., Nestlé S.A., MondelÄ"z International, Ltd, and Mars Incorporated |
The confectionery market comprises an array of food products such as chocolates, raw pastes, and various sugar-based products. In addition, it includes therapeutic and dietetic confectioneries that differ in formulations from traditional confections. The preferred type of confectioneries often differs according to the geographical regions due to differences in regulatory norms and other factors such as the economy and taste & preference of customers.
Introduction of odor sensations, a combination of liquid & solid flavors, and energy boosts in confectionery products drive the growth and development of the global confectionery market. A wide range of confectionery products is vented through various retail channels such as hypermarkets, supermarkets, convenience stores, discounters, forecourt retailers, and grocery stores. These stores act as a global marketing tool, assisting in building an impressive brand image and raise brand exposure to a wide variety of products.
Sugar is the key ingredient responsible for the prevalence of obesity and diabetes making this the primary restraint of this market. Primary raw materials used in confectionery production are sugar and cocoa. Cocoa prices are unstable and can be affected by a series of factors, like political instability, extreme weather, and pests & disease. Additionally, an increase in the supply-demand gap in the chocolate industry has increased the prices of cocoa beans. Sugar prices grew owing to less production and more demand.
Recent Developments in Confectionery Market:
In May 2018, the Barry Callebaut group opened the first Chocolate Academy center in Johannesburg, South Africa, to meet the growing demand for chocolate confectionery products and understand the needs of the country's consumers.

In December 2018, CPC introduced three novel chocolate products in the marketplace. Products include Goldentree Premium chocolate, Goldentree Heritage artisan chocolate, and Goldentree Nuttychoc to meet the growing demand for premium chocolates on the world market.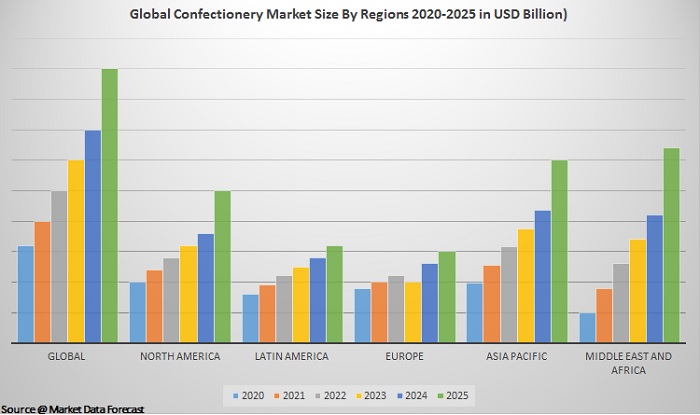 Market Drivers and Restraints:
The increasing modernization and the hectic combination of professional and personal obligations are some of the main factors that trigger the demand for practical snacks as part of the daily diet. The busy lives of consumers do not allow them to spend time cooking and dining outside during work hours, leading them to search for food products that are easy and quick to eat. The number of consumers in the workplace is increasing today and it is increasingly difficult to maintain a healthy balance between work and personal life. Therefore, manufacturers and merchants are capitalizing heavily on introducing and promoting a variety of chocolate snacks, such as take-out snacks, chocolate bars, and the like to provide consumers with healthy food. They also focus on practical, small packaging offerings that allow consumers to carry candy and bars in their bags. Chocolate is one of the most consumed products worldwide and is associated with many health benefits. For example, it is a rich source of antioxidants that improves insulin sensitivity and lowers blood pressure. Therefore, a growing association of chocolates with youth and other working populations around the world is expected to drive confectionery market growth during the forecast period.
Improvements in the lifestyles of consumers around the world are also undergoing a radical change, particularly in their diet and daily health. As a result of these changes, various lifestyle-related diseases have developed, such as diabetes, blood pressure, and others. Obesity, overweight, and the diseases associated with them are becoming a serious concern among consumers, posing major challenges to the sustainability of health systems worldwide. Consumers are increasingly shifting their preferences to low-calorie, sugar-free food products to eliminate these diseases. Growing health concerns have led to a reduction in sugar consumption among consumers. As a result, the demand for sugar-free chocolates is increasing and should continue to grow in the coming years. Demand for healthier snacks, as well as taste and sensory benefits among consumers, is increasing, which has led to the popularity of organic snacks and confectionery products worldwide. Consumers are increasingly interested in organic products, which opens up many opportunities in the confectionery sector. The organic chocolate segment is experiencing decent growth in the global market and is gaining popularity with consumers. Manufacturers' reinforced efforts to meet the market demand for organic chocolate are ensuring the growth of the world market in the near future.
Cocoa and sugar are important raw materials that are mainly used for the production of confectionery products worldwide. The price of sugar and cocoa has fluctuated in recent years, as its production and demand vary rapidly on the world market. Cocoa and sugar yields are affected due to adverse weather conditions, crop diseases, labor availability, stock indexes, and other economic factors that hinder demand and its offer in the market. Consequently, the average annual price of raw materials varies from low to high and results in a surplus or a sub-reserve for the production of confectionery products on the market. Consequently, fluctuations in raw material prices are expected to decrease the entire market in the coming years.
Confectionery Market Segmentation:
The market segmentation for Confectionery can be divided based on the Type and Distribution channel.
Based on Type:
The chocolate candy segment is the leading segment worldwide and has immense growth potential in developing economies. The increase in disposable income and the constant growth of developing economies are some of the main factors that drive the demand for various chocolates on the world market.
Based on Distribution Channel:
Online Retails

Departmental Stores

Convenience Stores

Hypermarket/Supermarket
Supermarkets/hypermarkets are receiving a great response from consumers around the world. The increasing consumer dependence on these facilities, the freedom of selection, the widest range of products, and the group offerings offered by supermarkets have led to an increase in the number of feet on the ground. Consumers prefer to buy groceries in bulk over a given period due to their busy and busy schedules. Therefore, supermarkets/hypermarkets offer a convenient shopping experience to consumers under one roof.
Separate sections in supermarkets/hypermarkets provide an easy way for consumers to purchase chocolates and other confectionery. The rapid emergence of these points of sale worldwide should contribute significantly to generating income from confectionery products on the market. However, manufacturers are also focusing on small packages for middle-class consumers around the world, promoting the sale of candy in convenience stores, online stores, and department stores.
Regional Analysis:
The Confectionery market has been divided into North America, Asia Pacific, Europe, Latin America, and the Middle East and Africa.
The confectionery market is largely driven by the high consumption of chocolates and sweets in North America. Consumers are intensely looking for quality and higher quality chocolates than standard confectionery products, due to their higher taste preferences and permissive eating habits. The United States is one of the main markets where consumers are willing to spend on homemade confectionery products that improve the appearance of the products and increase their palatability. Europe Confectionery market is slightly saturated but has the highest value sales among the other regions. Confectionery is the most popular type of snack in some European countries, including the United Kingdom, Germany, and Austria. These countries should consume 5 times the world average.
The Asia Pacific is one of the fastest-growing regions and is emerging with immense potential for chocolate products worldwide. Rapid urbanization, increasing disposable income, a young and dynamic population, and the easy availability of confectionery products in consumer packaging are the main reasons for the growth of the regional market. Manufacturers are taking advantage of these opportunities by fully capitalizing on plant expansions and mergers and acquisitions with regional players. The increasing popularity, acceptance, and technological advancement of these products for consumers should be the important factors driving growth in the general market during the forecast period. On the other hand, slow growth is observed throughout the forecast period in South America, due to factors such as poor economic conditions, consumer health problems, and certain legislative challenges. However, the region should show a high preference for chocolate confectionery over sugar, as it is perceived to be of high quality.
Impact of COVID-19 on Confectionery Market:
The coronavirus pandemic had an adverse effect on all stages of the supply and value chain of several industries. In fact, according to Fortune.com, about 94% of Fortune 1000 manufacturers are affected by coronavirus disruptions. Food and beverages are among the industries that are currently experiencing impacts as a result of the epidemic, declared a pandemic by the World Health Organization (WHO) on March 11, 2020. Globally, the food and beverage sector is expected to experience the differential impact of this quick-release COVID-19 at each stage of its value chain through affected workers at the industrial level, the supply of raw materials (products agricultural, food ingredients, and intermediate foods), trade and logistics, the volatility of supply and uncertain consumer demand at food outlets, among other factors. The affected workforce on farms, food and beverage production and processing plants, and the distribution network are analyzed to risk promoting the COVID-19 epidemic, the transmission of which can occur during various coordination activities. There is also a potential risk that the virus will spread through outbound products, leading to food security problems, when a trade occurs between geographic areas and different stages of the supply chain, resulting in a shortage of manpower working. The corporate workforce is also at high risk of being affected, due to its constant exposure to different industry stakeholders, interaction with potentially affected audiences, and contacts with people affected by the coronavirus. Travel bans imposed by more than one country are also a contributing factor, affecting the availability of essential personnel required to make key decisions. Labor can potentially affect business plans and industrial production of food and beverages.
Leading Company
The Hershey Company had the largest share of the Confectionery Market in terms of sales revenue in 2015.
Key Players:
Key players in the Confectionery Market include
Brookside Foods

The Hershey Company

Crown Confectionery

Yildiz Holding

Petra Foods

Kegg's Candies

Perfetti Van Melle

United Confectionery Manufacturers

HARIBO Dunhills PLC

Cadbury

Ferrero Group

Kraft Foods

Parle Products Pvt.

Nestlé S.A.

Mondelēz International, Ltd

Mars Incorporated
1. Introduction
1.1 Market Definition
1.2 Scope of the report
1.3 Study Assumptions
1.4 Base Currency, Base Year and Forecast Periods
2. Research Methodology
2.1 Analysis Design
2.2 Research Phases
2.2.1 Secondary Research
2.2.2 Primary Research
2.2.3 Data Modelling
2.2.4 Expert Validation
2.3 Study Timeline
3. Report Overview
3.1 Executive Summary
3.2 Key Inferencees
4. Market Dynamics
4.1 Impact Analysis
4.1.1 Drivers
4.1.2 Restaints
4.1.3 Opportunities
4.2 Regulatory Environment
4.3 Technology Timeline & Recent Trends
5. Competitor Benchmarking Analysis
5.1 Key Player Benchmarking
5.1.1 Market share analysis
5.1.2 Products/Service
5.1.3 Regional Presence
5.2 Mergers & Acquistion Landscape
5.3 Joint Ventures & Collaborations
6. Market Segmentation
6.1 Confectionery Market, By Type
6.1.1 Gums
6.1.2 Sugar
6.1.3 Chocolate
6.1.4 Market Size Estimations & Forecasts (2019-2024)
6.1.5 Y-o-Y Growth Rate Analysis
6.1.6 Market Attractiveness Index
6.2 Confectionery Market, By Distribution Channel
6.2.1 Online Retails
6.2.2 Departmental Stores
6.2.3 Convenience Stores
6.2.4 Hypermarket/Supermarket
6.2.5 Market Size Estimations & Forecasts (2019-2024)
6.2.6 Y-o-Y Growth Rate Analysis
6.2.7 Market Attractiveness Index
7. Geographical Landscape
7.1 Global Identity Governance and Administration Market, by Region
7.2 North America - Market Analysis (2018 - 2024)
7.2.1 By Country
7.2.1.1 USA
7.2.1.2 Canada
7.2.2 By Type
7.2.3 By Distribution Channel
7.3 Europe
7.3.1 By Country
7.3.1.1 UK
7.3.1.2 France
7.3.1.3 Germany
7.3.1.4 Spain
7.3.1.5 Italy
7.3.1.6 Rest of Europe
7.3.2 By Type
7.3.3 By Distribution Channel
7.4 Asia Pacific
7.4.1 By Country
7.4.1.1 China
7.4.1.2 India
7.4.1.3 Japan
7.4.1.4 South Korea
7.4.1.5 South East Asia
7.4.1.6 Australia & NZ
7.4.1.7 Rest of Asia-Pacific
7.4.2 By Type
7.4.3 By Distribution Channel
7.5 Latin America
7.5.1 By Country
7.5.1.1 Brazil
7.5.1.2 Argentina
7.5.1.3 Mexico
7.5.1.4 Rest of Latin America
7.5.2 By Type
7.5.3 By Distribution Channel
7.6 Middle East and Africa
7.6.1 By Country
7.6.1.1 Middle East
7.6.1.2 Africa
7.6.2 By Type
7.6.3 By Distribution Channel
8. Key Player Analysis
8.1 Brookside Foods
8.1.1 Business Description
8.1.2 Products/Service
8.1.3 Financials
8.1.4 SWOT Analysis
8.1.5 Recent Developments
8.1.6 Analyst Overview
8.2 The Hershey Company
8.3 Crown Confectionery
8.4 Yildiz Holding
8.5 Petra Foods
8.6 Mars Inc
8.7 Ferrero Group
8.8 Kraft Foods
8.9 Nestlé S.A
8.10 Cadbury
9. Market Outlook & Investment Opportunities
Appendix
List of Tables
List of Figures
Global, regional and country-level analysis and forecasts of the study market; providing Insights on the major countries/regions in which this industry is blooming and to also identify the regions that are still untapped
The segment-level analysis in terms of type, by distributional channel along with market size forecasts and estimations to detect key areas of industry growth in detail
Identification of key drivers, restraints, opportunities, and challenges (DROC) in the market and their impact on shifting market dynamics
Study of the effect of exogenous and endogenous factors that affect the global market; which includes broadly demographic, economics, and political, among other macro-environmental factors presented in an extensive PESTLE Analysis
Study the micro environment factors that determine the overall profitability of an Industry, using Porter's five forces analysis for analysing the level of competition and business strategy development
A comprehensive list of key market players along with their product portfolio, current strategic interests, key financial information, legal issues, SWOT analysis and analyst overview to study and sustain the market environment
Competitive landscape analysis listing out the mergers, acquisitions, collaborations in the field along with new product launches, comparative financial studies and recent developments in the market by the major companies
An executive summary, abridging the entire report in such a way that decision-making personnel can rapidly become acquainted with background information, concise analysis and main conclusions
Expertly devised analyst overview along with Investment opportunities to provide both individuals and organizations a strong financial foothold in the market
Global Confectionery Market By Region, From 2021-2026 ( USD Billion )

Global Confectionery Market By Type, From 2021-2026 ( USD Billion )

Global Gums Market By Region, From 2021-2026 ( USD Billion )

Global Sugar Market By Region, From 2021-2026 ( USD Billion )

Global Chocolate Market By Region, From 2021-2026 ( USD Billion )

Global Confectionery Market By Distribution Channel, From 2021-2026 ( USD Billion )

Global Online Retails Market By Region, From 2021-2026 ( USD Billion )

Global Departmental Stores Market By Region, From 2021-2026 ( USD Billion )

Global Convenience Stores Market By Region, From 2021-2026 ( USD Billion )

Global Hypermarket/Supermarket Market By Region, From 2021-2026 ( USD Billion )

North America Confectionery Market By Type, From 2021-2026 ( USD Billion )

North America Gums Market By Region, From 2021-2026 ( USD Billion )

North America Sugar Market By Region, From 2021-2026 ( USD Billion )

North America Chocolate Market By Region, From 2021-2026 ( USD Billion )

North America Confectionery Market By Distribution Channel, From 2021-2026 ( USD Billion )

North America Online Retails Market By Region, From 2021-2026 ( USD Billion )

North America Departmental Stores Market By Region, From 2021-2026 ( USD Billion )

North America Convenience Stores Market By Region, From 2021-2026 ( USD Billion )

North America Hypermarket/Supermarket Market By Region, From 2021-2026 ( USD Billion )

United States Confectionery Market By Type, From 2021-2026 ( USD Billion )

United States Confectionery Market By Distribution Channel, From 2021-2026 ( USD Billion )

Canada Confectionery Market By Type, From 2021-2026 ( USD Billion )

Canada Confectionery Market By Distribution Channel, From 2021-2026 ( USD Billion )

Europe Confectionery Market By Type, From 2021-2026 ( USD Billion )

Europe Gums Market By Region, From 2021-2026 ( USD Billion )

Europe Sugar Market By Region, From 2021-2026 ( USD Billion )

Europe Chocolate Market By Region, From 2021-2026 ( USD Billion )

Europe Confectionery Market By Distribution Channel, From 2021-2026 ( USD Billion )

Europe Online Retails Market By Region, From 2021-2026 ( USD Billion )

Europe Departmental Stores Market By Region, From 2021-2026 ( USD Billion )

Europe Convenience Stores Market By Region, From 2021-2026 ( USD Billion )

Europe Hypermarket/Supermarket Market By Region, From 2021-2026 ( USD Billion )

U.K. Confectionery Market By Type, From 2021-2026 ( USD Billion )

U.K. Confectionery Market By Distribution Channel, From 2021-2026 ( USD Billion )

Germany Confectionery Market By Type, From 2021-2026 ( USD Billion )

Germany Confectionery Market By Distribution Channel, From 2021-2026 ( USD Billion )

France Confectionery Market By Type, From 2021-2026 ( USD Billion )

France Confectionery Market By Distribution Channel, From 2021-2026 ( USD Billion )

Italy Confectionery Market By Type, From 2021-2026 ( USD Billion )

Italy Confectionery Market By Distribution Channel, From 2021-2026 ( USD Billion )

Spain Confectionery Market By Type, From 2021-2026 ( USD Billion )

Spain Confectionery Market By Distribution Channel, From 2021-2026 ( USD Billion )

Asia Pacific Confectionery Market By Type, From 2021-2026 ( USD Billion )

Asia Pacific Gums Market By Region, From 2021-2026 ( USD Billion )

Asia Pacific Sugar Market By Region, From 2021-2026 ( USD Billion )

Asia Pacific Chocolate Market By Region, From 2021-2026 ( USD Billion )

Asia Pacific Confectionery Market By Distribution Channel, From 2021-2026 ( USD Billion )

Asia Pacific Online Retails Market By Region, From 2021-2026 ( USD Billion )

Asia Pacific Departmental Stores Market By Region, From 2021-2026 ( USD Billion )

Asia Pacific Convenience Stores Market By Region, From 2021-2026 ( USD Billion )

Asia Pacific Hypermarket/Supermarket Market By Region, From 2021-2026 ( USD Billion )

Japan Confectionery Market By Type, From 2021-2026 ( USD Billion )

Japan Confectionery Market By Distribution Channel, From 2021-2026 ( USD Billion )

China Confectionery Market By Type, From 2021-2026 ( USD Billion )

China Confectionery Market By Distribution Channel, From 2021-2026 ( USD Billion )

India Confectionery Market By Type, From 2021-2026 ( USD Billion )

India Confectionery Market By Distribution Channel, From 2021-2026 ( USD Billion )

Australia Confectionery Market By Type, From 2021-2026 ( USD Billion )

Australia Confectionery Market By Distribution Channel, From 2021-2026 ( USD Billion )

South Korea Confectionery Market By Type, From 2021-2026 ( USD Billion )

South Korea Confectionery Market By Distribution Channel, From 2021-2026 ( USD Billion )

Latin America Confectionery Market By Type, From 2021-2026 ( USD Billion )

Latin America Gums Market By Region, From 2021-2026 ( USD Billion )

Latin America Sugar Market By Region, From 2021-2026 ( USD Billion )

Latin America Chocolate Market By Region, From 2021-2026 ( USD Billion )

Latin America Confectionery Market By Distribution Channel, From 2021-2026 ( USD Billion )

Latin America Online Retails Market By Region, From 2021-2026 ( USD Billion )

Latin America Departmental Stores Market By Region, From 2021-2026 ( USD Billion )

Latin America Convenience Stores Market By Region, From 2021-2026 ( USD Billion )

Latin America Hypermarket/Supermarket Market By Region, From 2021-2026 ( USD Billion )

Brazil Confectionery Market By Type, From 2021-2026 ( USD Billion )

Brazil Confectionery Market By Distribution Channel, From 2021-2026 ( USD Billion )

Argentina Confectionery Market By Type, From 2021-2026 ( USD Billion )

Argentina Confectionery Market By Distribution Channel, From 2021-2026 ( USD Billion )

Mexico Confectionery Market By Type, From 2021-2026 ( USD Billion )

Mexico Confectionery Market By Distribution Channel, From 2021-2026 ( USD Billion )

Rest of Latin America Confectionery Market By Type, From 2021-2026 ( USD Billion )

Rest of Latin America Confectionery Market By Distribution Channel, From 2021-2026 ( USD Billion )

Middle East and Africa Confectionery Market By Type, From 2021-2026 ( USD Billion )

Middle East and Africa Gums Market By Region, From 2021-2026 ( USD Billion )

Middle East and Africa Sugar Market By Region, From 2021-2026 ( USD Billion )

Middle East and Africa Chocolate Market By Region, From 2021-2026 ( USD Billion )

Middle East and Africa Confectionery Market By Distribution Channel, From 2021-2026 ( USD Billion )

Middle East and Africa Online Retails Market By Region, From 2021-2026 ( USD Billion )

Middle East and Africa Departmental Stores Market By Region, From 2021-2026 ( USD Billion )

Middle East and Africa Convenience Stores Market By Region, From 2021-2026 ( USD Billion )

Middle East and Africa Hypermarket/Supermarket Market By Region, From 2021-2026 ( USD Billion )

Middle East Confectionery Market By Type, From 2021-2026 ( USD Billion )

Middle East Confectionery Market By Distribution Channel, From 2021-2026 ( USD Billion )

Africa Confectionery Market By Type, From 2021-2026 ( USD Billion )

Africa Confectionery Market By Distribution Channel, From 2021-2026 ( USD Billion )