Cocoa and Chocolate Market Size, Growth (2023-2028)
The global Cocoa and Chocolate Market size was valued at US$ 43.13 billion in 2022, and it is estimated to reach a valuation of US$ 67.22 billion by the end of 2028, rising at an annual compound rate of 5.7% between 2023 and 2028. The market is primarily driven by growing consumer awareness of cocoa health benefits.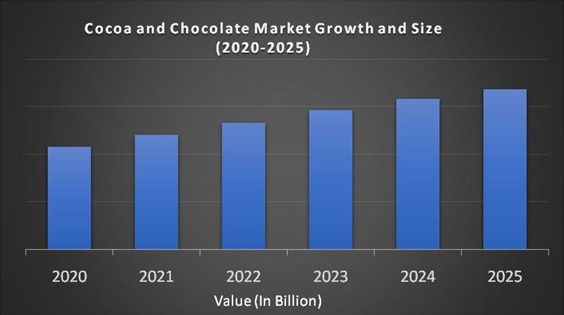 Market Overview:
Cocoa and chocolate add flavor and texture to foods. Cocoa beans, in general, are nothing but fermented seeds of a cocoa tree. Commercial chocolate and its products contain large amounts of sugar, fats, and additives, making them unhealthy. Cocoa liquor, cocoa butter, and cocoa powder are commercially available cocoa products, but chocolate products are available in the form of chocolate filled with dark white milk. Cocoa and chocolate products are applied in confectionery, food and beverages, cosmetics, pharmaceuticals and other industries. Cocoa products are obtained from the manufacturing process of raw cocoa beans, which are distributed to the confectionery industry both nationally and internationally.
The primary raw materials for cocoa and chocolate are cocoa beans, sugar and milk. Changes in the price of upstream products affect the costs of cocoa and chocolate production. The cost of producing cocoa and chocolate is also an essential factor that can affect the amount of cocoa and chocolate. Cocoa and chocolate producers are planning to reduce production expenses by implementing innovative methods.
Recent Developments in Cocoa and Chocolate Industry:
Barry Callebaut promotes the sale of sustainable HORIZONTES cocoa and chocolate products, improving the incomes of cocoa producers and communities.

In February 2019, Cargill launched the new cocoa powder, Gerkens CT70, to the Gerkens cocoa powder brand.

In July 2018, Cadbury announced the launch of a low-calorie chocolate bar. Here, the new dairy milk contains 30% less sugar, but the taste will remain the same. Now, as more people embrace a healthy lifestyle and diet, this chocolate bar will skyrocket for years to come.

In June 2019, AAK launched a new cocoa butter product, COBAO Pure, which gives local and local suppliers a Swedish-Danish company a "delayed flowering" effect on chocolate.

In March 2017, Cargill Cocoa and Chocolate launched new additives in a variety of coatings and fillers, responding to the "healthy, sustainable, clean and generous" trend in terms of reduced sugar, natural color and flavor.

In May 2019, Barry Callebaut debuted with artisanal ruby pink chocolate made from pure cocoa beans, and it also appeared as the fourth type of chocolate in the United States mentioned in the United States.
REPORT COVERAGE:
| | |
| --- | --- |
| REPORT METRIC | DETAILS |
| Market Size Available | 2022 – 2028 |
| Base Year | 2022 |
| Forecast Period | 2023 - 2028 |
| CAGR | 5.7% |
| Segments Covered | By Chocolate Type, Cocoa Type, Application and Region |
| Various Analyses Covered | Global, Regional & Country Level Analysis, Segment-Level Analysis, DROC, PESTLE Analysis, Porter's Five Forces Analysis, Competitive Landscape, Analyst Overview on Investment Opportunities |
| Regions Covered | North America, Europe, APAC, Latin America, Middle East & Africa |
| Market Leaders Profiled | ADM, Cargill, Bunge, Barry Callebaut, Indcresa, Blommer, JB Foods Limited, Plot Ghana, Dutch Cocoa, Cocoa Processing Company Limited and Others. |
Cocoa and Chocolate Market Growth:
In the confectionery and food and beverage industry, the high demand for cocoa and chocolate leads the market development.
Drivers:
The global cocoa and chocolate market is estimated to have experienced substantial growth during the forecast period. The market is leading as demand for chocolate and cocoa increases. The widespread use of cocoa due to its antioxidant properties and health benefits is expected to be a major growth driver for the global cocoa market. The increase in chocolate consumption in the confectionery, food and beverage, cosmetics, pharmaceutical and other industries is closely related to the high demand for cocoa and chocolate. According to the American Association for the Advancement of Science, drinking hot chocolate also helps improve people's thinking. Therefore, various health problems are driving the cocoa and chocolate market. As health awareness increased, the demand for cocoa and chocolate products decreased slightly. Cocoa contains antioxidants that help reduce blood pressure, improve heart health, improve blood flow, improve cholesterol levels and fight obesity, constipation, bronchial asthma, cancer, chronic fatigue syndrome and various neurodegenerative diseases.
According to numerous studies in recent years, chocolate can be more than just-food. Researchers have discovered several health benefits of chocolate and cocoa products. Although these studies and implications have confused not only the food industry but also the healthcare sector, scientists have quickly responded to these challenges by conducting numerous food and clinical experiments. In addition to the health benefits, the introduction of new flavors to healthy chocolate is increasingly becoming a trend. With the advent of tasty chocolate, the demand for cocoa and chocolate products has increased significantly. The factors, as mentioned earlier, will allow the growth of worldwide cocoa and chocolate markets during the forecast period.
The global market is supposed to maintain an upward trend during the outlook period, as consumption of dark, organic, and sugar-free chocolate has increased significantly as consumer health awareness increases. One of the recent advances in the chocolate market is the change in the shape and color of the packaging. With the growing awareness of the anti-aging and medicinal properties of cocoa, the world cocoa market is in high demand. The demand for chocolate syrup has increased worldwide. The cocoa market is assumed to grow as chocolate syrup is made from cocoa beans.
Restraints:
The global cocoa and chocolate market is growing exponentially. Therefore, the lack of sufficient cocoa beans will hamper the growth of the cocoa and chocolate market in the future. Farmers are abandoning the production of cocoa crops due to the great difficulty in the cocoa and chocolate markets. Due to the presence of saturated fats in chocolate and adverse health effects, consumer interest is shifting to other alternatives, such as snacks, limiting the growth of the chocolate market.
Cocoa and Chocolate Market Segmentation Analysis:
By Chocolate Type:
Dark Chocolate

Milk Chocolate

White Chocolate

Filled Chocolate
By Cocoa Type:
Cocoa Butter

Cocoa Liquor

Cocoa Powder
By Application:
Cosmetics

Pharmaceuticals

Food & Beverage

Confectionery
Geographical Segmentation Analysis:
North America - the United States and Canada

Europe - United Kingdom, Spain, Germany, Italy, and France

The Asia Pacific - India, Japan, China, Australia, Singapore, Malaysia, South Korea, New Zealand, and Southeast Asia

Latin America - Brazil, Argentina, Mexico, and Rest of LATAM

The Middle East and Africa - Africa and Middle East (Saudi Arabia, UAE, Lebanon, Jordan, Cyprus)
Regional Analysis:
North America and Europe are the dominant regions with most of the worldwide cocoa and chocolate markets. This is due to the large cocoa manufacturing bases present in these countries. Consumer awareness of health benefits has fueled some of the critical innovations in the North American cocoa and chocolate industry. Global Cocoa and chocolate market share are also increasing in regions such as the Middle East, Africa and the Asia Pacific. This is mainly accredited to the surge in per capita consumption of cocoa and chocolate in the area. The Asia Pacific region is foreseen to post a CAGR of approximately 8.13% in this sector in the future. Europe is a significant cocoa processor in the world market and is presumed to grow at an average annual rate of 2.6%.
Leading Company:
Cargill, Incorporated, will see significant growth in the healthy, premium and sustainable chocolate only market, and in the near future, regular candy will be replaced by healthy options. To stay ahead of the competition, companies must come up with innovative ideas. Cadbury's sales growth is anticipated to have a positive impact on the global cocoa and chocolate markets.
Key Players in the Market:
Major Key Players in the Global Cocoa and Chocolate Market are
ADM

Cargill

Bunge

Barry Callebaut

Indcresa

Blommer

JB Foods Limited

Plot Ghana

Dutch Cocoa

Cocoa Processing Company Limited