Cookies Market Size, Share, Value (2023-2028)
Cookies Market size was worth US$ 219.42 billion in 2023 and is anticipated to have a value of US$ 286.78 billion by 2028 and reach the register a CAGR of 5.50% during 2023-2028.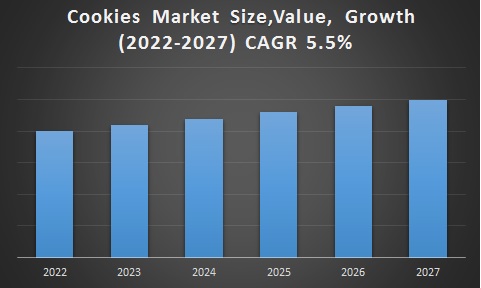 Cookies Market Scenario
One food item that is becoming more and more popular worldwide is cookies. Due to regular value offerings in response to dynamic changes and customer demands, cookie demand is increasing. New kinds and creative packaging are drawing in customers more and more. Due to the use of safe ingredients as well as low-sugar and low-carb products, cookies are becoming more and more popular among consumers who are health-conscious. Since they give the consumer essential nutritional nutrients like lipids, vitamins, minerals, and other ingredients, cookies are a very well-liked snack food all over the world. With the development of various styles and designs, as well as the appealing packaging of cookies by various players, the global market for cookies is anticipated to grow. Due to the variety of tastes available in cookies, including oat, raisins, almonds, and chocolate, the demand for cookies is increasing. People now prefer to eat cookies as snacks due to their growing health benefits.
COOKIES MARKET REPORT COVERAGE:
| | |
| --- | --- |
| REPORT METRIC | DETAILS |
| Market Size Available | 2021 – 2026 |
| Base Year | 2021 |
| Forecast Period | 2022 - 2027 |
| CAGR | 5.5% |
| Segments Covered | By Ingredient, By Product Type, By Distribution Channel, and By Region |
| Various Analyses Covered | Global, Regional & Country Level Analysis, Segment-Level Analysis, DROC, PESTLE Analysis, Porter's Five Forces Analysis, Competitive Landscape, Analyst Overview on Investment Opportunities |
| Regions Covered | North America, Europe, APAC, Latin America, Middle East & Africa |
| Market Leaders Profiled | Parle Products Private Limited, Danone S.A., Mondelēz International, The Campbell Soup Company, Britannia Industries Ltd, PepsiCo, Nestlé S.A., and The Kellogg Company |
Cookies Market Drivers
Growing product availability, particularly in developing regions, is anticipated to be the primary driver of the global cookies market expansion. Additionally, the global cookies market will be further boosted by the high demand for chocolate cookies in advanced economies including the U.S., Germany, and the U.K. Innovative packaging strategies used by bakery producers as well as the introduction of new taste options, like pineapple, help them draw in customers. Over the coming years, rising disposable income in emerging economies like China and India is expected to fuel product demand. The appeal of the product as a giving option is also anticipated to increase demand.
The main ingredients in cookies are oats and nutrients for digestion. Some cookies are both high in energy and gluten-free. As a result of shifting customer preferences, new flavours with novel additions are being introduced to the market. Cookies made with a hurried baking process are protein-based and free of fat. The market for gluten-free cookies is expected to rise due to growing worries about glutamate disorders and lactose intolerance in developed North America and Europe. Manufacturing companies are being compelled to raise label standards by supportive rules intended to ensure organic labeling in the food and beverage industry for completed goods. These elements are also most likely to benefit global cookies market expansion. On the other hand, prominent firms' employment of creative strategic marketing strategies to draw in new customers together with rising levels of disposable income are anticipated to drive the market's expansion in the future. Additionally, it has been found that customers are choosing healthier alternatives when it comes to their diets in an effort to avoid health issues including obesity and poor nutrition. Market players have introduced healthier cookies including oatmeal cookies, vegan cookies, sugar-free cookies, gluten-free cookies, and others in response to this. Additionally, the market's availability of digestive cookies has given consumers a nutritious food option that improves digestion. Thus, this has provided the cookie market with numerous prospects to expand.
Cookies Market Restraints:
A challenge to the global cookies market from substitution is also anticipated to come from the availability of substitute goods like chocolates and cookies. Additionally, high manufacturing costs raise the price of finished goods, which could impede the market growth
Recent Developments in the Global Cookies Market:
Edible Funfetti cookie dough brownie batter with all the classic flavors is now available from Nestle.
Global Cookies Market Segmentation:
By Product:
Based on product, the bar cookies section dominates the global cookies market during the forecast period. The primary reason propelling the industry is the growing popularity of these goods due to the numerous health benefits they provide, including enhancing blood circulation and heart health. By 2025, drop cookies are projected to bring in more than USD 8 billion in revenue. It is anticipated that new product introductions in this market sector by businesses like Dunkin' Donuts and Oreo through online channels and supermarkets would create growth opportunities.
By Distribution channel:
From 2022 to 2027, offline channels are anticipated to account for the majority of distribution channels. The industry is expected to be driven by the high visibility of supermarkets and convenience stores as important selling channels in developing nations like China and India. However, due to the increasing popularity of e-commerce portals, the category for online channels is anticipated to increase at the quickest rate, 5.9%, during the course of the forecasted years.
Additionally, the continued development of smartphones with cutting-edge internet apps by manufacturers like Xiaomi, Oppo, Nokia, and Apple is anticipated to fuel the segment's growth in the years to come.
Cookies Market Regional Analysis
North American market dominated all others. The regional market will be further driven by rising sandwich biscuit consumption, particularly among working-class populations in the United States and Canada. Additionally, the availability of tastes including buttercream, chocolate, and peanut butter is anticipated to support expansion.

Asia Pacific is anticipated to continue to grow at the quickest rate between 2022 and 2027, with a CAGR of 6.8%. The demand for the product is anticipated to be driven by the rapidly developing economy brought on by increased disposable income, urbanization, and changing lifestyles in the years to come.

Due to its substantial production and export of confectionery goods to other nations, Europe is anticipated to hold the highest share of the global cookies market.

However, due to the booming sales of the Brazilian baking sector, Latin America is predicted to experience good growth in the global cookies market.
Cookies Market Key Players
Mondelez International

Annas Pepparkakor

Nutrexpa

Jiashili Group

Annas pepparkakor AB