Extruded Snacks Market Size, Growth, Forecast (2023-2028)
The global Extruded Snacks Market size was worth USD 48.3 billion in 2022, and it is estimated to reach a valuation of USD 65.2 billion by the end of 2028, rising at a CAGR of 4.4% during the forecast period. The market is primarily driven by higher disposable income and lifestyle changes for the Millennium generation.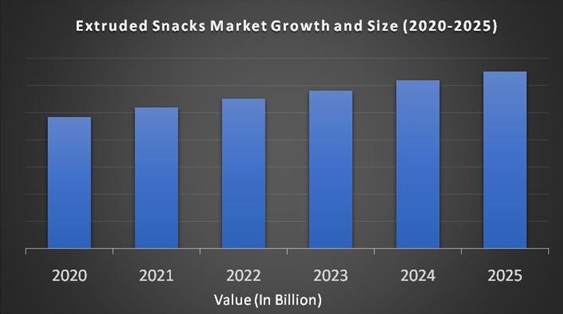 Market Overview:
The extrusion technique used in food processing is known as food extrusion. Extruded cooking is considered as an energy-efficient way of making ready-to-eat food and snacks. It is a procedure of forcing various assorted ingredients through a hole in a die or perforated plate in a precise pattern on the menu. It provides multiple functions in terms of product shape and texture that can be selected and produced. Extruded sandwiches are made with a variety of ingredients like corn, potatoes, and tapioca. Then use a utility knife to cut to size. The extruder consists of a large rotary screw that mounts securely inside a fixed barrel.
Food can be manufactured in large quantities through a systematic and systematic system that guarantees the homogeneity of the final product through the extrusion process. Foods made with this technique generally have a very high starch content. These foods include breakfast cereals, pasta, bread, edible vegetable protein, ready-to-eat snacks, cookie dough, fatty soy sauce, confectionery, and certain pet foods, baby food, and beverages. The extrusion process decreases the number of microorganisms in the final product and eliminates natural toxins. Therefore, extruded sandwiches are relatively safe. Breakfast cereals, onion rings, jelly beans, bread, and processed cheese are some of the commercially available extruded snacks.
Recent Developments in Extruded Snacks Industry:
In October 2019, Calbee (USA) acquired Warnock Food Products, Inc., expanding its presence in the US market and neighboring countries.

In May 2018, PepsiCo (USA) will take over Bare Snacks, a healthy snack manufacturing company, to help expand its portfolio in the healthy snack segment.

In October 2018, Calbee (UK) Ltd acquired Seabrook Crisps Ltd., expanding its presence in the United Kingdom.

As of May 2018, Kellogg Company (USA) had a 1% interest in Multipro, a diverse food distributor in Nigeria and Ghana.

January 2018 General Mills, Inc. (USA) has invested in a variety of producers of ready-to-eat vegetable juice, snacks and cold pressing for vegetable food company Urban Remedy. Certified and non-genetically modified products. This allows General Mills to expand its portfolio of plant-based products.
REPORT COVERAGE:
| | |
| --- | --- |
| REPORT METRIC | DETAILS |
| Market Size Available | 2022 – 2028 |
| Base Year | 2022 |
| Forecast Period | 2023 - 2028 |
| CAGR | 4.4% |
| Segments Covered | By Type, Distribution Channel and Region |
| Various Analyses Covered | Global, Regional & Country Level Analysis, Segment-Level Analysis, DROC, PESTLE Analysis, Porter's Five Forces Analysis, Competitive Landscape, Analyst Overview on Investment Opportunities |
| Regions Covered | North America, Europe, APAC, Latin America, Middle East & Africa |
| Market Leaders Profiled | Amica Chips, Calbee, Kellogg's, ITC, Frito-lay, Old Dutch Foods, Diamonds Foods and Others. |
Extruded Snacks Market Growth:
A busy lifestyle that shortens meal times is expected to fuel the growth of the extruded snack industry during the forecast period.
Drivers:
An important factor fueling the global size of the extruded snack market in the future is the growing consumer preference for ready-to-eat packaged foods. These changes in consumer behavior may be due to an increase in disposable income worldwide, which increases the ability to consume convenience products every day, according to the needs and demands of consumers. Additionally, healthy snacks are considered beneficial for weight loss plans, and meals provide the body with the nutrients and vitamins it needs. Therefore, as the demand for healthy snacks and weight management increases, the demand for products worldwide will increase during the forecast period. Due to the increased adoption of westernization and high disposable income among consumers, lifestyle changes are supposed to increase the growth of the global extruded snack market during the outlook period. Furthermore, changes in consumer behavior patterns that change from full meals to snacks are assumed to spur market growth. Increased retail investment in hypermarkets and the expansion of supermarkets will further increase growth opportunities for the extruded snack market.
Furthermore, with the growing concern among people about maintaining a healthy diet, the demand for low carb and low-fat foods are increasing, which is expected to increase the global market for extruded snacks. Extruded snack sales will increase during the forecast period as demand for many high-fiber, nutrient-rich, refreshing snacks increases among the Millennium generation. In addition, hypermarkets and supermarkets are presumed to drive the trend for snacks and shopping to drive growth in the extruded snack market. As the economic situation in several regions improved, it was hoped to expand the global extruded snack market by forcing people to choose generic or national brands. The introduction of regional and regional flavors of extruded sandwiches by taxpayers is an effective tactic to penetrate the local market and understand consumer tastes and preferences. Also, aggressive marketing strategies and competitive pricing from top companies are anticipated to accelerate demand for products and expand the size of the extruded snack market in the future.
Restraints:
High production costs, fluctuating raw material prices, and increasing health problems can limit market growth. Strict laws and regulations applied by regulatory agencies to maintain the overall quality of snacks also influenced the processor of choosing high-end machines. This is suspected of promoting the growth of the extrusion snacks market in the future.
Extruded Snacks Market Segmentation Analysis:
By Type:
Potato

Corn

Rice

Tapioca

Mixed Grains

Others
By Distribution Channel:
Hypermarkets

Independent retailers

Convenience stores
Geographical Segmentation Analysis:
North America - the United States and Canada

Europe - United Kingdom, Spain, Germany, Italy, and France

The Asia Pacific - India, Japan, China, Australia, Singapore, Malaysia, South Korea, New Zealand, and Southeast Asia

Latin America - Brazil, Argentina, Mexico, and Rest of LATAM

The Middle East and Africa - Africa and Middle East (Saudi Arabia, UAE, Lebanon, Jordan, Cyprus)
Regional Analysis:
Population growth in the Asia-Pacific and people's propensity for Western culture will accelerate the growth of the extruded snack market worldwide during the forecast period. North American country-level analysis includes the United States, Canada, and other North American countries. The study and forecast of the European market for machinery for the manufacture of extruded snacks include markets throughout the United Kingdom, Germany, France and other countries in Europe. Similarly, the Asia Pacific market includes India, China, Japan, and others. The Middle East and Africa include market analysis includes GCC countries, South Africa and the rest of the Middle East and Africa.
Furthermore, due to busy lifestyles, the increase in people's disposable income and the trend of continuous snacks is expected to strengthen the regional and global extruded snack market. Due to the economic conditions in many countries, the extruded snack market was promoted by encouraging people to choose national or generic brands. The growing hypermarket and supermarket infrastructure will further drive demand for extruded snacks in the Asia Pacific region.
Key Players in the Market:
Major Key Players in the Global Extruded Snacks Market are
Amica Chips

Calbee

Kellogg's

ITC

Frito-lay

Old Dutch Foods

Diamonds Foods