Citric Acid Market Growth and Forecast (2021-2026):
The global Citric Acid Market size was worth US$ 2.50 billion in 2021, and it is estimated to reach a valuation of US$ 3.83 billion by the end of 2026, rising at an annual compound rate of about 5% between 2021 and 2026. High demand for food preservation products is expected to be a major driver of industrial growth.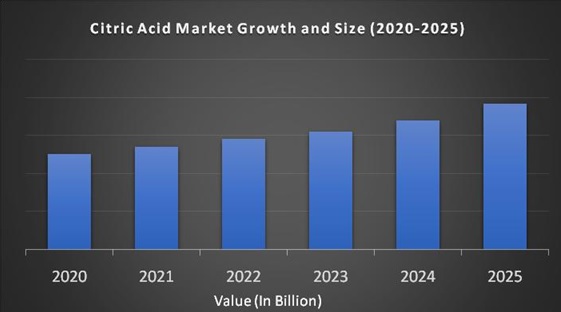 Market Overview:
Citric acid is considered as a weak organic acid common in fruits and vegetables that can add acidity to food and juice. The citric acid market is classified according to the form that is in liquid or powder form. Citric acid is also classified based on food-grade, industrial grade, and pharmaceutical grade. In general, the food-grade citric acid is soluble in water and is used to flavor foods. Adding citric acid to foods balances the pH of foods, and PH control is used in pectin to gelatin and fix gelatin. It is also used in wine to inhibit the formation of secondary turbidity metals in the oxidation process. Citric acid is also used in cleaning methods that kill bacteria. It is also useful in removing soapy debris and rust.
Recent Developments in Citric Acid Industry:
In January 2017, Pfizer established a new pharmaceutical manufacturing plant in Saudi Arabia.

In December 2017, Jungbunzlauer, a leading manufacturer of biodegradable materials, announced the construction of a new citric acid plant in Austria.

RZBC Group Co. Ltd. has completed the capacity expansion. The company's total production capacity reached 250,000 mt per year, which is 23% of total citric acid production in China.
REPORT COVERAGE:
| | |
| --- | --- |
| REPORT METRIC | DETAILS |
| Market Size Available | 2020 – 2026 |
| Base Year | 2020 |
| Forecast Period | 2021 - 2026 |
| CAGR | 5% |
| Segments Covered | By Form, Application, Function, Grade and Region |
| Various Analyses Covered | Global, Regional & Country Level Analysis, Segment-Level Analysis, DROC, PESTLE Analysis, Porter's Five Forces Analysis, Competitive Landscape, Analyst Overview on Investment Opportunities |
| Regions Covered | North America, Europe, APAC, Latin America, Middle East & Africa |
| Market Leaders Profiled | Pfizer, Cargill, Tate & Lyle plc, Danisco A/S, Kenko Corporation, Archer Daniels Midland, Gadot Biochemical, COFCO Biochemical (AnHui) Co., Ltd, RZBC Group Co. Ltd , S.A. Citrique Belge N.V and Others. |
Citric Acid Market Growth:
The increasing demand for compounds in the pharmaceutical industry for the manufacture of digestive medicine is expected to lead the market in a positive way during the forecast period.
Drivers:
The rising need from the food and beverage industry is one of the main factors driving the market growth during the outlook period. Consumers prefer products made from natural plant-based ingredients due to the increasing number of health-related problems. Citric acid is widely used in cleaning products due to the ban on the use of phosphates in various regions that may support the growth of the market in the coming period. The prominent players in this market are making many developments. During the forecast period, the leading companies will support the growth of the market to carry out various research and development activities. Citric acid gives a sour and tart flavor and enhances the flavor. When used as food additives, acids are effective in inhibiting microbial growth, thus extending shelf life. The factors mentioned above are supposed to increase demand for the product in the next eight years.
Citric acid is mainly used in the local food processing industry to improve the shelf life of prepared foods. An organized food processing sector in the vicinity is assumed to have a positive effect on this industry. There are stringent regulations on the use of citric acid in functional foods, nutritious cosmetics, and dietary supplements, especially infant formulas, that are presumed to challenge local players. This led to stagnation in terms of product innovation in infant formulas. Manufacturers are entering various market segments by introducing citric acid-based products such as confectionery, baked goods for diabetes, ice cream, low-calorie gelatin, low-calorie sugar, diet drinks and snacks, and low-fat dairy products. Consumer demand is expected to increase as demand for these products increases. Citric acid is majorly used as an additive in food and beverages, personal care products, plastics and polymers, detergents, adhesives and sealants, pharmaceuticals and clinical nutrition, coatings, inks, feed and pet food owing to its beneficial aspects.
The chemical composition and potency of citric acid remain stable for five years in the original sealed container. Based on its long shelf life, this is used as a preservative, flavoring and coloring agent. As awareness of the side effects of chemicals used in everyday products increases, consumers have switched to organic products to reduce their consumption of chemicals. This created a positive outlook for the growth of the citric acid market. In developing countries, the demand for ready-to-drink beverages and processed foods is increasing due to continued economic growth, busy lifestyles, increasing urbanization, and rising disposable incomes. As a result, emerging regions are suspected to be the engines of future growth for the citric acid market. The growth of the pharmaceutical industry offers a variety of opportunities for the market to grow in the coming years.
Restraints:
Excessive consumption of citric acid can negatively affect health, which can serve as one of the main challenges of market growth. Additionally, high doses of citric acid can increase the toxicity of the body, causing kidney problems, nerve harm and sudden damage, which are the main factors hindering the growth of the global citric acid market during the forecast period.
Citric Acid Market Segmentation Analysis:
By Form:
By Application:
Food & Beverages

Confectionaries

Convenience Food Products

Dairy Products

Pharmaceuticals

Cosmetics

Reagents

Creams

Fats and Fillings

Soups And Sauces
By Function:
Acidulant

Antioxidant

Preservative

Sequestrant
By Grade:
Pharmaceutical

Industrial
Geographical Segmentation Analysis:
North America - the United States and Canada

Europe - United Kingdom, Spain, Germany, Italy, and France

The Asia Pacific - India, Japan, China, Australia, Singapore, Malaysia, South Korea, New Zealand, and Southeast Asia

Latin America - Brazil, Argentina, Mexico, and Rest of LATAM

The Middle East and Africa - Africa and Middle East (Saudi Arabia, UAE, Lebanon, Jordan, Cyprus)
Regional Analysis:
North America is supposed to occupy most of the global citric acid market. A steady increase in the population suffering from digestive problems will boost demand in the United States. For the same reason, Europe can be another critical region. People in countries like Germany are aware of maintaining digestive health. This has increased the demand for products like citric acid-based yogurt. The global citric acid aid market is fueled by the growing demand for citric acid in countries such as Germany and the United Kingdom. Spain, and Italy. For example, the food and beverage sector is the mainstay of Germany, with 80% of Germany's agricultural products processed in the industry with high-quality food and beverages. German manufacturers of food and pharmaceuticals have a high demand for citric acid due to its lower toxicity compared to other acidic agents used mainly in the pharmaceutical and food industries.
Furthermore, the number of breweries in countries like the UK has recently doubled. Craft brewers are sometimes anticipated to use citric acid additives to impart some Belgian-style tart and increase demand for citric acid in the UK food and beverage industry. Awareness of citric acid-based foods and medicines is growing in the Middle East. A famous pharmaceutical company has offices in the Middle East. This may be the main driving force in the region's citric acid market. Due to the increased prevalence of cardiovascular disease and the increasing elderly population, there is a rising demand for citric acid in China.
Key Players in the Market:
Major Key Players in the Global Citric Acid Market are
Pfizer, Inc

Cargill, Inc

Tate & Lyle plc

Danisco A/S

Kenko Corporation

Archer Daniels Midland

Gadot Biochemical

COFCO Biochemical (AnHui) Co., Ltd

RZBC Group Co. Ltd

S.A. Citrique Belge N.V
1. Introduction
1.1 Market Definition
1.2 Scope of the report
1.3 Study Assumptions
1.4 Base Currency, Base Year and Forecast Periods
2. Research Methodology
2.1 Analysis Design
2.2 Research Phases
2.2.1 Secondary Research
2.2.2 Primary Research
2.2.3 Data Modelling
2.2.4 Expert Validation
2.3 Study Timeline
3. Report Overview
3.1 Executive Summary
3.2 Key Inferencees
4. Market Dynamics
4.1 Impact Analysis
4.1.1 Drivers
4.1.2 Restraints
4.1.3 Opportunities
4.2 Regulatory Environment
4.3 Technology Timeline & Recent Trends
5. Competitor Benchmarking Analysis
5.1 Key Player Benchmarking
5.1.1 Market share analysis
5.1.2 Products/Service
5.1.3 Regional Presence
5.2 Mergers & Acquisition Landscape
5.3 Joint Ventures & Collaborations
6. Market Segmentation
6.1 Citric Acid Market, By Form
6.1.1 Anhydrous
6.1.2 Liquid
6.1.3 Market Size Estimations & Forecasts (2021-2026)
6.1.4 Y-o-Y Growth Rate Analysis
6.1.5 Market Attractiveness Index
6.2 Citric Acid Market, By Application
6.2.1 Food & Beverages
6.2.2 Confectionaries
6.2.3 Convenience Food Products
6.2.4 Dairy Products
6.2.5 Pharmaceuticals
6.2.6 Cosmetics
6.2.7 Reagents
6.2.8 Creams
6.2.9 Fats and Fillings
6.2.10 Soups And Sauces
6.2.11 Market Size Estimations & Forecasts (2021-2026)
6.2.12 Y-o-Y Growth Rate Analysis
6.2.13 Market Attractiveness Index
6.3 Citric Acid Market, By Function
6.3.1 Acidulant
6.3.2 Antioxidant
6.3.3 Preservative
6.3.4 Sequestrant
6.3.5 Market Size Estimations & Forecasts (2021-2026)
6.3.6 Y-o-Y Growth Rate Analysis
6.3.7 Market Attractiveness Index
6.4 Citric Acid Market Market, By Grade
6.4.1 Pharmaceutical
6.4.2 Industrial
6.4.3 Market Size Estimations & Forecasts (2021-2026)
6.4.4 Y-o-Y Growth Rate Analysis
6.4.5 Market Attractiveness Index
7. Geographical Landscape
7.1 Global Identity Governance and Administration Market, by Region
7.2 North America - Market Analysis (2021-2026)
7.2.1 By Country
7.2.1.1 USA
7.2.1.2 Canada
7.2.2 By Form
7.2.3 By Application
7.2.4 By Function
7.2.5 By Grade
7.3 Europe
7.3.1 By Country
7.3.1.1 UK
7.3.1.2 France
7.3.1.3 Germany
7.3.1.4 Spain
7.3.1.5 Italy
7.3.1.6 Rest of Europe
7.3.2 By Form
7.3.3 By Application
7.3.4 By Function
7.3.5 By Grade
7.4 Asia Pacific
7.4.1 By Country
7.4.1.1 China
7.4.1.2 India
7.4.1.3 Japan
7.4.1.4 South Korea
7.4.1.5 South East Asia
7.4.1.6 Australia & NZ
7.4.1.7 Rest of Asia-Pacific
7.4.2 By Form
7.4.3 By Application
7.4.4 By Function
7.4.5 By Grade
7.5 Latin America
7.5.1 By Country
7.5.1.1 Brazil
7.5.1.2 Argentina
7.5.1.3 Mexico
7.5.1.4 Rest of Latin America
7.5.2 By Form
7.5.3 By Application
7.5.4 By Function
7.5.5 By Grade
7.6 Middle East and Africa
7.6.1 By Country
7.6.1.1 Middle East
7.6.1.2 Africa
7.6.2 By Form
7.6.3 By Application
7.6.4 By Function
7.6.5 By Grade
8. Key Player Analysis
8.1 Pfizer, Inc
8.1.1 Business Description
8.1.2 Products/Service
8.1.3 Financials
8.1.4 SWOT Analysis
8.1.5 Recent Developments
8.1.6 Analyst Overview
8.2 Cargill, Inc
8.3 Tate & Lyle plc
8.4 Danisco A/S
8.5 Kenko Corporation
8.6 Archer Daniels Midland
8.7 Gadot Biochemical
8.8 COFCO Biochemical (AnHui) Co., Ltd
8.9 RZBC Group Co. Ltd
8.10 S.A. Citrique Belge N.V
9. Market Outlook & Investment Opportunities
Appendix
List of Tables
List of Figures
Global, regional and country-level analysis and forecasts of the study market; providing Insights on the major countries/regions in which this industry is blooming and to also identify the regions that are still untapped

The Segment-level analysis in terms of By Form, Application, Function, Grade and along with market size forecasts and estimations to detect key areas of industry growth in detail

Identification of key drivers, restraints, opportunities, and challenges (DROC) in the market and their impact on shifting market dynamics

Study of the effect of exogenous and endogenous factors that affect the global market; which includes broadly demographic, economics, and political, among other macro-environmental factors presented in an extensive PESTLE Analysis

Study the micro environment factors that determine the overall profitability of an Industry, using Porter's five forces analysis for analysing the level of competition and business strategy development

A comprehensive list of key market players along with their product portfolio, current strategic interests, key financial information, legal issues, SWOT analysis and analyst overview to study and sustain the market environment

Competitive landscape analysis listing out the mergers, acquisitions, collaborations in the field along with new product launches, comparative financial studies and recent developments in the market by the major companies

An executive summary, abridging the entire report in such a way that decision-making personnel can rapidly become acquainted with background information, concise analysis and main conclusions

Expertly devised analyst overview along with Investment opportunities to provide both individuals and organizations a strong financial foothold in the market
Global Citric Acid Market By Region, From 2021-2026 ( USD Billion )

Global Citric Acid Market By Form, From 2021-2026 ( USD Billion )

Global Anhydrous Market By Region, From 2021-2026 ( USD Billion )

Global Liquid Market By Region, From 2021-2026 ( USD Billion )

Global Citric Acid Market By Application, From 2021-2026 ( USD Billion )

Global Food & Beverages Market By Region, From 2021-2026 ( USD Billion )

Global Confectionaries Market By Region, From 2021-2026 ( USD Billion )

Global Convenience Food Products Market By Region, From 2021-2026 ( USD Billion )

Global Dairy Products Market By Region, From 2021-2026 ( USD Billion )

Global Pharmaceuticals Market By Region, From 2021-2026 ( USD Billion )

Global Cosmetics Market By Region, From 2021-2026 ( USD Billion )

Global Reagents Market By Region, From 2021-2026 ( USD Billion )

Global Creams Market By Region, From 2021-2026 ( USD Billion )

Global Fats And Fillings Market By Region, From 2021-2026 ( USD Billion )

Global Soups And Sauces Market By Region, From 2021-2026 ( USD Billion )

Global Citric Acid Market By Function, From 2021-2026 ( USD Billion )

Global Acidulant Market By Region, From 2021-2026 ( USD Billion )

Global Antioxidant Market By Region, From 2021-2026 ( USD Billion )

Global Preservative Market By Region, From 2021-2026 ( USD Billion )

Global Sequestrant Market By Region, From 2021-2026 ( USD Billion )

Global Citric Acid Market By Grade, From 2021-2026 ( USD Billion )

Global Pharmaceutical Market By Region, From 2021-2026 ( USD Billion )

Global Industrial Market By Region, From 2021-2026 ( USD Billion )