Citric Acid Market Size, Growth, Forecast (2023-2028)
The Global Citric Acid Market size was worth US$ 3.7 billion in 2022 and is anticipated to reach the valuation of US$ 5.3 billion by 2028 and register a CAGR of 4.8% during 2023-2028.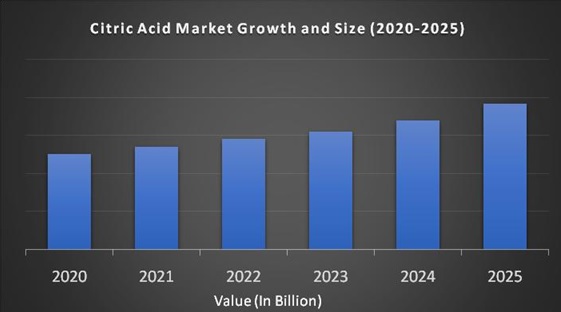 Market Overview:
Citrus fruits naturally comprises of citric acid, which is declared as a weak organic acid. Citric acid is a crystalline acid with a stinging flavor found in the juice of lemons and other sour fruits. It's made commercially from sugar fermentation and used as a flavoring and setting agent. A citric acid buffer solution can be created by adding trisodium citrate, a citric acid salt, to the solution. If the target pH is between 3 and 6.2, the citric acid buffer solution is the best option. When citric acid is heated to 175°C, it is partially changed into aconitic acid by removing water and partly transformed into acetone dicarboxylic acid by releasing carbon dioxide and water. Citric acid is produced at temperatures exceeding 175 °C. Citric acid is an organic acid that is commonly used as a chelating agent, a buffering agent, and a derivatization agent.
The Citric Acid Market is expected to be driven by the rising high demand for citric acid in food and beverages used as a supplement to conserve food. During the forecast period 2022-2027, the activities of citric acid as a pH control agent and as a chelating agent that promotes the action of antioxidants in food preservation are expected to push the growth of the Citric Acid Market.
Recent Developments in the Global Citric Acid Industry:
On September 15th 2021, ADM announced that it had expanded its nutrition capabilities all over the globe with the advanced flavor production facility, situated in China.
REPORT COVERAGE:
| | |
| --- | --- |
| REPORT METRIC | DETAILS |
| Market Size Available | 2022 – 2028 |
| Base Year | 2022 |
| Forecast Period | 2023 - 2028 |
| CAGR | 4.8% |
| Segments Covered | By Form, Application, Function, Grade and Region |
| Various Analyses Covered | Global, Regional & Country Level Analysis, Segment-Level Analysis, DROC, PESTLE Analysis, Porter's Five Forces Analysis, Competitive Landscape, Analyst Overview on Investment Opportunities |
| Regions Covered | North America, Europe, APAC, Latin America, Middle East & Africa |
| Market Leaders Profiled | Pfizer, Cargill, Tate & Lyle plc, Danisco A/S, Kenko Corporation, Archer Daniels Midland, Gadot Biochemical, COFCO Biochemical (AnHui) Co., Ltd, RZBC Group Co. Ltd , S.A. Citrique Belge N.V and Others. |
Global Citric Acid Market Drivers:
The escalating demand for the product to preserve food, which is linked with the soaring demand from the food and beverage industry, is anticipated to propel the expansion of the global citric acid market during the foreseen period.
Because the use of phosphate is prohibited in some areas, citric acid is widely utilized in cleaning products, and major companies are conducting various research and development efforts, all of which are contributing to the market's growth. In addition, the pharmaceutical industry's growth is creating a flood of new market opportunities. The increased demand for RTD beverages and RTE foods is another major aspect of the market being investigated. On the global market, innovative beverages with unusual and ethnic fruit flavors and flavor mixtures have also evolved. In terms of shelf life extension, pH buffering, flavor and tartness, and so forth, citric acid excels phosphoric, tartaric, and lactic acids.
The rising demand for ready-to-drink (RTD) healthy beverages and soft drinks facilitates the utilization of citric acid. Citric acid is often used to impart a nice acidic flavor to foods and beverages. It's also utilized in the manufacturing of gelatin desserts, jellies, and jams, among other things. It enhances the flavor of fruits, berries, and other items used in the preparation of dishes and candies. Citric acid is also used to add an acidic (sour) flavor to foods and soft drinks, as well as to stiffen canned tomatoes. Citric acid is a dry alternative to lemon juice or vinegar in dry foods such seasoning salts, flavoring powders, and crunchy snacks. In addition to the food and beverage and pharmaceutical industries, the animal feed, textiles, detergents and cleaners, and cosmetics industries drive the worldwide citric acid market. It lowers water hardness by acting as a foaming and chelating element in cleaning solutions.
Global Citric Acid Market Restraints:
Unstable stomach, weakness or exhaustion, light-headedness, diarrhea, nausea, and tingling in the hands or feet are all side effects of citric acid drugs or supplements. Researchers call for a more thorough examination into the long-term impacts of produced citric acid. Despite the fact that produced citric acid is FDA-approved, several academics are sceptical about its safety. It is prudent to be aware of the potential adverse effects, especially if there is an allergy or intolerance to the fungi used in the manufacturing process. GMO ingredients are widely used to make artificial citric acid, which has been linked to mould responses. The growth of the Citric Acid Market is being hampered by these difficulties.
Global Citric Acid Market Segmentation Analysis:
By Form:
The Citric Acid Market can be divided into two types based on the form: liquid and powder. In 2021, the Powder sector had the greatest market share. The rising use of powder citric acid as a substitute for lemon juice or vinegar in culinary preparations has fueled this expansion. Its use as a chelating agent to remove and prevent the formation of lime scale in evaporators and boilers is fueling the industry's expansion. The widespread use of citric acid powder as a flavoring agent and preservative in food and beverage applications is boosting this market's growth.
Furthermore, the Liquid segment is expected to grow at the fastest CAGR of 5.4 percent from 2022 to 2027, owing to an increase in the use of liquid citric acid in a variety of food and dairy products due to its beneficial characteristics as acidifying agents, texture modification, and flavor enhancement, as well as citric acid's use as a chelating agent.
By Application:
Food & Beverages

Personal care

Pharmaceuticals

Others
Based on application, the Citric Acid Market can be divided into Food and Beverage, Pharmaceutical, Personal Care, and Others. In 2021, the Food and Beverage Segment had the most market share. Citric acid's use in dietary supplements and ice creams has skyrocketed, fueling this rise. Citric acid is also used to chelate metals. The widespread use of citric acid as a flavoring ingredient and preservative is fueling this industry's expansion.
Furthermore, due to the increasing use of citric acid to manage the pH value in pharmaceuticals and generate salt derivatives of minerals and metals, the Pharmaceuticals segment is expected to develop at the quickest CAGR of 5.6 percent from 2022 to 2027. Apart from being used as a chelating agent, citric acid is also used in antacids and denitrifies due to the effervescent effect it generates when combined with carbonates or bicarbonates, boosting the pharmaceuticals segment's growth.
Geographical Segmentation Analysis:
North America - the United States and Canada

Europe - United Kingdom, Spain, Germany, Italy, and France

The Asia Pacific - India, Japan, China, Australia, Singapore, Malaysia, South Korea, New Zealand, and Southeast Asia

Latin America - Brazil, Argentina, Mexico, and Rest of LATAM

The Middle East and Africa - Africa and Middle East (Saudi Arabia, UAE, Lebanon, Jordan, Cyprus)
Global Citric Acid Market Regional Analysis:
The Global Citric Acid Market Report includes the segmentation of Regions:
In the Citric Acid Market, North America is likely to have the highest market size, while Asia Pacific is expected to grow at the quickest rate during the forecast period. The United States is the largest region in North America, followed by Canada. The presence of various pharmaceutical businesses in the United States explains the high demand in this region.

Increased demand for citric acid in European countries like as Germany and the United Kingdom is driving the worldwide citric acid market. Spain and Italy are two of the most important countries in Europe. In Germany, for example, the food and beverage industry is a vital pillar; approximately 80% of agrarian products are processed into high-quality food and beverages by the industry. Citric acid is in high demand among German food and pharmaceutical firms due to its low toxicity when compared to other acidulant used mostly in the pharmaceutical and food industries.

In 2021, Asia-Pacific (Citric Acid Market) held the highest share, accounting for 35% of the total market. The rising prevalence of cardiovascular diseases is driving this region's growth. For the excised calcified human heart valves, citric acid is used as a decalcifying agent. Citric acid is used to aid in the destruction of hazardous germs and contaminations on the skin's surface, which are common in diabetics, older adults, and smokers. Citric acid is also used to chelate metals. These determinants are boosting the Citric Acid Market in Asia-Pacific to new heights.
Impact of COVID-19 on Global Citric Acid Market:
Citric acid is widely found in packaged foods and drinks, where it is used to keep canned and jarred items fresh for longer periods of time. The COVID-19 pandemic caused a supply-demand imbalance, and people all over the world continued to stockpile food supplies in order to preserve them, with citric acid playing a key part. As a result, citric acid was in high demand during the epidemic.
Key Players in the Market:
Major Key Players in the Global Citric Acid Market are
Foodchem International Corporation

Cofco Biochemical

Posy Pharmachem Pvt Ltd

Hawkins Pharmaceutical Group

Saudi Bio-Acids Company