Acidity Regulators Market Size, Growth, Forecast (2023-2028)
The global Acidity Regulators Market size was estimated to be USD 5.2 billion in 2022, and it is expected to reach a valuation of USD 7.06 billion by the end of 2028, rising at a CAGR of 7.7% during the forecast period. The acidity-regulated market is anticipated to witness remarkable growth in the coming years as it has been widely applied as a preservative, flavor enhancer, and taste modifier.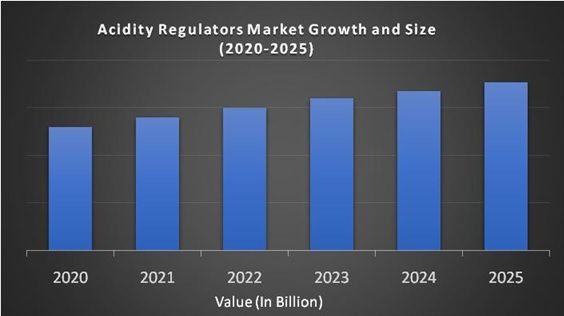 Market Overview:
Acidity regulators are often employed as food additives to control the acidity or basicity of foods. These regulators are also termed as pH regulators. They can be neutralizing agents, bases, buffers, minerals, or organic acids, and play a vital role in the food and beverage industry. It is used in a variety of applications, such as processed foods, baked goods, sauces and dressings, beverages, condiments, and confectionery. Acidity regulators act as preservatives in foods to increase shelf life and are also used to stabilize and regulate the pH balance of foods. They modify the flavor of certain foods by adding a strong character and act as a gelling agent. Acidity regulators can be obtained from natural sources or produced synthetically. Some of the natural sources for acidity regulators are fruits like orange, apple, mango, lemon and strawberry.
Recent Developments in Acidity Regulators Industry:
June 2018: The United States International Trade Commission launches anti-dumping and countervailing tariff investigations on imports of citric acid and specific citrate in Belgium, Colombia and Thailand in response to a request from the US food and commodity processing company Archer Daniels According to Midland and Cargill.

January 2018: ADM opened an innovation center in Singapore to strengthen the Southeast Asia region.
REPORT COVERAGE:
| | |
| --- | --- |
| REPORT METRIC | DETAILS |
| Market Size Available | 2022 – 2028 |
| Base Year | 2022 |
| Forecast Period | 2023 - 2028 |
| CAGR | 7.7% |
| Segments Covered | By Product Type, Application and Region |
| Various Analyses Covered | Global, Regional & Country Level Analysis, Segment-Level Analysis, DROC, PESTLE Analysis, Porter's Five Forces Analysis, Competitive Landscape, Analyst Overview on Investment Opportunities |
| Regions Covered | North America, Europe, APAC, Latin America, Middle East & Africa |
| Market Leaders Profiled | American Tartaric Products Inc, Bartek Ingredients Inc, Brenntag Pacific Inc, Cargill Incorporated, Fbc Industries Inc, Fosfa Chemicals, Fuerst Day Lawson Ltd, Hawkins Watts Ltd, H Plus Ltd, Merko Group Llc and Others. |
Acidity Regulators Market Growth:
The increased use of acidity regulators in the food and beverage industry, such as bakery, confectionery, sauces, condiments and dressings, is supposed to accelerate market growth.
Drivers:
The global acidity regulator market may show significant growth in predictable periods due to increased consumption of processed foods, increased health care awareness, and consumer preference for nutrition and food safety. Acidity regulators are essential ingredients that control the pH of food to prevent microbial degradation and increase shelf life. They are also used as preservatives, antioxidants, chelating agents, flavoring agents and flavor modifiers, mainly used in frozen, canned, fried and dry foods.
Increased consumption of processed and ready-to-eat foods and beverages with a long shelf life is a significant driver of market growth. Health products such as increased sauces, dressings, and condiments and energy drinks also increase the demand for acidity regulators.
The surge in consumer spending, technological developments, rise in preference for natural food ingredients, and government regulations to curb food congestion can fuel the market boom for acid regulators. The market has witnessed many changes and improvisations among manufacturers in recent years and is expected to have a good impact on the industry in the coming years. Traditionally, most acids were extracted through natural fermentation processes. However, many manufacturers have used a variety of modern extraction techniques, such as carbonylation of methanol, oxidation of acetaldehyde, and oxidative fermentation, to provide higher acid yields to meet increased demand. The global acidity regulator market has been driven significantly due to the call for end-user applications like processed foods and beverages. The acidity regulator market has grown tremendously as the demand for healthy processed foods increases among freshness.
Developing countries are seeing the increased application of acidity regulators in processed foods. If the pH is not adequately controlled, unwanted bacteria can grow in products that can be harmful to your health. This aspect plays a crucial role in the rising application of acidity regulators in multiple industries like bakery and confectionery. Some acidity regulators, such as fumaric acid, are used as flavoring agents in bread, fruit drinks, wine, candy, and cake fillings, affecting the needs of acidity regulators in bakery and confectionery. The beverage sector occupied the majority of the global acidity regulator market. With disposable income and time constraints, new generations have come to prefer packaged and ready-to-eat meals, which has had a positive impact on market growth. Canned, dry, and frozen foods use acidity regulators to increase flavor and shelf life. Previously, acids were mined using natural sources, but the development of new technologies created synthetic acids that promoted the growth of the global market. The use of acid modifiers such as flavors, preservatives, antioxidants, and chelating agents encourages the growth of the acid modifier market.
Restraints:
Excessive consumption of acidity regulators leading to health problems is supposed to limit market development. The driver's impact is estimated to be higher than the restriction. Excessive use of these modulators leads to various health problems, such as vomiting, diarrhea and an unstable stomach, and is presumed to hinder the growth of this market.
Acidity Regulators Market Segmentation Analysis:
By Product Type:
Lactic Acid

Acetic Acid

Malic Acid

Phosphoric Acid
By Application:
Sauces

Dressings and Condiments

Beverages

Processed Food

Bakers and Confectionery
Geographical Segmentation Analysis:
North America - the United States and Canada

Europe - United Kingdom, Spain, Germany, Italy, and France

The Asia Pacific - India, Japan, China, Australia, Singapore, Malaysia, South Korea, New Zealand, and Southeast Asia

Latin America - Brazil, Argentina, Mexico, and Rest of LATAM

The Middle East and Africa - Africa and Middle East (Saudi Arabia, UAE, Lebanon, Jordan, Cyprus)
Regional Analysis:
Globally, the Asia-Pacific region occupied a significant market share after North America due to growth in beverages and processed foods. Developing countries in Asia-Pacific and ROW have shown a sharp increase in income levels among the middle-class population. This has led to a growing trend in the consumption of food acidity regulators in these regions as the demand for prepared food for the working class has increased. In the Asia-Pacific region, China, India and Japan are the leading producers of processed foods and beverages, further strengthening the acidity market in the area. The Asia-Pacific region, led by acidity regulators from Korea, Australia, Malaysia, Japan, India and China, is anticipated to benefit significantly from increased demand for processed foods, a growing middle-class population and the presence of big manufacturers in China. The increased consumption of soft drinks and soft drinks can increase the demand for products in the region.
In North America, acidity regulators will see significant growth due to the increased consumption of fruit and vegetable juices in the United States. The growing consumer preference for processed foods in the Middle East and Africa, such as Saudi Arabia, is predicted to result in the positive growth of the global acidity regulator market over the envisioned period. In Europe, Germany is one of the largest markets due to the increased consumption of processed foods. Latin America dominates the market due to the tremendous growth potential in the area.
Key Players in the Market:
Major Key Players in the Global Acidity Regulators market are
American Tartaric Products Inc

Bartek Ingredients Inc

Brenntag Pacific Inc

Cargill Incorporated

Fbc Industries Inc

Fosfa Chemicals

Fuerst Day Lawson Ltd

Hawkins Watts Ltd

H Plus Ltd

Merko Group Llc