Bakery Ingredients Market Size, Growth, Forecast (2023-2028)
The global Bakery Ingredients Market size was worth USD 12.5 billion in 2022, and it is estimated to reach a valuation of USD 18.5 billion by the end of 2028, rising at a CAGR of 5% during the forecast period. The growth of the global bakery market directly increases the demand for bakery ingredients.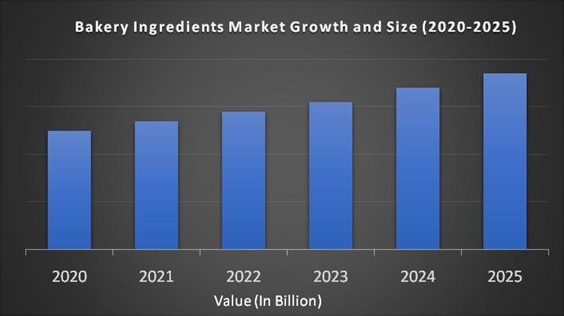 Market Overview:
Bakery ingredients are foods that help maintain freshness, smoothness, and flavor. They improve the expiration date and increase the protein content of baked goods. This item is available in a variety of varieties on the market and is considered the primary food for human nutrition worldwide. Bakery ingredients play a vital role in the making of items like pizza, cakes, bread, cookies, pies, tarts, biscuits, donuts, frozen goods and others. It is mainly used in bakery products to improve overall product quality, save time and extend shelf life. It is essential to use quality ingredients when baking to keep them smooth and tasty. For example, baker's yeast is a critical ingredient that you need to keep gas within the dough for the best results. The choice of ingredients and composition determines the taste and texture of baked goods.
Recent Developments in Bakery Ingredients Industry:
Cargill (USA) has expanded the emulsifier line by adding oil-free canola lecithin. This new product is mainly used in various food products like bakery and confectionery, chocolate and ready to eat meals.

The British Food Association (United Kingdom) acquired Illobo Sugar Limited (South Africa), the largest sugar producer in Africa. This is likely to encourage the company to reinforce its business in Africa.

Koninklijke DSM N.V. (Netherlands) has launched a new product under the brand name BakeZyme Go Pure. Glucose oxidase derived from Penicillium chrysogenum, used for functional oxidation during cooking. This product is added to the enzyme baking product portfolio.
REPORT COVERAGE:
| | |
| --- | --- |
| REPORT METRIC | DETAILS |
| Market Size Available | 2022 – 2028 |
| Base Year | 2022 |
| Forecast Period | 2023 - 2028 |
| CAGR | 5% |
| Segments Covered | By Application, Type and Region |
| Various Analyses Covered | Global, Regional & Country Level Analysis, Segment-Level Analysis, DROC, PESTLE Analysis, Porter's Five Forces Analysis, Competitive Landscape, Analyst Overview on Investment Opportunities |
| Regions Covered | North America, Europe, APAC, Latin America, Middle East & Africa |
| Market Leaders Profiled | Archer Daniels Midland Company, Associated British Foods, Bakels, Cargill, Dawn Food Products, E. I. du Pont de Nemours and Company, Ingredion Incorporated, Kerry Group, Koninklijke DSM N.V, Lallemand, Sdzucker, Taura Natural Ingredients Ltd and Others. |
Bakery Ingredients Market Growth:
Bakery ingredients are used in the manufacture of bakery products to improve the overall quality of the product. There are numerous bakery ingredients present in the international marketplace and their application relies on the estimated performance and flavor of the end product.
Drivers:
The global bakery ingredients market is supposed to grow exponentially due to further urbanization and increased consumption of ready-to-eat foods. The propensity for health-oriented bakery products is another significant contributor to market growth.
The growth of the bakery materials industry is mainly driven by factors such as changing consumer preferences for the consumption of health products, increasing wealth, increasing per capita spending on value-added products and the increased penetration of products containing natural ingredients.
Mainly baking ingredients improve the overall quality of the product, saving time and extending life. The continuous revolution in the food processing industry has allowed the development of innovative products in the bakery industry market.
Today, dietary fiber is added to many foods (baked goods, soups, jams) to stabilize high-fat foods and emulsions and improve shelf life. It gives food the ability to retain moisture, form gels, and keep the oil. Antioxidants are used in small amounts to preserve the fresh appearance, aroma, and taste of baked goods. It is essential to use quality ingredients while baking to maintain smoothness and flavor. The development of the global bakery ingredients market saves time and money due to increased demand for bakery ingredients and lifestyle changes with little time to prepare meals. Furthermore, the need began due to the growing population of working women and time constraints. Ready-to-eat grill food is replacing traditional home-cooked food. In Europe and North America, most of the community prefer wraps, buns, and snacks over time due to their busy and busy lifestyle. The development of new packaging materials and further product diversification in the bakery food category will stimulate demand for bakery ingredients. However, the frozen bakery food market and the active efforts of the leading players to reduce production costs and increase the shelf life of products are expected to provide favorable opportunities for market growth.
The global bakery ingredients market is promoted by aspects like busy lifestyles and changes in eating habits, resulting in increased consumption of bakery products. Furthermore, changes in the culture and everyday life of people in developing countries and the increased demand for low-fat, gluten-free products are assumed to increase market growth. Additionally, a sharp rise in obesity rates and rising fitness concerns have increased the demand for healthy bakery food products. Demand for products like bread and biscuits is growing at a significant rate and is presumed to provide growth opportunities that favor growth in the global ingredient market during the outlook period. There is a tremendous increase in demand for bakery ingredients that contain fewer artificial or insignificant ingredients that show health benefits in mature markets in North America and Europe.
Restraints:
The trend to replace baked goods with grains like oats is expected to hinder the growth of the global market. Furthermore, strict regulations and the implementation of international quality standards are likely to slow the growth of the market.
Bakery Ingredients Market Segmentation Analysis:
By Application:
Cookies and biscuits

Cakes and pastries

Rolls and pies

Bread

Tarts

Others
By Type:
Enzymes

Baking Powder & Mixes

Colors and Flavors

Starch

Fats and Shortenings

Leavening agents

Emulsifiers

Sweeteners

Preservatives

Others
Geographical Segmentation Analysis:
North America - the United States and Canada

Europe - United Kingdom, Spain, Germany, Italy, and France

The Asia Pacific - India, Japan, China, Australia, Singapore, Malaysia, South Korea, New Zealand, and Southeast Asia

Latin America - Brazil, Argentina, Mexico, and Rest of LATAM

The Middle East and Africa - Africa and Middle East (Saudi Arabia, UAE, Lebanon, Jordan, Cyprus)
Regional Analysis:
In terms of sales, Europe was the most dominant area in 2016, representing 36.2% of global sales. Due to lifestyle changes, there is a need for alternatives to regular household foods, and the demand for packaged and processed foods is increasing. However, bakery products are the most critical foods in Europe and North America. The ongoing revolution in the food processing industry is leading to the development of new packaged foods as the demand for convenient foods by European and North American consumers increases. The Asia-Pacific region is estimated to be the third-largest regional segment and is anticipated to witness the fastest growth as demand increases in China, India and Japan. India and China, with a growing population and disposable income, are expected to be the fastest-growing markets worldwide during the forecast period. Customers' propensity for western-style food is expected to stimulate demand for products in developing countries. In many countries, strict regulations on restricting the use of certain baking ingredients can challenge manufacturing methods during the forecast period. However, these are mature markets when it comes to bakery ingredients.
The Asia-Pacific region is the fastest-growing segment due to increased demand for bakery products and lifestyle changes. Europe is the most substantial business for baking ingredients, trailed by North America. In North America, the United States and Mexico are estimated to develop as the number of fast-food chains increases, and the use of baked goods and bakery ingredients rises. Germany is a significant monetization market in Europe.
Key Players in the Market:
Major Key Players in the Global Bakery Ingredients Market are
Archer Daniels Midland Company

Associated British Foods plc

Bakels Group

Cargill, Incorporated

Dawn Food Products Inc

E. I. du Pont de Nemours and Company

Ingredion Incorporated

Kerry Group plc

Koninklijke DSM N.V

Lallemand Inc

Sdzucker

Taura Natural Ingredients Ltd

AAK AB

Tate & Lyle PLC

Corbion N.V

IFFCO Corporate

CSM Bakery Solutions

Novozymes

Puratos Group