Bulk Food Ingredients Market Size, Growth (2023-2028)
The Global Bulk Food Ingredients Market size is valued at US$ 808.9 Billion in 2022 and is anticipated to increase at US$ 1208.1 Billion by 2028, with a growing CAGR 4.50% of in the next six years.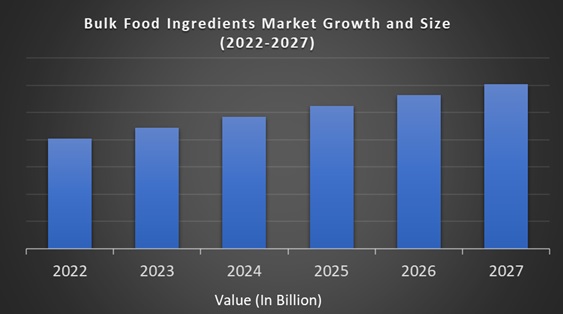 Product Description:
Food ingredients used in processed foods and packaged foods and ready-to-eat foods such as cookies, confectionery, beverages and chocolate are called bulk food ingredients. They are foods or goods that are offered in bulk and can be purchased in bulk purchases or moved from bulk containers to small containers. They are also known as whole food ingredients. They buy in bulk and sell in retail stores. Due to lifestyle changes, the availability of disposable income and an increased awareness of public health, the market for bulk food materials is growing at a significant rate. These food ingredients are generally packaged in large regular containers and grocery packaging materials that use minimal natural resources, so they can be less expensive than packaged foods. These food ingredients comprise artificial sweeteners, coffee and tea extracts, sugar, spices, nuts and seeds, dehydrated vegetables, dried fruits, and others. Food ingredients may or may not be processed. Bulk food ingredients are used as raw materials for the manufacture of various food products, such as cookies, snacks, etc.
Recent Developments in Bulk Food Ingredients Industry:
Olam International acquired the global cocoa business from Archer Daniel Midland Co. (ADM) to increase market revenue and strengthen its global presence.

August 2017, Tata & Lyle Plc announced the expansion of the CLARIA Functional Clean Label line of labels by adding two new starch products: CLARIA Instant 360 and 340.

In 2017, the United States won McCornick and Co. Inc. McCornick brand spices, condiments and herbal brands launched on the Indian market.
Bulk Food Ingredients Market Growth:
The increased demand for packaged and convenience foods is a major driver of revenue growth for the global bulk food ingredients market.
REPORT COVERAGE:
| | |
| --- | --- |
| REPORT METRIC | DETAILS |
| Market Size Available | 2022 – 2028 |
| Base Year | 2022 |
| Forecast Period | 2023 - 2028 |
| CAGR | 4.50% |
| Segments Covered | By Type, Application and Region |
| Various Analyses Covered | Global, Regional & Country Level Analysis, Segment-Level Analysis, DROC, PESTLE Analysis, Porter's Five Forces Analysis, Competitive Landscape, Analyst Overview on Investment Opportunities |
| Regions Covered | North America, Europe, APAC, Latin America, Middle East & Africa |
| Market Leaders Profiled | Tate and Lyle PLC, EHL Ingredients, Related British Food PLC, Community Food Limited, Cargill, Olam International, DMH Ingredients, DuPont, Archer Daniels Midland Company, Ingredion Incorporated, The Source Bulk Foods UK and Others. |
Drivers:
The global bulk food ingredients market is growing due to factors such as changes in consumer lifestyles, increased demand for prepared and processed foods and beverages, increased consumer health awareness, a growing population female worker and increased income and skills available. The increase in demand for prepared food can be seen more prominently as per capita spending on food increases in the developing world. This increase in demand for prepared foods can also be seen as demand for bakery foods, fast foods, and desserts increases. The purchasing power of consumers is increasing and the demand for fast food is constantly rising along with a more active lifestyle pattern. The main part of convenience foods are bulk food ingredients that provide the necessary sensory properties for food and provide a longer food life than the average shelf life to appeal more to consumers. Other factors that may be a problem for the market growth include concerns about the freshness and safety of processed foods, high prices for ready-to-eat foods, and unstable agricultural supply. It has a major impact on the western market, but skepticism about the consumption of prepared foods persists, which may hinder the growth of the market for bulk food ingredients. Consumers are more aware of their health and demand healthy foods that are low in fat, cholesterol and sugar. Consumers demand foods rich in fiber and protein. This market for bulk food ingredients is impacted by the factors like increased consumer spending, rapid urbanization, and increased consumer demand for food preparation through better living standards. Also, as consumer health awareness has increased, the demand for bulk food ingredients has increased. As awareness of healthy lifestyles rises, the demand for healthy and wellness foods expand, and the global market is growing.
The driving forces in this market are rising disposable incomes, busy lifestyles, technological developments, and a growing workforce. The bulk food ingredient companies are developing with a focus on expansion, new releases and acquisitions. Concerns about the freshness and safety of processed foods are affecting a significant portion of the population that is ready to eat and is not dependent on packaged foods. Despite the impact of western markets on emerging Asia Pacific economies, skeptics remain skeptical of ready-to-eat consumption in these economies. Also, those who are ready to eat packaged foods are offered at a lower price compared to the middle class. The increase in the workforce, the increase in the consumption of packaged foods and the increase in disposable income are some of the main factors that are expected to support the growth of sales in the target market. Consumption of ready-to-eat and processed foods is high in North America, leading the market for bulk food ingredients. Due to urbanization in Asia Pacific, the need for processed foods is rising. The majority of consumers in the region are a workforce, increasing the need for bulk food ingredients. Besides, manufacturers in this locale are purchasing bulk food ingredients and processed raw materials. The rising preference for the intake of natural ingredients among consumers and the development of such materials by manufacturers is promoting the expansion in the global bulk food ingredients market. The increase in food consumption, together with the growth of the world population, is one of the main factors that is expected to drive the growth of the worldwide bulk Food Ingredients Market.
Restraints:
The variable cost of bulk food ingredients is another factor that challenges the growth of the global Bulk Food Ingredients market during the forecast period. The potential for food contamination, along with the lack of adequate infrastructure required for the storage of bulk food ingredients, is one of the main factors expected to undermine growth in the global Bulk Food Ingredients market.
Bulk Food Ingredients Market Segmentation Analysis:
The global bulk food ingredients market is segmented by type and by application.
By type, the market for bulk food ingredients is divided into primary and secondary processed. Primary processing is subdivided into grains and nuts, seeds, sugar, herbs and spices, oilseeds, salts, etc. Secondary processing is subdivided into grains and seeds, nuts and nuts, sugar, herbs and spices, salt and flour. The Herbs and Spices segment is expected to grow at the highest CAGR during the forecast period as demand for healthy products increases among consumers.
Depending on the application, the market is divided into bakery products, food, snacks and spreads, confectionery, infant formulas and dairy products, prepared foods and beverages (including alcoholic and non-alcoholic drinks). The bakery products segment has the largest market share, while the prepared products segment is expected to grow at the highest rate during the forecast period. The demand for prepared meals is expected to increase as consumers' eating habits change due to changes in the consumer's lifestyle.
Geographical Segmentation Analysis:
North America - the United States and Canada

Europe - United Kingdom, Spain, Germany, Italy, and France

The Asia Pacific - India, Japan, China, Australia, Singapore, Malaysia, South Korea, New Zealand, and Southeast Asia

Latin America - Brazil, Argentina, Mexico, and Rest of LATAM

The Middle East and Africa - Africa and Middle East (Saudi Arabia, UAE, Lebanon, Jordan, Cyprus)
Regional Analysis:
The North American market for bulk food ingredients is expected to record significant growth as consumption of prepackaged and ready-to-eat food among the workforce increases with busy work hours. Also, the increased consumption of alcoholic and non-alcoholic beverages among young people is another factor to increase the growth of the target market in the region. The Asia Pacific market is expected to dominate the global market and continue to dominate during the outlook period. These are additional factors that are expected to accelerate the growth of the target market in the region, along with an increase in disposable income as demand for hygiene and high-quality food increases due to rapid urbanization. However, the mass production of food ingredients such as grains and seeds in emerging countries such as India and China are another factor that is expected to support sales growth in the region's target markets.
Key Players in the Market:
Major Key Players in the Global Bulk Food Ingredients Market are
Tate and Lyle PLC

EHL Ingredients

Related British Food PLC

Community Food Limited

Cargill

Olam International

DMH Ingredients

DuPont

Archer Daniels Midland Company

Ingredion Incorporated

The Source Bulk Foods UK