Caramel Ingredients Market Size, Growth, Forecast (2023-2028)
The global Caramel Ingredients Market size was estimated to be US$ 2.4 billion in 2022, and it is determined to reach a valuation of US$ 3.99 billion by 2028 with an annual development rate of 7.2% between 2023 and 2028.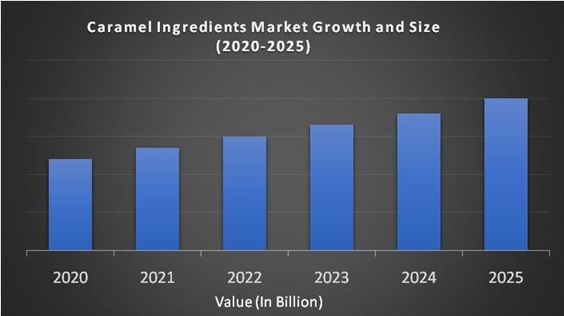 Market Overview:
Caramel is a confectionery product used to flavor, fill, and fill various foods and beverages. These products are available in many shapes and types and are used in a variety of food and beverage products. It is produced by heating the sugar to a predetermined temperature. Caramel is a confectionery product that is used as a flavoring, filling, and dressing for food and beverages. It is prepared by heating different types of sugar to a defined temperature. Considering the usefulness of caramel ingredients, we focus more on market expansion, new launches, and developments of caramel ingredients. Caramel ingredients are available in a variety of shapes and types and are used in a variety of applications. Powdered and granular caramel components are preferable to others as the trend in packaged foods increases rapidly with a longer shelf life.
Recent Developments in Caramel Ingredients Industry:
In June 2019, PladisGlobal announced the launch of the Flipz Salted Caramel Package. The new snack bar is topped with salted caramel with a premium aroma. The new product will play a solid role in the market among young consumers.
In April 2018, Barry Callebaut announced the launch of a new gold caramel chocolate with high preference for caramel chocolate customers consisting of caramel milk and sugar.
Caramel Ingredients Market Growth:
The bakery and confectionery industry have improved due to increased consumer indulgence and snack habits for bakery products, significantly improving the market for related ingredients, including candy.
REPORT COVERAGE:
| | |
| --- | --- |
| REPORT METRIC | DETAILS |
| Market Size Available | 2022 – 2028 |
| Base Year | 2022 |
| Forecast Period | 2023 - 2028 |
| CAGR | 7.2% |
| Segments Covered | By Type, Application, Form and Region |
| Various Analyses Covered | Global, Regional & Country Level Analysis, Segment-Level Analysis, DROC, PESTLE Analysis, Porter's Five Forces Analysis, Competitive Landscape, Analyst Overview on Investment Opportunities |
| Regions Covered | North America, Europe, APAC, Latin America, Middle East & Africa |
| Market Leaders Profiled | Nestlé S.A, Cargill, Inc, Hwasung Corporation, Ferrero SpA, Kerry Group, Sensitive Technologies Corporation, Free foot ray, Goetze's Candy Company, Inc, Seth Nice Rocket Caramel Color, DDW The Color House, Alvin Caramel Color, Bakels, Metarom and Others. |
Drivers:
The global caramel ingredients market is growing as consumers around the world prefer nutritious packaging and food products and beverages. The demand for frozen bakery products has increased as consumers must be prepared to make products due to their busy lifestyle and rising incomes. There is a trend in food decoration that consumers are increasingly adopting. These factors affect the market for caramel ingredients. Also, the acceptance of caramel ingredients in everyday life for a growing average population when the tendency to eat out has increased, has led food manufacturers to focus on foods that are more attractive and tempting to consumers with the help of caramel ingredients. Fantastic food intake, cake and ice cream decorations, and traditional food fusion trends have developed the concept of caramel ingredients. Additionally, the busy lifestyle has changed cooking and eating habits around the world. People prefer frozen bakery products and are ready to eat them over traditional slow cooker. Increasing disposable income and adopting urban lifestyles are one of the main factors driving demand for caramel ingredients. Since then, the demand for confectionery products has increased and the use of caramel ingredients has increased, stimulating the market for caramel ingredients. Given this consumer's preferences, buying habits, and tastes, providing services to this small but profitable market can provide the company with huge profits. As disposable incomes increased and lifestyles evolved, the palette varied, giving players in this market a great opportunity for expansion. Among the various types of caramel ingredients, granular and powder forms are growing widely in confectionery.
Companies in this market lead the caramel ingredients market with an emphasis on expansion, contracts, acquisitions, new launches, and development of a variety of caramel ingredients. Many baked goods, such as cookies and cream-filled cakes, are now available in a robust and aesthetic packaging format, which not only increases shelf life, but also contributes to the overall appeal and sales of the product. The consumption of bakery products is increasing with the consumption of bakery products. In addition to the ease of preparation in which a small, bite-size container is provided, it increases the convenience of baked goods. In addition, consumer demand for additive-free, GMO-free, clean-label, and health-promoting bread products has increased demand for baked goods. There are different types of caramel ingredients used in various applications. In particular, as the adoption of caramel ingredients in confectionery products increases, the market for caramel ingredients is promoted. The driving forces for this market include an increase in disposable income, busy lifestyles, an increased demand for frozen bakery products and an increase in the working female population. Concerns about the detrimental effects of caramel coloring ingredients have been the main drawbacks the market has faced in the past decade, as consumer health, low-carb and low-weight options have been exacerbated by continuous changes in the general eating habits of sugary foods. The market has faced threats with the introduction of caramel alternatives in recent years.
Restraints:
Rising prices of caramel ingredients and other raw materials serve to slow the growth of the market. The minimal use of confectionery products can interfere with the growth of the candy ingredients market, while adopting a healthy diet to change eating habits among consumers. While the overall market for caramel ingredients is growing significantly, prices for caramel ingredients are increasing due to restrictions such as rising raw material prices. Besides, minimizing the use of confectionery products in everyday life by turning consumers' eating habits into healthier products is a potential threat to future demand for products. The main obstacle to the size of the candy materials market is the steadily rising prices of raw materials, resulting in higher product prices.
Impact of COVID 19 on the Caramel Ingredients Market:
Amid the global pandemic and the indefinite shutdown between countries, the consumption of caramel ingredients has been in high demand. Changes in consumer purchasing behavior and dynamic changes to online distribution channels and D2C may seriously affect the growth of the industry in the near future.
Caramel Ingredients Market Segmentation Analysis:
Caramel ingredients can be divided into liquid, solid and powder/granular based on form. Due to the wide range of applications in the beverage industry, mainly beverages and cola, liquid ingredients dominated the market. This ingredient is also widely used in the manufacture of various alcoholic beverages, such as beer, whiskey, whiskey, and dark rum. The salted caramel potter is one of the most popular beers each fall and fall, and the company transforms original recipes in innovative and creative ways to bring something new to consumers.
Depending on the application, the market for caramel ingredients has been classified into confectionery, bakery, ice cream and desserts, drinks, etc. The confectionery sector had the largest share of revenue in 2018 and will remain at the forefront throughout the forecast period. Caramel has been a traditional ingredient in many confectionery products and is still on trend.
Depending on the type, the market was classified as flavoring, coloring, fillings, inclusions, topping, etc. Coloring led the market with a share of over 35.0% in 2019. It has become customary to use caramel ingredients as a colorant in various foods and beverages. What to eat and drink.
Geographical Segmentation Analysis:
North America - the United States and Canada

Europe - United Kingdom, Spain, Germany, Italy, and France

The Asia Pacific - India, Japan, China, Australia, Singapore, Malaysia, South Korea, New Zealand, and Southeast Asia

Latin America - Brazil, Argentina, Mexico, and Rest of LATAM

The Middle East and Africa - Africa and Middle East (Saudi Arabia, UAE, Lebanon, Jordan, Cyprus)
Regional Analysis:
North America was the main market in 2018, followed by Europe. The popularity of caramel as an ingredient in applications such as packaging and frozen food, desserts, bakery and confectionery has contributed significantly to the growth of these local markets. The Asia Pacific region will have a 7.7% annual growth rate during the forecast period and is expected to emerge as the fastest-growing regional market for caramel ingredients. Centered in India, China, Indonesia, Malaysia, Korea and Thailand, numerous countries in the region are the main sources of income for new and existing companies. Rapid urbanization, along with increased disposable income for consumers, improved logistics, and the growth of the food and beverage industry are the leading manufacturers in these key countries expanding the region and taking advantage of profitable opportunities. Companies have made innovation and seasonal preference an important growth strategy, which will keep North America and Europe at the top of the game during the outlook period.
Key Players in the Market:
Major Key Players in the Global Caramel Ingredients Market are
Nestlé S.A

Cargill, Inc

Hwasung Corporation

Ferrero SpA

Kerry Group

Sensitive Technologies Corporation

Free foot ray

Goetze's Candy Company, Inc

Seth Nice Rocket Caramel Color

DDW The Color House

Alvin Caramel Color

Bakels

Metarom