Yeast Ingredients Market Size, Growth (2023-2028)
The Global Yeast Ingredients Market Size was worth US$ 1.91 million in 2022, and it is estimated to reach a valuation of US$ 3.5 million by the end of 2028, registering an annual growth rate of 8.2% between 2023 and 2028. The benefits of using in other sectors have greatly increased the demand for yeast ingredients.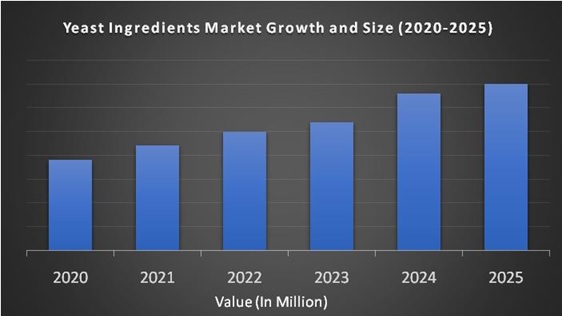 Market Overview:
Yeast is the common name for yeast strains that are commonly used in baking bread and bakery products, and it acts as a salting agent that increases sustenance by converting the fermentable sugar present in the dough into carbon dioxide and ethanol. Increased consumption of fast, processed foods, especially baked goods, is expected to spur growth in the yeast ingredient market. Yeast is a living single-celled organism. It is found abundantly in the soil, plant surfaces, and in proteins such as flower honey and fruit. Yeast converts food to alcohol and carbon dioxide through a process called fermentation. This is critically important not only when the yeast makes wine and beer, but also in the cooking process. The yeast commonly used to bake bread and bakery products is called baker's yeast. Flour is the most widely used flour when baked with yeast.
Recent Developments in Yeast Ingredients Industry:
August 2017: Ajinomoto Co. Inc. has signed a subcontracting agreement with Meihua Holdings Group of China to produce amino acids for feed.
REPORT COVERAGE:
| | |
| --- | --- |
| REPORT METRIC | DETAILS |
| Market Size Available | 2022 – 2028 |
| Base Year | 2022 |
| Forecast Period | 2023 - 2028 |
| CAGR | 8.2% |
| Segments Covered | By Type, Application and Region |
| Various Analyses Covered | Global, Regional & Country Level Analysis, Segment-Level Analysis, DROC, PESTLE Analysis, Porter's Five Forces Analysis, Competitive Landscape, Analyst Overview on Investment Opportunities |
| Regions Covered | North America, Europe, APAC, Latin America, Middle East & Africa |
| Market Leaders Profiled | Associated British Food Plc, Kerry Group Plc, Koninklijke DSM NV, Sensient Technologies Corporation, Angel Yeast Co., Ltd, Lesaffre, Lallemand Inc, Leiber GmbH, Synergy Flavors, Beldem and Others. |
Yeast Ingredients Market Growth:
The increase in consumption of processed and fast foods, especially bakery products, is expected to stimulate market growth in the future.
Drivers:
The global yeast ingredients market is driven by a growing demand for processed foods and beverages as the impact of busy lifestyles in developing countries increases. As a salty flavor, the importance of these ingredients has increased and has been applied on a large scale to fermentation processing, making the market accessible in recent years. Furthermore, increased consumption of processed foods and fast foods, especially bakery items, is expected to spur market growth. In terms of raw materials, the industrial value chain consists of distribution channels, raw material suppliers, manufacturers and applications. Yeast ingredients used in a variety of fields, including various industries, such as food and feed. For pet food applications, yeast ingredients are used to enhance odors, flavors, and salty flavors in place to enhance the taste.
Furthermore, in developing countries, the market for yeast ingredients is evolving in response to the growing demand for livestock products. Several food manufacturers are developing products that contain extracts without artificial flavors, such as MSG (monosodium glutamate). The market is supposed to increase in the coming years. Because these ingredients are natural, they are widely used throughout the food industry. Additionally, use in various areas of the food and beverage industry is expected to increase as demand for high nutritional value foods increases rapidly. With calorie reduction and increased awareness of healthy eating among consumers in major markets such as India, the United States and China, market growth is anticipated to increase as consumption of functional foods accelerates in the coming years.
As awareness of the importance of adequate protein intake increases, you can revitalize the market during the forecast period. The growing demand for yeast ingredients in the food and beverage industry, and increased personal awareness of the health benefits and nutritional value of yeast in food, are key factors driving the growth of the global market for ingredients in yeast. In addition, the increased use of yeast ingredients in nutritional supplements, pharmaceuticals, and increased consumer interest in organic foods made from natural food additives are other factors presumed to accelerate the growth of the global yeast ingredient market during the prognosis period.
Restraints:
Insufficient raw material availability is a critical factor in inhibiting the growth of the global yeast ingredient market. Also, intense competition among market participants is another factor that is expected to hamper the growth of the worldwide yeast ingredient market during the forecast period. Furthermore, one of the main factors limiting the world market is the lack of essential raw materials, which are in demand in various sectors due to restrictions on trade in molasses in European countries. Another reason for this shortage is that biofuel prices are high, posing a significant threat to biofuel competition.
Yeast Ingredients Market Segmentation Analysis:
By Type:
Yeast Extracts

Autolyzed Yeast

Dry Yeast

Yeast Based-flavors
By Application:
Food & Beverages

Animal Feed

Pharmaceuticals
Yeast Ingredients Market Geographical Segmentation Analysis:
North America - the United States and Canada

Europe - United Kingdom, Spain, Germany, Italy, and France

The Asia Pacific - India, Japan, China, Australia, Singapore, Malaysia, South Korea, New Zealand, and Southeast Asia

Latin America - Brazil, Argentina, Mexico, and Rest of LATAM

The Middle East and Africa - Africa and Middle East (Saudi Arabia, UAE, Lebanon, Jordan, Cyprus)
Regional Analysis:
The European yeast ingredients market has the highest proportion of sales in the world market due to the increasing consumption of functional foods together with the growth of the local dairy industry. The demand for yeast ingredients in Europe maintained around 35.0% of sales. Significant growth is expected during the outlook period due to the development of the bakery industry and commercial expansion in target markets, including Germany, the United Kingdom, Italy and France. If the demand for bakery food in Europe is increasing, the need for products in this region will increase during the forecast period.
The Asia Pacific market is anticipated to grow faster during the forecast period due to increased awareness of consuming healthy and nutritional foods and higher disposable income in developing countries like China and India. The Asia Pacific region led approximately 23.0% of global product demand in terms of revenue. China, India and Japan are the primary sources of income in the area due to the high production of animal feed and food consumption. Also, knowledge of nutritional food consumption is suspected of benefiting the market.
The North American yeast ingredients market is likely to show significant growth during the forecast period as demand for yeast ingredients increases in the region's food, pet food and pharmaceutical industries. The North American market is expected to grow significantly during the forecast period, expanding at a compound annual rate of 7.4% in terms of revenue. Growth in the region is due to an increase in demand for dairy products, feed and pharmaceuticals. The proliferation of diseases like diabetes is strengthening the importance of foods improved with low-calorie, sugar-free ingredients. As a result, food and beverage manufacturers use yeast ingredients to supply products such as frozen products, baked goods, beverages, and confectionery, which is ready to promote the growth of the local market.
Key Market Players in the Market:
Some of the leading companies active in the yeast ingredients market are
Associated British Food Plc

Kerry Group Plc

Koninklijke DSM NV

Sensient Technologies Corporation

Angel Yeast Co., Ltd

Lesaffre

Lallemand Inc

Leiber GmbH

Synergy Flavors

Beldem