Blackstrap Molasses Market Growth and Forecast (2021-2026):
Blackstrap Molasses Market size was worth USD 12.8 billion in 2021, and it is foreseen to reach a valuation of USD 18.1 billion by the end of 2026 with an annual expansion rate (CAGR) of 5.7% between 2021 and 2026.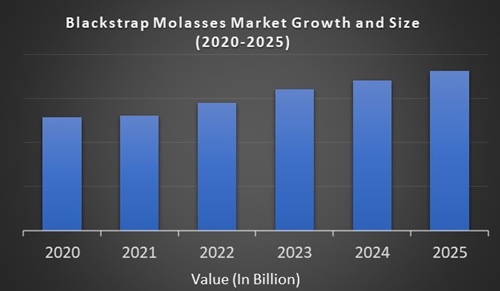 Market Overview:
Blackstrap molasses, a by-product of the manufacture of raw sugar from sugarcane, generally contains less than 55% total sugar, more than 1% protein, and 80-86% total solids. Blackstrap molasses is gaining popularity in industrial fermentation because it produces raw alcohol. It was used primarily in the production of alcohol through an ethanol fermentation process. Ethanol fermentation is also called alcohol fermentation, which produces raw alcohol and then distributes it to companies producing consumable alcohol. Blackstrap molasses has seen significant growth due to its versatile application in a variety of industries such as cosmetics, food and beverage, skin care, fertilizer, and animal feed. For example, in the food and beverage industry, blackstrap molasses is used as a sweetener in bakery products and as a colorant in the food service industry. Black strap molasses in cane form is composed of approximately 55% sucrose and other sugars, 20% water, 15% organic non-sugar, and 10% ash. Blackstrap molasses also acts as a natural coloring in food. It is a rich source of trace elements, enzymes and vitamins. Blackstrap molasses also contains significant amounts of minerals such as calcium, iron, potassium, manganese, and magnesium. It can be added to smoothies and smoothies. It is also used to prepare baked goods such as muffins, cookies, gingerbread, baked beans, etc. Blackstrap molasses is applied in a variety of industries, including food and dietary supplements.
Blackstrap Molasses Market Growth:
Increasing sugarcane production is expected to drive the Blackstrap molasses product market growth during the forecast period.
REPORT COVERAGE:
| | |
| --- | --- |
| REPORT METRIC | DETAILS |
| Market Size Available | 2020 -2026 |
| Base Year | 2020 |
| Forecast Period | 2021 - 2026 |
| CAGR | 5.7% |
| Segments Covered | By Form, Application, Distribution Channel and Region |
| Various Analyses Covered | Global, Regional & Country Level Analysis, Segment-Level Analysis, DROC, PESTLE Analysis, Porter's Five Forces Analysis, Competitive Landscape, Analyst Overview on Investment Opportunities |
| Regions Covered | North America, Europe, APAC, Latin America, Middle East & Africa |
| Market Leaders Profiled | Crosby's Molasses, Allied Old English, Inc, Meridian Foods Limited, B&G Foods, Inc, Domino Specialty Ingredients, ED&F Man Liquid Products UK Ltd, Zook Molasses Company, Pestell Minerals and Ingredients Inc, Malt Products Corporation, Buffalo Molasses and Others. |
Drivers:
The increasing use of Blackstrap molasses in food and beverages and the rising popularity among consumers for its benefits is expected to drive the growth of the Blackstrap molasses market during the foreseen period. There is a growing awareness of health among consumers, favoring products with high nutritional value. Therefore, the company is trying to develop innovative new products that offer a variety of health benefits. Manufacturers in the food and beverage industry can develop innovative and healthy products to attract health-conscious consumers. There is a growing demand for molasses in the bakery sector, as costs are lower compared to sugar, production of alcoholic beverages increases, and changes in people's food and lifestyle preferences drive growth of the global market for Blackstrap molasses. On the other hand, the increase in its use as a sweetener and coloring in the food and beverage industry opens new opportunities in the coming years. The demand for ready-to-eat products is increasing with a busy lifestyle, a larger economy, and a surge in working women. Consumer preference for convenience is increasing, and as a result, demand for baked goods is increasing at a high rate worldwide, which is expected to revitalize the global Blackstrap molasses market. It is used to prepare a variety of bakery products such as cookies, breads, muffins and cakes, so the growing demand for bakery products is likely to have a positive impact on the Blackstrap molasses market. Blackstrap molasses is a rich source of iron that helps maintain hemoglobin levels. It contains several minerals and vitamins that provide a variety of health benefits. Additionally, consumers' preference for plant-based and organic dietary supplements is increasing, making Black Strap Molasses a suitable choice as a dietary supplement. Growing consumer awareness has led to an increase in demand for dietary supplements and is supposed to be the driving force behind the global Blackstrap molasses market size. Blackstrap molasses has antioxidant and anti-inflammatory properties that provide a variety of health benefits.
Restraints:
Despite the enormous benefits of Blackstrap molasses, consuming this has been found to cause some type of allergic reaction, limiting market growth. It is believed to be a good alternative to refined sugar and artificial sweeteners for diabetics, but some people have observed elevated blood sugar levels after taking it. It is safe due to its low glycemic index, but within a limited amount. The lack of awareness about the use of Blackstrap molasses has a major impact on the growth of the worldwide market during the outlook period.
Blackstrap Molasses Market Segmentation Analysis:
By its shape, liquid black molasses is formed directly, producing sugar in its basic form. The Blackstrap liquid molasses segment accounted for approximately 1/3 of the global market share in 2019 and this trend is estimated to continue throughout the foreseen period. This is primarily due to the benefits associated with liquid black molasses as it is more convenient to use in the ethanol fermentation and animal feed industries.
Based on the application, the animal feed sector is likely to grow to $ 2,262.5 million by 2025, reaching a CAGR of 9.2%. Blackstrap molasses is widely used in animal feed because of its rich source of vitamins and minerals such as calcium, magnesium and selenium.
Based on the distribution channel, the online segment was valued at $ 4.69 trillion in 2019 and is determined to reach $ 706.6 million in 2025, with an average annual growth rate of 6.5%. The advent of the Internet of things at a commercial level, increasing globalization and the trend of shopping on online platforms add to the expansion of the product market. Online sales platforms like Amazon have been of great help to the growth of the blackstrap molasses market, as they are widely used for home use.
Impact of COVID-19 on the Blackstrap Molasses Market:
The outbreak of the coronavirus pandemic had a negative impact on the market for Blackstrap molasses. Lack of manpower, global migration and the closure of sugarcane plants have led to a significant decline in production. As the factory was closed, demand in the food and beverage industry decreased. During the post-closure period, demand will increase as the plant begins to operate at optimal operator capabilities. However, as it takes time to return to the factory from home, there will be a shortage of workers at first. In addition, the lack of government support from major sugarcane producers such as India and Brazil, adverse conditions and the emergence of the epidemic curfew are having a significant impact on the availability of labor in the sugar cane factories, which will hamper the growth of the market.
Geographical Segmentation Analysis:
North America - the United States and Canada

Europe - United Kingdom, Spain, Germany, Italy, and France

The Asia Pacific - India, Japan, China, Australia, Singapore, Malaysia, South Korea, New Zealand, and Southeast Asia

Latin America - Brazil, Argentina, Mexico, and Rest of LATAM

The Middle East and Africa - Africa and Middle East (Saudi Arabia, UAE, Lebanon, Jordan, Cyprus)
Regional Analysis:
Asia Pacific dominated the global Blackstrap molasses market demand in 2019, the main factor driving the growth of the market in this region is the mass production of sugar from sugar cane. This is mainly due to favorable environmental conditions, large agricultural areas, and government support for cane sugar production. The impact of changes in lifestyle, Western culture, and increased disposable income are some of the reasons for the growing demand for bakery products in the Asia Pacific region. Therefore, increased consumption of bakery products is expected to increase demand for Blackstrap molasses as it is used in the manufacture of a variety of bakery products while providing a variety of health benefits. Therefore, the black molasses business is expected to grow at a high rate in Asia Pacific.
North America is supposed to have the highest CAGR of 8.6% during the foreseen period. This is legitimate for the bakery and confectionery sector in the US region, and the adoption of plant-based ingredients in food and beverages is increasing rapidly. This is due to increased purchasing power, changes in people's lifestyle and eating habits, high demand in the bakery sector, and the rise of fast-food chains. Brazil is the largest sugar cane producer in South America. Because black belt is a by-product of sugar production, Brazil produces a large quantity of Blackstrap molasses and accounts for 30% of the worldwide market. Brazil has played a pioneering role in the implementation of a competitive bioethanol industry. Increased sugar production in Brazil is estimated to drive growth in the worldwide Blackstrap molasses market during the envisioned period.
Key Players in the Market:
Major Key Players in the Global Blackstrap Molasses Market are
Crosby's Molasses

Allied Old English, Inc

Meridian Foods Limited

B&G Foods, Inc

Domino Specialty Ingredients

ED&F Man Liquid Products UK Ltd

Zook Molasses Company

Pestell Minerals and Ingredients Inc

Malt Products Corporation

Buffalo Molasses
1. Introduction
1.1 Market Definition
1.2 Scope of the report
1.3 Study Assumptions
1.4 Base Currency, Base Year and Forecast Periods
2. Research Methodology
2.1 Analysis Design
2.2 Research Phases
2.2.1 Secondary Research
2.2.2 Primary Research
2.2.3 Data Modelling
2.2.4 Expert Validation
2.3 Study Timeline
3. Report Overview
3.1 Executive Summary
3.2 Key Inferencees
4. Market Dynamics
4.1 Impact Analysis
4.1.1 Drivers
4.1.2 Restaints
4.1.3 Opportunities
4.2 Regulatory Environment
4.3 Technology Timeline & Recent Trends
5. Competitor Benchmarking Analysis
5.1 Key Player Benchmarking
5.1.1 Market share analysis
5.1.2 Products/Service
5.1.3 Regional Presence
5.2 Mergers & Acquistion Landscape
5.3 Joint Ventures & Collaborations
6. Market Segmentation
6.1 Blackstrap Molasses Market, By Form
6.1.1 Powder
6.1.2 Liquid
6.1.3 Market Size Estimations & Forecasts (2021-2026)
6.1.4 Y-o-Y Growth Rate Analysis
6.1.5 Market Attractiveness Index
6.2 Blackstrap Molasses Market, By Application
6.2.1 Food & Beverages
6.2.2 Industrial Fermentation
6.2.3 Animal Feed
6.2.4 Pharmaceutical
6.2.5 Market Size Estimations & Forecasts (2021-2026)
6.2.6 Y-o-Y Growth Rate Analysis
6.2.7 Market Attractiveness Index
6.3 Blackstrap Molasses Market, By Distribution Channel
6.3.1 Offline
6.3.2 Online
6.3.3 Market Size Estimations & Forecasts (2021-2026)
6.3.4 Y-o-Y Growth Rate Analysis
6.3.5 Market Attractiveness Index
7. Geographical Landscape
7.1 Global Identity Governance and Administration Market, by Region
7.2 North America - Market Analysis (2021-2026)
7.2.1 By Country
7.2.1.1 USA
7.2.1.2 Canada
7.2.2 By Form
7.2.3 By Application
7.2.4 By Distribution Channel
7.3 Europe
7.3.1 By Country
7.3.1.1 UK
7.3.1.2 France
7.3.1.3 Germany
7.3.1.4 Spain
7.3.1.5 Italy
7.3.1.6 Rest of Europe
7.3.2 By Form
7.3.3 By Application
7.3.4 By Distribution Channel
7.4 Asia Pacific
7.4.1 By Country
7.4.1.1 China
7.4.1.2 India
7.4.1.3 Japan
7.4.1.4 South Korea
7.4.1.5 South East Asia
7.4.1.6 Australia & NZ
7.4.1.7 Rest of Asia-Pacific
7.4.2 By Form
7.4.3 By Application
7.4.4 By Distribution Channel
7.5 Latin America
7.5.1 By Country
7.5.1.1 Brazil
7.5.1.2 Argentina
7.5.1.3 Mexico
7.5.1.4 Rest of Latin America
7.5.2 By Form
7.5.3 By Application
7.5.4 By Distribution Channel
7.6 Middle East and Africa
7.6.1 By Country
7.6.1.1 Middle East
7.6.1.2 Africa
7.6.2 By Form
7.6.3 By Application
7.6.4 By Distribution Channel
8. Key Player Analysis
8.1 Crosby's Molasses
8.1.1 Business Description
8.1.2 Products/Service
8.1.3 Financials
8.1.4 SWOT Analysis
8.1.5 Recent Developments
8.1.6 Analyst Overview
8.2 Allied Old English, Inc
8.3 Meridian Foods Limited
8.4 B&G Foods, Inc
8.5 Domino Specialty Ingredients
8.6 ED&F Man Liquid Products UK Ltd
8.7 Zook Molasses Company
8.8 Pestell Minerals and Ingredients Inc
8.9 Malt Products Corporation
8.10 Buffalo Molasses
9. Market Outlook & Investment Opportunities
Appendix
List of Tables
List of Figures
Global, regional and country-level analysis and forecasts of the study market; providing Insights on the major countries/regions in which this industry is blooming and to also identify the regions that are still untapped

The Segment-level analysis in terms of By Form, Application, Distribution Channel and along with market size forecasts and estimations to detect key areas of industry growth in detail

Identification of key drivers, restraints, opportunities, and challenges (DROC) in the market and their impact on shifting market dynamics

Study of the effect of exogenous and endogenous factors that affect the global market; which includes broadly demographic, economics, and political, among other macro-environmental factors presented in an extensive PESTLE Analysis

Study the micro environment factors that determine the overall profitability of an Industry, using Porter's five forces analysis for analysing the level of competition and business strategy development

A comprehensive list of key market players along with their product portfolio, current strategic interests, key financial information, legal issues, SWOT analysis and analyst overview to study and sustain the market environment

Competitive landscape analysis listing out the mergers, acquisitions, collaborations in the field along with new product launches, comparative financial studies and recent developments in the market by the major companies

An executive summary, abridging the entire report in such a way that decision-making personnel can rapidly become acquainted with background information, concise analysis and main conclusions

Expertly devised analyst overview along with Investment opportunities to provide both individuals and organizations a strong financial foothold in the market
Global Blackstrap Molasses Market By Region, From 2021-2026 ( USD Billion )

Global Blackstrap Molasses Market By Form, From 2021-2026 ( USD Billion )

Global Powder Market By Region, From 2021-2026 ( USD Billion )

Global Liquid Market By Region, From 2021-2026 ( USD Billion )

Global Blackstrap Molasses Market By Application, From 2021-2026 ( USD Billion )

Global Food & Beverages Market By Region, From 2021-2026 ( USD Billion )

Global Industrial Fermentation Market By Region, From 2021-2026 ( USD Billion )

Global Animal Feed Market By Region, From 2021-2026 ( USD Billion )

Global Pharmaceutical Market By Region, From 2021-2026 ( USD Billion )

Global Blackstrap Molasses Market By Distribution Channel, From 2021-2026 ( USD Billion )

Global Offline Market By Region, From 2021-2026 ( USD Billion )

Global Online Market By Region, From 2021-2026 ( USD Billion )