Baking Powder Market Size, Growth, Forecast (2022-2027)
The global Baking Powder Market size was valued to be USD 3.4 billion in 2021, and it is estimated to reach a valuation of USD 4.05 billion by the end of 2027, expanding at an annual growth rate (CAGR) of 5.3% over the conjecture time frame. The main factor driving growth in the market for baking powder is the rise in the worldwide fast food market.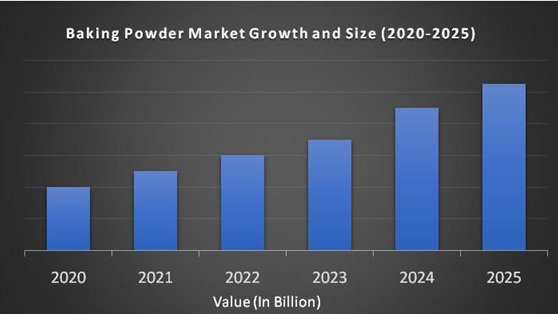 Market Overview:
Baking powder is mainly used to make various kinds of bread and bakery products, such as pancakes, muffins, waffles and cakes. Baking powder is a dry chemical preservative composed of carbonate, inert filler, and weak acid. It is normally used to increase the amount of baked goods. It helps to catch the dough raised until it is established in the cooking process. Baking powder is a product that comprises ingredients like cornstarch, dry acid, and baking soda. Sales of yeast powder have skyrocketed in recent years due to the rise in demand for fast food, baked goods like cakes and pies, and quick instant mixes. This item is gaining popularity in restaurants, bakeries, homes and restaurants. This trend is spreading worldwide due to the swift growth of urbanization.
Recent Developments in Baking Powder Industry:
Cargill (USA) has expanded the emulsifier line by adding oil-free canola lecithin. This canola lecithin finds numerous applications in food items like chocolates, confectionery, bakery, and others.

DSM N.V. (Netherlands) has launched a new product under the brand name BakeZyme Go Pure, which has been added to the enzyme baking product portfolio.
REPORT COVERAGE:
| | |
| --- | --- |
| REPORT METRIC | DETAILS |
| Market Size Available | 2021 – 2027 |
| Base Year | 2021 |
| Forecast Period | 2022 - 2027 |
| CAGR | 5.3% |
| Segments Covered | By Product and Region |
| Various Analyses Covered | Global, Regional & Country Level Analysis, Segment-Level Analysis, DROC, PESTLE Analysis, Porter's Five Forces Analysis, Competitive Landscape, Analyst Overview on Investment Opportunities |
| Regions Covered | North America, Europe, APAC, Latin America, Middle East & Africa |
| Market Leaders Profiled | Weikfield Products Private Limited, ACH Food Companies, Caravan Ingredients, Clabber Girl Corporation, Davis, Rumford, Blue bird, Calumet Baking Powder Company and Others. |
Baking Powder Market Growth:
The driving force in this market is the growing trend of ready to eat food and includes a healthy approach towards bakery products.
Drivers:
Urbanization has generated demand in the global baking powder market, along with the trend of intake of ready-to-eat food.
Fast food consumption in urban populations has increased due to changes in eating habits. Also, the general market has grown due to the preference for health and wellness-oriented bakery products. Baking soda is partially powdered and baking soda. They differ in chemical composition, but due to similar properties, the products can replace each other. Baking soda is relatively powerful and has a longer shelf life compared to baking powder. Furthermore, there is little consumer awareness of the difference between the two products. Therefore, substituting baking soda suppresses the growth of the target market. Baking soda is essentially alkaline and must be mixed with an acidic liquid such as vinegar to release carbon dioxide. Baking powder is just a baking soda premixed with acidic ingredients, so baking powder can be replaced with baking soda in many food preparations to slow the growth of the market. As health and wellness awareness increases, consumer demand for a balanced diet is met through high-fiber bread, nutrition bars, and breakfast cereals. This health and wellness-oriented foods require baking powder as an ingredient, increasing demand. A busy lifestyle and an increase in people's disposable income have a major impact on food choices. Consumers are relying more on ready-to-eat and convenient foods, and there is a growing demand for yeast-based powdered foods like pizzas, donuts, hamburgers and cakes. Therefore, the trend of consuming junk food is leading to an increased demand for powdered cooking worldwide.
Conversely, more and more health-conscious people are demanding a balanced diet, such as nutritional bars, high-fiber breads, and breakfast cereals. Market growth is expected as these foods require baking powder. The main purchasers identified in the baking powder business are supermarkets, hypermarkets and industrial buyers for making hamburgers, pizza and bread. Large retailers like Wal-Mart and Tesco buy large quantities of baking powder directly from the manufacturer, so they enjoy market savings by eliminating distributors in the supply chain. Because the usage of baking powder by the consumer is very small, manufacturers are channeling their products via wholesalers or retailers. Therefore, the bargaining ability of buyers is estimated to rise in the future. Manufacturers are focusing on innovating baking powders to provide product differentiation that will open up a new shape for the market during the forecast period.
Restraints:
The use of baking soda as an alternative to baking powder has a negative impact on the global baking powder market. Another factor challenging the demand for yeast powder is that people's awareness of the side effects of eating junk food such as cakes, hamburgers and pizzas is increasing. As concerns about the high fat, calorie, and sugar content of junk food and the lack of vitamins, proteins, and minerals in these foods increase, people are unable to consume them. The baking powder market is supposed to be affected due to declining junk food consumption. Baking powders containing sodium bicarbonate compounds are generally well tolerated by the human body, but the substance is associated with side effects. This can also hinder the growth of the global market for baking powder.
Baking Powder Market Segmentation Analysis:
By Product:
Phosphate

Anhydrous phosphate

Sodium aluminum sulfate phosphate

Tartrate

Aluminum-free

Phosphate-free

Others
Geographical Segmentation Analysis:
North America - the United States and Canada

Europe - United Kingdom, Spain, Germany, Italy, and France

The Asia Pacific - India, Japan, China, Australia, Singapore, Malaysia, South Korea, New Zealand, and Southeast Asia

Latin America - Brazil, Argentina, Mexico, and Rest of LATAM

The Middle East and Africa - Africa and Middle East (Saudi Arabia, UAE, Lebanon, Jordan, Cyprus)
Regional Analysis:
The global baking powder market by region is divided into North America, Europe, Asia Pacific, and other countries. With the participation of various countries in the manufacture and trade of yeast powder, the world market for yeast powder is assumed to ascend at a considerable rate. Currently, imports from Europe and Asia Pacific represent 64.8%. The yeast powder market in the Asia Pacific has been promising in recent years due to the expansion of the urban population and the increased consumption of fast food. In Brazil, the United States and some European countries, the baking powder market has almost reached a saturation point because of stable economic growth and high urbanization. As a result, companies can focus on regional countries like China and India to take advantage of opportunities in underdeveloped markets in these countries.
Due to the dietary pattern of people living in Europe and North America, consumers consume 75% sodium. Therefore, manufacturers and governments are focusing on product innovations that help reduce the sodium content of baking powder without affecting quality. Initiatives to improve public health and save on major health-related costs will drive product differentiation and innovation, creating market growth opportunities. Rapid growth in urban populations and increased demand for fast food are foreseen to drive the baking powder market in the areas of Asia Pacific and Europe over the outlook period. The potential to replace baking powder in the food industry may be a major threat to the global baking powder market during the prediction period.
Key Players in the Market:
Major Key Players in the Global Baking Powder Market are
Weikfield Products Private Limited

ACH Food Companies Inc.

Caravan Ingredients Inc.

Clabber Girl Corporation

Davis

Rumford

Blue bird

Calumet Baking Powder Company
1. Introduction
1.1 Market Definition
1.2 Study Deliverables
1.3 Base Currency, Base Year and Forecast Periods
1.4 General Study Assumptions
2. Research Methodology
2.1 Introduction
2.2 Research Phases
2.2.1 Secondary Research
2.2.2 Primary Research
2.2.3 Econometric Modelling
2.2.4 Expert Validation
2.3 Analysis Design
2.4 Study Timeline
3. Overview
3.1 Executive Summary
3.2 Key Inferences
3.3 Epidemology
4. Drivers, Restraints, Opportunities, and Challenges Analysis (DROC)
4.1 Market Drivers
4.2 Market Restraints
4.3 Key Challenges
4.4 Current Opportunities in the Market
5. Market Segmentation
5.1 Product type
5.1.1 Introduction
5.1.2 Phosphate
5.1.3 Anhydrous phosphate
5.1.4 Sodium aluminum sulfate phosphate
5.1.5 Tartrate
5.1.6 Aluminum-free
5.1.7 Phosphate-free
5.1.8 Others
5.1.9 Y-o-Y Growth Analysis, By Product type
5.1.10 Market Attractiveness Analysis, By Product type
5.1.11 Market Share Analysis, By Product type
6. Geographical Analysis
6.1 Introduction
6.1.1 Regional Trends
6.1.2 Impact Analysis
6.1.3 Y-o-Y Growth Analysis
6.1.3.1 By Geographical Area
6.1.3.2 By Product type
6.1.4 Market Attractiveness Analysis
6.1.4.1 By Geographical Area
6.1.4.2 By Product type
6.1.5 Market Share Analysis
6.1.5.1 By Geographical Area
6.1.5.2 By Product type
6.2 North America
6.1.1 Introduction
6.1.2 United States
6.1.3 Canada
6.3 Europe
6.2.1 Introduction
6.2.2 U.K
6.2.3 Spain
6.2.4 Germany
6.2.5 Italy
6.2.6 France
6.4 Asia-Pacific
6.3.1 Introduction
6.3.2 China
6.3.3 India
6.3.4 Japan
6.3.5 Australia
6.3.6 South Korea
6.5 Latin America
6.4.1 Introduction
6.4.2 Brazil
6.4.3 Argentina
6.4.4 Mexico
6.4.5 Rest of Latin America
6.6 Middle East & Africa
6.5.1 Introduction
6.5.2 Middle-East
6.5.3 Africa
7. Strategic Analysis
7.1 PESTLE analysis
7.1.1 Political
7.1.2 Economic
7.1.3 Social
7.1.4 Technological
7.1.5 Legal
7.1.6 Environmental
7.2 Porter's Five analysis
7.2.1 Bargaining Power of Suppliers
7.2.2 Bargaining Power of Consumers
7.2.3 Threat of New Entrants
7.2.4 Threat of Substitute Products and Services
7.2.5 Competitive Rivalry within the Industry
8. Market Leaders' Analysis
8.1 Weikfield Products Private Limited
8.1.1 Overview
8.1.2 Product Analysis
8.1.3 Financial analysis
8.1.4 Recent Developments
8.1.5 SWOT analysis
8.1.6 Analyst View
8.2 ACH Food Companies Inc.
8.3 Caravan Ingredients Inc.
8.4 Clabber Girl Corporation
8.5 Davis
8.6 Rumford
8.7 Blue bird
8.8 Calumet Baking Powder Company
9. Competitive Landscape
9.1 Market share analysis
9.2 Merger and Acquisition Analysis
9.3 Agreements, collaborations and Joint Ventures
9.4 New Product Launches
10. Market Outlook and Investment Opportunities
Appendix
a) List of Tables
b) List of Figures
Global Baking Powder Market By Region, From 2022-2027 ( USD Billion )

Global Baking Powder Market By Product Type, From 2022-2027 ( USD Billion )

Global Phosphate Market By Region, From 2022-2027 ( USD Billion )

Global Anhydrous phosphate Market By Region, From 2022-2027 ( USD Billion )

Global Sodium aluminum sulfate phosphate Market By Region, From 2022-2027 ( USD Billion )

Global Tartrate Market By Region, From 2022-2027 ( USD Billion )

Global Aluminum-free Market By Region, From 2022-2027 ( USD Billion )

Global Phosphate-free Market By Region, From 2022-2027 ( USD Billion )

Global Others Market By Region, From 2022-2027 ( USD Billion )

North America Baking Powder Market By Product Type, From 2022-2027 ( USD Billion )

North America Phosphate Market By Region, From 2022-2027 ( USD Billion )

North America Anhydrous phosphate Market By Region, From 2022-2027 ( USD Billion )

North America Sodium aluminum sulfate phosphate Market By Region, From 2022-2027 ( USD Billion )

North America Tartrate Market By Region, From 2022-2027 ( USD Billion )

North America Aluminum-free Market By Region, From 2022-2027 ( USD Billion )

North America Phosphate-free Market By Region, From 2022-2027 ( USD Billion )

North America Others Market By Region, From 2022-2027 ( USD Billion )

United States Baking Powder Market By Product Type, From 2022-2027 ( USD Billion )

Canada Baking Powder Market By Product Type, From 2022-2027 ( USD Billion )

Europe Baking Powder Market By Product Type, From 2022-2027 ( USD Billion )

Europe Phosphate Market By Region, From 2022-2027 ( USD Billion )

Europe Anhydrous phosphate Market By Region, From 2022-2027 ( USD Billion )

Europe Sodium aluminum sulfate phosphate Market By Region, From 2022-2027 ( USD Billion )

Europe Tartrate Market By Region, From 2022-2027 ( USD Billion )

Europe Aluminum-free Market By Region, From 2022-2027 ( USD Billion )

Europe Phosphate-free Market By Region, From 2022-2027 ( USD Billion )

Europe Others Market By Region, From 2022-2027 ( USD Billion )

U.K. Baking Powder Market By Product Type, From 2022-2027 ( USD Billion )

Germany Baking Powder Market By Product Type, From 2022-2027 ( USD Billion )

France Baking Powder Market By Product Type, From 2022-2027 ( USD Billion )

Italy Baking Powder Market By Product Type, From 2022-2027 ( USD Billion )

Spain Baking Powder Market By Product Type, From 2022-2027 ( USD Billion )

Asia-Pacific Baking Powder Market By Product Type, From 2022-2027 ( USD Billion )

Asia-Pacific Phosphate Market By Region, From 2022-2027 ( USD Billion )

Asia-Pacific Anhydrous phosphate Market By Region, From 2022-2027 ( USD Billion )

Asia-Pacific Sodium aluminum sulfate phosphate Market By Region, From 2022-2027 ( USD Billion )

Asia-Pacific Tartrate Market By Region, From 2022-2027 ( USD Billion )

Asia-Pacific Aluminum-free Market By Region, From 2022-2027 ( USD Billion )

Asia-Pacific Phosphate-free Market By Region, From 2022-2027 ( USD Billion )

Asia-Pacific Others Market By Region, From 2022-2027 ( USD Billion )

Japan Baking Powder Market By Product Type, From 2022-2027 ( USD Billion )

China Baking Powder Market By Product Type, From 2022-2027 ( USD Billion )

India Baking Powder Market By Product Type, From 2022-2027 ( USD Billion )

Australia Baking Powder Market By Product Type, From 2022-2027 ( USD Billion )

South Korea Baking Powder Market By Product Type, From 2022-2027 ( USD Billion )

Latin America Baking Powder Market By Product Type, From 2022-2027 ( USD Billion )

Latin America Phosphate Market By Region, From 2022-2027 ( USD Billion )

Latin America Anhydrous phosphate Market By Region, From 2022-2027 ( USD Billion )

Latin America Sodium aluminum sulfate phosphate Market By Region, From 2022-2027 ( USD Billion )

Latin America Tartrate Market By Region, From 2022-2027 ( USD Billion )

Latin America Aluminum-free Market By Region, From 2022-2027 ( USD Billion )

Latin America Phosphate-free Market By Region, From 2022-2027 ( USD Billion )

Latin America Others Market By Region, From 2022-2027 ( USD Billion )

Brazil Baking Powder Market By Product Type, From 2022-2027 ( USD Billion )

Argentina Baking Powder Market By Product Type, From 2022-2027 ( USD Billion )

Mexico Baking Powder Market By Product Type, From 2022-2027 ( USD Billion )

Rest of Latin America Baking Powder Market By Product Type, From 2022-2027 ( USD Billion )

Middle East & Africa Baking Powder Market By Product Type, From 2022-2027 ( USD Billion )

Middle East & Africa Phosphate Market By Region, From 2022-2027 ( USD Billion )

Middle East & Africa Anhydrous phosphate Market By Region, From 2022-2027 ( USD Billion )

Middle East & Africa Sodium aluminum sulfate phosphate Market By Region, From 2022-2027 ( USD Billion )

Middle East & Africa Tartrate Market By Region, From 2022-2027 ( USD Billion )

Middle East & Africa Aluminum-free Market By Region, From 2022-2027 ( USD Billion )

Middle East & Africa Phosphate-free Market By Region, From 2022-2027 ( USD Billion )

Middle East & Africa Others Market By Region, From 2022-2027 ( USD Billion )

Middle East Baking Powder Market By Product Type, From 2022-2027 ( USD Billion )

Africa Baking Powder Market By Product Type, From 2022-2027 ( USD Billion )