Almond Ingredients Market Growth and Forecast (2021-2026):
The Global Almond Ingredients Market size was at US$ 9.2 billion in 2021, and it is predicted that it will reach a valuation of US$ 16.9 billion by 2026, progressing with an expansion rate (CAGR) of 10.4% between 2021 and 2026.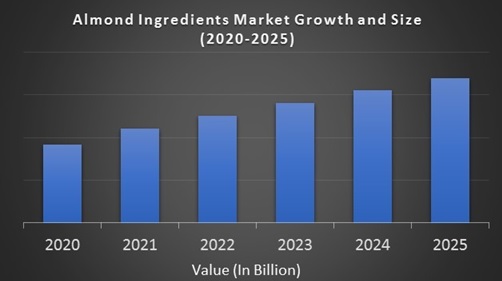 Market Overview:
Almonds are one of the nutritious nuts and contain carbohydrates, protein, vitamins, and other minerals. Almond ingredients are almond products that come in a variety of forms, including flour, flakes, and milk. The almond ingredient has beneficial health properties and is consumed by many. Additionally, almond ingredients are widely used in a variety of applications such as confectionery, bakery, ice cream, snack food, and bars. The ingredients in almonds provide consumers with rich nutritional value. The high presence of minerals and nutrients has made the almond ingredient a versatile and healthy ingredient that is added to many types of food applications. The almond component adds to both the taste and sweetness of foods that differ in taste and flavor. There are also a number of health benefits associated with almonds, including reduced cholesterol, high levels of vitamin E, reduced risk of heart disease, and blood sugar control.
Recent Developments in Almond Ingredients Industry:
In February 2019, Blue Diamond Growers signed a multi-year licensing partnership agreement with Grupo LAlA (Mexico), a healthy and nutritious food company.
Almond Ingredients Market Growth:
Consumers around the world are looking for food sources that embrace a healthy lifestyle, further accelerating the global market for almond ingredients.
REPORT COVERAGE:
| | |
| --- | --- |
| REPORT METRIC | DETAILS |
| Market Size Available | 2020 – 2026 |
| Base Year | 2020 |
| Forecast Period | 2021 - 2026 |
| CAGR | 10.4% |
| Segments Covered | By Application, Type and Region |
| Various Analyses Covered | Global, Regional & Country Level Analysis, Segment-Level Analysis, DROC, PESTLE Analysis, Porter's Five Forces Analysis, Competitive Landscape, Analyst Overview on Investment Opportunities |
| Regions Covered | North America, Europe, APAC, Latin America, Middle East & Africa |
| Market Leaders Profiled | Archer Daniels Midland Company, Olam International Limited, The Wonderful Company, Treehouse California Almond, Blue Diamond Growers, Royal Nut Company, Harris Woolf California Almonds, Barry Callebaut Group qand Others. |
Drivers:
Increased launches of almond-based products by major players in the food and beverage market are driving growth in the global almond ingredients market. Other factors driving demand for almond ingredients include plant-based and gluten-free products, as well as increased consumer willingness toward associations and organizations that promote the nut ingredient industry. Almond ingredients are added for a variety of food applications and provide numerous nutritional benefits, including protein, vitamins, fiber, fat, carbohydrates, minerals, and more. Growing consumer preferences for gluten-free and vegan diets are expected to create unexplored opportunities for market participants. These additional benefits of the almond ingredient represent the growth of the almond ingredient market. Also, increased consumption of plant foods provides more opportunities for various almond ingredients, such as almond paste, milk, and more. Almond ingredients are widely applied in a variety of food applications, making them an advantageous choice for health-conscious consumers, providing better growth opportunities for almond ingredient manufacturing. In addition, Southeast Asia is rapidly embracing new lifestyles, increasing the additional consumption of bakery snacks and a growing number of dairy products that can help global market participants for almond raw materials to manufacture and sell raw materials in the region. The increasing demand for nutritional and health products plays an important role in continuing to increase the number of almond-based products. Increasing obesity and elderly populations require foods containing components of nuts, especially almonds, in developed countries such as the United States, Germany, and the United Kingdom. Consumers are increasingly adopting healthy eating habits to prevent disease. Increased health awareness, increased risk of chronic disease, and lifestyle changes are some of the key factors driving the demand for healthier products.
The nutritional benefits provided by the almond ingredient are driving their market demand. Additionally, the rapid rise in almond-based products worldwide is expected to have a significant impact on the global almond ingredients business. It is also expected to have a strong impact on the almond ingredients market as demand for plant-based protein and beverages grows globally. Product line expansion, innovative formulations, and new packaging to launch new products are a variety of marketing strategies adopted by food and beverage manufacturers to meet consumer demand. Manufacturers are developing new products for health-conscious consumers that use undesirable nutrients like fat and sugar. Additionally, products positioned as "natural" on the label are a major trend in product launches in recent years. Product launches based on no additive claims and clean label ingredient claims also appeal to consumers. In addition to being known to lower cholesterol levels, the vitamin E in almonds increases the health of blood cells and plasma. Also, its magnesium content helps reduce blood pressure. A wide range of products is available from retail stores and e-commerce platforms, resulting in more efficient product visibility. Demand for gluten-free products from health-conscious consumers is increasing demand for almond flour, ready-to-mix flour, powder, bread, biscuits and crackers, cookies, snack bars and powdered supplements. Product packaging is also constantly evolving with the advent of newer, more convenient and lighter packaging concepts and materials. Increasing awareness of almonds and related foods and their impact on consumer health will drive the market for almond ingredients. In addition to this, the increase in disposable income and purchasing power of consumers in developed markets will increase the sales seen in the market.
Restraints:
Globally fluctuating almond prices are one of the limiting factors affecting the almond ingredient market size. As the demand for almonds increases, there is a supply and demand problem for the product, leading to higher prices for almonds around the world. Furthermore, the increase in consumers' allergy or intolerance to almonds is one of the challenges that the global market for almond ingredients must overcome in the future.
Almond Ingredients Market Segmentation Analysis:
By type, the bar segment is expected to experience the fastest growth in the almond ingredients market over the forecast period, with the majority of consumers preferring the food-appropriate convenience health bar category. The bar sector has experienced significant growth in recent years. Additionally, almonds are considered by consumers to be the most desirable ingredient because they create a crunchy texture, provide numerous nutrients, and enhance flavor.
Depending on the application, the whole almond segment is expected to occupy the majority of the global almond ingredients market demand during the forecast period. Whole almonds are used in two forms, boiled and natural almonds. Whole poached almonds are primarily used for a variety of baking and pastry applications, as well as a variety of dessert decorations. Natural almonds are used for a variety of purposes, including baking, snacking, and baking. Natural almonds are flavored and eaten as a toasted snack. Natural almonds or poached almonds also have applications in the field of confectionery to produce buried or coated chocolate. Whole almonds are presented as a gift on various occasions in some countries.
Impact of COVID-19 on the Almond Ingredients Market:
The coronavirus outbreak is having a negative impact on the entire food and beverage market supply chain. However, the demand for almond ingredients is not affected, since it is mainly applied to the production of products beneficial to health. The COVID-19 outbreak has increased the demand for products that benefit health. Additionally, the need for almond ingredients has increased as consumers' propensity for a healthy, vegan diet has increased.
Geographical Segmentation Analysis:
North America - the United States and Canada

Europe - United Kingdom, Spain, Germany, Italy, and France

The Asia Pacific - India, Japan, China, Australia, Singapore, Malaysia, South Korea, New Zealand, and Southeast Asia

Latin America - Brazil, Argentina, Mexico, and Rest of LATAM

The Middle East and Africa - Africa and Middle East (Saudi Arabia, UAE, Lebanon, Jordan, Cyprus)
Regional Analysis:
The Asia Pacific region is supposed to represent a significant revenue share over the forecast period. Expanding urbanization, increased health awareness, and growing preference for the consumption of products that provide health benefits are driving market growth in the area. Revenues from the North American almond ingredients market is also expected to see significant growth, followed by the European market. Europe leads the world market for almond ingredients with the highest market value share as the adoption of healthy foods increases. North America also has a substantial share of the global almond ingredients market as consumption of almond-based snacks and foods increases. However, Southeast Asia has the highest growth rate in the world market for almond ingredients, and the main reasons are the increase in per capita income and the higher consumption of food for baking and snacks.
Key Players in the Market:
Major Key Players in the Global Almond Ingredients Market are
Archer Daniels Midland Company

Olam International Limited

The Wonderful Company

Treehouse California Almond

Blue Diamond Growers

Royal Nut Company

Harris Woolf California Almonds

Barry Callebaut Group
1. Introduction
1.1 Market Definition
1.2 Scope of the report
1.3 Study Assumptions
1.4 Base Currency, Base Year and Forecast Periods
2. Research Methodology
2.1 Analysis Design
2.2 Research Phases
2.2.1 Secondary Research
2.2.2 Primary Research
2.2.3 Data Modelling
2.2.4 Expert Validation
2.3 Study Timeline
3. Report Overview
3.1 Executive Summary
3.2 Key Inferencees
4. Market Dynamics
4.1 Impact Analysis
4.1.1 Drivers
4.1.2 Restaints
4.1.3 Opportunities
4.2 Regulatory Environment
4.3 Technology Timeline & Recent Trends
5. Competitor Benchmarking Analysis
5.1 Key Player Benchmarking
5.1.1 Market share analysis
5.1.2 Products/Service
5.1.3 Regional Presence
5.2 Mergers & Acquistion Landscape
5.3 Joint Ventures & Collaborations
6. Market Segmentation
6.1 Almond Ingredients Market, By Type
6.1.1 Almond Pieces
6.1.2 Whole Almonds
6.1.3 Almond Paste
6.1.4 Almond Flour
6.1.5 Almond Milk
6.1.6 Market Size Estimations & Forecasts (2021-2026)
6.1.7 Y-o-Y Growth Rate Analysis
6.1.8 Market Attractiveness Index
6.2 Almond Ingredients Market, By Application
6.2.1 Bars
6.2.2 Snacks
6.2.3 Confectionery
6.2.4 Bakery
6.2.5 Nut & Seed Butters
6.2.6 Milk Substitutes & Ice Creams
6.2.7 RTE Cereals
6.2.8 Market Size Estimations & Forecasts (2021-2026)
6.2.9 Y-o-Y Growth Rate Analysis
6.2.10 Market Attractiveness Index
7. Geographical Landscape
7.1 Global Identity Governance and Administration Market, by Region
7.2 North America - Market Analysis (2021-2026)
7.2.1 By Country
7.2.1.1 USA
7.2.1.2 Canada
7.2.2 By Type
7.2.3 By Application
7.3 Europe
7.3.1 By Country
7.3.1.1 UK
7.3.1.2 France
7.3.1.3 Germany
7.3.1.4 Spain
7.3.1.5 Italy
7.3.1.6 Rest of Europe
7.3.2 By Type
7.3.3 By Application
7.4 Asia Pacific
7.4.1 By Country
7.4.1.1 China
7.4.1.2 India
7.4.1.3 Japan
7.4.1.4 South Korea
7.4.1.5 South East Asia
7.4.1.6 Australia & NZ
7.4.1.7 Rest of Asia-Pacific
7.4.2 By Type
7.4.3 By Application
7.5 Latin America
7.5.1 By Country
7.5.1.1 Brazil
7.5.1.2 Argentina
7.5.1.3 Mexico
7.5.1.4 Rest of Latin America
7.5.2 By Type
7.5.3 By Application
7.6 Middle East and Africa
7.6.1 By Country
7.6.1.1 Middle East
7.6.1.2 Africa
7.6.2 By Type
7.6.3 By Application
8. Key Player Analysis
8.1 Archer Daniels Midland Company
8.1.1 Business Description
8.1.2 Products/Service
8.1.3 Financials
8.1.4 SWOT Analysis
8.1.5 Recent Developments
8.1.6 Analyst Overview
8.2 Olam International Limited
8.3 The Wonderful Company
8.4 Treehouse California Almond
8.5 Blue Diamond Growers
8.6 Royal Nut Company
8.7 Harris Woolf California Almonds
8.8 Barry Callebaut Group
9. Market Outlook & Investment Opportunities
Appendix
List of Tables
List of Figures
Global, regional and country-level analysis and forecasts of the study market; providing Insights on the major countries/regions in which this industry is blooming and to also identify the regions that are still untapped

The Segment-level analysis in terms of By Type, Application and along with market size forecasts and estimations to detect key areas of industry growth in detail

Identification of key drivers, restraints, opportunities, and challenges (DROC) in the market and their impact on shifting market dynamics

Study of the effect of exogenous and endogenous factors that affect the global market; which includes broadly demographic, economics, and political, among other macro-environmental factors presented in an extensive PESTLE Analysis

Study the micro environment factors that determine the overall profitability of an Industry, using Porter's five forces analysis for analysing the level of competition and business strategy development

A comprehensive list of key market players along with their product portfolio, current strategic interests, key financial information, legal issues, SWOT analysis and analyst overview to study and sustain the market environment

Competitive landscape analysis listing out the mergers, acquisitions, collaborations in the field along with new product launches, comparative financial studies and recent developments in the market by the major companies

An executive summary, abridging the entire report in such a way that decision-making personnel can rapidly become acquainted with background information, concise analysis and main conclusions

Expertly devised analyst overview along with Investment opportunities to provide both individuals and organizations a strong financial foothold in the market
Global Almond Ingredients Market By Region, From 2021-2026 ( USD Billion )

Global Almond Ingredients Market By Type, From 2021-2026 ( USD Billion )

Global Almond Pieces Market By Region, From 2021-2026 ( USD Billion )

Global Whole Almonds Market By Region, From 2021-2026 ( USD Billion )

Global Almond Paste Market By Region, From 2021-2026 ( USD Billion )

Global Almond Flour Market By Region, From 2021-2026 ( USD Billion )

Global Almond Milk Market By Region, From 2021-2026 ( USD Billion )

Global Almond Ingredients Market By Application, From 2021-2026 ( USD Billion )

Global Bars Market By Region, From 2021-2026 ( USD Billion )

Global Snacks Market By Region, From 2021-2026 ( USD Billion )

Global Confectionery Market By Region, From 2021-2026 ( USD Billion )

Global Bakery Market By Region, From 2021-2026 ( USD Billion )

Global Nut & Seed Butters Market By Region, From 2021-2026 ( USD Billion )

Global Milk Substitutes & Ice Creams Market By Region, From 2021-2026 ( USD Billion )

Global RTE Cereals Market By Region, From 2021-2026 ( USD Billion )