Clean Label Ingredients Market Size, Growth (2023-2028)
The global Clean Label Ingredients Market size was calculated as USD 38.8 billion in 2022, and it is projected to reach USD 64.1 billion by 2028 at a CAGR of 6.8% during the conjecture time frame. The increase in clean label products is due to the mounting consumer preference for clean label foods that indirectly induce the consumption of such ingredients.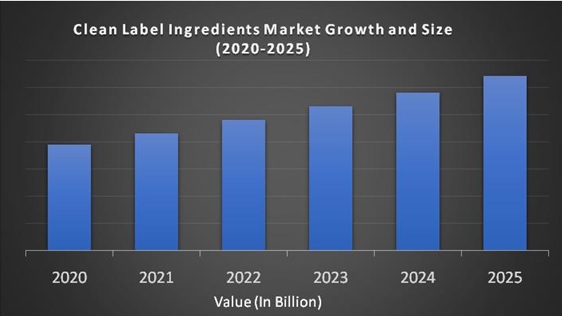 Market Overview:
The ingredients in the "clean label" are food additives and other ingredients and secondary factors that comply with one or both colors, flavorings, fruit and vegetable ingredients, starch and sweeteners, wheat flour, salt and other key elements. The main factors are not chemicals, few easy-to-understand product ingredients, or additives or artificial ingredients.
Recent Developments in Clean Label Ingredients Industry:
Nestlé USA aims to remove all artificial colors from chocolate candy products and artificial flavors from all frozen snacks and pizzas.

Red Bull has introduced a wide range of organic soda products, which are available in only two regions of the United States, which is another example of how the company embraces the clean label concept.

Cargill has obtained approval from the Ministry of Health and Welfare for the use of sunflower lecithin products, expanding Japan's clean label portfolio.
REPORT COVERAGE:
| | |
| --- | --- |
| REPORT METRIC | DETAILS |
| Market Size Available | 2022 – 2028 |
| Base Year | 2022 |
| Forecast Period | 2023 - 2028 |
| CAGR | 6.8% |
| Segments Covered | By Form, Type, Application and Region |
| Various Analyses Covered | Global, Regional & Country Level Analysis, Segment-Level Analysis, DROC, PESTLE Analysis, Porter's Five Forces Analysis, Competitive Landscape, Analyst Overview on Investment Opportunities |
| Regions Covered | North America, Europe, APAC, Latin America, Middle East & Africa |
| Market Leaders Profiled | Cargill, Archer Daniels Midland Company, Koninklijke DSM N.V., E.I. Dupont De Numours and Company, Kerry Group Plc, Ingredion Incorporated, Tate & Lyle PLC, Sensient Technologies Corporation, Corbion N.V., Groupe Limagrain and Others. |
Clean Label Ingredients Market Growth:
The health problems associated with consuming artificial food additives, where people become health warnings and pay attention to food safety, are increasing the growth of the market.
Drivers:
Consumers' preference for organic food continues to increase due to increased consumer health awareness. Also, benefits such as the growth of supplemental foods from unprocessed foods, natural foods, and organic foods have led to increased disposable income, better living standards, higher health costs, and large-scale promotion of organic foods. Increasing disposable income requires a high standard of living. Besides, the demand for quality food and nutrition is increasing due to urbanization and a growing workforce. Products like instant noodles, frozen meals, packaged products, energy drinks, and baked goods are an integral part of everyday life. The increase in food and beverages is also expected to increase demand for food ingredients. These foods include several ingredients and preservatives to extend the shelf life of the product, maintain its quality and reduce spoilage by various microorganisms. Consumers demand the addition of clean labeling ingredients to these everyday products. It has become a driving force in the market for clean label materials. The demand for clean labels is clear, but consumers still want meat that is naturally juicy and flavorful, but the product must provide a long and safe shelf life. Clean labels have influenced the flavors market worldwide, and color and flavor producers have responded to R&D innovation and investment. A popular trend in healthy living has increased consumer awareness of considering components used in food. Consumers these days prefer natural, healthy, and simple foods without chemical substances. Consumers are often very cautious when choosing clean label products in relation to products consumed by children.
Other major product categories in the clean label ingredient market include nutritional bars/beverages, dairy products, cereals, yogurt, and cereals. Clean label caramel ingredients, pickled vegetables, cheese concentrates, dairy concentrates, vegetable purees, essential oils, spices, gums, industrial garlic, tomato powder, and salt moderators are a few significant organic foods. Income levels and age groups play an important role in the decision to buy clean level products. Millennials are clearly driving this change. However, as the number of baby boomers increases, they also participate in this movement. Consumers' preference for organic food continues to increase due to increased consumer health awareness. Furthermore, due to the benefits of flammables and nature, the rapid increase in disposable income, the improvement of living standards, the increase in health spending and the large-scale promotion of organic foods are driving the growth of organic foods. With the use of artificial elements, additives, or dyes like E133, and the inclusion of controversial food technologies like GMOs, consumers have become concerned about the health side effects that accompany this food system. With the general trend, the clean label and driving force are increasing. Consumers have a growing interest in materials and their origins influence the purchase of new products. This trend is presumed to create profitable opportunities in the market for clean label materials.
Restraints:
The high expenses related to clean ingredients is a limiting aspect of the expansion of the market. The ability to balance ingredient mixes to suit consumer choice is a big challenge for ingredient mixers. Due to the development of various products, issues such as shelf life and processing requirements have increased. Consumers demand shorter, cleaner labels as well as simpler ingredients, but they don't compromise on quality or taste. This balance is a great challenge for both ingredient mixers and product manufacturers.
Clean Label Ingredients Market Segmentation Analysis:
By Form:
By Type:
Natural Colors

Starch & Sweeteners

Natural Flavors

Fruit & Vegetable Ingredients

Flours

Others
By Application:
Beverages

Bakery

Dairy

Frozen Products

Processed Foods
Geographical Segmentation Analysis:
North America - the United States and Canada

Europe - United Kingdom, Spain, Germany, Italy, and France

The Asia Pacific - India, Japan, China, Australia, Singapore, Malaysia, South Korea, New Zealand, and Southeast Asia

Latin America - Brazil, Argentina, Mexico, and Rest of LATAM

The Middle East and Africa - Africa and Middle East (Saudi Arabia, UAE, Lebanon, Jordan, Cyprus)
Regional Analysis:
The global clean label ingredient market has been classified into seven major regions, including North America, Latin America, Eastern Europe, Western Europe, Japan, the Middle East and Africa, and Asia Pacific. The clean label ingredient market is expected to record healthy CAGRs over the outlook period worldwide. Countries such as the UK, Spain, Germany, Italy, and Hungary have multiple clean label ingredient products, making it the largest consumer of clean label ingredients. This has made Eastern and Western Europe as a dominant area in the global clean label ingredient market. With growing awareness of healthy foods, Asia Pacific has chosen cleaner labeling ingredients than artificial ones. The clean label market in the Asia Pacific region has a compound annual rate of 7.4%. The Asia Pacific has people with diverse economic backgrounds. The main reason for the fast-moving market in Asia is the rising standard of living for consumers. Consumers in their area take the time to review the ingredients list of their products before buying. The growing demand for clean label convenience products is also a factor in strengthening the market. China is the most exceptional locale in the clean label ingredients business in the Asia Pacific. Market giants are targeting the Asia Pacific vicinity to increase the benefits of clean label ingredients as consumer interest in healthy eating habits increases and their knowledge of ingredients used in food increases. The market for clean label materials is expected to enter Africa soon. There is a growing awareness of clean label ingredients in many countries, and manufacturers are forced to use more natural clean label ingredients than artificial and synthetic ingredients.
Key Players in the Market:
Major Key Players in the Global Clean Label Ingredients Market are
Cargill

Archer Daniels Midland Company

Koninklijke DSM N.V.

E.I. Dupont De Numours and Company

Kerry Group Plc

Ingredion Incorporated

Tate & Lyle PLC

Sensient Technologies Corporation

Corbion N.V.

Groupe Limagrain