Food Flavors Market Size, Growth, Forecast (2023-2028)
The global Food Flavors Market size was assessed to be USD 13.31 billion in 2022 and is estimated that it will reach a valuation of USD 19.72 billion by the end of 2028 at a CAGR of 5% over the calculated period. The increasing demand for natural food flavors in a variety of applications is driving the growth of the worldwide food flavors market.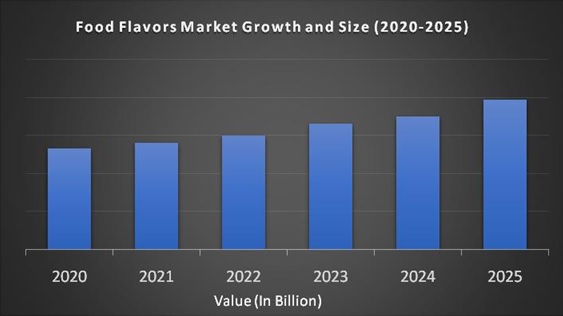 Market Overview:
Food flavoring is used as an additive to alter and enhance the flavor of regular food products. Food flavors change the properties of solutes, causing sweetness, acidity, and opacity. Change or improve the flavor of natural foods like meat and vegetables, or create a flavor of foods that don't have what you want. Food flavor is an additive used during food preparation to alter or improve the taste and odor of food products. These additives are in demand in small proportions and are not expected to be consumed alone. Certain spices derived from fruits, spices, and herbs are used to achieve flavors such as sweet, sour, and salty. The aroma is extracted from the natural raw materials of plants and animals through several procedures. Fractional distillation and chemical manipulation are a few processes used for the synthesis of artificial fragrances.
Recent Developments in Food Flavors Industry:
In February 2019, Atlanta-based Coca-Cola announced a new flavor launch under the names Orange Vanilla Cola and Orange Vanilla Zero Sugar Cola.

Sensient purchased Mazza Innovation in July 2018 that is operating via plant extraction facility in the UK. This acquisition combines Sensient's expertise with Mazza technology to extract botanical gardens using ecological extraction methods.

Firmenich extended its operations to California, USA in May 2018, providing customized flavor and nutrition solutions to consumers with distinct organic items.
REPORT COVERAGE:
| | |
| --- | --- |
| REPORT METRIC | DETAILS |
| Market Size Available | 2022 – 2028 |
| Base Year | 2022 |
| Forecast Period | 2023 - 2028 |
| CAGR | 5% |
| Segments Covered | By Type, Origin, Application and Region |
| Various Analyses Covered | Global, Regional & Country Level Analysis, Segment-Level Analysis, DROC, PESTLE Analysis, Porter's Five Forces Analysis, Competitive Landscape, Analyst Overview on Investment Opportunities |
| Regions Covered | North America, Europe, APAC, Latin America, Middle East & Africa |
| Market Leaders Profiled | Kerry Group, Givaudan, Archer Daniels Midland Company, DohlerGroup, AGRANA Group, SVZ International B.V., SunOpta, Inc, Sensient Technologies Corporation, Symrise AG, Frutarom Industries and Others. |
Food Flavors Market Growth:
As health awareness increased among consumers, demand for clean label products increased, increasing the sale of food flavors from natural sources.
Drivers:
In the food and beverage industry, the growing demand for food flavor is a key factor driving the growth of the global food flavor market. In addition, changes in consumer lifestyle and high demand for convenient foods are other factors that are expected to fuel growth in the global food flavor market during the forecast period. In addition, market participants launching new products and developing new food flavors are other key factors supposed to accelerate growth in the global food flavor market during the outlook period. Marketing with clean labels is common in the natural flavors industry. As health awareness increases, consumers are moving towards natural food. Natural flavors offer a variety of health benefits and are widely accepted by consumers who are ready to pay higher prices for natural foods. It has been observed that the majority of the population carefully reviews the product label before buying it. Among consumers, this perception required manufacturers to replace synthetic flavors with natural food flavors. The food and beverage industry needs spices for a variety of purposes, such as developing new products, adding new product lines, and changing the flavor of existing products. Besides, technological progressions, the launch of innovative flavors and the high investments in R&D activities are other aspects that fuel the expansion of the global food flavors market.
As health awareness increases, there is more demand for the use of natural flavors. The high demand in the food industry for new flavors and continuous innovation are driving the growth of the global food flavors market. In addition, growth in demand in the fast-food industry is expected to provide growth opportunities in the food flavoring market during the prediction period. As consumer concerns about the long-term health effects of artificial food ingredients and additives increase, the demand for natural and healthy food ingredients increases, leading to the growth of the flavor market for the food. Other major market drivers include increased demand for processed foods and beverages as disposable income increases, increased demand for unique flavors in a variety of food applications, and increased popularity of exotic flavors. In addition to this, food fragrance manufacturers are adopting new technologies to produce a wide variety of natural and artificial fragrances to increase stability. In addition, technological advancements contribute to the growth of the food flavor industry by developing innovative flavors that can adapt to changes in customer flavor requirements. The market has growth opportunities during the estimated period due to the increasing number of sources of new raw materials, Greenfield companies in Asia Pacific and Latin America, color tones and multifunctional flavors, and preserves the flavor and quality of the spices used.
Restraints:
The high price of raw materials needed to produce food flavors is a key factor in slowing the growth of the global food flavors market. Additionally, artificial food flavorings are made by adding ingredients that can cause allergies and other health-related disorders in some people, which can hinder the growth of the global food flavoring market during the forecast period. Typically, perishable natural fragrances are unstable during processing, handling, and storage compared to synthetic fragrances. Also, changes in pH, temperature and light are not stable. Natural flavors are volatile in the heat and are likely to lose flavor at high temperatures. The dose of natural spices used in frozen and baked products is higher to compensate for losses at low and high temperatures. This serves as a deterrent to the global food flavor market.
Food Flavors Market Segmentation Analysis:
By Type:
Chocolate

Vanilla

Fruits & Nuts
By Origin:
By Application:
Beverages

Savory & Snacks

Bakery & Confectionery

Dairy & Frozen Products

Others
Geographical Segmentation Analysis:
North America - the United States and Canada

Europe - United Kingdom, Spain, Germany, Italy, and France

The Asia Pacific - India, Japan, China, Australia, Singapore, Malaysia, South Korea, New Zealand, and Southeast Asia

Latin America - Brazil, Argentina, Mexico, and Rest of LATAM

The Middle East and Africa - Africa and Middle East (Saudi Arabia, UAE, Lebanon, Jordan, Cyprus)
Regional Analysis:
The North American market accounted for the largest share of sales in the global food flavor market as demand for food flavors from the food and beverage industry increased. The European market is foreseen to occupy the second largest contribution of revenue share in the world market for food flavors, followed by the markets of Asia Pacific, Latin America and the Middle East and Africa, respectively. The United Kingdom is determined to rule the natural food flavoring sector because of the rising call for organic items. The French food and beverage industry have witnessed a decline in synthetic food flavors as the application of natural flavors have increased in the beverage and bakery and confectionery industries. The Asia Pacific market is deemed to witness the fastest growth in terms of sales due to the availability of ingredients rich in natural flavorings such as saffron, cardamom, etc. In China, food flavoring is increasing demand and the food and beverage industry is growing. With the rising call for frozen and processed foods, fragrance manufacturers have many opportunities to expand their brand and strengthen their relationship with Brazilian consumers.
Key Players in the market:
Major key Players in the Global Food Flavors Market are
Kerry Group

Givaudan

Archer Daniels Midland Company

DohlerGroup

AGRANA Group

SVZ International B.V.

SunOpta, Inc.

Sensient Technologies Corporation

Symrise AG

Frutarom Industries