Salad Dressings and Mayonnaise Market Size (2023-2028)
The global Salad Dressings and Mayonnaise Market size was calculated at USD 17.6 billion in 2022, and it is likely to reach a valuation of USD 23.8 billion by 2028 at a CAGR of about 6.1% during the conjecture period. The market is expected to post healthy growth in the future.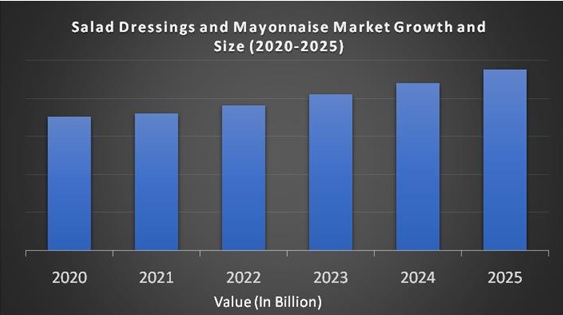 Market Overview:
Salad dressing is called a garnish for prepared salads by adding seasonings like cream, sauce, nuts, and cheese to enhance the consumer taste experience. Mayonnaise is a thick, creamy sauce that is prepared from egg yolks, oil, vinegar and lemon juice that can be spread over sandwiches or used as a condiment. It is often accompanied by a salad to provide a creamy delight and flavor enhancement through ingredients that make the product look delicious. The mayonnaise and salad dressing market is divided into several sections like creamy salad dressings, low-calorie salad dressings, potato salad dressings, and mayonnaise. Seasonings can comprise fresh herbs, pickled vegetables, fermented foods, nuts, and dried or fresh fruits. Salad dressing is a great way to add vitamins, minerals, and antioxidants to a healthy salad. Mayonnaise varies in color, but is often white, creamy, or pale yellow in color. It can be in the range of texture from light cream to thick gel. In countries influenced by French cuisines, mustard is a prominent ingredient, but adding this component turns the sauce into a mixture of different flavors, and the mustard acts as an additional emulsifier.
Recent Developments in Salad Dressings and Mayonnaise Industry:
Unilever introduced the new Helman Mayonnaise. Hellmann's new range of organic mayonnaise with alcohol-free spreads and 100% cage-free eggs.
REPORT COVERAGE:
| | |
| --- | --- |
| REPORT METRIC | DETAILS |
| Market Size Available | 2022 – 2028 |
| Base Year | 2022 |
| Forecast Period | 2023 - 2028 |
| CAGR | 6.1% |
| Segments Covered | By Type, Application and Region |
| Various Analyses Covered | Global, Regional & Country Level Analysis, Segment-Level Analysis, DROC, PESTLE Analysis, Porter's Five Forces Analysis, Competitive Landscape, Analyst Overview on Investment Opportunities |
| Regions Covered | North America, Europe, APAC, Latin America, Middle East & Africa |
| Market Leaders Profiled | Tostito's Salsa, Best Foods Mayonnaise, Heinz, French's Classic Mustard, Mondelez International, Hellmann's Inc and Others. |
Salad Dressings and Mayonnaise Market Growth:
The worldwide salad and mayonnaise dressing market is growing rapidly as the variety of these dressings sold in markets around the world increases.
Drivers:
The growing demand for salads, fast foods and soups is one of the key factors expected to accelerate the growth of the global market for salad dressings and mayonnaise during the outlook period. As consumer awareness of salad dressing and the use of mayonnaise products increases, demand is expected to increase in the future. Furthermore, as interest from leading companies in product innovation and attractive packaging grows, it is expected that overall market development will be promoted in the near future. The world market for salad dressing and mayonnaise is expected to grow significantly during the projection period. The food manufacturing industry is becoming increasingly competitive. Consumers can choose from a variety of options, and their eating habits have evolved more experimentally. Choice and price competition means that manufacturers cannot rely solely on consumer loyalty. A large number of customers consume salad dressings and mayonnaise and make up the most consumed food dressing category worldwide. Food scientists have been using these salad dressings and mayonnaise for different dishes. Therefore, the commercialization of salad dressings as a sauce or final seasoning is another trend in this market, and the manufacturers of dressings may target snacks, sandwiches, excluding plain salads. Over the years, consumer tastes have become more sophisticated, increasing the demand for different types of toppings. Food manufacturers are focusing more on new innovations to address changing consumer interests and food patterns. In addition to convenience foods with a long shelf life, consumers are looking for sophisticated foods with exotic and ethnic tastes.
Additionally, consumer demand for foods that support weight loss and health benefits made from organic and natural ingredients is increasing. This trend had a positive impact on the food market, as well as on the global salad dressing and mayonnaise market. Health problems and obesity have increased the demand for healthy foods like salads and are supposed to have a positive impact on the salad dressing and mayonnaise market. The market is presumed to grow as the demand for convenience, food preparation and nutritional foods increases. Salad dressing and mayonnaise will also improve the taste of food and become another driver on the market. As the growth of the food and beverage industry grows, market growth will accelerate as demand and consumer awareness increase. Also, attractive packaging combined with product innovation is expected to fuel future market growth. Unfavorable government regulations related to the launch of the manufacturing labeling market may hinder the market growth. Growth in the retail sector along with the foodservice industry has increased the call for salad dressings and mayonnaise ingredients. The rising call for Latin American and Mexican food in the fast-food sector had a great impact on the demand for salad dressings and mayonnaise. However, a major player's increased investment in advertising campaigns and marketing activities is expected to complement the growth of the global market in the coming years.
Restraints:
Stringent government regulations related to food labeling, production and supply chain are expected to limit the growth of the global market for salad dressings and mayonnaise over the determined period.
Salad Dressings and Mayonnaise Market Segmentation Analysis:
By Type:
Salad Dressings

Mayonnaise

Other
By Application:
Daily Use

Food Industry

Other
Geographical Segmentation Analysis:
North America - the United States and Canada

Europe - United Kingdom, Spain, Germany, Italy, and France

The Asia Pacific - India, Japan, China, Australia, Singapore, Malaysia, South Korea, New Zealand, and Southeast Asia

Latin America - Brazil, Argentina, Mexico, and Rest of LATAM

The Middle East and Africa - Africa and Middle East (Saudi Arabia, UAE, Lebanon, Jordan, Cyprus)
Regional Analysis:
The global salad dressings and mayonnaise market can be classified in Europe, North America, Asia Pacific and other countries by geography. North America and Europe are considered advanced markets and are expected to see significant growth in the coming years. A large number of players in these two regions and growth is expected to accelerate as interest from key players increases, strengthening their market position worldwide. Increase the consumption of nutritional products in the rest of the world market also promotes this business. This is a critical element pushing the progression in the salad dressing and mayonnaise market in the world.
Besides, the surge in demand of fast food in emerging economies is among the crucial factors expected to encourage growth in the Asia Pacific market for salad dressing and mayonnaise. Changes in eating habits and rising consumer disposable incomes are predicted to drive demand for salad dressings and mayonnaise across Asia Pacific during the forecast period. In Europe, more and more people are choosing a healthy lifestyle, new flavors and packaging convenience. Demand from the aforementioned markets is increasing slightly due to the constant influx of international cuisine driven by the tourism and hospitality industry.
Key Players in the Market:
Major Key Players in the Global Salad Dressings and Mayonnaise Market are
Tostito's Salsa

Best Foods Mayonnaise

Heinz

French's Classic Mustard

Mondelez International (Kraft Foods Group Inc.)

Hellmann's Inc