Tomato Ketchup Market Size, Growth (2023-2028)
The Global Tomato Ketchup Market size was worth US$ 18.55 billion in 2022, and it is estimated that it will reach US$ 23.22 billion by 2028 with an annual expansion rate of 3.77% between 2023 and 2028.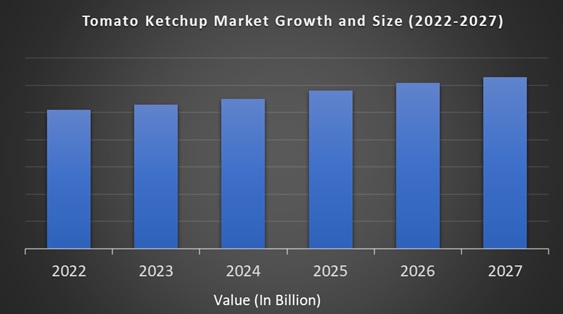 Market Overview:
Ketchup is usually a sauce made from tomatoes or other fruits and vegetables. It is a sweet and tangy sauce and is a very popular condiment, usually made with tomatoes, sweeteners, vinegar, salt, various seasonings, spices, and other additives. Ketchup is a good source of antioxidant compounds that can help prevent colon and prostate cancer and a variety of other diseases. Tomato ketchup is often served with fast foods such as sandwiches, hamburgers, French fries, grilled or fried meats. Because the flavor is popular and pleasant, it is also commonly used as a base for other sauces. The simple yet versatile combination of tomato ketchup has gained popularity in a variety of dishes, and the growing demand for fast food has allowed the tomato ketchup market to expand smoothly.
Tomato Ketchup Market Growth:
The global tomato ketchup market is preliminarily driven by the propensity of consumers to change Western lifestyles and eating habits, especially in developing countries.
REPORT COVERAGE:
| | |
| --- | --- |
| REPORT METRIC | DETAILS |
| Market Size Available | 2022 – 2028 |
| Base Year | 2022 |
| Forecast Period | 2023 - 2028 |
| Segments Covered | By Product Type, Application, Distribution Channel and Region |
| Various Analyses Covered | Global, Regional & Country Level Analysis, Segment-Level Analysis, DROC, PESTLE Analysis, Porter's Five Forces Analysis, Competitive Landscape, Analyst Overview on Investment Opportunities |
| Regions Covered | North America, Europe, APAC, Latin America, Middle East & Africa |
| Market Leaders Profiled | H. J. Heinz Company, Nestle India Ltd, Campbell Soup Company, ConAgra Foods Inc, General Mills Inc, Tate & Lyle plc, Lee Kum Kee, Premier Foods Plc and Others. |
Drivers:
The growing demand for fast food around the world is driving the tomato ketchup market. Ketchup is a staple of traditional fast food products, but the delicious taste of ketchup has also increased its use in local fast food products in emerging regions. As a result, leading tomato sauce producers have been able to successfully create regional variations of their products based on cultural preferences and compatibility with local dishes. The convenience of fast food means that the growing middle class will continue to be a significant consumer population in the fast food industry for years to come, creating strong growth prospects for the global tomato sauce market. Tomato ketchup is a versatile condiment and works in a variety of flavors, so the demand for tomato ketchup in the residential sector is growing rapidly. Ketchup is used primarily in commercially available fast food, but a significant portion of the overall demand for tomato sauce comes from families. Private label ketchup brands outperform well-known brands in many countries, including the UK, France and Germany. The fast-growing middle class will continue to be a significant consumer demographic for the fast food industry for years to come, creating significant growth prospects for the global ketchup market. This is mainly because many consumers have cut back on non-essential products like ketchup, sauces, spreads, dressings, and other similar items. Some ketchup companies are increasing their consumer base for health-conscious consumers by introducing organic variations of ketchup made from organic tomatoes. Organic ketchup is made of tomatoes which are harvested organically and contains organic salt, vinegar, sweeteners, and other organic spices. Contains beneficial antioxidants and organic sugars instead of high fructose corn syrup (HFCS). Health-conscious consumers prefer organic products due to their healthy, organic ingredients. The growing demand for organic tomato sauce will be one of the main trends gaining traction in the tomato sauce market in the future. Manufactured without the use of artificial ingredients, pesticides, and chemicals, it is favored primarily by health-conscious consumers who demand high-quality, low-calorie products.
Although the market for tomato sauce is evolving at a rapid pace, many factors limit it, such as the presence of a wide variety of tomato sauce options on the market and the decrease in the use of foods that contain sugar. The ketchup market has been bolstered by a number of key factors, such as changes in dietary patterns, interest in Western life and culture, and the expanding use of interesting ketchup flavors. However, ketchup has enormous opportunities in the food industry, with the growing reputation of quick service restaurants and the emergence of different types of ketchup made with natural ingredients. This will drive market growth as ketchup sales increase in the coming years. Strong strategies made by business players includes innovative ketchup flavors, unique products launch, acquisitions, and mergers with other players in the market. Also, ketchup is the most common product and is expected to further accelerate the growth of the global ketchup market with its excellent accompaniment to various fast foods, side dishes and snacks. Key factors promoting the global ketchup market are changing dietary habits, rising adoption of Western cultures, and demand for exotic ketchup. As the preference for organic products increases due to natural and healthy ingredients, the increasing number of health-conscious consumers will further accelerate market growth. The growing demand for organic tomato ketchup will be one of the important trends that will gain traction in the market in the future. Due to its high sustainability, the adoption of generic ketchup is increasing around the world. The high-yielding Moro Ever from regular tomato sauce is accelerating market growth.
Restraints:
The increasing use of other condiments such as mustard and barbecue sauce is a major constraint on the tomato sauce market. Several factors are hampering the growth of the global tomato sauce market, such as the threat of low-cost alternatives offered by local players and the growing number of health-conscious people avoiding sugar-containing foods. The success of the tomato sauce market has also encouraged the commercial production of local condiments and sauces that have emerged as an alternative to tomato sauce in many regions. Hence, many ketchup manufacturers are manufacturing diversified product which catalogs to compensate the possible decline which is in demand for ketchup across the world.
Tomato Ketchup Market Segmentation Analysis:
The global ketchup market is segmented into flavored ketchup and regular ketchup by product type. Regular ketchup is generally served with fast food items such as hamburgers, fries, sandwiches, grilled or fried meats. By application, the market is divided into direct family consumption, food services and others. In addition, through distribution channels, the market is separated as online retail stores, convenience stores, hypermarkets/supermarkets, specialty stores and others.
Geographical Segmentation Analysis:
North America - the United States and Canada

Europe - United Kingdom, Spain, Germany, Italy, and France

The Asia Pacific - India, Japan, China, Australia, Singapore, Malaysia, South Korea, New Zealand, and Southeast Asia

Latin America - Brazil, Argentina, Mexico, and Rest of LATAM

The Middle East and Africa - Africa and Middle East (Saudi Arabia, UAE, Lebanon, Jordan, Cyprus)
Regional Analysis:
The Asia Pacific market is expected to experience high growth in terms of sales due to increased consumption of fast food, greater westernization and preference for various types of ketchup. The consumption of tomato sauce is gaining popularity day by day due to the ever-increasing change in eating habits and the increased consumption of western, Chinese, European fast food and other convenient snacks. The North American market occupies a significant portion of the revenues in the global tomato sauce market due to the prevalence of many fast food and QSR places, in addition to favoring a huge population base of tomato ketchup variants in the countries of the region. Spending less time preparing food or choosing more convenient options can influence the growth of the tomato sauce market globally. While North America is the main market for fast food, the increasing adoption of Western cultures around the world is driving significant demand for fast food in Latin America, where the market is growing rapidly due to increased disposable income from urban consumers. This is a key driver for the global ketchup market, especially as demand for ketchup increases in Southeast Asia and the Far East, where local street food is widespread. The market for tomato ketchup in the Middle East has been promising in recent decades and as many countries in the region are constantly climbing to the stage of economic development, the fast food industry is also growing steadily in the region. This will present promising growth prospects for tomato ketchup manufacturers in the future.
Key Players in the Market:
Major Key Players in the Global Tomato Ketchup Market are
H. J. Heinz Company

Nestle India Ltd

Campbell Soup Company

ConAgra Foods Inc

General Mills Inc

Tate & Lyle plc

Lee Kum Kee

Premier Foods Plc