Acai Berry Market Size, Share, and Growth Rate Analysis:
Acai Berry Market size was worth USD 720 million in 2019, and it is estimated to reach a valuation of USD 2089.97 million by the end of 2025, expanding at a compound annual rate of 12.6% during the forecast period from 2022 - 2027. Acai Berry Market mainly offers different health benefits when they are converted to acai beverages due to the high antioxidant properties they offer.
Acai berry is a deep purple fruit that comes from the Acai palm tree and is available in Central and South America. It is a delicious dark berry fruit that consists of natural antioxidants, which incorporates vitamin C, E, and unique phytonutrients referred to as anthocyanin. Further to the antioxidants stated above, Acai is rich in fiber and includes nutrition B1, B2, B3, vitamin E, C, Calcium, Potassium, Proteins, and healthful fatty acids Omega 6 and Omega 9.
Acai berries include a first-rate quantity of zinc and folic acid. Zinc is an idea to significantly gain scalp health and save your hair loss by making the hair roots more potent. Folic acid improves blood movement in the scalp, aids the regeneration of the cells that make contributions to hair growth and prevents greying of hair. Ever since medieval times, acai berry has been consumed in the form of pulp by the natives of the region. The acai berry market has also been credited for providing strength and energy to the natives. It can be added to a balanced diet to satisfy daily nutritional requirements.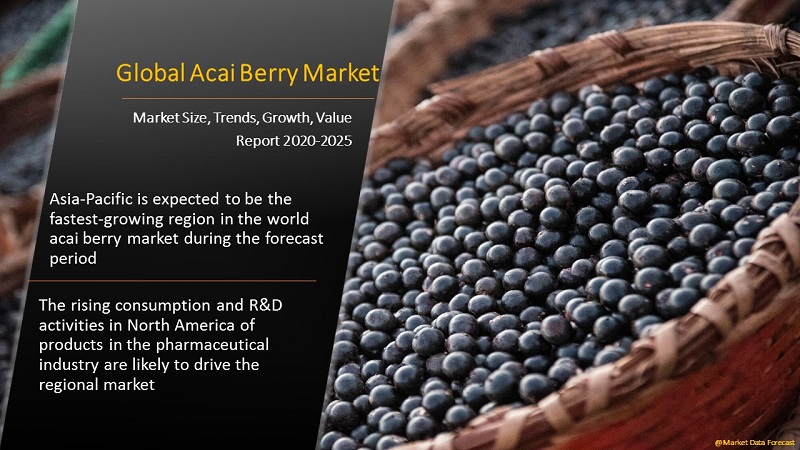 For More Information Download Sample Report
Drivers and Restraints Analysis of Acai Berry Market:
The growing awareness of the health benefits of acai berries is a crucial factor that drives the constant demand from consumers around the world. The increasing demand for acai berries to improve people's heart health is an example. The expanding demand for acai berries in the cosmetic industry in the cosmetics and personal care industry to meet the needs of consumers of organic cosmetics, worldwide, is a notable trend that is stimulating the global Acai berry market.
Increasing demand for natural cosmetics will see a growing demand from consumers with considerable disposable income in developing and developed economies. The constant flow of new products containing acai berries from various food and beverage companies in recent years is a crucial factor driving the rapid expansion of the global acai berry market.
The increasing fame of natural supplements in developed regions is also catalyzing the demand for acai berries. The role of online channels is growing in the distribution of acai berry products in various parts of the world.
However, the risk of side effects observed among consumers has hindered the constant growth of the market. Moreover, the pharmaceutical and food industries are increasingly interested in superfoods, which will give a boost to the demand for acai berries in the future.
Impact of COVID-19 on Acai Berry Market:
The COVID-19 pandemic is affecting the global food industry as governments close restaurants and bars to curb the spread of the virus. The closure of restaurants has had a ripple effect in related sectors such as food production, alcohol, wine, and beer production, food, and beverage transportation, fishing, and agriculture. The problems have been particularly damaging in industrialized areas where large proportions of entire food categories are generally imported using just-in-time logistics.
In many places, panic purchases have resulted in shortages. There have been interruptions in the supply chain of some products, for example, many hand sanitizer bottle hand pumps were imported into the United States from China and were less available. For most food products in the United States, there has been a normal replenishment, but panic purchases causing empty shelves have contributed to consumers' drive to stock up and stock up. Food retailers have adverse effects due to the coronavirus, but only a few companies could benefit from this.
Major factors which have helped drive the Acai Berry Market forward are:
Consumer demand due to the various health benefits provided such as anti-aging, claimed cancer-cure, skin firmer, and weight loss.

The growing prevalence of health conditions due to changing lifestyles.

Consumers are more aware of the various benefits provided by acai berries.

Increasing popularity in advanced areas of natural nutritional supplements.

The role of internet channels in the distribution of acai berry goods is increasing.
The factors holding the Acai Berry Market back include:
Relatively high costs and the lack of awareness about it in developing and underdeveloped countries.

Risk of side effects in consumers.

The steady flow of fresh products has fuelled the fast development of the acai berry market by several food and beverage businesses over the previous few years.

The increase in demand for organic cosmetics will increase consumer demand in the acai berry market with significant disposable income in developing and developed countries.
Acai Berry Market Recent Developments:
In 2017, Jamba Juice Hawaii launched the "Watermelon Acai Bowl" in the market. This new refreshing takeaway includes a mixed base of moisturizing watermelon, Acai, raspberry, lime and apple and is covered with chia seeds of omega-3 fatty acids, pineapple, blueberries, strawberries, and coconut.

In March 2018 after four years of market research and increasing customer demand on the South Florida acai berry market, Energy Foods International introduced its worldwide company capacity at the Natural Products Expo West. The firm also announces a 100 percent Amazonia humanitarian alliance, a social enterprise focused on maintaining the Amazon rainforest and protecting its inhabitants' interests.

In 2018, Southam launched new "freeze-dried maqui and acai powders" to strengthen its position in the acai berry market. This product was launched to meet the growing demand for acai berries and maqui.
In August 2019, Organique Inc. launched its new acai berry product line to meet the growing consumer demand for quality supplements to improve health. The company launched its latest range of natural and organic food supplements with acai berries to celebrate ten years of health and wellness.
MARKET REPORT COVERAGE:
| | |
| --- | --- |
| REPORT METRIC | DETAILS |
| Market Size Available | 2019 – 2025 |
| Base Year | 2019 |
| Forecast Period | 2020 - 2025 |
| Fastest Growing Market | Asia Pacific |
| Largest Market | North America |
| CAGR | 13.2% |
| Segments Covered | By Application, By Product Form, By Distribution Channel, and By Region |
| Various Analyses Covered | Global, Regional & Country Level Analysis, Segment-Level Analysis, DROC, PESTLE Analysis, Porter's Five Forces Analysis, Competitive Landscape, Analyst Overview on Investment Opportunities |
| Regions Covered | North America, Europe, APAC, Latin America, Middle East & Africa |
| Market Leaders Profiled | AcaiExotic, Acairoots, Nativo Acai, Sambazon, Vision America International, Amazon Forest Trading, Energy Foods International, Organique Acai USA, Tropical Acai, Zola. |
Geographical and Regional Classification of the Acai berry Market:
Acai Berry Market is geographically classified into, North America Acai Berry Market (United States, Canada), Latin America Acai Berry Market (Brazil, Argentina, Mexico), Europe Acai Berry Market (United Kingdom, France, Germany, Spain, Italy), Middle East and Africa Acai Berry Market (Saudi Arabia, United Arab Emirates, Lebanon, Jordan, Cyprus), Asia Pacific Acai Berry Market (China, India, Japan, South America, Australia, New Zealand, and Southeast Asia).
On the geographical front, it is anticipated that emerging areas will be increasingly promising on the acai berry market for players. The Asia Pacific in specific, due to increased consumption of nutritional and dietary supplements as well as the increase in the acai berry market among the regional population, may pose significant growth possibilities.
Meanwhile, advanced regional economies can also increase throughout the evaluation period at a significant growth pace year-over-year. It is anticipated that increasing demand for dietary supplements to reduce cardiovascular hazards in populations in developed countries will add a significant share of income to the worldwide economy.
Regional Share and Growth Analysis of the Global Acai Berry Market:
North America occupied a vital position in the world market of acai berries, due to the increasing prevalence of cardiovascular diseases in the region. Acai berry consists of anthocyanin that helps prevent cholesterol oxidation, which helps reduce plaque buildup in the arteries. However, in 2009, Health Canada, Department of the Government of Canada, advised people not to use certain acai berry products, including Acai Pure Ultra, Acai Power Blast, Vital Acai Super Antioxidant Weight Loss, etc.
Asia-Pacific is expected to be the fastest-growing region in the world acai berry market during the forecast period. This is due to the growing number of pharmaceutical and cosmetic industries. According to the Indian Brand Equity Foundation (IBEF), the pharmaceutical industry is the third-largest industry in India in terms of volume and accounted for about 20% of the global pharmaceutical industries in 2018. Also, the increased consumption of dietary and dietary supplements in this region should boost the growth of the acai berry market. According to the Australian Trade and Investment Commission, nutritional supplements accounted for approximately 35% of the Chinese health food market and are supposed to reach USD 22.3 billion by 2020 with a compound annual rate of 6.4%.
The acai berry market is experiencing decent growth due to the increased demand for dietary supplement applications associated with changing consumer lifestyles in developing regions.
Detailed Segmentation of Acai Berry Market:
By Applications:
Food and Beverages

Pharmaceuticals

Dietary Supplements

Personal Care or Cosmetics

Other Applications
By Product Form:
By Distribution Channel:
Hypermarkets or Supermarkets

Convenience Stores

Pharmacies or Drugstores

Online

Others
Competitors Scenario:
AcaiExotic has the largest share of the global Acai Berry Market in terms of sales revenue in 2018.
Leading Key Players Covered in this Research Report are:
AcaiExotic

Acairoots

Nativo Acai

Sambazon

Vision America International

Amazon Forest Trading

Energy Foods International

Organique Acai USA

Tropical Acai

Zola
Research Report Key Highlights:
Current and future market perspectives for Acai Berry Market in developed and emerging markets.

Analyze different market perspectives using the analysis of five Porter forces

The segment that is expected to dominate the market.

Regions that are expected to grow faster during the forecast period.

Identify the latest developments, market shares, and strategies of key market participants.
---
1. Introduction
1.1 Market Definition
1.2 Study Deliverables
1.3 Base Currency, Base Year and Forecast Periods
1.4 General Study Assumptions
2. Research Methodology
2.1 Introduction
2.2 Research Phases
2.2.1 Secondary Research
2.2.2 Primary Research
2.2.3 Econometric Modelling
2.2.4 Expert Validation
2.3 Analysis Design
2.4 Study Timeline
3. Overview
3.1 Executive Summary
3.2 Key Inferences
3.3 Epidemology
4. Drivers, Restraints, Opportunities, and Challenges Analysis (DROC)
4.1 Market Drivers
4.2 Market Restraints
4.3 Key Challenges
4.4 Current Opportunities in the Market
5. Market Segmentation
5.1 Applications
5.1.1 Introduction
5.1.2 Food and Beverages
5.1.3 Pharmaceuticals
5.1.4 Dietary Supplements
5.1.5 Personal Care
5.1.6 Other Applications
5.1.7 Y-o-Y Growth Analysis, By Applications
5.1.8 Market Attractiveness Analysis, By Applications
5.1.9 Market Share Analysis, By Applications
5.2 Product Form
5.2.1 Introduction
5.2.2 Dried
5.2.3 Pulp
5.2.5 Y-o-Y Growth Analysis, By Product Form
5.2.6 Market Attractiveness Analysis, By Product Form
5.2.7 Market Share Analysis, By Product Form
5.3 Distribution Channels
5.3.1 Introduction
5.3.2 Hypermarkets or Supermarkets
5.3.3 Convenience Stores
5.3.4 Pharmacies
5.3.5 Online
5.3.6 Others
5.3.7 Y-o-Y Growth Analysis, By Distribution Channels
5.3.8 Market Attractiveness Analysis, By Distribution Channels
5.3.9 Market Share Analysis, By Distribution Channels
6. Geographical Analysis
6.1 Introduction
6.1.1 Regional Trends
6.1.2 Impact Analysis
6.1.3 Y-o-Y Growth Analysis
6.1.3.1 By Geographical Area
6.1.3.2 By Applications
6.1.3.3 By Product Form
6.1.3.4 By Distribution Channels
6.1.4 Market Attractiveness Analysis
6.1.4.1 By Geographical Area
6.1.4.2 By Applications
6.1.4.3 By Product Form
6.1.4.4 By Distribution Channels
6.1.5 Market Share Analysis
6.1.5.1 By Geographical Area
6.1.5.2 By Applications
6.1.5.3 By Product Form
6.1.5.4 By Distribution Channels
6.2 North America
6.1.1 Introduction
6.1.2 United States
6.1.3 Canada
6.3 Europe
6.2.1 Introduction
6.2.2 U.K
6.2.3 Spain
6.2.4 Germany
6.2.5 Italy
6.2.6 France
6.4 Asia-Pacific
6.3.1 Introduction
6.3.2 China
6.3.3 India
6.3.4 Japan
6.3.5 Australia
6.3.6 South Korea
6.5 Latin America
6.4.1 Introduction
6.4.2 Brazil
6.4.3 Argentina
6.4.4 Mexico
6.4.5 Rest of Latin America
6.6 Middle East & Africa
6.5.1 Introduction
6.5.2 Middle-East
6.5.3 Africa
7. Strategic Analysis
7.1 PESTLE analysis
7.1.1 Political
7.1.2 Economic
7.1.3 Social
7.1.4 Technological
7.1.5 Legal
7.1.6 Environmental
7.2 Porter's Five analysis
7.2.1 Bargaining Power of Suppliers
7.2.2 Bargaining Power of Consumers
7.2.3 Threat of New Entrants
7.2.4 Threat of Substitute Products and Services
7.2.5 Competitive Rivalry within the Industry
8. Market Leaders' Analysis
8.1 AcaiExotic
8.1.1 Overview
8.1.2 Applications Analysis
8.1.3 Financial analysis
8.1.4 Recent Developments
8.1.5 SWOT analysis
8.1.6 Analyst View
8.2 AcaiRoots
8.3 Nativo Acai
8.4 Samabazon
8.5 Vision America International
8.6 Amazon Forest Trading
8.7 Energy Foods International
8.8 Organique Acai USA
8.9 Tropical Acai
8.10 Zola
9. Competitive Landscape
9.1 Market share analysis
9.2 Merger and Acquisition Analysis
9.3 Agreements, collaborations and Joint Ventures
9.4 New Product Launches
10. Market Outlook and Investment Opportunities
Appendix
a) List of Tables
b) List of Figures
Global Acai Berry Market By Region, From 2019-2025 ( USD Million )

Global Acai Berry Market By Application, From 2019-2025 ( USD Million )

Global Food and Beverages Market By Region, From 2019-2025 ( USD Million )

Global Pharmaceuticals Market By Region, From 2019-2025 ( USD Million )

Global Dietary Supplements Market By Region, From 2019-2025 ( USD Million )

Global Personal Care Market By Region, From 2019-2025 ( USD Million )

Global Other Applications Market By Region, From 2019-2025 ( USD Million )

Global Acai Berry Market By Product Form, From 2019-2025 ( USD Million )

Global Pulp Market By Region, From 2019-2025 ( USD Million )

Global Dried Market By Region, From 2019-2025 ( USD Million )

Global Acai Berry Market By Distribution Channel, From 2019-2025 ( USD Million )

Global Hypermarkets Market By Region, From 2019-2025 ( USD Million )

Global Convenience Stores Market By Region, From 2019-2025 ( USD Million )

Global Pharmacies Market By Region, From 2019-2025 ( USD Million )

Global Online Market By Region, From 2019-2025 ( USD Million )

Global Others Market By Region, From 2019-2025 ( USD Million )

North America Acai Berry Market By Application, From 2019-2025 ( USD Million )

North America Food and Beverages Market By Region, From 2019-2025 ( USD Million )

North America Pharmaceuticals Market By Region, From 2019-2025 ( USD Million )

North America Dietary Supplements Market By Region, From 2019-2025 ( USD Million )

North America Personal Care Market By Region, From 2019-2025 ( USD Million )

North America Other Applications Market By Region, From 2019-2025 ( USD Million )

North America Acai Berry Market By Product Form, From 2019-2025 ( USD Million )

North America Pulp Market By Region, From 2019-2025 ( USD Million )

North America Dried Market By Region, From 2019-2025 ( USD Million )

North America Acai Berry Market By Distribution Channel, From 2019-2025 ( USD Million )

North America Hypermarkets Market By Region, From 2019-2025 ( USD Million )

North America Convenience Stores Market By Region, From 2019-2025 ( USD Million )

North America Pharmacies Market By Region, From 2019-2025 ( USD Million )

North America Online Market By Region, From 2019-2025 ( USD Million )

North America Others Market By Region, From 2019-2025 ( USD Million )

United States Acai Berry Market By Application, From 2019-2025 ( USD Million )

United States Acai Berry Market By Product Form, From 2019-2025 ( USD Million )

United States Acai Berry Market By Distribution Channel, From 2019-2025 ( USD Million )

Canada Acai Berry Market By Application, From 2019-2025 ( USD Million )

Canada Acai Berry Market By Product Form, From 2019-2025 ( USD Million )

Canada Acai Berry Market By Distribution Channel, From 2019-2025 ( USD Million )

Europe Acai Berry Market By Application, From 2019-2025 ( USD Million )

Europe Food and Beverages Market By Region, From 2019-2025 ( USD Million )

Europe Pharmaceuticals Market By Region, From 2019-2025 ( USD Million )

Europe Dietary Supplements Market By Region, From 2019-2025 ( USD Million )

Europe Personal Care Market By Region, From 2019-2025 ( USD Million )

Europe Other Applications Market By Region, From 2019-2025 ( USD Million )

Europe Acai Berry Market By Product Form, From 2019-2025 ( USD Million )

Europe Pulp Market By Region, From 2019-2025 ( USD Million )

Europe Dried Market By Region, From 2019-2025 ( USD Million )

Europe Acai Berry Market By Distribution Channel, From 2019-2025 ( USD Million )

Europe Hypermarkets Market By Region, From 2019-2025 ( USD Million )

Europe Convenience Stores Market By Region, From 2019-2025 ( USD Million )

Europe Pharmacies Market By Region, From 2019-2025 ( USD Million )

Europe Online Market By Region, From 2019-2025 ( USD Million )

Europe Others Market By Region, From 2019-2025 ( USD Million )

U.K. Acai Berry Market By Application, From 2019-2025 ( USD Million )

U.K. Acai Berry Market By Product Form, From 2019-2025 ( USD Million )

U.K. Acai Berry Market By Distribution Channel, From 2019-2025 ( USD Million )

Germany Acai Berry Market By Application, From 2019-2025 ( USD Million )

Germany Acai Berry Market By Product Form, From 2019-2025 ( USD Million )

Germany Acai Berry Market By Distribution Channel, From 2019-2025 ( USD Million )

France Acai Berry Market By Application, From 2019-2025 ( USD Million )

France Acai Berry Market By Product Form, From 2019-2025 ( USD Million )

France Acai Berry Market By Distribution Channel, From 2019-2025 ( USD Million )

Italy Acai Berry Market By Application, From 2019-2025 ( USD Million )

Italy Acai Berry Market By Product Form, From 2019-2025 ( USD Million )

Italy Acai Berry Market By Distribution Channel, From 2019-2025 ( USD Million )

Spain Acai Berry Market By Application, From 2019-2025 ( USD Million )

Spain Acai Berry Market By Product Form, From 2019-2025 ( USD Million )

Spain Acai Berry Market By Distribution Channel, From 2019-2025 ( USD Million )

Asia Pacific Acai Berry Market By Application, From 2019-2025 ( USD Million )

Asia Pacific Food and Beverages Market By Region, From 2019-2025 ( USD Million )

Asia Pacific Pharmaceuticals Market By Region, From 2019-2025 ( USD Million )

Asia Pacific Dietary Supplements Market By Region, From 2019-2025 ( USD Million )

Asia Pacific Personal Care Market By Region, From 2019-2025 ( USD Million )

Asia Pacific Other Applications Market By Region, From 2019-2025 ( USD Million )

Asia Pacific Acai Berry Market By Product Form, From 2019-2025 ( USD Million )

Asia Pacific Pulp Market By Region, From 2019-2025 ( USD Million )

Asia Pacific Dried Market By Region, From 2019-2025 ( USD Million )

Asia Pacific Acai Berry Market By Distribution Channel, From 2019-2025 ( USD Million )

Asia Pacific Hypermarkets Market By Region, From 2019-2025 ( USD Million )

Asia Pacific Convenience Stores Market By Region, From 2019-2025 ( USD Million )

Asia Pacific Pharmacies Market By Region, From 2019-2025 ( USD Million )

Asia Pacific Online Market By Region, From 2019-2025 ( USD Million )

Asia Pacific Others Market By Region, From 2019-2025 ( USD Million )

Japan Acai Berry Market By Application, From 2019-2025 ( USD Million )

Japan Acai Berry Market By Product Form, From 2019-2025 ( USD Million )

Japan Acai Berry Market By Distribution Channel, From 2019-2025 ( USD Million )

China Acai Berry Market By Application, From 2019-2025 ( USD Million )

China Acai Berry Market By Product Form, From 2019-2025 ( USD Million )

China Acai Berry Market By Distribution Channel, From 2019-2025 ( USD Million )

India Acai Berry Market By Application, From 2019-2025 ( USD Million )

India Acai Berry Market By Product Form, From 2019-2025 ( USD Million )

India Acai Berry Market By Distribution Channel, From 2019-2025 ( USD Million )

Australia Acai Berry Market By Application, From 2019-2025 ( USD Million )

Australia Acai Berry Market By Product Form, From 2019-2025 ( USD Million )

Australia Acai Berry Market By Distribution Channel, From 2019-2025 ( USD Million )

South Korea Acai Berry Market By Application, From 2019-2025 ( USD Million )

South Korea Acai Berry Market By Product Form, From 2019-2025 ( USD Million )

South Korea Acai Berry Market By Distribution Channel, From 2019-2025 ( USD Million )

Latin America Acai Berry Market By Application, From 2019-2025 ( USD Million )

Latin America Food and Beverages Market By Region, From 2019-2025 ( USD Million )

Latin America Pharmaceuticals Market By Region, From 2019-2025 ( USD Million )

Latin America Dietary Supplements Market By Region, From 2019-2025 ( USD Million )

Latin America Personal Care Market By Region, From 2019-2025 ( USD Million )

Latin America Other Applications Market By Region, From 2019-2025 ( USD Million )

Latin America Acai Berry Market By Product Form, From 2019-2025 ( USD Million )

Latin America Pulp Market By Region, From 2019-2025 ( USD Million )

Latin America Dried Market By Region, From 2019-2025 ( USD Million )

Latin America Acai Berry Market By Distribution Channel, From 2019-2025 ( USD Million )

Latin America Hypermarkets Market By Region, From 2019-2025 ( USD Million )

Latin America Convenience Stores Market By Region, From 2019-2025 ( USD Million )

Latin America Pharmacies Market By Region, From 2019-2025 ( USD Million )

Latin America Online Market By Region, From 2019-2025 ( USD Million )

Latin America Others Market By Region, From 2019-2025 ( USD Million )

Brazil Acai Berry Market By Application, From 2019-2025 ( USD Million )

Brazil Acai Berry Market By Product Form, From 2019-2025 ( USD Million )

Brazil Acai Berry Market By Distribution Channel, From 2019-2025 ( USD Million )

Argentina Acai Berry Market By Application, From 2019-2025 ( USD Million )

Argentina Acai Berry Market By Product Form, From 2019-2025 ( USD Million )

Argentina Acai Berry Market By Distribution Channel, From 2019-2025 ( USD Million )

Mexico Acai Berry Market By Application, From 2019-2025 ( USD Million )

Mexico Acai Berry Market By Product Form, From 2019-2025 ( USD Million )

Mexico Acai Berry Market By Distribution Channel, From 2019-2025 ( USD Million )

Rest of Latin America Acai Berry Market By Application, From 2019-2025 ( USD Million )

Rest of Latin America Acai Berry Market By Product Form, From 2019-2025 ( USD Million )

Rest of Latin America Acai Berry Market By Distribution Channel, From 2019-2025 ( USD Million )

Middle East and Africa Acai Berry Market By Application, From 2019-2025 ( USD Million )

Middle East and Africa Food and Beverages Market By Region, From 2019-2025 ( USD Million )

Middle East and Africa Pharmaceuticals Market By Region, From 2019-2025 ( USD Million )

Middle East and Africa Dietary Supplements Market By Region, From 2019-2025 ( USD Million )

Middle East and Africa Personal Care Market By Region, From 2019-2025 ( USD Million )

Middle East and Africa Other Applications Market By Region, From 2019-2025 ( USD Million )

Middle East and Africa Acai Berry Market By Product Form, From 2019-2025 ( USD Million )

Middle East and Africa Pulp Market By Region, From 2019-2025 ( USD Million )

Middle East and Africa Dried Market By Region, From 2019-2025 ( USD Million )

Middle East and Africa Acai Berry Market By Distribution Channel, From 2019-2025 ( USD Million )

Middle East and Africa Hypermarkets Market By Region, From 2019-2025 ( USD Million )

Middle East and Africa Convenience Stores Market By Region, From 2019-2025 ( USD Million )

Middle East and Africa Pharmacies Market By Region, From 2019-2025 ( USD Million )

Middle East and Africa Online Market By Region, From 2019-2025 ( USD Million )

Middle East and Africa Others Market By Region, From 2019-2025 ( USD Million )

Middle East Acai Berry Market By Application, From 2019-2025 ( USD Million )

Middle East Acai Berry Market By Product Form, From 2019-2025 ( USD Million )

Middle East Acai Berry Market By Distribution Channel, From 2019-2025 ( USD Million )

Africa Acai Berry Market By Application, From 2019-2025 ( USD Million )

Africa Acai Berry Market By Product Form, From 2019-2025 ( USD Million )

Africa Acai Berry Market By Distribution Channel, From 2019-2025 ( USD Million )