Arachidonic Acid Market Growth and Forecast (2021-2026):
The global Arachidonic Acid Market size was estimated to be USD 180 million in 2021 and is foreseen to reach a value of about USD 281.0 million by the end of 2026, noticing a CAGR of about 6% over the prophesized period. Consumers around the world are becoming more diet conscious and adopting healthy eating habits.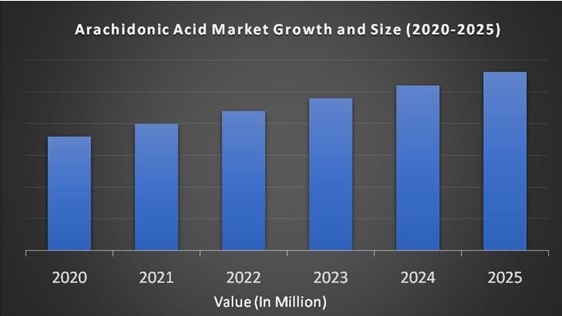 Market Overview:
Arachidonic acid is a long-chain fatty acid that is combined with docosahexaenoic acid (DHA) to help improve brain cells in babies. Arachidonic acid is among the most crucial acids belonging to the omega 6 group. It is stored in the cell membrane and signals adaptive changes when muscles are damaged. The lack of arachidonic acid, which naturally forms in the human body, can be compensated by ingestion in the form of tablets, injections and syrups. It is obtained from various food sources like chicken, meat, fish, eggs and others. It is also included in the phospholipids of the cytoplasm of cells adjacent to the gallbladder membrane, which is studded with the proteins necessary for phospholipid synthesis. Arachidonic acid is a polyunsaturated fatty acid that has been found to be almost completely esterified with phospholipids in secondary glycerol alcohols. Phospholipids containing arachidonic acid are available in almost all mammals, andit is an essential fatty acid that cannot be synthesized within the cell, but must be incorporated with the aid of diet or by lengthening the chain and desaturating another essential fatty acid, namely linoleic acid. Arachidonic acid metabolism offers a pathway that produces diverse, fast-acting, and short-lived signaling molecules. Cytoplasmic phosphatase A2 releases arachidonic acid from the set of phospholipids in the cell membrane.
Recent Developments in Arachidonic Acid Industry:
Arcadia Biosciences, Inc. and DuPont Pioneer have announced successful field test safflower plants capable of producing high levels of arachidonic acid (ARA) oil.

The Food Safety and Standards Authority of India has approved the use of DHA and arachidonic acid in baby foods that encourage dairy ingredient manufacturer Danone S.A. launch infant formula containing arachidonic acid in India.

Cargill ARA is currently recognized as Safe (GRAS) in the United States in a letter that has not been contested by the United States Food and Drug Administration (FDA).
REPORT COVERAGE:
| | |
| --- | --- |
| REPORT METRIC | DETAILS |
| Market Size Available | 2020 – 2026 |
| Base Year | 2020 |
| Forecast Period | 2021 - 2026 |
| CAGR | 6% |
| Segments Covered | By Technology, Application Type and Region |
| Various Analyses Covered | Global, Regional & Country Level Analysis, Segment-Level Analysis, DROC, PESTLE Analysis, Porter's Five Forces Analysis, Competitive Landscape, Analyst Overview on Investment Opportunities |
| Regions Covered | North America, Europe, APAC, Latin America, Middle East & Africa |
| Market Leaders Profiled | A&Z Food additives Co. Ltd, Cayman Chemicals, Guangdong Runke, Cabio Bioengineering, Kingdomway, Suntory, Cargill, BASF, DSM and Others. |
Arachidonic Acid Market Growth:
The growth of the market is mainly due to the increased prevalence of baby food and the augmented use of sports nutrition.
Drivers:
Increased disposable income, consumption capacity, and rise in consumer awareness of the importance of maintaining nutritional value in the diet are key factors expected to drive growth in the global arachidonic acid market. Rising awareness of parenting products is one of the key factors driving industrial growth. Product manufacturing requires qualified personnel and special material handling equipment, which increases production costs. Therefore, to reduce production costs, major manufacturers are focusing on R&D and proprietary manufacturing technology, which improves product quality to enhance brand value. The industry is branded by a diversified value chain of raw material providers, makers, distributors, and end-users. Raw material suppliers have become an essential element in the ARA industry value chain. The growing importance of suppliers is an important driver influencing the strategies of key industry participants. Furthermore, due to various health benefits, increased R&D activity by major companies in supplying new baby products, along with increased adoption of arachidonic acid by manufacturers, is supposed to support global market growth to some extent.
Producers tend to manufacture products close to the end-user to reduce shipping costs, minimize exposure to currency fluctuations, and benefit from local incentives. In Middle Eastern countries, infant formula companies are trying to encourage consumers through various educational campaigns. With a low product penetration rate, companies around the world are expanding their businesses in this region. Also, the increasing demand in the pharmaceutical sector for arachidonic acid as a component of various food supplements is another factor that is assumed to support the growth of the global market to some extent. ARA's demand for dietary supplements is increasing as consumer health awareness increases. The potential for bodily injury is presumed to increase as outdoor sports activities, including auto racing and the marathon, increase, which can lead the market and generate revenue in terms of increased application. The increased investment by major players in R&D activities and their approach to profitable product development are likely to create potential revenue opportunities for players to operate in the global market over the outlook period.
Restraints:
The high cost of manufacturing arachidonic acid is an essential factor that is deemed to hinder the growth of the global arachidonic acid market. Furthermore, strict regulations regarding product approval are another factor that is likely to challenge the growth of the target market to some extent.
Geographical Segmentation Analysis:
North America - the United States and Canada

Europe - United Kingdom, Spain, Germany, Italy, and France

The Asia Pacific - India, Japan, China, Australia, Singapore, Malaysia, South Korea, New Zealand, and Southeast Asia

Latin America - Brazil, Argentina, Mexico, and Rest of LATAM

The Middle East and Africa - Africa and Middle East (Saudi Arabia, UAE, Lebanon, Jordan, Cyprus)
Arachidonic Acid Market Segmentation Analysis:
By Technology:
Solid phase extraction

Solvent extraction
By Application Type:
Pharmaceuticals

Food and Beverages
Regional Analysis:
The global market is divided by region in North America, Europe, Asia Pacific, Africa, and South America. North America arachidonic acid industry has the most substantial share of in food applications, trailed by Europe and Asia Pacific. North America was the leading region with a volume of over 40%, owing to the presence of market giants in North America. The region is anticipated to expand further over the forecast period, particularly due to the advanced sports and child nutrition industry in the United States and the high consumer capacity of consumers. This is due to the strong R&D activities that exist and have been carried out by many companies through many new patents that use ARA in infant formulas, and sports nutrition and increased fertility rates in North America, especially in Mexico, allow the growth of the market. The recent trend in the use of ARA for the treatment of diabetes is foreseen to contribute to the growth of the market in other North American countries.
Europe also has a notable share of the world market. The early introduction of ARA into supplements and infant formulas is a major cause of this growth. Factors like a high standard of living and a well-developed sports nutrition market are also driving local industries. The Asia-Pacific region is also touted to show strong CAGRs due to rapid urbanization, a growing middle-class population, and the growth of babies across the region. The presence of developing nations like India and China and the easy access to low-cost raw materials and labor are pushing manufacturers across the globe to promote their businesses in APAC, supporting the regional market boom.
Key Players in the Market:
Major Key Players in the Global Arachidonic Acid Market are
A&Z Food additives Co. Ltd

Cayman Chemicals

Guangdong Runke

Cabio Bioengineering

Kingdomway

Suntory

Cargill

BASF

DSM
1. Introduction
1.1 Market Definition
1.2 Study Deliverables
1.3 Base Currency, Base Year and Forecast Periods
1.4 General Study Assumptions
2. Research Methodology
2.1 Introduction
2.2 Research Phases
2.2.1 Secondary Research
2.2.2 Primary Research
2.2.3 Econometric Modelling
2.2.4 Expert Validation
2.3 Analysis Design
2.4 Study Timeline
3. Overview
3.1 Executive Summary
3.2 Key Inferences
3.3 Epidemology
4. Drivers, Restraints, Opportunities, and Challenges Analysis (DROC)
4.1 Market Drivers
4.2 Market Restraints
4.3 Key Challenges
4.4 Current Opportunities in the Market
5. Market Segmentation
5.1 Technology
5.1.1 Introduction
5.1.2 Solid phase extraction
5.1.3 Solvent extraction
5.1.4 Y-o-Y Growth Analysis, By Technology
5.1.5 Market Attractiveness Analysis, By Technology
5.1.6 Market Share Analysis, By Technology
5.2 Application Type
5.2.1 Introduction
5.2.2 Pharmaceuticals
5.2.3 Food and Beverages
5.2.4 Y-o-Y Growth Analysis, By Application Type
5.2.5 Market Attractiveness Analysis, By Application Type
5.2.6 Market Share Analysis, By Application Type
6. Geographical Analysis
6.1 Introduction
6.1.1 Regional Trends
6.1.2 Impact Analysis
6.1.3 Y-o-Y Growth Analysis
6.1.3.1 By Geographical Area
6.1.3.2 By Technology
6.1.3.3 By Application Type
6.1.4 Market Attractiveness Analysis
6.1.4.1 By Geographical Area
6.1.4.2 By Technology
6.1.4.3 By Application Type
6.1.5 Market Share Analysis
6.1.5.1 By Geographical Area
6.1.5.2 By Technology
6.1.5.3 By Application Type
6.2 North America
6.1.1 Introduction
6.1.2 United States
6.1.3 Canada
6.3 Europe
6.2.1 Introduction
6.2.2 U.K
6.2.3 Spain
6.2.4 Germany
6.2.5 Italy
6.2.6 France
6.4 Asia-Pacific
6.3.1 Introduction
6.3.2 China
6.3.3 India
6.3.4 Japan
6.3.5 Australia
6.3.6 South Korea
6.5 Latin America
6.4.1 Introduction
6.4.2 Brazil
6.4.3 Argentina
6.4.4 Mexico
6.4.5 Rest of Latin America
6.6 Middle East & Africa
6.5.1 Introduction
6.5.2 Middle-East
6.5.3 Africa
7. Strategic Analysis
7.1 PESTLE analysis
7.1.1 Political
7.1.2 Economic
7.1.3 Social
7.1.4 Technological
7.1.5 Legal
7.1.6 Environmental
7.2 Porter's Five analysis
7.2.1 Bargaining Power of Suppliers
7.2.2 Bargaining Power of Consumers
7.2.3 Threat of New Entrants
7.2.4 Threat of Substitute Products and Services
7.2.5 Competitive Rivalry within the Industry
8. Market Leaders' Analysis
8.1 A&Z Food additives Co. Ltd
8.1.1 Overview
8.1.2 Product Analysis
8.1.3 Financial analysis
8.1.4 Recent Developments
8.1.5 SWOT analysis
8.1.6 Analyst View
8.2 Cayman Chemicals
8.3 Guangdong Runke
8.4 Cabio Bioengineering
8.5 Kingdomway
8.6 Suntory
8.7 Cargill
8.8 BASF
8.9 DSM
9. Competitive Landscape
9.1 Market share analysis
9.2 Merger and Acquisition Analysis
9.3 Agreements, collaborations and Joint Ventures
9.4 New Product Launches
10. Market Outlook and Investment Opportunities
Appendix
a) List of Tables
b) List of Figures
Global, regional and country-level analysis and forecasts of the study market; providing Insights on the major countries/regions in which this industry is blooming and to also identify the regions that are still untapped

The Segment-level analysis in terms of By Technology, Application Type and along with market size forecasts and estimations to detect key areas of industry growth in detail

Identification of key drivers, restraints, opportunities, and challenges (DROC) in the market and their impact on shifting market dynamics

Study of the effect of exogenous and endogenous factors that affect the global market; which includes broadly demographic, economics, and political, among other macro-environmental factors presented in an extensive PESTLE Analysis

Study the micro environment factors that determine the overall profitability of an Industry, using Porter's five forces analysis for analysing the level of competition and business strategy development

A comprehensive list of key market players along with their product portfolio, current strategic interests, key financial information, legal issues, SWOT analysis and analyst overview to study and sustain the market environment

Competitive landscape analysis listing out the mergers, acquisitions, collaborations in the field along with new product launches, comparative financial studies and recent developments in the market by the major companies

An executive summary, abridging the entire report in such a way that decision-making personnel can rapidly become acquainted with background information, concise analysis and main conclusions

Expertly devised analyst overview along with Investment opportunities to provide both individuals and organizations a strong financial foothold in the market
Global Arachidonic Acid (ARA) Market By Region, From 2021-2026 ( USD Million )

Global Arachidonic Acid (ARA) Market By Application, From 2021-2026 ( USD Million )

Global Pharmaceuticals Market By Region, From 2021-2026 ( USD Million )

Global Food and Beverages Market By Region, From 2021-2026 ( USD Million )

Global Arachidonic Acid (ARA) Market By Technology, From 2021-2026 ( USD Million )

Global Solid phase extraction Market By Region, From 2021-2026 ( USD Million )

Global Solvent extraction Market By Region, From 2021-2026 ( USD Million )

North America Arachidonic Acid (ARA) Market By Application, From 2021-2026 ( USD Million )

North America Pharmaceuticals Market By Region, From 2021-2026 ( USD Million )

North America Food and Beverages Market By Region, From 2021-2026 ( USD Million )

North America Arachidonic Acid (ARA) Market By Technology, From 2021-2026 ( USD Million )

North America Solid phase extraction Market By Region, From 2021-2026 ( USD Million )

North America Solvent extraction Market By Region, From 2021-2026 ( USD Million )

United States Arachidonic Acid (ARA) Market By Application, From 2021-2026 ( USD Million )

United States Arachidonic Acid (ARA) Market By Technology, From 2021-2026 ( USD Million )

Canada Arachidonic Acid (ARA) Market By Application, From 2021-2026 ( USD Million )

Canada Arachidonic Acid (ARA) Market By Technology, From 2021-2026 ( USD Million )

Europe Arachidonic Acid (ARA) Market By Application, From 2021-2026 ( USD Million )

Europe Pharmaceuticals Market By Region, From 2021-2026 ( USD Million )

Europe Food and Beverages Market By Region, From 2021-2026 ( USD Million )

Europe Arachidonic Acid (ARA) Market By Technology, From 2021-2026 ( USD Million )

Europe Solid phase extraction Market By Region, From 2021-2026 ( USD Million )

Europe Solvent extraction Market By Region, From 2021-2026 ( USD Million )

U.K. Arachidonic Acid (ARA) Market By Application, From 2021-2026 ( USD Million )

U.K. Arachidonic Acid (ARA) Market By Technology, From 2021-2026 ( USD Million )

Germany Arachidonic Acid (ARA) Market By Application, From 2021-2026 ( USD Million )

Germany Arachidonic Acid (ARA) Market By Technology, From 2021-2026 ( USD Million )

France Arachidonic Acid (ARA) Market By Application, From 2021-2026 ( USD Million )

France Arachidonic Acid (ARA) Market By Technology, From 2021-2026 ( USD Million )

Italy Arachidonic Acid (ARA) Market By Application, From 2021-2026 ( USD Million )

Italy Arachidonic Acid (ARA) Market By Technology, From 2021-2026 ( USD Million )

Spain Arachidonic Acid (ARA) Market By Application, From 2021-2026 ( USD Million )

Spain Arachidonic Acid (ARA) Market By Technology, From 2021-2026 ( USD Million )

Asia Pacific Arachidonic Acid (ARA) Market By Application, From 2021-2026 ( USD Million )

Asia Pacific Pharmaceuticals Market By Region, From 2021-2026 ( USD Million )

Asia Pacific Food and Beverages Market By Region, From 2021-2026 ( USD Million )

Asia Pacific Arachidonic Acid (ARA) Market By Technology, From 2021-2026 ( USD Million )

Asia Pacific Solid phase extraction Market By Region, From 2021-2026 ( USD Million )

Asia Pacific Solvent extraction Market By Region, From 2021-2026 ( USD Million )

Japan Arachidonic Acid (ARA) Market By Application, From 2021-2026 ( USD Million )

Japan Arachidonic Acid (ARA) Market By Technology, From 2021-2026 ( USD Million )

China Arachidonic Acid (ARA) Market By Application, From 2021-2026 ( USD Million )

China Arachidonic Acid (ARA) Market By Technology, From 2021-2026 ( USD Million )

India Arachidonic Acid (ARA) Market By Application, From 2021-2026 ( USD Million )

India Arachidonic Acid (ARA) Market By Technology, From 2021-2026 ( USD Million )

Australia Arachidonic Acid (ARA) Market By Application, From 2021-2026 ( USD Million )

Australia Arachidonic Acid (ARA) Market By Technology, From 2021-2026 ( USD Million )

South Korea Arachidonic Acid (ARA) Market By Application, From 2021-2026 ( USD Million )

South Korea Arachidonic Acid (ARA) Market By Technology, From 2021-2026 ( USD Million )

Latin America Arachidonic Acid (ARA) Market By Application, From 2021-2026 ( USD Million )

Latin America Pharmaceuticals Market By Region, From 2021-2026 ( USD Million )

Latin America Food and Beverages Market By Region, From 2021-2026 ( USD Million )

Latin America Arachidonic Acid (ARA) Market By Technology, From 2021-2026 ( USD Million )

Latin America Solid phase extraction Market By Region, From 2021-2026 ( USD Million )

Latin America Solvent extraction Market By Region, From 2021-2026 ( USD Million )

Brazil Arachidonic Acid (ARA) Market By Application, From 2021-2026 ( USD Million )

Brazil Arachidonic Acid (ARA) Market By Technology, From 2021-2026 ( USD Million )

Argentina Arachidonic Acid (ARA) Market By Application, From 2021-2026 ( USD Million )

Argentina Arachidonic Acid (ARA) Market By Technology, From 2021-2026 ( USD Million )

Mexico Arachidonic Acid (ARA) Market By Application, From 2021-2026 ( USD Million )

Mexico Arachidonic Acid (ARA) Market By Technology, From 2021-2026 ( USD Million )

Rest of Latin America Arachidonic Acid (ARA) Market By Application, From 2021-2026 ( USD Million )

Rest of Latin America Arachidonic Acid (ARA) Market By Technology, From 2021-2026 ( USD Million )

Middle East and Africa Arachidonic Acid (ARA) Market By Application, From 2021-2026 ( USD Million )

Middle East and Africa Pharmaceuticals Market By Region, From 2021-2026 ( USD Million )

Middle East and Africa Food and Beverages Market By Region, From 2021-2026 ( USD Million )

Middle East and Africa Arachidonic Acid (ARA) Market By Technology, From 2021-2026 ( USD Million )

Middle East and Africa Solid phase extraction Market By Region, From 2021-2026 ( USD Million )

Middle East and Africa Solvent extraction Market By Region, From 2021-2026 ( USD Million )

Middle East Arachidonic Acid (ARA) Market By Application, From 2021-2026 ( USD Million )

Middle East Arachidonic Acid (ARA) Market By Technology, From 2021-2026 ( USD Million )

Africa Arachidonic Acid (ARA) Market By Application, From 2021-2026 ( USD Million )

Africa Arachidonic Acid (ARA) Market By Technology, From 2021-2026 ( USD Million )