Asia-Pacific Organic Food Market Size Analysis 2021-2026:
Asia-Pacific Organic Food Market size was worth USD xx billion in 2021 and estimated to be growing at a CAGR of xx%, to reach USD xx billion by 2026. Food produced without the use of pesticides and fertilizers is called organic food and this type of farming is called organic farming. Organic farming techniques may vary worldwide but promotes ecological balance and conserve biodiversity. Generally, organic foods contain large levels of antioxidants and certain micronutrients such as zinc, iron, and vitamin C.
Foods covered under current organic standards are fruits and vegetables, including mushrooms, grains, legumes, nuts and seeds, dairy products and eggs, livestock feed, meats, and poultry. Organic food is processed by certain standards of organic farming. These standards prohibit the use of most synthetic fertilizers and pesticides, sewer sludge fertilizers, genetic engineering, growth hormones, irradiation, antibiotics, artificial ingredients, and many synthetic additives. Organic livestock raised for dairy products, eggs and meat. The animals have access to the outdoors and given organic feed. They are not fed with growth hormones, antibiotics, or any animal by-products.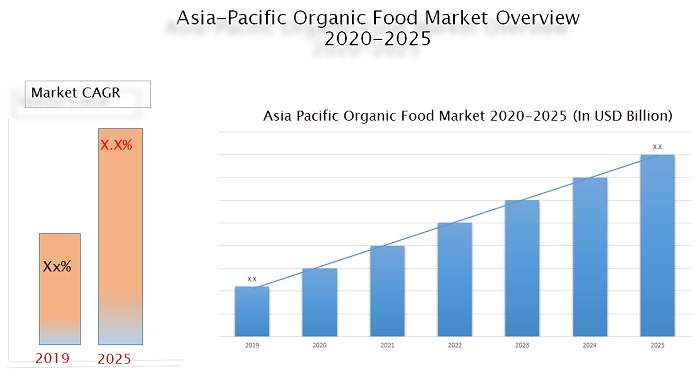 For More Information: Download Sample Report
Asia-Pacific Organic Food Market Driving Factors:
Rising concerns about the environment and health benefits associated with organic foods are mainly driving Asia-Pacific organic food. In addition, increasing average household annual spending on food, increase in chronic diseases, greater accessibility of these products through small to medium scale retailers, changing lifestyles, implementation of initiatives to encourage farmers to switch to organic farming, rising working women population base, rise in number of organic food manufacturers are also complying with international standards and are labeling their products are also driving the market. However, lack of a skilled number of professionals and high-cost equipment for farming re hindering the growth of the market.
Asia-Pacific Organic Food Market Segmentation Analysis:
Based on Product Type:
Fruits and Vegetables

Grains

Meats

Poultry

Dairy Products

Livestock Feed

Others
Fruits and Vegetables have the largest market while meats and poultry are the fastest-growing segments.
Regional Presence and Country level classification:
The Asia-Pacific region is geographically segmented into China, India, Japan, South Korea, and Australia. The Asia Pacific predicted to have the highest growth rate due to the emerging economies and rise in population.
Some of the leading key companies covered in this market report are:
White Wave Foods

Spartan Stores Inc

Hain Celestial

United Natural Foods Inc

General Mills

AMCON Distributing Co

Sprouts Farmers Market

Amy's Kitchen

Cliff Bar & Company

Whole Foods Market Inc

Dean Foods

Organic Valley
1. Introduction
1.1 Market Definition
1.2 Study Deliverables
1.3 Base Currency, Base Year and Forecast Periods
1.4 General Study Assumptions
2. Research Methodology
2.1 Introduction
2.2 Research Phases
2.2.1 Secondary Research
2.2.2 Primary Research
2.2.3 Econometric Modelling
2.2.4 Expert Validation
2.3 Analysis Design
2.4 Study Timeline
3. Overview
3.1 Executive Summary
3.2 Key Inferences
3.3 Epidemology
4. Drivers, Restraints, Opportunities, and Challenges Analysis (DROC)
4.1 Market Drivers
4.2 Market Restraints
4.3 Key Challenges
4.4 Current Opportunities in the Market
5. Market Segmentation
5.1 Product type
5.1.1 Introduction
5.1.2 Fruits and Vegetables
5.1.3 Grains
5.1.4 Meats and Poultry
5.1.5 Dairy products
5.1.6 Livestock Feed
5.1.7 Others
5.1.8 Y-o-Y Growth Analysis, By Product type
5.1.9 Market Attractiveness Analysis, By Product type
5.1.10 Market Share Analysis, By Product type
6. Geographical Analysis
6.1 Introduction
6.1.1 Regional Trends
6.1.2 Impact Analysis
6.1.3 Y-o-Y Growth Analysis
6.1.3.1 By Geographical Area
6.1.3.2 By Product type
6.1.4 Market Attractiveness Analysis
6.1.4.1 By Geographical Area
6.1.4.2 By Product type
6.1.5 Market Share Analysis
6.1.5.1 By Geographical Area
6.1.5.2 By Product type
6.2 China
6.3 India
6.4 Japan
6.5 South Korea
6.6 Australia
7. Strategic Analysis
7.1 PESTLE analysis
7.1.1 Political
7.1.2 Economic
7.1.3 Social
7.1.4 Technological
7.1.5 Legal
7.1.6 Environmental
7.2 Porter's Five analysis
7.2.1 Bargaining Power of Suppliers
7.2.2 Bargaining Power of Consumers
7.2.3 Threat of New Entrants
7.2.4 Threat of Substitute Products and Services
7.2.5 Competitive Rivalry within the Industry
8. Market Leaders' Analysis
8.1 White Wave Foods
8.1.1 Overview
8.1.2 Product Analysis
8.1.3 Financial analysis
8.1.4 Recent Developments
8.1.5 SWOT analysis
8.1.6 Analyst View
8.2 Spartan Stores Inc.,
8.3 Hain Celestial
8.4 United Natural Foods Inc.,
8.5 General Mills
8.6 AMCON Distributing Co.,
8.7 Sprouts Farmers Market
8.8 Amy's Kitchen
8.9 Cliff Bar & Company
8.10 Whole Foods Market Inc.,
8.11 Dean Foods
8.12 Organic Valley.
9. Competitive Landscape
9.1 Market share analysis
9.2 Merger and Acquisition Analysis
9.3 Agreements, collaborations and Joint Ventures
9.4 New Product Launches
10. Market Outlook and Investment Opportunities
Appendix
a) List of Tables
b) List of Figures