Bottled Water Market Value, Size, Growth (2022-2027)
The Global Bottled Water Market size was worth US$ 283.01 billion in 2021 and is predicted to have the US$ 510.3 billion by 2027 and register a CAGR of 5.5% during 2022-2027.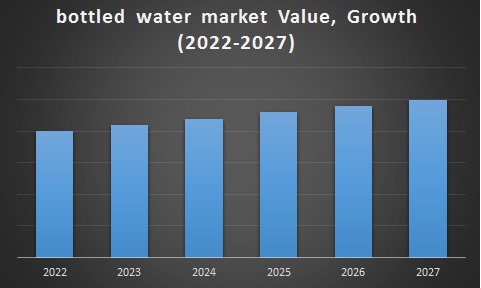 Bottled Water Market Scenario
Water that is packed and either carbonated or not is referred to as bottled water. The need for clean and hygienic packaged solutions is rising as awareness of numerous health issues, such as gastrointestinal disorders brought on by drinking contaminated water, grows. Drinking water shortages in some areas further raise the need for clean drinking water, which drives up product sales and boosts the global bottled water market expansion. The demand among business travelers, professionals who are in the workforce, and for domestic consumption has been rising
Bottled Water Market Report Coverage:
REPORT METRIC

DETAILS

Market Size Available

2021 to 2026

Base Year

2021

Forecast Period

2022 to 2027

CAGR

5.5%

Fastest Growing Market

Asia Pacific Bottled Water Market

Largest Market

North America Bottled Water Market

Segments Analysed

By Product Type, By Packaging, and By Distributional Channels

Various Analyses Covered

Global, Regional & Country Level Analysis, Segment-Level Analysis, Drivers, Restraints, Opportunities, Challenges, PESTLE Analysis, Porter's Five Forces Analysis, Competitive Landscape, Analyst Overview on Investment Opportunities

Regions Analysed

North America, Europe, Asia Pacific, Latin America, Middle East, and Africa
Bottled Water Market Drivers
The global market for bottled water is primarily driven by the lack of drinking water in some regions of the world. Drinking contaminated water increases your risk of developing gastrointestinal issues, reproductive issues, and neurological abnormalities, among other health issues. Worldwide demand for bottled water is being driven by the population's growing knowledge of the negative effects of tainted water. The quick expansion of the bottled water industry across the global markets has been largely attributed to the simple accessibility of bottled water in a variety of retail settings, including grocery, supermarkets, and convenience stores.
In addition, the introduction and accessibility of many kinds of bottled water products, including mineral water, sparkling water, and distilled water, have gained popularity in recent decades, supporting the global bottled water market expansion. The demand for bottled water among health-conscious customers has been spurred by the expanding urban population, rising disposable income, increased consumer health consciousness, and greater knowledge of waterborne diseases. Additionally, producers are increasingly switching to PET and plant-based water bottles to achieve sustainability due to growing worries about the plastic waste produced by the bottled water business. In developed economies like Europe and North America, the demand for bottled water is anticipated to increase as a result of these eco-friendly bottles. In the near future, the global bottled water market expansion is anticipated to be significantly aided by creative packaging. The use of environmentally friendly materials in the manufacture of bottles greatly aids in fostering a favorable brand perception among consumers. Another strategy used by producers to distinguish their bottled water goods and cater to more affluent consumers is premiumization. The premium brands' exceptional quality and exclusivity are emphasized by the makers. Therefore, premiumization is crucial in helping manufacturers generate large profits.
Bottled Water Market Restraints
Due to the high energy requirements for water extraction, processing, and bottling, the manufacturers of bottled water are coming under growing pressure from environmentalists for their manufacturing practices. The environmental degradation brought on by improper plastic bottle disposal adds another layer to this issue, and it will likely limit the future growth of the global bottled water market.
Recent Developments in the Global Bottled Water Market
Agthia Group introduced a plant-based bottle in February 2020 as a step toward developing a sustainable and environmentally friendly bottle solution.
Bottled Water Market Segmentation
By Product:
•Spring Water
•Purified Water
•Mineral Water
•Sparkling Water
More than 40.0% of the total revenue in 2021 came from the purified segment, and it is anticipated that this segment would continue to lead during the projected period. Due to the fact that contaminants in running water are typically the source of diseases including dysentery, diarrhea, and typhoid, consumers are looking for water-saving measures, and businesses are tackling the same problems. The sparkling market is anticipated to increase at the fastest pace, 7.4%, between 2022 and 2027. Customers' growing preference for sparkling beverages as a healthier alternative to sugary beverages like cola to reduce sugar content levels is driving the industry. The body's elevated sugar levels cause type 2 diabetes, obesity, and other related health issues.
By Distribution channel:
• Off-trade
•On-trade
In 2021, the off-trade segment's revenue share was greater than 85%. All retail establishments, including traditional stores, micro markets, convenience stores, supermarkets, and hypermarkets, are included in this section. The simplicity of choosing the needed brand of bottled water with a specific combination of minerals more rapidly will drive market expansion throughout the forecast period. The following stores carry a variety of brands, including Aquafina, Dasani, Nestlé, and Danone.
The fastest CAGR is expected to occur in the on-trade channel from 2022 to 2027, at 7.7%. Restaurants, cafes, clubs, motels, and lounges are just a few of the establishments in this area.
Growing health and hygiene concerns, together with an increase in COVID-19 instances, have pushed customers to choose packaged water over more conventional options in these establishments. Additionally, it is anticipated that the opening of nightclubs, bars, and outdoor activities at resorts and hotels will increase bottled drinking water consumption through this channel.
Bottled Water Market Regional Analysis
The Global Bottled Water Market Report includes the segmentation of Regions:
Asia Pacific

North America

Middle East

Latin America

Europe
The Asia Pacific region has the highest revenue share is also predicted to grow at the fastest rate between 2022 and 2027. One of the main factors promoting the market expansion is the rising awareness of the value of health and wellness in nations like China, India, Malaysia, and Indonesia. This is because there is a higher need for sanitary consumables. The demand for bottled options is rising along with the knowledge of the value of hygienic beverage options, opening up new opportunities for market expansion in the area.
The rising popularity of healthy living, intense exercise, and other physical and outdoor pursuits are further factors contributing to the strong demand for bottled water. The majority of Americans prefer packaged water to water directly from the faucet because they believe it to be safer and more practical. Additionally, the growing consumer demand for environmentally friendly and sustainable packaging options is anticipated to present both established manufacturers and fresh competitors with profitable business opportunities.
Bottled Water Market Key Players
Nestlé

PepsiCo

The Coca-Cola Company

DANONE

Primo Water Corporation

FIJI Water Company LLC

Gerolsteiner Brunnen GmbH & Co. KG

VOSS WATER

Nongfu Spring

National Beverage Corp.