Canned Mushroom Market Size, Share, Growth (2023-2028)
Canned Mushroom Market value was expected at USD 8.83 billion in 2028. It is estimated to experience reasonable growth to record a CAGR of 4.78%.
Canned Mushroom Market Overview:
Canned mushrooms are made from fresh mushrooms by trimming, washing, and sorting them in a sealed container. A specific temperature or heat is provided to guarantee the preservation of the fungi. Canned mushrooms provide nutrients ranging from minerals, calcium, fiber, vitamin C, vitamin B, and protein. Monosodium salt of glutamate and ascorbic acid are added to these fungi to improve their shelf life. Canned mushrooms offer several benefits, such as low calorie, low sodium, fat-free, and cholesterol-free, which is vital for healthy cognitive function and immune system. Also, the fungus has an anti-aromatase activity, which inhibits the aromatase enzyme. The aromatase enzyme produces a carcinogen called estrogen, which stimulates the growth of breast cancer cells with positive hormone receptors. Canned mushrooms reduce the risk of developing cancer, which stimulates the growth of the market. According to the World Health Organization (WHO), cancer is one of the leading causes of death worldwide, with 8.8 million cancer deaths in 2015.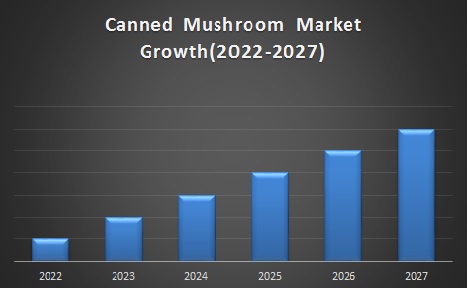 Recent Developments in the Canned Mushroom Industry:
D'Amico, an Italian company that offers canned vegetables, introduced a new range of canned Portobello mushrooms.

New Tiger International Inc. confirmed the purchase of an industrial building in New York, which is of worth $ 4.75 million. The 33,500 square-foot facilities will increase its distribution and processing capacity for a variety of mushroom products.

Greenyard announced that it had completed the acquisition of Lutèce.

Holding BV. This acquisition will complement Greenyard's existing canned mushroom portfolio by expanding the facilities available with Lutèce, proving to have a positive influence on the company's market share.
Canned Mushroom Market Drivers and Restraints:
The shift in consumer preferences for healthy, protein-rich foods will be a key factor in product demand during the forecast period. The canned mushroom is an excellent source of fiber, such as soluble fiber and beta-glucan.
In addition to vitamins and minerals, the product turns out to be a rich source of antioxidants, which can help prevent cancer. The demand for canned mushrooms is expected to increase during the forecast period due to the various associated health benefits. The global market is likely to experience significant growth due to increased demand for nutritional processed foods, along with a shift in consumer preferences for healthy food products. In addition, the advancement of packaging technologies to improve product shelf life is a key factor. Besides, increasing demand for white, brown, and porcini mushrooms is supposed to fuel market demand during the outlook period. Furthermore, the global market is expected to experience significant growth and investment opportunities for players operating in the market, particularly in the Asia-Pacific. The growing demand for ready-to-cook mushrooms in developed countries such as Canada, Netherlands, Italy, France, Germany, and the United States is foreseen to provide growth opportunities for Canned Mushrooms during the forecast period.
REPORT COVERAGE:
| | |
| --- | --- |
| REPORT METRIC | DETAILS |
| Market Size Available | 2022-2028 |
| Base Year | 2022 |
| Forecast Period | 2023-2028 |
| CAGR | 4.78% |
| Segments Covered | By Product, Type, Consumption, Distribution Channel and Region |
| Various Analyses Covered | Global, Regional & Country Level Analysis, Segment-Level Analysis, DROC, PESTLE Analysis, Porter's Five Forces Analysis, Competitive Landscape, Analyst Overview on Investment Opportunities |
| Regions Covered | North America, Europe, APAC, Latin America, Middle East & Africa |
| Market Leaders Profiled | Shanghai Finc Food Co., Costa Group, Dhruv Agro, Muniraj Mushroom Farm, Monaghan Mushrooms, The Mushroom Company, Prochamp, Greenyard, Monterey Mushrooms Inc, Okechamp SA |
Canned Mushroom Market Segmentation:
The global market for Canned Mushrooms can be divided based on product type and application.
By Product Type:
Button Canned

Oyster Canned

Shiitake Canned
Depending on the type of product, the global market for canned mushrooms has been segmented into canned shiitake mushrooms, canned mushrooms, oyster mushrooms, and the like. The canned mushroom segment is determined to grow at a faster rate during the calculated period and retain the main portion due to the availability of these types of mushrooms throughout the year. The health benefits associated with button mushroom varieties, combined with a greater focus on the production of the mentioned mushroom, are expected to further fuel the growth of the segment.
By Application:
Foodservice Industry

Household
According to the application, the global canned mushroom market has been segmented into households, restaurant, and others. The food service industry is expected to have the highest proportion of canned mushrooms due to the rising call for processed mushrooms in the industry. The global growth of the global foodservice industry, particularly in developing economies, is expected to increase demand for canned mushrooms in developing regions.
Canned Mushroom Market Regional Analysis:
North America,

Asia Pacific,

Europe,

Latin America,

Middle East, and Africa.
Asia-Pacific held the lion's share in the global canned mushroom market, accounting for more than one-third of overall revenue in 2018. The area is also determined to record the fastest growth in the outlook period. The increase in mushroom consumption is one of the main drivers of the regional market in the foreseen years.
Besides, the presence of leading manufacturers in nations like China, India, and Japan is predicted to surge demand for canned mushrooms over the calculated period. This significant growth in the canned mushroom market is due to increased consumer awareness of the nutritional value and health benefits of mushrooms worldwide. North America had a significant market share in 2018. The United States is the largest portion of North America, accounting for 75.0% of total revenue in 2018. This growth is attributed to increased consumption of functional foods, along with rising demand for food.
Leading Company:
Costa Group had the largest share of the Canned Mushroom Market in terms of sales and revenue in 2017.
Canned Mushroom Market Key Players:
Shanghai Finc Food Co.

Costa Group

Dhruv Agro

Muniraj Mushroom Farm

Monaghan Mushrooms

The Mushroom Company

Prochamp

Greenyard

Monterey Mushrooms Inc

Okechamp SA