Coffee Roaster Market Size, Growth, Forecast (2023-2028)
The Global Coffee Roaster Market size is valued at US$ 317 Million in 2022 and is anticipated to increase at US$ 424.60 Million by 2028, with a growing CAGR 4.24% of in the next six years.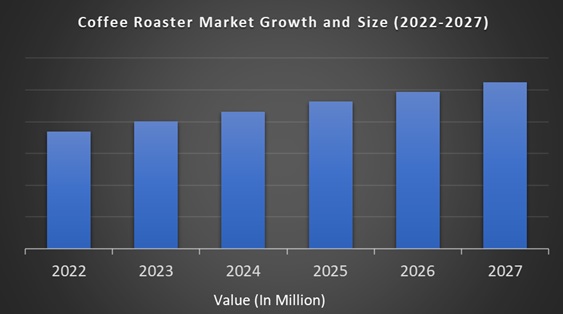 Market Overview:
Coffee roaster are used to convert the physical and chemical properties of green beans into roasted coffee products with different flavors, colors, densities and smells. The coffee roaster machine produces different types of coffee beans, such as light roast coffee beans, medium roast coffee beans, and dark roast coffee beans. Green coffee beans or unroasted beans have the same acids, protein, and caffeine as roasted, but tasteless. The main purpose of the coffee roaster is to obtain coffee of various flavors. Roasted coffee converts the chemical and physical properties of green beans into roasted coffee products. The roasting process expands the green beans and changes the color, flavor, smell, and density to create a specific coffee flavor. Since raw coffee is more stable, the roasting process happens where the consumption is high. This reduces the time it takes for roasted coffee to circulate, which translates into a longer shelf life.
Recent Developments in Coffee Roaster Industry:
PetronciniImpianti S.p.A. is based in Ferrara, Italy. The company installs, designs and manufactures coffee, peanut, barley, pistachio, almond, cocoa and hazelnut processing plants.

Garanti Roaster & Grinder Equipment Ltd. Co. is located inKemalpasa, Turkey. The company manufactures roasters, grinders, and equipment for machine companies. We offer coffee roasters, malt and cocoa roasters, and chickpea roasters.
Coffee Roaster Market Growth:
The global market for coffee roasters has shown complementary growth over the past decades and is expected to grow at an adequate rate in the near future.
REPORT COVERAGE:
| | |
| --- | --- |
| REPORT METRIC | DETAILS |
| Market Size Available | 2022 – 2028 |
| Base Year | 2022 |
| Forecast Period | 2023 - 2028 |
| CAGR | 4.24% |
| Segments Covered | By Energy Source, Voulme Capacity, Product Type, Application and Region |
| Various Analyses Covered | Global, Regional & Country Level Analysis, Segment-Level Analysis, DROC, PESTLE Analysis, Porter's Five Forces Analysis, Competitive Landscape, Analyst Overview on Investment Opportunities |
| Regions Covered | North America, Europe, APAC, Latin America, Middle East & Africa |
| Market Leaders Profiled | Coffee Holding Company, Inc, Behmor, Inc, Panasonic Malaysia, Schaerer, Keurig Green Mountain, Inc, Nestlé Nespresso S.A, Electrolux, De'Longhi Appliances S.r.l, Morphy Richards India, Hamilton Beach Brands, Inc, Koninklijke Philips N.V, Robert Bosch GmbH, US Roaster Corp, Hottop, Giesen Coffee Roasters and Others. |
Drivers:
The increase in coffee shop sales has led to an increase in the consumption of coffee per person and roasted coffee. Therefore, there is a growing demand for coffee roasting machines all over the world. Greater demand for fresh, flavored and aromatic coffee is driving the market growth of the global coffee roasters market. This is mainly because freshly baked coffee is rich in antioxidants and nutrients, which have many benefits, including boosting your immune system, helping your overall health, and preventing cancer and other life-threatening diseases. Although large scale roasting is high, small-scale commercial roasting has witnessed hike with the serving of single origin coffees in specialty stores. The main driver of the coffee roaster market is consumer preference for fresh, flavorful and fragrant coffee that the roasting process delivers to the coffee beans. Also, the growing interest in home roasting is expected to increase the demand for home coffee roasting machines in the near future. To expand the brand presence, leading companies are engaging in coffee innovation through RTDs based on value-added coffee, flavored coffees and more, attracting more consumers for roasted coffee. This will also contribute to the growing demand for coffee roasters. Additionally, the rapidly growing market for ready-to-drink (RTD) beverages, especially coffee-infused beverages, is driving market development. Increased awareness of the health benefits of coffee, such as type 2 diabetes, liver cancer, reduced risk of liver disease, and prevention of heart failure, is expected to lead to high consumption.
Along with the increase in Internet penetration, the number of Internet users has increased. Therefore, through the social media marketing strategy, the coffee roaster market seizes significant growth opportunities. With this in mind, most of the major market players plan strategies to promote their products on a variety of social media platforms. In addition, the increasing number of coffees and customer demand for different types of coffee are affecting the manufacturers of the coffee roasting machine market, designing new products that work efficiently to the new demand. Additionally, the rise of coffee shops is driving market sales. The market is driven by growing consumer demand for fresh, aromatic coffee served during the roasting process. Besides, market growth is accelerating due to the introduction of new coffee flavor blends from global brands and advances in coffee equipment technology. Innovation and do it yourself is a fashionable concept in cafe. Nitrogen-infused coffee, for example, is cold coffee. The advent of new international brands in flavor blends and developments in coffee equipment are likely to improve opportunities in the international marketplace for coffee roasters.
Restraints:
The low shelf life of roasted coffee is expected to be a major constraint for the global coffee roaster market. In addition, the widespread use of instant coffee powder hampers the growth of the market worldwide. Green beans have a longer shelf life than roasted coffee. This is because instant coffee powder reduces the time required for roasting and grinding. People prefer instant coffee, while in Europe there is a great demand for freshly roasted coffee. However, coffee roaster manufacturers are focusing on areas that can increase the shelf life of roasted coffee. Another problem faced by the coffee roasting machine market is the emission of toxic gases and particulate matter during the roasting process and the high consumption of tea compared to coffee.
Coffee Roaster Market Segmentation Analysis:
The global market for coffee roasters is segmented by energy source, volume capacity, product type, application, and region.
By energy source used, the global market is bifurcated into gas and electric. Based on the volume capacity, the worldwide market is separated as large, medium and small scale and home-use.
The global market for coffee roasters is segmented into stoves, hot air, drums, etc. by product type. The drum machine segment is likely to expand with a considerable CAGR in the coming years. Direct-fire roasters are roasters in which the flames come into contact with the beans inside the drum. A fluid bed or hot air roaster forces hot air through a plate or perforated rack under the coffee beans with enough force to lift the beans.
The global coffee roaster industry is segmented by application as commercial and residential. Home roasting appears as the process of roasting small batches of green coffee beans for personal consumption. Home roasting has lost popularity with the rise of commercial coffee roasting businesses. Some consumers prefer homemade coffee to commercial or large-scale production because they want to test its freshness and experiment with new flavors. Home roasting has the advantage of roasting a small amount of coffee that is tailored for consumption so that the roasted coffee can be used before it spoils.
Geographical Segmentation Analysis:
North America - the United States and Canada

Europe - United Kingdom, Spain, Germany, Italy, and France

The Asia Pacific - India, Japan, China, Australia, Singapore, Malaysia, South Korea, New Zealand, and Southeast Asia

Latin America - Brazil, Argentina, Mexico, and Rest of LATAM

The Middle East and Africa - Africa and Middle East (Saudi Arabia, UAE, Lebanon, Jordan, Cyprus)
Regional Analysis:
Geographically, the global market for coffee roasters has been analyzed in various regions such as Asia Pacific, North America, Europe, Middle East and Africa, and Latin American countries. The market for coffee roasters is thriving due to the popularity of fresh, tasty and aromatic coffee in the European region. Additionally, market sales are increasing as the number of coffee establishments mixing flavors of new formulations increases in the region. The high consumption of coffee in the region is an important factor driving the market for coffee roasters. In addition, there are many commercial complexes and offices, increasing the sales of products. In addition, international events and fairs held in the region further accelerated market growth. Additionally, the list of European and Middle Eastern cafes provided cutting-edge networking opportunities for senior executives in coffee shops, mobile food, and foodservice. The Asia Pacific region will be the fastest-growing regional market from 2020 to 2025. Developing countries, including India, China and Australia, are expected to be the main drivers of regional growth. In addition, the increase in cafes and coffee shops will boost demand, especially in emerging countries. Major coffee chains such as CCD and Starbucks are investing in the region due to its high growth potential, which will likely support the development of the coffee roaster market.
Key Players in the Market:
Major Key Players in the Global Coffee Roaster Market are
Coffee Holding Company, Inc

Behmor, Inc

Panasonic Malaysia

Schaerer

Keurig Green Mountain, Inc

Nestlé Nespresso S.A

Electrolux

De'Longhi Appliances S.r.l

Morphy Richards India

Hamilton Beach Brands, Inc

Koninklijke Philips N.V

Robert Bosch GmbH

US Roaster Corp

Hottop

Giesen Coffee Roasters