Dried Blueberries Market Growth and Forecast (2022 - 2027):
Dried Blueberries Market size was estimated to be USD 381 million in 2021, and it is likely to progress to reach USD 703.97 million by the end of 2027, growing at an annual rate of 6.4% over the outlook period. Fresh or frozen dried or traditionally preferred Blueberries in dry form have recently been observed with remarkable growth in health-conscious consumer groups.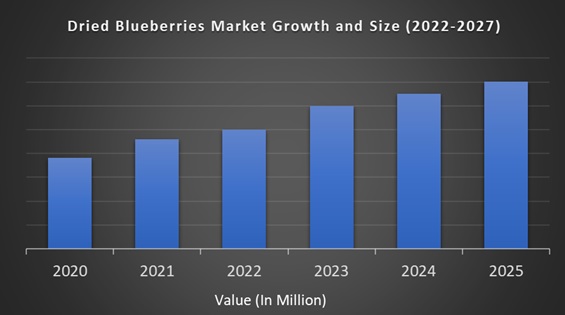 Dried Blueberries Market Overview:
Blueberries are flowering plants with purple berries that can easily perish. It dries to remove the water present in the Blueberries to avoid damage to them and to use the Blueberries in countless applications. Dried Blueberries are also known as superfruits and are used in the food processing industry, cosmetics and personal care products, dietary supplements, and retail applications. Blueberries are purple berries of the genus Vaccinium that are processed to extend shelf life in a variety of ways. Dried Blueberries are extracted by removing the moisture content of the berry using a drying process such as sun drying, vacuum drying, microwave drying and freeze-drying. Dried cranberries are obtained after excluding moisture from the berries or after a few minutes through ventilation methods, including solar ventilation, vacuum drying, microwave drying and lyophilization. Drying contributes to and improves the recovery of Blueberries' flavor, dietary profile, shelf life, and ridge resistance, thereby contributing to the expansion of the global dried Blueberries market.
Recent Developments in Dried Blueberries Industry:
Quaker uses oatmeal in combination with dried fruit, nuts, and dark chocolate to manage diet bars for health-conscious consumers.

In 2017, Del Monte introduced dried cranberries in the retail sector. Freshly released dried cranberries have been added to Del Monte's current range of dried fruit products.
REPORT COVERAGE:
| | |
| --- | --- |
| REPORT METRIC | DETAILS |
| Market Size Available | 2021 – 2027 |
| Base Year | 2021 |
| Forecast Period | 2022 - 2027 |
| CAGR | 6.4% |
| Segments Covered | By Nature, Form, End-User and Region |
| Various Analyses Covered | Global, Regional & Country Level Analysis, Segment-Level Analysis, DROC, PESTLE Analysis, Porter's Five Forces Analysis, Competitive Landscape, Analyst Overview on Investment Opportunities |
| Regions Covered | North America, Europe, APAC, Latin America, Middle East & Africa |
| Market Leaders Profiled | Athersys, Karen Naturals, True Blue Farms, Graceland Fruit, Bergin Fruit & Nut Company Inc, Oregon Berry Packing Inc, Kiantama Oy, Royal Nut Company, Shoreline Fruit, CAL-SAN Enterprises Ltd, Helsu International BV and Others. |
Dried Blueberries Market Drivers:
Removing water content improves the shelf life of blueberries and enhances the nutritional value and aroma of the product. This is expected to lead the trend in the global dried blueberries market.
Health awareness and health promotion coupled with the massive use of dried Blueberries in bakery and confectionery products will create a profitable roadmap for the market in the foreseen years. In addition, thriving e-commerce activities and the launch of new products based on dried Blueberries will stimulate the worldwide market and further strengthen business reach. Changes in the eating habits of consumers and the ability of customers to pay higher prices for products will expand the size of the global dried blueberries market in the coming years. It is also widely used in cereals and bars, yogurt, cookies, confectionery, and cakes. There is a growing popularity of dried Blueberries across the globe based on the availability of phenolic acids and flavonoids as components. With the expanding health awareness among people and a preference for healthy snacks, the business is proliferating rapidly across the world. The promoting aspects of the global dried Blueberries market include an extensive trend for snacks, a rise in the application of dried Blueberries in bakery and confectionery products, longer shelf life, increased e-commerce, and product launches that use dried cranberries as raw materials.
The global dried Blueberries market is growing as demand for convenient snack options increases. Increasing urbanization and busy lifestyles have forced consumers to choose healthy and appropriate snack options. The rapid development of drainage technology has led to several innovations in the food industry, especially in the food processing sector. The fame of dried Blueberries has risen lately for various product innovations.
Dried Blueberries Market Restraints:
Due to volatility in temperature, the limited supply of blueberries is posing a threat to the global industry. In addition, small businesses functioning in the global dried Blueberries market continue to face limitations in terms of sales despite budget constraints on low-cost manufacturing.
Dried Blueberries have numerous applications in various foods apart from bakery products like cakes and cookies. Consumers continue to search for economically attractive products, but high-end products, such as dried Blueberries, are rapidly penetrating retail shelves in the form of a variety of low and medium humidity snack products. The launch of new products, including one of the main ingredients, dried cranberries, is showing healthy growth in the global market. There are a growing number of food product manufacturers and processors that use the nutritional profile of dried Blueberries as a superfood ingredient in the formulation of flavored beverages, fruit cups, desserts, energy drinks, and baked goods. The improved application prospects for the beauty of dried Blueberries in hair and skincare products, such as Nutri Cosmetics, are creating a new trend in the dried cranberry market. Additionally, dried Blueberries processors and other stakeholders are taking advantage of the opportunities of natural and organic cosmetics formulated for topical application.
Dried Blueberries Market Segmentation Analysis:
By Nature:
Organic

Conventional sectors
By Form:
Online retail stores

Convenience stores

Others
By End-User:
Confectionery

Bakery products

Others
Dried Blueberries Market Regional Analysis:
North America - the United States and Canada

Europe - United Kingdom, Spain, Germany, Italy, and France

The Asia Pacific - India, Japan, China, Australia, Singapore, Malaysia, South Korea, New Zealand, and Southeast Asia

Latin America - Brazil, Argentina, Mexico, and Rest of LATAM

The Middle East and Africa - Africa and Middle East (Saudi Arabia, UAE, Lebanon, Jordan, Cyprus)
Depending on the region, the global dried Blueberries market can be divided into five main regions: North America, Europe, Asia Pacific, Latin America, the Middle East, and Africa. Stable shelf life and snack consumption will expand the scope of business in the Asia-Pacific region as demand for products from countries such as Korea, India and China increases.
Asia Pacific is supposed to offer a host of growth prospects in the near future, making it to be the fastest-growing region in the worldwide market. In countries like India and China, dried grapes, raisins, and currants are used for ceremonies, but Korea and Japan are known to use these products aesthetically. Therefore, the region is expected to account for almost 20% of the global market share by 2025. Consumption of dietary snacks, cereals, and protein bars is presumed to increase, with a focus on reducing body cholesterol and saturated fat levels.
North America had a market share of 30.67% in 2018 and is likely to record a 6.2% annual compound rate during the outlook period, representing almost half of world production due to the excessive production of blueberries. Also, increased use in the food and beverage industry and transformation as a diet snack in the area are further accelerating market growth.
In addition, these products can be supplied in stores, they can not only improve personal health but also convenient. This fruit is also very popular in Middle Eastern countries, leading the scale of the dried Blueberries market in the region. The North American and European markets have tremendous growth potential and are expected to post profitable growth in the coming years.
Dried Blueberries Market Key Players:
Major Key Players in the Global Dried Blueberries Market are
Athersys

Karen Naturals

True Blue Farms

Graceland Fruit

Bergin Fruit & Nut Company Inc

Oregon Berry Packing Inc

Kiantama Oy

Royal Nut Company

Shoreline Fruit

CAL-SAN Enterprises Ltd

Helsu International BV