Dried Fruits Market Size and Growth Rate:
Dried Fruits Market Size is currently valued at 4.7 Million USD in 2019. The Dried Fruits Market is expected to grow at a CAGR of 5.2% over the forecast period to reach a valuation of 5.10 Million USD in 2025.
Dry fruit is a processed fruit in which most of the water is removed from the fruit either by natural sun drying or by dehydration. Dry and fresh fruits are a rich source of antioxidants and protein, but a small number of vitamins are lost in dried fruits during the dehydration phase. Nevertheless, the demand for dried fruit is gaining acceptance due to its fast packaging snack, which prevents spoiling fruit as quickly as fresh fruit. The Dried Fruits Market is guided by its use in a different product category.
Dried Fruits Market Recent Developments:
In March 2017 Amsterdam Commodities N.V. (Acomo), the Euronext Amsterdam listed trader in spices, edible seeds, nuts, tea and food ingredients, announced that it has agreed in principle with the shareholders of Delinuts B.V. to acquire a 100% share in this Dutch family business

In March 2017 Azuri Health Limited launched its new drying facility in Thika town with a production capacity of 12 -30 tonnes of dried fruit and flour annually
Dried Fruits Market Drivers, Restraints and Opportunities:
Significant factors which have helped drive the Dried Fruits Market forward are-
The growing population of healthier consumers, supported by rising disposable incomes, is raising demand for dried fruit

Demand is also backed by research studies highlighting the role played by dry fruits and nuts in portion control and healthy weight management

Innovation in product packaging; the launch of exotic and rare fruit and nut seeds

Growth in plant acreage and growth of trade

A simple adaptation of nuts and dried fruits to a wide range of recipes beyond snack foods results in increased use as quality ingredients in confectionery, desserts and bakery products

The leading development on the market is an increase in the value of the medicinal benefits provided by cashew nuts and pine nuts and a corresponding increase in their consumption

The growing trend towards plant-based eating habits and the subsequent rise in the use of nuts, fruits and seeds; and increased availability of items such as hazelnuts, pecan nuts and pistachio on the retail market
The factors holding the Dried Fruits Market back include-
Hypersensitivity to certain fruits, followed by the loss of a certain percentage of vitamins during the dehydration process, may hinder the market for dried fruits over the forecast period

Enthused by the promise of organic products, several dry fruit and nut manufacturers are busy formulating organic versions of their traditional labels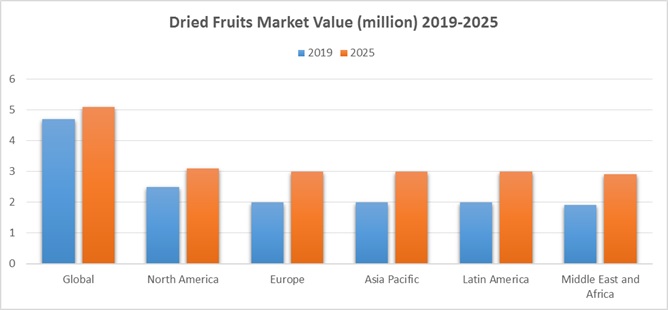 Regional Growth Demand Analysis:
The Asia-Pacific market is the leading region, followed by North America and Europe. In the Asia-Pacific region, India dominated the dry fruit market due to the festival and gifting culture in India. In North America, the booming retail market adds fuel to growth due to the spreading acceptance of packaged foods containing nutritious ingredients.
Detailed Segmentation of the Dried Fruits Market:
Dried Fruits Market by Type:
Apricots

Dates

Figs

Peaches

Pears

Prunes

Raisins

Berries

Others
Dried Fruits Market by Application:
Confectioneries

Dairy Products

Bakery Products

Snacks & Bars

Desserts

Cereals

Others
The category of dried grapes has a major share in the global market for dried fruit due to their multiple health benefits such as the advantage of regulating blood pressure, which is one of the main concerns of the elderly population.
Geographical Segmentation of the Dried Fruits Market:
North America

Europe

Asia-Pacific

Middle East and Africa

Latin America
Some of the Major Players in this research report are:
Ocean Spray Cranberries Inc. (U.S.)

Sunbeam foods Pvt Ltd (Australia)

Olam International (Singapore)

Arimex Ltd (Lithuania)

National Raisin Company (U.S.)

Sun-Maid (U.S.)

SUNSWEET (U.S.)

Amsterdam Commodities N.V (Netherlands)
Research Report Key Highlights:
Current and future market perspectives for Dried Fruits Market in developed and emerging markets.

Analyze different market perspectives using the analysis of five Porter forces

The segment that is expected to dominate the market.

Regions that are expected to grow faster during the forecast period.

Identify the latest developments, market shares, and strategies of key market participants.
1. Introduction
1.1 Market Definition
1.2 Study Deliverables
1.3 Base Currency, Base Year and Forecast Periods
1.4 General Study Assumptions
2. Research Methodology
2.1 Introduction
2.2 Research Phases
2.2.1 Secondary Research
2.2.2 Primary Research
2.2.3 Econometric Modelling
2.2.4 Expert Validation
2.3 Analysis Design
2.4 Study Timeline
3. Overview
3.1 Executive Summary
3.2 Key Inferences
3.3 Epidemology
4. Drivers, Restraints, Opportunities, and Challenges Analysis (DROC)
4.1 Market Drivers
4.2 Market Restraints
4.3 Key Challenges
4.4 Current Opportunities in the Market
5. Market Segmentation
5.1 Type
5.1.1 Introduction
5.1.2 Apricots
5.1.3 Dates
5.1.4 Figs
5.1.5 Peaches
5.1.6 Pears
5.1.7 Prunes
5.1.8 Raisins
5.1.9 Berries
5.1.10 Others
5.1.11 Y-o-Y Growth Analysis, By Type
5.1.12 Market Attractiveness Analysis, By Type
5.1.13 Market Share Analysis, By Type
5.2 Application
5.2.1 Introduction
5.2.2 Confectioners
5.2.3 Dairy Products
5.2.4 Bakery Products
5.2.5 Snacks and Bars
5.2.6 Desserts
5.2.7 Cereals
5.2.8 Others
5.2.9 Y-o-Y Growth Analysis, By Application
5.2.10 Market Attractiveness Analysis, By Application
5.2.11 Market Share Analysis, By Application
6. Geographical Analysis
6.1 Introduction
6.1.1 Regional Trends
6.1.2 Impact Analysis
6.1.3 Y-o-Y Growth Analysis
6.1.3.1 By Geographical Area
6.1.3.2 By Type
6.1.3.3 By Application
6.1.4 Market Attractiveness Analysis
6.1.4.1 By Geographical Area
6.1.4.2 By Type
6.1.4.3 By Application
6.1.5 Market Share Analysis
6.1.5.1 By Geographical Area
6.1.5.2 By Type
6.1.5.3 By Application
6.2 North America
6.1.1 Introduction
6.1.2 United States
6.1.3 Canada
6.3 Europe
6.2.1 Introduction
6.2.2 U.K
6.2.3 Spain
6.2.4 Germany
6.2.5 Italy
6.2.6 France
6.4 Asia-Pacific
6.3.1 Introduction
6.3.2 China
6.3.3 India
6.3.4 Japan
6.3.5 Australia
6.3.6 South Korea
6.5 Latin America
6.4.1 Introduction
6.4.2 Brazil
6.4.3 Argentina
6.4.4 Mexico
6.4.5 Rest of Latin America
6.6 Middle East & Africa
6.5.1 Introduction
6.5.2 Middle-East
6.5.3 Africa
7. Strategic Analysis
7.1 PESTLE analysis
7.1.1 Political
7.1.2 Economic
7.1.3 Social
7.1.4 Technological
7.1.5 Legal
7.1.6 Environmental
7.2 Porter's Five analysis
7.2.1 Bargaining Power of Suppliers
7.2.2 Bargaining Power of Consumers
7.2.3 Threat of New Entrants
7.2.4 Threat of Substitute Products and Services
7.2.5 Competitive Rivalry within the Industry
8. Market Leaders' Analysis
8.1 Ocean Spray Cranberries Inc.
8.1.1 Overview
8.1.2 Product Analysis
8.1.3 Financial analysis
8.1.4 Recent Developments
8.1.5 SWOT analysis
8.1.6 Analyst View
8.2 Sunbeam foods Pvt Ltd
8.3 Olam International
8.4 Arimex Ltd
8.5 National Raisin Company
8.6 Sun-Maid
8.7 SUNSWEET
8.8 Amsterdam Commodities N.V
9. Competitive Landscape
9.1 Market share analysis
9.2 Merger and Acquisition Analysis
9.3 Agreements, collaborations and Joint Ventures
9.4 New Product Launches
10. Market Outlook and Investment Opportunities
Appendix
a) List of Tables
b) List of Figures