Marzipan Market Size, Growth, Forecast (2023-2028)
The global Marzipan Market size was assessed at USD xx billion in 2022, and it is predicted to reach a valuation of USD xx billion by 2028 at a considerable CAGR over the estimated time. Marzipan is receiving a lot of consumer attention as the popularity of take-out cake products, which are expected to grow rapidly in the near future, will grow.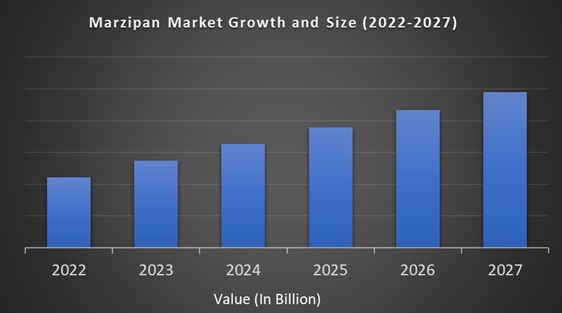 Market Overview:
The marzipan market is likely to show a stable outlook as demand for confectionery products continues to rise. The creamy almond-sugar mix is processed into a paste and used in the manufacture of various confectionery products, including cake toppings, candy, chocolate, cookies and schwain marzipan. Marzipan is a cookie that combines two main ingredients: almond powder and sugar or honey. It may contain almond extract or oil depending on your personal choice. Marzipan is often used to make candy, cut cookies, glaze, or roll them into thin sheets. Different regions use marzipan in different ways, which affects the marzipan market in that region. In certain places, dry plate pasta is used as a baking component. Marzipan is associated with festivals around the world. Its popularity will expand during the extensive use and forecast period of marzipan.
Recent Developments in Marzipan Industry:
GoodMills GmbH has launched cereal-based marzipan in powder form that is used to produce baked goods. This cereal-based marzipan is a versatile product developed entirely from water or eggs. It is made from nut-free components to fit products for specific customers with nut allergies.

J. G. Niederegger GmbH & Co. KG introduced a new marzipan product for men, the "Man Stuff". Marzipan is colored a bit with a bitter taste like whiskey and a little cashew in a vivid packaging like a toolbox.
Marzipan Market Growth:
The global marzipan market is determined to perform well during the forecast period as consumer preference for multivariate confectionery products changes with increasing demand for organic, protein-rich pigments.
REPORT COVERAGE:
| | |
| --- | --- |
| REPORT METRIC | DETAILS |
| Market Size Available | 2022 – 2028 |
| Base Year | 2022 |
| Forecast Period | 2023 - 2028 |
| Segments Covered | Type, Application and Region |
| Various Analyses Covered | Global, Regional & Country Level Analysis, Segment-Level Analysis, DROC, PESTLE Analysis, Porter's Five Forces Analysis, Competitive Landscape, Analyst Overview on Investment Opportunities |
| Regions Covered | North America, Europe, APAC, Latin America, Middle East & Africa |
| Market Leaders Profiled | Moll Marzipan, Niederegger, Odense Marcipan, Atlanta Poland, Zentis, Erasmi & Carstens, Georg Lemke, JF Renshaw, Lübecker Marzipan Fabrik v. Minden & Bruhns, Marzipan Specialties, Productos Kelmy, Tehmag Foods and Others. |
Drivers:
Marzipan production is becoming more industrialized day by day. Technological advances are driving production processes and increasing efficiency. It only takes two ingredients to make marzipan, but there is a long process ahead. Raw almonds should be processed naturally with hot water. Most incomplete almonds are removed using an electronic sorter. The remaining defective almonds are removed manually. The apparent popularity of this confectionery product is expected to accelerate the growth of the marzipan market in the coming years. Marzipan is rooted in European food culture but is hosted by a variety of cultures around the world, and the marzipan market continues to grow in space across the world. European countries accept marzipan as a traditional food at weddings and religious festivals, while Latin America is adopting sweet marjapanes like marzipan with peanuts instead of almonds. American culture is more familiar with miniature fruit shapes made from marzipan. With the widespread adoption and love of marzipan, the marzipan market is expected to grow at an impressive rate in the near future. As manufacturers in the confectionery industry continue to introduce traditional marzipan and traditional marzipan products, global demand for marzipan is expected to show a positive growth trajectory in the future. Each marzipan production plant has special recipes according to established rules.
Computer-controlled products are programmed so that the preparation process remains the same during the batch process. The marzipan mixture is,in general, crushed into granite rolls to deliver the correct texture. Rotary copper roasting boilers are used to heat the mixture and produce high quality marzipan plates. When the mixture cools, the mixture is cut into blocks, packaged, and stored at approximately 160 ° C. The marzipan block is in the refrigerator for a few hours and maintains its aroma before checking its quality. Finally, it is shipped to stores in various regions. The demand for marzipan worldwide is increasing. During the holiday season, marzipan sales volume has increased significantly, requiring manufacturers to increase production. Ease of access is also one of the factors that help the constant expansion of the marzipan market worldwide. Emerging countries have increased disposable income among residents, affecting people who buy marzipan products in stores. The availability of various marzipan products with natural flavors and colors is augmenting, and with the rise in cake business, demand for custom cakes, including wedding cakes, and innovative decorative cakes for special occasions, is increasing. Also, as the demand for gluten-free products on the market increases, the number of celiac patients increases as consumers become more health-conscious.
Restraints:
The high price of dried fruits, including almonds, walnuts, and pistachios, is one of the limitations that can hinder the growth of the marzipan market worldwide. Other sweet alternatives to making marzipan at home and the DIY trend are factors that are expected to limit the progress of the marzipan market.
Marzipan Market Segmentation Analysis:
By Type:
Finished Product

Semi-Finished Product
By Application:
Direct

Cakes

Chocolates

Sweets

Others
Geographical Segmentation Analysis:
North America - the United States and Canada

Europe - United Kingdom, Spain, Germany, Italy, and France

The Asia Pacific - India, Japan, China, Australia, Singapore, Malaysia, South Korea, New Zealand, and Southeast Asia

Latin America - Brazil, Argentina, Mexico, and Rest of LATAM

The Middle East and Africa - Africa and Middle East (Saudi Arabia, UAE, Lebanon, Jordan, Cyprus)
Regional Analysis:
North America leads the marzipan market due to the popularity of marzipan and its products. A large amount of disposable income also represents marzipan sales in the region. Demand for marzipan products is expected to increase during the outlook period. The European marzipan market follows North America in terms of demand due to the widespread use of marzipan on raw paper. In Europe, marzipan is a traditional, fixed and colored dessert, grilled and shaped like flowers and small animals. In most countries of the world, marzipan is mainly used to make Easter eggs, Christmas cakes, and sweets. Marzipan markets in Latin America, the Middle East and Africa are also supposed to expand in the near future. There is a great variety in terms of demand versus supply.
Key Players in the Market:
Major Key Players in the Global Marzipan Market are
Moll Marzipan

Niederegger

Odense Marcipan

Atlanta Poland

Zentis

Erasmi & Carstens

Georg Lemke

JF Renshaw

Lübecker Marzipan Fabrik v. Minden & Bruhns

Marzipan Specialties

Productos Kelmy

Tehmag Foods