Dried Vegetable Market Size and Forecast (2023-2028):
The Global Dried Vegetable Market size is expected to grow at a CAGR of 5.8% during the forecast period 2023-2028 to reach USD 9.01 billion by 2028 from USD 5.82 billion in 2022.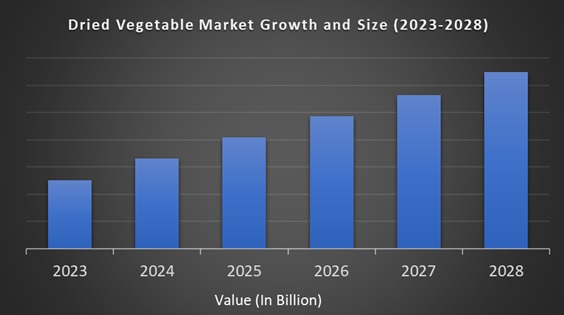 Market Overview:
The moisture or water content from fresh vegetables is removed using drying methods, making dried vegetables a convenient and nutritious food. This drying method extends the shelf life of veggies by retaining essential nutrients, and it ensures the availability of them throughout the year. Commonly demanded dried vegetables are tomatoes, onions, potatoes, carrots, and beans. As dried vegetables can be rehydrated by soaking them in water or by adding them to soups, stews, and many others, they are useful in a lot of meal preparations.
Recent Developments in the Dried Vegetable Industry:
In November 2020, BCFoods developed a dehydration facility in Hebei, China, to produce dry vegetables such as tomatoes, green and red bell peppers, onions, garlic, and carrots. By 2023, the company aims to have a 15,000 MT manufacturing capacity and distribute dried vegetables to customers across the world.
REPORT COVERAGE:
| | |
| --- | --- |
| REPORT METRIC | DETAILS |
| Market Size Available | 2022 – 2028 |
| Base Year | 2022 |
| Forecast Period | 2023 - 2028 |
| CAGR | 5.8% |
| Segments Covered | By Type, Form, Technology, End-User, Distribution Channel and Region |
| Various Analyses Covered | Global, Regional & Country Level Analysis, Segment-Level Analysis, DROC, PESTLE Analysis, Porter's Five Forces Analysis, Competitive Landscape, Analyst Overview on Investment Opportunities |
| Regions Covered | North America, Europe, APAC, Latin America, Middle East & Africa |
| Market Leaders Profiled | Olam International, Naturex S.A., Symrise AG, Mercer Foods, BC Foods, Harmony House Foods, Natural Dehydrated Vegetables, Real Dehydrated Pvt Ltd, Green Rootz, Silva International, Van Drunen Farms and Others. |
Drivers:
The rising demand for convenience foods is a major driver of the dried vegetable market demand. Consumers are actively searching for quick and hassle-free food alternatives as modern lifestyles become more hectic these days. Dried vegetables require less preparation work and cooking time, which are ideal solutions for this demand. Due to their extended shelf life, dried vegetables are always easily available, regardless of seasonal fluctuations, which minimizes the need for frequent supermarket runs. Also, dried vegetables' accessibility is suitable for both emergency food supplies and on-the-go consumption. They are a preferred ingredient in the food sector as well because of their adaptability, ability to retain nutrients, and suitability for a variety of culinary uses. The expansion of this market is mostly driven by the convenience aspect of dried vegetables, which is by modern wants for rapid, convenient, and easy-to-prepare foods.
However, the growing awareness of the nutritional benefits of dried vegetables is another significant driver of the dried vegetable market expansion. Consumers want foods that not only offer convenience but also have significant nutritional value as the emphasis on health-conscious alternatives expands. Due to their ability to maintain essential minerals, vitamins, and dietary fiber, dried vegetables have gained popularity as a healthy alternative to conventional processed foods. Also, they are becoming more and more valued ingredients in the creation of nutritious meals, boosting the nutritional value of various dishes. Therefore, with the rising awareness of the nutritional benefits of these dried veggies, the market demand is fostering significantly during the forecasted period.
Further, the increasing adoption of dried vegetables in fast-food chains is a notable driver propelling the dried vegetable market growth. Dried veggies present an attractive solution as fast-food chains seek to appeal to a more health-conscious and diversified customer base. They are now commonly found on fast food menus due to their extended shelf life, retained nutritional content, and ease. Burgers, salads, wraps, and pizzas all use dried vegetables as an ingredient, making them more nutritious and ensuring year-round availability of vegetables.
Restraints:
The fluctuations in raw material prices are a major obstacle to the dried vegetable market demand. Due to the industry's reliance on fresh vegetables as its main raw material, it is impacted by seasonal and external factors, which can cause price fluctuation. This unpredictability can cause supply chains to break down, restrict business margins, and have an impact on pricing strategies, potentially turning away cost-conscious consumers. Compromises in quality and pressure from competitors further increase these challenges. This may lead to a decrease in the demand for dried vegetables, ultimately restraining the overall market growth.
Also, the loss of nutrients during the drying process is another restraint on the dried vegetables market expansion. Fresh vegetables include a variety of heat-sensitive vitamins, minerals, and phytochemicals that can be lost or degraded during the drying process, which removes moisture to increase shelf life. Especially for health-conscious consumers expecting the same nutritional advantages as fresh produce, this nutrient loss can cause concern about their view of dried vegetables as a nutritious food alternative. This factor is significantly restricting the adoption of dried vegetables and hence limiting the market share.
Opportunities:
A significant opportunity for the dried vegetables market growth is offered by the growing demand for organic and natural products. Natural and organic dried vegetables provide the best solution for consumers who place a high priority on consuming food that is free of chemicals and is healthier. They appeal to customers who are looking for transparency and health benefits with their clean labeling, excellent nutritional quality, and environmentally friendly production methods. Additionally, in an increasingly health-conscious food environment, organic certifications and sustainable practices can open doors to new markets, both online and in specialized shops, further boosting the demand for dried vegetables.
COVID-19 Impact on the Dried Vegetable Market:
The COVID-19 pandemic negatively impacted the dried vegetable market growth. During the pandemic, people were more focused on consuming fresh vegetables due to increased hygiene practices and health-consciousness, which led to a decline in the demand for dried vegetables globally. Also, supply chain disruptions, labor shortages, and fluctuations in the availability of raw materials like fresh vegetables significantly affected the production and distribution processes and negatively impacted the market growth rate. However, the market shares started to rise enormously once all the restrictions were lifted at the end of 2020.
Dried Vegetable Market Segmentation Analysis:
By Type:
Tomato

Potato

Onion

Beans

Carrot

Broccoli

Peas

Cabbage

Mushrooms

Others
By type, the tomato segment is anticipated to dominate the dried vegetable market share during the forecasted period due to growing demand in fast food chains. However, the onion segment is expected to grow at the fastest CAGR during the projected period.
By Form:
Powder & Granules

Minced & Chopped

Flakes

Slice & Cubes

Others
By form, the mined and chopped segment is ruling the dried vegetable market share during the anticipated period. The processed dried vegetables in this segment are either minced or little chopped pieces. In foods like soups, stews, casseroles, salads, and many more, dried vegetable pieces are usually used as their rehydrated state adds flavor and texture to them. This attribute promotes the market demand for this segment. At the same time, the powder and granules form are deemed to grow at the fastest rate in the coming years. These forms of dried vegetables give food a resilient flavor and aroma and are often used as spices, flavor enhancers, and thickeners.
By Technology:
Vacuum Drying

Air Drying

Spray Drying

Freeze Drying

Others
By technology, the vacuum drying segment is dominating the dried vegetable market in the forecasted period. Vacuum drying is a relatively mild method that helps in preserving dried vegetables' color, flavor, and nutritional content. For vegetables like tomatoes and onions, it is often used. Therefore, this technology is majorly used and helps the market to move forward. However, the freeze-drying segment is expected to grow at a healthy CAGR during the projected period. This process is known to preserve the texture, flavor, and nutrients of dried vegetables, making it suitable for delicate vegetables like bell peppers, mushrooms, beans, and tomatoes.
By End-User:
Food Manufacturer

Food Service providers

Retail
By end-user, the food manufacturers segment is anticipated to rule the dried vegetable market share during the projected period. This segment includes manufacturers that produce ready-to-eat meals, cans of food, and snack food. To improve flavor and nutritional value, food producers use dried vegetables as ingredients in a variety of processed foods, such as snacks, soups, sauces, and convenience meals. This attribute is influencing the shares of the market. However, in the coming years, the food service providers segment is anticipated to expand at the fastest rate. It includes cafes, eateries, caterers, and business kitchens. Dried vegetables are used in culinary preparations by food service providers to simplify food preparation, enhance flavor, and ensure consistent ingredient availability. This is helping to boost the demand for dried vegetables in this segment.
By Distribution Channel:
Store-based retailing

Hypermarkets/supermarkets

Convenience stores

Food & drink specialty stores

Online retail
The food & drink specialty stores segment is leading with the dominant shares of the market, whereas the hypermarkets/supermarkets segment is likely to have the fastest growth rate in the near future. Increasing popularity through social media platforms and the easy availability of dried vegetables through these distribution channels is amplifying the market demand.
Geographical Segmentation Analysis:
North America - the United States and Canada

Europe - United Kingdom, Spain, Germany, Italy, and France

The Asia Pacific - India, Japan, China, Australia, Singapore, Malaysia, South Korea, New Zealand, and Southeast Asia

Latin America - Brazil, Argentina, Mexico, and Rest of LATAM

The Middle East and Africa - Africa and Middle East (Saudi Arabia, UAE, Lebanon, Jordan, Cyprus)
By Region Analysis:
By region, North America is anticipated to dominate the dried vegetable market share during the forecasted period. Consumer preferences for convenience food, growing health consciousness, and the large use of dried vegetables in an expanding fast-food chain are all factors that collectively influence the market demand in this region.
The Asia Pacific region is anticipated to expand at the fastest rate. Owing to the huge population, a long culinary tradition, and rising consumer demand for healthy and shelf-stable food items, the demand for dried vegetables market is growing exponentially in Asia Pacific.
Key Players in the Market:
Major Key Players in the Global Dried Vegetable Market are
Olam International

Naturex S.A.

Symrise AG

Mercer Foods, LLC

BC Foods, Inc.

Harmony House Foods, Inc

Natural Dehydrated Vegetables Pvt. Ltd

Real Dehydrated Pvt Ltd

Green Rootz

Silva International, Inc

Van Drunen Farms

Kissan Foods