Dropshipping Market Size & Growth (2022 - 2027)
The size of the global dropshipping market was estimated at 128 billion dollars in 2020 and should record a CAGR of 32% from 2021 to 2026.
Dropshipping is a business model that you can use to manage your store without having inventory. Once you have made a sale, your supplier will send your products from your warehouse, directly to your customer's door. You will never have to worry about storing, packing or shipping your merchandise.
Smartphones have revolutionized online shopping with many mobile applications to make the experience easy and convenient for consumers. The growing penetration of smartphones, combined with the increase in disposable income of consumers, is contributing to the growth of the e-commerce market, thus driving the demand for dropshipping services. There has been a notable increase in the investment of the main actors in the e-commerce sector due to the number of buyers inclined to online shopping platforms.
According to Adam Enfroy of BigCommerce, dropshipping is a lot of work, no matter how you cut it. Although it seems unimportant, dropshippers must still do business with their wholesale suppliers, order processing, returns and customer service. However, you can increase the attractiveness of your market by keeping a small lot in your room that you can sell as immediate shipping at a high price. This way, you can attract the audience who do not wish to wait, but for those who don't want to pay a premium, the cost and the wait will work in the right way.
Market Growth and Trends:
The e-commerce market in Asia-Pacific has experienced steady growth in recent years due to the increase in disposable income and the augmenting preference for online shopping. This growth in the e-commerce sector should also encourage the practice of dropshipping.
According to the Ministry of Commerce and Industry of the Government of India, India's e-commerce market was valued at $ 38.5 billion in 2017 and is likely to reach $ 200.0 billion by 2026, progressing at a whopping CAGR of above 51.0 %.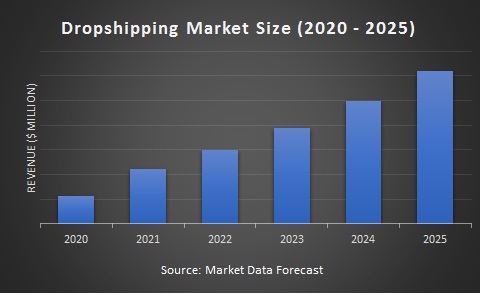 Market Drivers and Restraints
Traditional distribution channels force retailers to invest heavily in inventory management. However, with the increasing penetration of e-commerce platforms, retailers are choosing dropshipping services to reduce capital costs for inventory purchase/management. Also, lower capital investment in inventory and logistics has led to increased demand for dropshipping in retailers. The reduction in general costs and the full range of products are other factors that should boost the market growth.
Fraudulent or unauthorized transactions should impede global dropshipping market growth. Security in terms of payment is one of the main concerns of the industry because dropshipping mainly refers to online purchases. Payment gateways are susceptible to security breaches or cyber-attacks, which should be a challenge for the market. Direct delivery services require a delivery infrastructure to avoid delays in delivery, damage or loss of packages. As a result, the complexity of transportation and product logistics could slow the growth of the worldwide market.
REPORT COVERAGE:
| | |
| --- | --- |
| REPORT METRIC | DETAILS |
| Market Size Available | 2020 – 2026 |
| Base Year | 2020 |
| Forecast Period | 2021 - 2026 |
| Fastest Growing Market | Asia Pacific |
| Largest Market | North America |
| CAGR | 32% |
| Segments Covered | Product, and Region |
| Various Analyses Covered | Global, Regional & Country Level Analysis, Segment-Level Analysis, DROC, PESTLE Analysis, Porter's Five Forces Analysis, Competitive Landscape, Analyst Overview on Investment Opportunities |
| Regions Covered | North America, Europe, APAC, Latin America, Middle East & Africa |
| Market Leaders Profiled | AliDropship, SaleHoo Group Limited, Doba, Inc., Oberlo, Shopify Inc., and others. |
Dropshipping Market Segmentation Analysis
This global market report is segmented and sub-segmented into the following categories:
Global Dropshipping Market - By Product
Toys

Hobbies and DIY

Furniture and Appliances

Food and Personal Care

Electronics and Media;

Fashion
The electronic segment represented the largest market share, representing more around one-third of sales in 2018 due to the growing demand for electronic products. The e-commerce platform opens up several avenues for selling electronic products, as customers can compare an extensive portfolio of products, get discounts and request easy returns.
The fashion segment is foreseen to experience favourable growth in the global dropshipping market from 2019 to 2025 due to rapid globalization and changes in consumer spending behavior. It is presumed that the growing consumer preference for branded products and the availability of multiple brands on a common platform will energize the fashion segment during the forecast period.
Regional Analysis:
The Asia-Pacific dropshipping market represented more than one-fourth of total revenue in 2018. The growth of the local market is credited to the growing number of e-commerce companies in the region, which subsequently boosted demand for dropshipping services. The growth of online retailers across the Asia-Pacific region is attributed to the expansion of Internet connectivity through the adoption of smartphones.
According to the Global System for Mobile Communications Association (GSMA), the number of smartphones in the Asia-Pacific region is estimated to reach 3,900 million by 2025.
The Indian e-commerce market has grown significantly in recent years, which has increased the number of new companies serving this market. This is expected to drive further demand for dropshipping services in the Asia Pacific over the forecast period. Dropshipping services help new businesses focus on key marketing activities or skills while reducing inventory costs. Dropshippers allow new companies with limited resources to compete with the well-established giants of the market. Therefore, the advantages mentioned above have led to the adoption of dropshipping services among the new e-commerce companies, which is stimulating the growth of the global dropshipping market.
Key market players:
Some of the prominent players in the global dropshipping market are AliDropship, SaleHoo Group Limited, Doba, Inc., Oberlo, Shopify Inc., and others.
Recent Developments in Global Dropshipping Market:
Shopify Inc., an e-commerce platform, acquired Oberlo, a known dropshipping service provider. This acquisition allowed Shopify to extend its presence into the global dropshipping market and improve its position. In addition, large e-commerce companies are expanding their portfolios to provide dropshipping services to manufacturers and wholesalers.
1. Introduction
1.1 Market Definition
1.2 Scope of the report
1.3 Study Assumptions
1.4 Base Currency, Base Year and Forecast Periods
2. Research Methodology
2.1 Analysis Design
2.2 Research Phases
2.2.1 Secondary Research
2.2.2 Primary Research
2.2.3 Data Modelling
2.2.4 Expert Validation
2.3 Study Timeline
3. Report Overview
3.1 Executive Summary
3.2 Key Inferencees
4. Market Dynamics
4.1 Impact Analysis
4.1.1 Drivers
4.1.2 Restaints
4.1.3 Opportunities
4.2 Regulatory Environment
4.3 Technology Timeline & Recent Trends
5. Competitor Benchmarking Analysis
5.1 Key Player Benchmarking
5.1.1 Market share analysis
5.1.2 Products/Service
5.1.3 Regional Presence
5.2 Mergers & Acquistion Landscape
5.3 Joint Ventures & Collaborations
6. Market Segmentation
6.1 Dropshipping Market, By Product
6.1.1 Toys, Hobby & DIY
6.1.2 Furniture & Appliances
6.1.3 Food & Personal Care
6.1.4 Electronics & Media
6.1.5 Fashion
6.1.6 Market Size Estimations & Forecasts (2022 - 2027)
6.1.7 Y-o-Y Growth Rate Analysis
6.1.8 Market Attractiveness Index
7. Geographical Landscape
7.1 Global Identity Governance and Administration Market, by Region
7.2 North America - Market Analysis (2022 - 2027)
7.2.1 By Country
7.2.1.1 USA
7.2.1.2 Canada
7.2.2 By Product
7.3 Europe
7.3.1 By Country
7.3.1.1 UK
7.3.1.2 France
7.3.1.3 Germany
7.3.1.4 Spain
7.3.1.5 Italy
7.3.1.6 Rest of Europe
7.3.2 By Product
7.4 Asia Pacific
7.4.1 By Country
7.4.1.1 China
7.4.1.2 India
7.4.1.3 Japan
7.4.1.4 South Korea
7.4.1.5 South East Asia
7.4.1.6 Australia & NZ
7.4.1.7 Rest of Asia-Pacific
7.4.2 By Product
7.5 Latin America
7.5.1 By Country
7.5.1.1 Brazil
7.5.1.2 Argentina
7.5.1.3 Mexico
7.5.1.4 Rest of Latin America
7.5.2 By Product
7.6 Middle East and Africa
7.6.1 By Country
7.6.1.1 Middle East
7.6.1.2 Africa
7.6.2 By Product
8. Key Player Analysis
8.1 AliDropship
8.1.1 Business Description
8.1.2 Products/Service
8.1.3 Financials
8.1.4 SWOT Analysis
8.1.5 Recent Developments
8.1.6 Analyst Overview
8.2 SaleHoo Group Limited
8.3 Doba, Inc.
8.4 Oberlo
8.5 Shopify Inc.
9. Market Outlook & Investment Opportunities
Appendix
List of Tables
List of Figures
Global Dropshipping Market By Region, From 2022 - 2027 ( USD Billion )

Global Dropshipping Market By Product, From 2022 - 2027 ( USD Billion )

Global Toys, Hobby & DIY Market By Region, From 2022 - 2027 ( USD Billion )

Global Furniture & Appliances Market By Region, From 2022 - 2027 ( USD Billion )

Global Food & Personal Care Market By Region, From 2022 - 2027 ( USD Billion )

Global Electronics & Media Market By Region, From 2022 - 2027 ( USD Billion )

Global Fashion Market By Region, From 2022 - 2027 ( USD Billion )