Feather Meal Market Growth and Forecast (2021-2026):
The Global Feather Meal Market size was worth US$ 359.5 million in 2021, and it is estimated that it will reach a valuation of US$ 820 million by 2026 with an annual expansion rate of 8.6% between 2021 and 2026.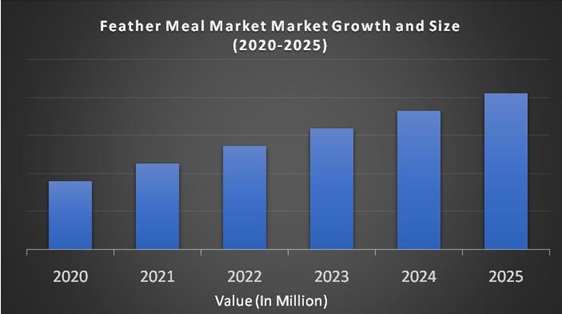 Product Description:
Feather meal is a by-product of poultry processing that is now an essential ingredient for feeding ruminants. It has been considered a food ingredient used on a commercial scale in the compound feed industry. Feather meal (FM) fertilizers are largely replacing synthetic liquid fertilizers used in horticultural applications. Companies in the feather meal market are raising awareness that organic fertilizers can help start compost piles and improve soil structure. This fertilizer supplies the plant with sufficient nitrogen and improves the growth of the plant. Growers prefer quality feather meal products for growing vegetables, such as corn, that need a high supply of nitrogen. Animal by-product feeds were obtained to confirm the effect of raw material and processing conditions on protein leakage, protein digestibility, and other feed value definition measurements. Feather waste from the poultry processing sector may eventually be used as a protein source in the feeding process. Feather meals at rendering factories are an important by-product of poultry. Furthermore, the use of feather meal as an excellent source of starting protein compared to oil will increase demand for the feather meal market.
Recent Developments in Feather Meal Industry:
Animal feed manufacturing company Darling Ingredients announced its third organic fertilizer production facility in Fremont, Nebraska.
Feather Meal Market Growth:
In the field of animal nutrition, innovative processes are being adopted to reevaluate the nutritional value of feather meal products.
REPORT COVERAGE:
| | |
| --- | --- |
| REPORT METRIC | DETAILS |
| Market Size Available | 2020 – 2026 |
| Base Year | 2020 |
| Forecast Period | 2021 - 2026 |
| CAGR | 8.6% |
| Segments Covered | By Nature, End-User, Distribution Channel, Crude Protein and Region |
| Various Analyses Covered | Global, Regional & Country Level Analysis, Segment-Level Analysis, DROC, PESTLE Analysis, Porter's Five Forces Analysis, Competitive Landscape, Analyst Overview on Investment Opportunities |
| Regions Covered | North America, Europe, APAC, Latin America, Middle East & Africa |
| Market Leaders Profiled | Sotexpro, Fenchem, Nutrifish, SOPROPECHE, Alltech, SAMPI, ProliverBvba, Green Labs LLC, Titan Biotech Ltd, Sojaprotein, Calysta Inc, Nutrifish, Nutraferma LLC, Prinova Holdings and Others. |
Drivers:
Feather Meal has been a growing concern for food suppliers for many years. This is a very valuable source of protein for aquaculture feed and has shown excellent performance at high levels of inclusion in academic and commercial trials. The suitability of a feather meal in a carp diet instead of a fishmeal dietary protein will increase the demand for feather feeds. The results show that feather meal has good nutritional value for trout, and fish meal can be replaced by poultry by-product meal without loss of growth performance, food intake, or feed efficiency. As a protein source, replacing fishmeal in aquaculture feed has an undeniable advantage. In other words, it is a nutritional advantage not only in terms of protein content and digestibility, but also in terms of economic benefits. In developing countries like Asia and Africa, small-scale or dairy cattle grazing is a common practice, and these farmers often do not reach production limits because they cannot supply enough feed to their livestock. Improvements in current processing methods for hydrolyzing feather protein for non-ruminant animals have enabled the preparation of high-quality hydrolyzed feather meal that can be considered a practical, economical alternative to livestock feed ingredients. Feather waste from the poultry processing sector can be used as a protein source in the complex feed industry. Feeding a feather meal can be influenced by its protein content as well as the energy content present in it. In addition to ethics, organic fertilizers have received considerable attention due to numerous environmental benefits, such as increased soil structure and water conservation. By increasing the number of people who want to increase fish consumption with non-vegetarian and main foods to meet their daily protein needs, the aquaculture livestock industry will be fostered. Therefore, these factors should speed up market statistics.
Increasing the impact on nutritional security to ensure an efficient supply of protein and calories can increase the demand for livestock, which can benefit industrial growth. Urbanization and population growth will increase the demand for animal quality food products such as meat, milk and eggs, which is likely to benefit the region's livestock industry. Organic farming, in which organic fertilizers are made up of important virtues, is a favorable bet for the agricultural industry, which is developing as a safe and ethical option for consumers as organic food becomes more attractive. Organic animal by-product fertilizers get significant traction compared to plant-based strains due to their superior adsorption and water-holding capacity that improves soil fertility. Increased farmers' awareness of the nutritional benefits of plant and animal fertilizers and promoting the growth of earthworms and their role in other plant microbial activities encourages the adoption of organic fertilizers. The increase in the cost of raw materials and the proportional increase in the supply and demand gap of raw materials will probably accelerate the growth of economic alternatives such as feather meals in the coming years. Feather meal improves reproductive ability, promotes the health of animal fur, and makes hair color better and brighter. By expelling, feather meal can have good taste, high level of health, growth and development, promote digestion and absorption, improve growth efficiency and skin quality, eliminate bacterial contamination of food and lead the skin to be feed more than 10 days before then usual. The increase in feedstock cost and the proportional increase in the supply-demand gap for feedstock will likely accelerate the growth of economic alternatives such as feather meals in the coming years. Therefore, it increases the composition of micronutrients, which greatly affects the prevention of hoof diseases, bites, self-harm and other dietary deficiencies.
Restraints:
Sufficient feed is limited due to the high costs of feeding cattle. Therefore, the possibility of using by-products such as feather meals in compound foods significantly reduces feeding costs, making sufficient raw materials available worldwide. The lack of clinical evidence for feather meal digestibility in poultry farm animal species is becoming a constraint on market growth.
Impact of COVID 19 on the Feather Meal Market:
The coronavirus pandemic (COVID-19) slowed down the economic growth of the feather meal market. Factory closings are one of the main obstacles to monetization activities in the market. When COVID-19 was produced, the rapid change in consumer consumption patterns required producers to reconsider their policies and strategies. The closure of restaurants in various regions has had a serious impact on the animal feed industry. Poultry production and aquaculture are among the most affected. This affects the growth of the feather meal market for 1-2 years, and demand is expected to decrease for one or two years and then reach a stagnation phase in the coming years. With the sharp decline in pandemics, manufacturers in Asia-Pacific countries such as Europe and China resumed their production activities. To maintain cash flow in the market, manufacturers in other countries are trying to resume activity by placing dynamic equipment at production facilities.
Feather Meal Market Segmentation Analysis:
The global Feather Meal market is segmented by Nature as Conventional and Organic; by End-user as Poultry Feed, Fish Feed, Organic Fertilizers, Animal Feed, Cattle Feed and Others; by Distribution Channel as Wholesale, Online Retailers, B2B, Modern Trade, B2C and Specialty Stores; by Crude Protein as 75-80%, 80-90% and More than 90%.
Geographical Segmentation Analysis:
North America - the United States and Canada

Europe - United Kingdom, Spain, Germany, Italy, and France

The Asia Pacific - India, Japan, China, Australia, Singapore, Malaysia, South Korea, New Zealand, and Southeast Asia

Latin America - Brazil, Argentina, Mexico, and Rest of LATAM

The Middle East and Africa - Africa and Middle East (Saudi Arabia, UAE, Lebanon, Jordan, Cyprus)
Regional Analysis:
North America has the largest market share and is expected to continue to lead the world market during the forecast period. After North America, Europe is in second place, occupying a significant share of the world market for years to come. Asia Pacific is emerging as a hot spot in food processing scenarios. It has become one of the world's leading food-producing countries by mass producing agricultural products along with various animal resources. The feather meal industries are booming recently especially in the production and processing. Asia has the largest poultry population at 14.6 billion in 2018. An organized processing industry is increasingly emerging to ensure the safety of chicken for consumers. Feather Meal is currently a source of low utility protein in the region. In addition, as awareness of the nutritional benefits of feathery meals grows throughout the region, it will help address worldwide protein demand by producing more animal protein and replicating the price structure.
Key Players in the Market:
Major Key Players in the Global Feather Meal Market are
Sotexpro

Fenchem

Nutrifish

SOPROPECHE

Alltech

SAMPI

ProliverBvba

Green Labs LLC

Titan Biotech Ltd

Sojaprotein

Calysta Inc

Nutrifish

Nutraferma LLC

Prinova Holdings
1. Introduction
1.1 Market Definition
1.2 Scope of the report
1.3 Study Assumptions
1.4 Base Currency, Base Year and Forecast Periods
2. Research Methodology
2.1 Analysis Design
2.2 Research Phases
2.2.1 Secondary Research
2.2.2 Primary Research
2.2.3 Data Modelling
2.2.4 Expert Validation
2.3 Study Timeline
3. Report Overview
3.1 Executive Summary
3.2 Key Inferencees
4. Market Dynamics
4.1 Impact Analysis
4.1.1 Drivers
4.1.2 Restaints
4.1.3 Opportunities
4.2 Regulatory Environment
4.3 Technology Timeline & Recent Trends
5. Competitor Benchmarking Analysis
5.1 Key Player Benchmarking
5.1.1 Market share analysis
5.1.2 Products/Service
5.1.3 Regional Presence
5.2 Mergers & Acquistion Landscape
5.3 Joint Ventures & Collaborations
6. Market Segmentation
6.1 Feather Meal Market, By Nature
6.1.1 Conventional
6.1.2 Organic
6.1.3 Market Size Estimations & Forecasts (2021-2026)
6.1.4 Y-o-Y Growth Rate Analysis
6.1.5 Market Attractiveness Index
6.2 Feather Meal Market, By End-User
6.2.1 Poultry Feed
6.2.2 Fish Feed
6.2.3 Organic Fertilizers
6.2.4 Animal Feed
6.2.5 Cattle Feed
6.2.6 Market Size Estimations & Forecasts (2021-2026)
6.2.7 Y-o-Y Growth Rate Analysis
6.2.8 Market Attractiveness Index
6.3 Feather Meal Market, By Distribution Channel
6.3.1 Wholesale
6.3.2 Online Retailers
6.3.3 B2B
6.3.4 B2C
6.3.5 Modern Trade
6.3.6 Specialty Stores
6.3.7 Market Size Estimations & Forecasts (2021-2026)
6.3.8 Y-o-Y Growth Rate Analysis
6.3.9 Market Attractiveness Index
6.4 Feather Meal Market, By Crude Protein
6.4.1 75-80%
6.4.2 80-90%
6.4.3 More than 90%
6.4.4 Market Size Estimations & Forecasts (2021-2026)
6.4.5 Y-o-Y Growth Rate Analysis
6.4.6 Market Attractiveness Index
7. Geographical Landscape
7.1 Global Identity Governance and Administration Market, by Region
7.2 North America - Market Analysis (2021-2026)
7.2.1 By Country
7.2.1.1 USA
7.2.1.2 Canada
7.2.2 By Nature
7.2.3 By End-User
7.2.4 By Distribution Channel
7.2.5 By Crude Protein
7.3 Europe
7.3.1 By Country
7.3.1.1 UK
7.3.1.2 France
7.3.1.3 Germany
7.3.1.4 Spain
7.3.1.5 Italy
7.3.1.6 Rest of Europe
7.3.2 By Nature
7.3.3 By End-User
7.3.4 By Distribution Channel
7.3.5 By Crude Protein
7.4 Asia Pacific
7.4.1 By Country
7.4.1.1 China
7.4.1.2 India
7.4.1.3 Japan
7.4.1.4 South Korea
7.4.1.5 South East Asia
7.4.1.6 Australia & NZ
7.4.1.7 Rest of Asia-Pacific
7.4.2 By Nature
7.4.3 By End-User
7.4.4 By Distribution Channel
7.4.5 By Crude Protein
7.5 Latin America
7.5.1 By Country
7.5.1.1 Brazil
7.5.1.2 Argentina
7.5.1.3 Mexico
7.5.1.4 Rest of Latin America
7.5.2 By Nature
7.5.3 By End-User
7.5.4 By Distribution Channel
7.5.5 By Crude Protein
7.6 Middle East and Africa
7.6.1 By Country
7.6.1.1 Middle East
7.6.1.2 Africa
7.6.2 By Nature
7.6.3 By End-User
7.6.4 By Distribution Channel
7.6.5 By Crude Protein
8. Key Player Analysis
8.1 Sotexpro
8.1.1 Business Description
8.1.2 Products/Service
8.1.3 Financials
8.1.4 SWOT Analysis
8.1.5 Recent Developments
8.1.6 Analyst Overview
8.2 Fenchem
8.3 Nutrifish
8.4 Alltech
8.5 SAMPI
8.6 Green Labs LLC
8.7 Titan Biotech Ltd
8.8 Sojaprotein
8.9 Calysta Inc
8.10 Nutraferma LLC
9. Market Outlook & Investment Opportunities
Appendix
List of Tables
List of Figures
Global, regional and country-level analysis and forecasts of the study market; providing Insights on the major countries/regions in which this industry is blooming and to also identify the regions that are still untapped

The Segment-level analysis in terms of By Nature, End-User, Distribution Channel, Crude Protein and along with market size forecasts and estimations to detect key areas of industry growth in detail

Identification of key drivers, restraints, opportunities, and challenges (DROC) in the market and their impact on shifting market dynamics

Study of the effect of exogenous and endogenous factors that affect the global market; which includes broadly demographic, economics, and political, among other macro-environmental factors presented in an extensive PESTLE Analysis

Study the micro environment factors that determine the overall profitability of an Industry, using Porter's five forces analysis for analysing the level of competition and business strategy development

A comprehensive list of key market players along with their product portfolio, current strategic interests, key financial information, legal issues, SWOT analysis and analyst overview to study and sustain the market environment

Competitive landscape analysis listing out the mergers, acquisitions, collaborations in the field along with new product launches, comparative financial studies and recent developments in the market by the major companies

An executive summary, abridging the entire report in such a way that decision-making personnel can rapidly become acquainted with background information, concise analysis and main conclusions

Expertly devised analyst overview along with Investment opportunities to provide both individuals and organizations a strong financial foothold in the market
Global Feather Meal Market By Region, From 2021-2026 ( USD Billion )

Global Feather Meal Market By Nature, From 2021-2026 ( USD Billion )

Global Conventional Market By Region, From 2021-2026 ( USD Billion )

Global Organic Market By Region, From 2021-2026 ( USD Billion )

Global Feather Meal Market By End-User, From 2021-2026 ( USD Billion )

Global Poultry Feed Market By Region, From 2021-2026 ( USD Billion )

Global Fish Feed Market By Region, From 2021-2026 ( USD Billion )

Global Organic Fertilizers Market By Region, From 2021-2026 ( USD Billion )

Global Animal Feed Market By Region, From 2021-2026 ( USD Billion )

Global Cattle Feed Market By Region, From 2021-2026 ( USD Billion )

Global Feather Meal Market By Distribution Channel, From 2021-2026 ( USD Billion )

Global Wholesale Market By Region, From 2021-2026 ( USD Billion )

Global Online Retailers Market By Region, From 2021-2026 ( USD Billion )

Global B2B Market By Region, From 2021-2026 ( USD Billion )

Global B2C Market By Region, From 2021-2026 ( USD Billion )

Global Modern Trade Market By Region, From 2021-2026 ( USD Billion )

Global Specialty Stores Market By Region, From 2021-2026 ( USD Billion )

Global Feather Meal Market By Crude Protein, From 2021-2026 ( USD Billion )

Global 75-80% Market By Region, From 2021-2026 ( USD Billion )

Global 80-90% Market By Region, From 2021-2026 ( USD Billion )

Global More than 90% Market By Region, From 2021-2026 ( USD Billion )