Flat Glass Market Size, Share, Trends & Growth (2021 - 2026)
The global Flat Glass Market was valued at USD 121.8 billion in 2021 and is expected to observe a significant CAGR of over 8.3% to reach USD 174.1 by 2026.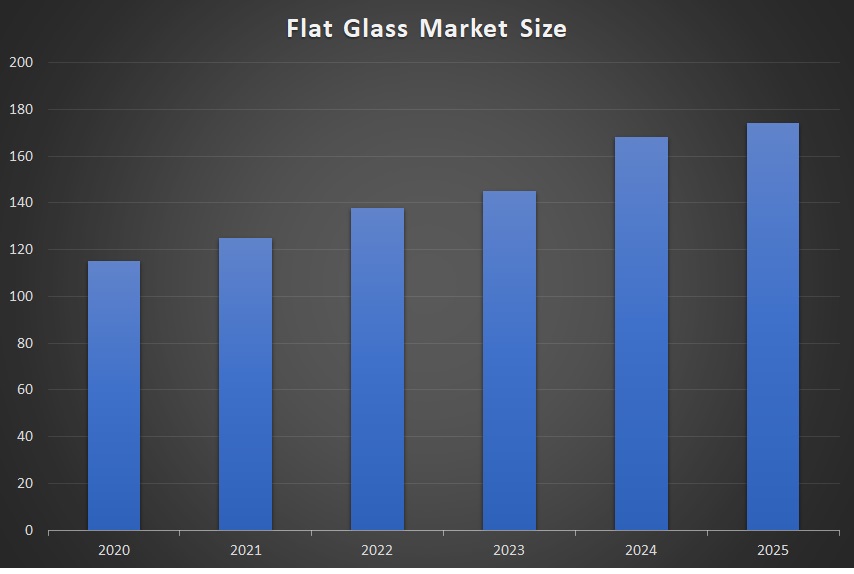 Flat glass is manufactured by floating molten glass on sheets of metal. It can be modified for various applications by changing the concentration of dolomite, limestone, and sodium sulfate. It is widely used in the construction business for windows, doors, solar cells, cabinet closure, tabletops, furniture, and walls. It is also used as windshields & mirrors in the automobile sector and can be easily bent & reused. Moreover, the market is expected to rise due to environmental concerns regarding waste management and the recyclability of glass, promoting its use in various end-use applications.
Recent Developments in the Flat Glass Industry:
In December 2016, Saint-Gobain completed the purchase of Pietta Glass Working, a Romanian-based company that produces insulating glazing systems & glass processing for the industrial and construction end-users. The acquisition helped Saint-Gobain strengthen its manufacturing capacity in eastern Europe and diversify the flat glass product portfolio.

In March 2017, Guardian Glass spent over USD 1.5 million and approved engineering design spend on expanding glass facilities by 1,000 metric tons in Poland to meet its customer demand in commercial and residential sectors. This investment will help Guardian Glass set a strong foothold in the European market by providing a diversified product portfolio and increasing distribution network.

In January 2016, Corning, Inc., and Saint-Gobain formed a joint venture to bring innovation in automatable glass and window technology to reduce the vehicle weight, which will improve fuel efficiency. This joint venture will help the company meet stringent regulatory norms and gain a competitive advantage.
Market Drivers & Restraints of the Flat Glass Market
The surge in per-capita disposable incomes coupled with the hike in automotive production is likely to fuel the demand in the flat glass business. It is produced from vacuum insulated glass technology that ensures heat and sound insulation. The market will witness escalation owing to a rise in insulated glass demand in luxury car windows and rooftops for aesthetic appearance. Flat glass is prominently used in windshield, backlight, and mirrors in the automobile industry. Increasing application in roofs of luxury cars and laminated windows for improved visibility and rising spending in the automobile industry may accelerate the demand in the global flat glass market in the coming years. Industry demand may witness significant growth due to large-scale automotive production and technological market developments, and demand for lightweight vehicles around the world.
Safety and occupational risks associated with glass production, high initial setup investment, and fluctuating costs of materials, together with poor chain leadership, are hindering the market of flat glass from reaching its full potential. Furthermore, the logistic cost is another crucial factor restraining the growth of this industry.
REPORT COVERAGE
| | |
| --- | --- |
| REPORT METRIC | DETAILS |
| Market Size Available | 2020 – 2025 |
| Base Year | 2020 |
| Forecast Period | 2021 - 2026 |
| CAGR | 8.3% |
| Segments Covered | By Technology, Type, Product, and Region |
| Various Analyses Covered | Global, Regional & Country Level Analysis, Segment-Level Analysis, DROC, PESTLE Analysis, Porter's Five Forces Analysis, Competitive Landscape, Analyst Overview on Investment Opportunities |
| Regions Covered | North America, Europe, APAC, Latin America, Middle East & Africa |
| Market Leaders Profiled | Asahi Glass (Japan), Saint-Gobain (France), Nippon Sheet Glass (Japan), Guardian Industries (U.S.), and Taiwan Glass (Taiwan) are the major players in the flat glass market. |

This research report includes the segmentation of the flat glass market until 2026.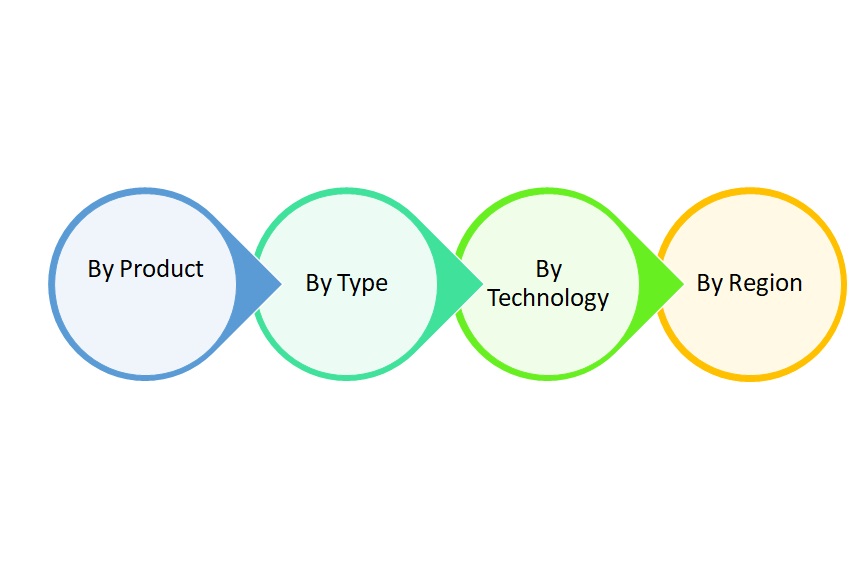 By Product, the global flat glass market is categorized into Basic, Tempered, Laminated, Insulated, and Others.
In terms of volume, tempered flat glass controlled the market with a share of 28.9% in 2019. This high share is attributable to the broader availability of various product types, including clear float, extra white, heat reflective, and tinted varieties. It provides high-temperature resistance and mechanical strength. The segment sees rapid growth in the Asia Pacific and the Middle East, and Africa due to rising construction activities.
The basic segment held the smallest share in the flat glass market; however, its importance is significant as it is further processed, and its different forms are used in end-use applications. In 2019, the segment held a meager share of 8.3% in revenue and constituted a share of 23.6%.
Automotive production is the primary end-use of laminated flat glass. Tempered and other products are preferred over laminated in the construction industry due to its high cost. The use of laminated products is increasing in sunroofs due to safety concerns.
Insulated flat glass, which is primarily used in residential and commercial buildings for windows and facades, is made by the double-glazing method, wherein sheets of windowpanes are separated by gases or vacuum to minimize heat transfer. The segment is expected to observe a robust CAGR during the outlook period. When installed with Low-E or solar control, flat glass exhibits superior performance in conserving energy by lowering air conditioning and heating costs.
By Application, the global flat glass market is categorized into architectural, automotive & transportation, and others
Architectural application controlled the largest volume share of 80.0% in the market for flat glass in 2019. Increased urban population and rising disposable income of the global population significantly propel infrastructural developments and construction activities worldwide. It is predicted to play a vital role in driving the segment over the coming years.
The automotive and transportation industry is considered as the second prominent application of flat glass. Its applications are scattered across windows, sunroofs, windshields, and backlight. Laminated and tempered flat glass are the primary products used in the automotive segment. Growing demand for lightweight and electric vehicles is estimated to drive the product's consumption in the long run.
Other applications include solar, electronics equipment, and displays. From these applications, flat solar glass is likely to note the highest growth in the coming years. Governments worldwide are increasingly adopting renewable technologies like solar power to reduce their dependence on fossil fuel and reduce carbon emissions.
By Region, the Asia Pacific market is evaluated to exhibit a CAGR of 7.1% from 2020 to 2027. The region may experience a construction and infrastructure boom in the upcoming years with a healthy dose of construction projects spread between residential, non-residential, industrial, and infrastructural categories. Furthermore, India's construction sector is likely to outpace other countries in the region, thereby propelling the local flat glass market at the highest rate.
North America amassed a revenue share of 17.9% in 2019. The construction industry in this area has observed recovery from the economic recession of 2009 and 2010, leading to an increase in housing projects and expanding residential and non-residential construction spending. It has resulted in improved demand for flat glass.
In Europe, the renovation of residences is predicted to offer numerous opportunities for flat glass merchants. According to the European Parliament report, over 90% of Europe's buildings were built before 1990 and over 40% before 1960; thus, several buildings need renovation and reconstruction. Nevertheless, tightened financial conditions, high economic uncertainty, and unsolved trade tensions have moderately slowed the European market's growth.
The Central and South American market is expected to be propelled by growing construction spending owing to the burgeoning middle-class population, increasing buyer disposable earnings, and increasing awareness regarding sustainable construction materials. The region's economy has expanded since 2018, and the governments in South America are also promoting the real estate market by offering cash incentives for councils to approve new housing developments. It is likely to bolster market growth in the future.
Key Players listed in the flat glass market
Asahi Glass (Japan),

Saint-Gobain (France),

Nippon Sheet Glass (Japan),

Guardian Industries (U.S.),

Taiwan Glass (Taiwan)
Impact of COVID-19 pandemic on Flat Glass Market
The unforeseen outbreak of the coronavirus pandemic has shifted the healthcare industry's focus and subsequently impacted the Guidewires market. The pandemic has disrupted the healthcare spectrum, as screening programs and services have been suspended or decreased in many countries. Also, surgeries and regular hospital visits are postponed or suspended due to lockdowns put in place by governments worldwide. Nevertheless, market players are still focusing on R & D investments, leading to innovations in the flat glass market. Critical shortages of crucial medical supplies and expeditiously increasing numbers of COVID-19 cases have resulted in reconstruction rather than progression in the healthcare ecosystems. Furthermore, transportation restrictions and supply chain disruptions have created a logistical ordeal for market players, leading to severe diagnostic product shortages globally.
1. Introduction
1.1 Market Definition
1.2 Study Deliverables
1.3 Base Currency, Base Year and Forecast Periods
1.4 General Study Assumptions
2. Research Methodology
2.1 Introduction
2.2 Research Phases
2.2.1 Secondary Research
2.2.2 Primary Research
2.2.3 Econometric Modelling
2.2.4 Expert Validation
2.3 Analysis Design
2.4 Study Timeline
3. Overview
3.1 Executive Summary
3.2 Key Inferences
3.3 Epidemology
4. Drivers, Restraints, Opportunities, and Challenges Analysis (DROC)
4.1 Market Drivers
4.2 Market Restraints
4.3 Key Challenges
4.4 Current Opportunities in the Market
5. Market Segmentation
5.1 Technology
5.1.1 Introduction
5.1.2 Float
5.1.3 Rolled
5.1.4 Sheet
5.1.5 Y-o-Y Growth Analysis, By Technology
5.1.6 Market Attractiveness Analysis, By Technology\
5.1.7 Market Share Analysis, By Technology
5.2 Product Type
5.2.1 Introduction
5.2.2 Simple Float Glass
5.2.3 Toughened
5.2.4 Coated
5.2.5 Laminated
5.2.6Extra Clear
5.2.7 Y-o-Y Growth Analysis, By Product type
5.2.8 Market Attractiveness Analysis, By Product type
5.2.9 Market Share Analysis, By Product type
5.3 End User Industry
5.3.1 Introduction
5.3.2 Construction & Infrastructure
5.3.3 Automotive & Transportation
5.3.6 Solar Energy
5.3.7 Y-o-Y Growth Analysis, By end user industry
5.3.8 Market Attractiveness Analysis, By end user industry
5.3.9 Market Share Analysis, By end user industry
6. Geographical Analysis
6.1 Introduction
6.1.1 Regional Trends
6.1.2 Impact Analysis
6.1.3 Y-o-Y Growth Analysis
6.1.3.1 By Geographical Area
6.1.3.2 By Technology
6.1.3.3 By Product Type
6.1.3.4 By End User Industry
6.1.4 Market Attractiveness Analysis
6.1.4.1 By Geographical Area
6.1.4.2 By Technology
6.1.4.3 By Product Type
6.1.4.4 By End User Industry
6.1.5 Market Share Analysis
6.1.5.1 By Geographical Area
6.1.5.2 By Technology
6.1.5.3 By Product Type
6.1.5.4 By End User Industry
6.2 North America
6.1.1 Introduction
6.1.2 United States
6.1.3 Canada
6.3 Europe
6.2.1 Introduction
6.2.2 U.K
6.2.3 Spain
6.2.4 Germany
6.2.5 Italy
6.2.6 France
6.4 Asia-Pacific
6.3.1 Introduction
6.3.2 China
6.3.3 India
6.3.4 Japan
6.3.5 Australia
6.3.6 South Korea
6.5 Latin America
6.4.1 Introduction
6.4.2 Brazil
6.4.3 Argentina
6.4.4 Mexico
6.4.5 Rest of Latin America
6.6 Middle East & Africa
6.5.1 Introduction
6.5.2 Middle-East
6.5.3 Africa
7. Strategic Analysis
7.1 PESTLE analysis
7.1.1 Political
7.1.2 Economic
7.1.3 Social
7.1.4 Technological
7.1.5 Legal
7.1.6 Environmental
7.2 Porter's Five analysis
7.2.1 Bargaining Power of Suppliers
7.2.2 Bargaining Power of Consumers
7.2.3 Threat of New Entrants
7.2.4 Threat of Substitute Products and Services
7.2.5 Competitive Rivalry within the Industry
8. Market Leaders' Analysis
8.1 Asahi Glass
8.1.1 Overview
8.1.2 Product Analysis
8.1.3 Financial analysis
8.1.4 Recent Developments
8.1.5 SWOT analysis
8.1.6 Analyst View
8.2 Saint-Gobain
8.3 Nippon Sheet Glass
8.4 Guardian Industries
8.5 Taiwan Glass
9. Competitive Landscape
9.1 Market share analysis
9.2 Merger and Acquisition Analysis
9.3 Agreements, collaborations and Joint Ventures
9.4 New Product Launches
10. Market Outlook and Investment Opportunities
Appendix
a) List of Tables
b) List of Figures
Global, regional and country-level analysis and forecasts of the study market; providing Insights on the major countries/regions in which this industry is blooming and to also identify the regions that are still untapped

The segment-level analysis in terms of By Technology, By Product Type, By End-Use Industry along with market size forecasts and estimations to detect key areas of industry growth in detail

Identification of key drivers, restraints, opportunities, and challenges (DROC) in the market and their impact on shifting market dynamics

Study of the effect of exogenous and endogenous factors that affect the global market; which includes broadly demographic, economics, and political, among other macro-environmental factors presented in an extensive PESTLE Analysis

Study the micro environment factors that determine the overall profitability of an Industry, using Porter's five forces analysis for analysing the level of competition and business strategy development

A comprehensive list of key market players along with their product portfolio, current strategic interests, key financial information, legal issues, SWOT analysis and analyst overview to study and sustain the market environment

Competitive landscape analysis listing out the mergers, acquisitions, collaborations in the field along with new product launches, comparative financial studies and recent developments in the market by the major companies

An executive summary, abridging the entire report in such a way that decision-making personnel can rapidly become acquainted with background information, concise analysis and main conclusions

Expertly devised analyst overview along with Investment opportunities to provide both individuals and organizations a strong financial foothold in the market
Global Flat Glass market Market By Region, From 2021-2026( USD Billion )

Global Flat Glass market Market By Technology, From 2021-2026( USD Billion )

Global Float Market By Region, From 2021-2026( USD Billion )

Global rolled Market By Region, From 2021-2026( USD Billion )

Global sheet Market By Region, From 2021-2026( USD Billion )

Global Flat Glass market Market By Product Type , From 2021-2026( USD Billion )

Global Simple Float Glass Market By Region, From 2021-2026( USD Billion )

Global Toughened Market By Region, From 2021-2026( USD Billion )

Global Coated Market By Region, From 2021-2026( USD Billion )

Global Laminated Market By Region, From 2021-2026( USD Billion )

Global Extra Clear Market By Region, From 2021-2026( USD Billion )

Global Flat Glass market Market By End-Use Industry , From 2021-2026( USD Billion )

Global Construction & Infrastructure Market By Region, From 2021-2026( USD Billion )

Global Automotive & Transportation Market By Region, From 2021-2026( USD Billion )

Global Solar Energy Market By Region, From 2021-2026( USD Billion )