Beverage Packaging Market Size, Growth, Forecast (2023-2028)
The Global Beverage Packaging Market was worth US$ 148.2 billion in 2022 and is anticipated to reach the valuation of US$ 190.1 billion by 2028 and register a CAGR of 5.01% during 2023-2028.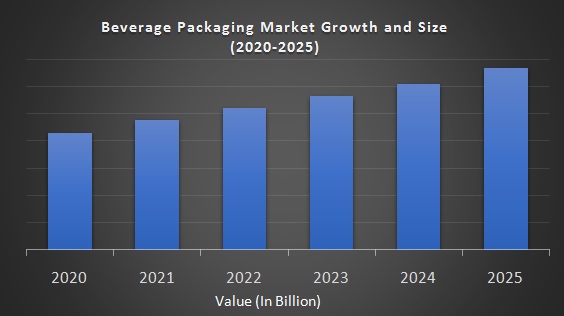 Global Beverage Packaging Market Scenario:
The ever-expanding beverage sector relies heavily on beverage packaging. Beverage packaging is a complicated process, and different materials and containers are required depending on whether the beverage is alcoholic or non-alcoholic. The proper design and implementation of a beverage packaging enhances the shelf life of the beverage, makes it more convenient for users, and reduces material waste costs. Furthermore, glass, polymers, metals, paperboards, and their combinations are used as beverage packaging materials. The use of various materials is determined by the shelf life of the beverage, its chemical makeup, and the value of the beverage that is to be packaged.
Improved population lifestyles and rising per capita incomes, particularly in developing nations, enhance consumption of packaged beverages, fueling demand for better and more convenient packaging solutions. The convenience element in the beverage packaging business allows for minimal wastage during dispensing, as well as resealability, portability, and light weight of the container, all of which contribute to cost savings and drive the beverage packaging market.
Recent Developments in the Global Beverage Packaging Market:
INEOS and LACTEL have announced a collaboration on improved dairy recycling packaging. Advanced recycling allows discarded plastic to be converted into new, high-quality polymers, which are then utilized to make Lactel bottles.
REPORT COVERAGE:
| | |
| --- | --- |
| REPORT METRIC | DETAILS |
| Market Size Available | 2022 – 2028 |
| Base Year | 2022 |
| Forecast Period | 2023 - 2028 |
| CAGR | 5.01% |
| Segments Covered | By Material Type, Packaging Type, Product Type and Region |
| Various Analyses Covered | Global, Regional & Country Level Analysis, Segment-Level Analysis, DROC, PESTLE Analysis, Porter's Five Forces Analysis, Competitive Landscape, Analyst Overview on Investment Opportunities |
| Regions Covered | North America, Europe, APAC, Latin America, Middle East & Africa |
| Market Leaders Profiled | Saint-Gobain S.A., Tetra Laval International S.A., Stora Enso Oyj, Owens-Illinois, Inc, Crown Holdings, Inc, Rexam PLC, Ball Corporation, Mondi PLC, Amcor Limited, Reynolds Group Holdings Limited, Alcoa Inc and Others. |
Global Beverage Packaging Market Drivers:
As customer preferences change, packaging materials are becoming more useful for improving strength, scent retention, thermal insulation, sealing, and moisture barrier. The growing popularity of compact packs is driving up demand for flexible bags and pouches. The use of active and intelligent systems in beverage packaging is also expected to help the market grow significantly. Intelligent solutions are increasingly being used in the packaging business to ensure optimum security while also maintaining the nutritious value of beverages. The worldwide beverage packaging market has been steadily growing in recent years. The increased demand for tiny packs and flexible pouches is primarily responsible for the growth of the beverage packaging market. Some of the primary advantages of employing beverage packaging are sealing, moisture protection, scent retention, heat protection, and increased strength. The worldwide beverage industry encompasses both non-alcoholic and alcoholic beverages that are ready to drink. Beverage packaging comes in a variety of shapes and sizes. Labels, glass closures, stiff metal, paper and boards, flexible plastics, and rigid plastics are only a few of the significant components and materials. Cartons, pouches, bottles, cans, and other types of packaging are examples of this sort of packaging.
The worldwide beverage packaging market is expected to be driven by increased demand for premium products, rising beverage consumption, and rising need for sustainable and convenient packaging.
Because of the high demand for functional drinks, the worldwide beverage packaging industry is expected to rise steadily. The global beverage packaging industry is predicted to expand due to a growing middle-class population, increased urbanization, and changing lifestyles. Several intelligent systems, such as oxygen scavengers, moisture absorbers, antimicrobial agents, and antioxidants, are used in beverage packaging to assist increase the shelf-life of products. The beverage can also be processed and consumed more easily using this container technology.
Global Beverage Packaging Market Restraints:
Over the projected period, the installation of rigorous regulatory norms on the usage of plastics is likely to hamper the global beverage packaging market growth. Lawmakers all around the world are enacting and enforcing such strict restrictions in order to protect the environment for future generations. Bans on single-use plastics have already begun to disrupt the packaging supply chain, resulting in a shift in packaging materials in many regions of the world. In the wake of the single-use plastic ban, brands are turning to more expensive materials like metals and glass for food and beverage packaging. This is projected to raise the price of beverage packaging as well as the final product, putting a strain on consumers' wallets.
Beverage companies, on the other hand, are taking steps to reduce their carbon footprint and move toward sustainability. Coca-Cola, for example, has launched a number of new initiatives aimed at changing packaging solutions in various parts of the world. In Sweden, new labels signifying 100 percent rPET (recycled PET) bottles have been introduced to encourage consumers to recycle the bottles and contribute to the creation of a circular economy for plastic packaging. Coca-Cola has launched a returnable bottle Programme in Brazil, coupled with 100 percent recyclable labels, to help the circular economy expand.
Global Beverage Packaging Market Segmentation:
By Material type:
Metal

Glass

Plastic

Paper & Paperboard
Based on material type, Metal is expected to increase at a faster rate than other material types in the industry. Metal packaging is growing in popularity because of its durability and convenience. Aluminum or steel can be used to make beverages. Both are used in the packaging of non-alcoholic beverages. The chemical compatibility of the product and the type of packing material is crucial to the product's quality. Aluminum and steel are chemically inert when it comes to non-alcoholic beverages, making them the best materials for their packaging. Metal cans are also utilized in the manufacture of beer cans. Can packaging for beer is becoming more popular since it has advantages over glass in terms of preventing light and oxidation damage and keeping the drink fresh.
By Packaging Type:
Pouch

Cans

Bottles

Cartons
The bottle segment is expected to have the biggest share of the beverage packaging market by packaging type. Non-alcoholic drinks are typically served in bottles, while alcoholic beverages are served in cans. The need for bottles in beverage packaging is expected to rise as non-alcoholic beverage consumption rises. Bottles are also more convenient to transport and store, making them a popular choice among customers. These factors are expected to boost bottle packaging demand in the global market.
By Product Type:
Dairy beverages

Alcoholic beverages

Non-alcoholic beverages
The dairy beverage category is expected to develop at the fastest CAGR in the market until 2026, according to product type. Dairy beverages account for a large portion of the global beverage market and are a rapidly rising category. Dairy drinks are good since they provide consumers with a natural nutritional foundation. The market for dairy-based beverages, on the other hand, is still tiny, but demand for these products is likely to expand rapidly in the near future. In dairy beverages, packaging is critical because it adds value to the brand and attracts customers. Dairy processors and packaging firms are always challenged to develop more environmentally friendly goods that provide convenience to consumers while also allowing brand owners to differentiate their products. Therefore, these factors tend to propel the global beverages packaging market growth during the forecast period.
Geographical Segmentation Analysis:
North America - the United States and Canada

Europe - United Kingdom, Spain, Germany, Italy, and France

The Asia Pacific - India, Japan, China, Australia, Singapore, Malaysia, South Korea, New Zealand, and Southeast Asia

Latin America - Brazil, Argentina, Mexico, and Rest of LATAM

The Middle East and Africa - Africa and Middle East (Saudi Arabia, UAE, Lebanon, Jordan, Cyprus)
Global Beverage Packaging Market Regional Analysis:
The Global Beverage Packaging Market Report includes the segmentation of regions:
The beverage packaging market in Asia Pacific is one of the fastest growing. China, India, Japan, Thailand, Indonesia, Australia, and New Zealand are among the countries evaluated for the study. As a result, the global beverage packaging market in this region is likely to rise rapidly. Many types of packaging, including flexible and rigid plastic, paper, glass, and metal, are preferred in the region. The beverage industry's demand is increasing as the population grows. Global businesses like as Ball Corporation (US) and Crown Holdings Inc (US) are expanding their production operations in the Asia Pacific area. As a result, the beverage packaging market grew in popularity.

Over the projection period, North America is expected to increase steadily. North America is one of the world's leading producers of packaging solutions. It also produces a high volume of beverages, which helps to drive industry expansion. Bottled water, beer, coffee, soft drinks, dairy products, energy drinks, juice, sports drinks, tea, and wine & spirits are among the region's top consumers.

The market in Europe is likely to increase at a moderate pace. Europe had the second-largest share of the market, owing to the region's robust beverage industry. Western European countries such as Germany, France, the United Kingdom, and Spain, among others, are the region's main economic engines.

Latin America

Middle East and Africa
Impact of COVID-19 on Global Beverage Packaging Market:
Despite the short-term impact of COVID -19, the outlook for the plastic films market is expected to remain favorable. Plastic film products are gaining a lot of attention as people become more conscious of the importance of packaging safety. Despite these short-term setbacks, the market study's tendencies appear to be mild during the predicted period. In the medium term, pandemic is expected to present various opportunities and challenges to the global plastic films industry.
Key Players in the Market:
Major Key Players in the Global Beverage Packaging Market are
Reynolds Group Holdings Limited

SIG Combibloc Group AG

Smurfit Kappa Group plc

Stora Enso Oyj

Tetra Laval International S.A.