Beverage Packaging Market Growth and Forecast (2021-2026):
The global Beverage Packaging Market size was assessed to be USD 86.1 billion in 2021, and it is predicted that it will value about USD 133.3 billion by 2026 at a CAGR of 6% over the envisioned period. As the importance of maintaining the quality of content increases, effective packaging becomes necessary in the beverage industry.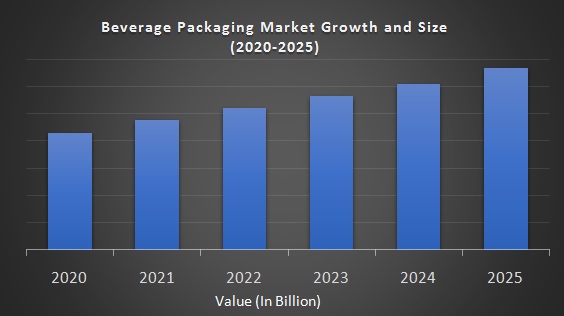 Market Overview:
Beverage packaging is a crucial part of the constantly growing drinks sector. It is a complex process and different materials and containers are required for a variety of beverages, such as alcohol or non-alcohol. Proper beverage package design and adoption extends the shelf life of beverages, is convenient for users, and saves material costs associated with waste. Also, the packaging materials used in beverages are glass, polymer, metal, cardboard, and combinations thereof. Depending on the shelf life of the beverage, the chemical composition of the beverage and the value of the beverage to be packaged, the use of other ingredients is determined.
Recent Developments in Beverage Packaging Industry:
In August 2019, Amcor Inc. reported that it has received front line plan innovation for the improvement of its first polyethylene terephthalate (PET) bottles.

In January 2019, Amcor Inc. announced that it launched a new capsule design that makes it easier to open the wine. This new type of packaging preserves the tradition of maintaining essential traditions for lovers of discrimination.
Beverage Packaging Market Growth:
The players in the beverage packaging industry are integrating smart systems to preserve the nutritional content of drinks, which is touted to fuel this business demand in the coming days.
REPORT COVERAGE:
| | |
| --- | --- |
| REPORT METRIC | DETAILS |
| Market Size Available | 2020 – 2026 |
| Base Year | 2020 |
| Forecast Period | 2021 - 2026 |
| CAGR | 6% |
| Segments Covered | By Technology, Application, Form and Region |
| Various Analyses Covered | Global, Regional & Country Level Analysis, Segment-Level Analysis, DROC, PESTLE Analysis, Porter's Five Forces Analysis, Competitive Landscape, Analyst Overview on Investment Opportunities |
| Regions Covered | North America, Europe, APAC, Latin America, Middle East & Africa |
| Market Leaders Profiled | Saint-Gobain S.A., Tetra Laval International S.A., Stora Enso Oyj, Owens-Illinois, Inc, Crown Holdings, Inc, Rexam PLC, Ball Corporation, Mondi PLC, Amcor Limited, Reynolds Group Holdings Limited, Alcoa Inc and Others. |
Drivers:
The beverage packaging market is primarily driven by rising disposable incomes for the middle-class population, along with rising beverage consumption in emerging countries. Current market trends are witnessing a growing trend in demand for beverages. Therefore, the market shows a brilliant opportunity for the beverage packaging industry. Additionally, market growth is accelerating as consumer health awareness, the development of new packaging materials, the recycling infrastructure for packaging materials, and consumer convenience increase. Major beverage packaging providers are focusing on acquiring local businesses to expand their business worldwide. As the interest for the expanded timeframe of realistic usability builds, drink producers have concentrated on creating practical and tough bundling arrangements that can lessen capacity expenses and supplement the refreshment bundling market. Changes in consumer preferences increase the usefulness of packaging materials to improve barriers to resistance, aroma retention, insulation, sealing, and moisture. As the demand for small packages has exploded, the demand for flexible bags and pouches has increased significantly. By integrating active and intelligent systems in beverage packaging, you can ensure a remarkable boost in the market. The hike in disposable income has promoted the demand for alcoholic drinks as the call for premium products raises. The global beverage packaging market is in high demand in the alcoholic and non-alcoholic beverages sector of emerging economies. The general market is also seeing growth due to the growing demand for functional beverages.
Due to the rapid urbanization of developing countries and the expansion of the middle-class population, lifestyles, such as increased drinking water, are changing. The development of the beverage packaging market is recognized as a major investment in technological expansion and upgrades. Low-cost drinks around the world need to be packaged in a certain way to enhance the character and aroma of the drink. Additionally, package design advertising is expected to increase overall demand and popularity with the ability to be easily transported. Today, beverage packaging companies focus on safely transporting devices that transport certain beverages to various retail outlets and displaying or stacking them in an attractive way to distinguish them from other brands on the market. Beverage packaging must also ensure that the maximum quantity can be transported on a particular trip without creating the possibility of leakage or product damage due to consumption. Today, the Internet savvy generation demands innovation in the packaging of almost any product, and this also applies to the drinks it consumes. The introduction of bio-plastics for beverage packaging and the development of plastic substitutes are expected to create favourable opportunities for growth in the beverage packaging market. The bio-plastic alternative, also known as bio-PET, is a polymer made from plant-based materials instead of petroleum-based materials. This allows bio-PET containers to decompose and reduce plastic contamination.
Restraints:
Strict environmental regulations related to the use of packaging materials can hinder the growth of the market. Due to strict environmental regulations, there is a growing demand for recyclable and environmentally friendly packaging materials. The ecological interest in the implementation of plastics, paper and metals as essential material for beverage packaging is a major concern of the packaging industry. In addition to the ecological problem, fluctuations in import tariffs as a result of trade wars are disrupting the international market.
Beverage Packaging Market Segmentation Analysis:
By Type:
By Material:
Glass

Plastic

Metal

Paperboard
By Application:
Alcoholic

Non-Alcoholic

Dairy
Geographical Segmentation Analysis:
North America - the United States and Canada

Europe - United Kingdom, Spain, Germany, Italy, and France

The Asia Pacific - India, Japan, China, Australia, Singapore, Malaysia, South Korea, New Zealand, and Southeast Asia

Latin America - Brazil, Argentina, Mexico, and Rest of LATAM

The Middle East and Africa - Africa and Middle East (Saudi Arabia, UAE, Lebanon, Jordan, Cyprus)
Regional Analysis:
Geographically, the Asia-Pacific region is expected to rank higher than other regions in the global beverage packaging market as the population grows. Increased beverage consumption and the benefits of using plastic packaging, such as easy disposal, a variety of packaging, and lightweight, can drive the growth of the beverage packaging market worldwide in the region. The Asia-Pacific region is highly likely to develop in the most promising countries. As the main manufacturing is done in China, the market represents almost 75% of retail packaging. In the Asia-Pacific region, the demand for beverages and therefore the demand for beverage containers is expected to grow faster due to increased imports and population movements in major countries such as rural areas, urban, Chinese and Japanese. India. Changes in lifestyle and the growing young population increase the demand for brands and packaging materials. At the same time, increased health awareness and an increased interest in environmental sustainability have revolutionized beverage packaging in the region. Furthermore, demand is increasing due to the consumption of mobile devices in countries such as India, China and Japan. In China and India, two countries with a large population, the demand for beverages is always higher and leads the beverage packaging market. North America is set to record the highest CAGR during the forecast period. The strong manufacturing base of global producers is expected to drive demand for plastic packaging. In addition, the rapid expansion of the North American beverage industry, due to the consumer's "moving" lifestyle, is likely to fuel regional market growth in the coming years.
Impact of Covid-19 on the Global Beverage Packaging Market:
The impact of Covid-19 pandemic has been felt in different verticals and beverage packaging is among one of those. With the extended lockdown in countries and shut down in industries, the revenue in the industry has seen the floor. The same trend is foreseen to continue in the future as consumers across the world would prefer to purchase fewer products from outside.
Key Players in the Market:
Major Key Players in the Global Beverage Packaging Market are
Saint-Gobain S.A.

Tetra Laval International S.A.

Stora Enso Oyj

Owens-Illinois, Inc.

Crown Holdings, Inc.

Rexam PLC

Ball Corporation

Mondi PLC

Amcor Limited

Reynolds Group Holdings Limited

Alcoa Inc.
1.Introduction
1.1 Market Definition
1.2 Study Deliverables
1.3 Base Currency, Base Year and Forecast Periods
1.4 General Study Assumptions
2. Research Methodology
2.1 Introduction
2.2 Research Phases
2.2.1 Secondary Research
2.2.2 Primary Research
2.2.3 Econometric Modelling
2.2.4 Expert Validation
2.3 Analysis Design
2.4 Study Timeline
3. Overview
3.1 Executive Summary
3.2 Key Inferences
3.3 Epidemology
4. Drivers, Restraints, Opportunities, and Challenges Analysis (DROC)
4.1 Market Drivers
4.2 Market Restraints
4.3 Key Challenges
4.4 Current Opportunities in the Market
5. Market Segmentation
5.1 Type
5.1.1 Introduction
5.1.2 Bottle
5.1.3 Can
5.1.4 Pouch
5.1.5 Carton
5.1.6 Y-o-Y Growth Analysis, By Type
5.1.7 Market Attractiveness Analysis, By Type
5.1.8 Market Share Analysis, By Type
5.2 Material
5.2.1 Introduction
5.2.2 Glass
5.2.3 Plastic
5.2.4 Metal
5.2.5 Paperboard
5.2.6 Y-o-Y Growth Analysis, By Material
5.2.7 Market Attractiveness Analysis, By Material
5.2.8 Market Share Analysis, By Material
5.3 Application
5.3.1 Introduction
5.3.2 Alcoholic
5.3.3 Non-Alcoholic
5.3.4 Dairy
5.3.5 Y-o-Y Growth Analysis, By Application
5.3.6 Market Attractiveness Analysis, By Application
5.3.7 Market Share Analysis, By Application
6. Geographical Analysis
6.1 Introduction
6.1.1 Regional Trends
6.1.2 Impact Analysis
6.1.3 Y-o-Y Growth Analysis
6.1.3.1 By Geographical Area
6.1.3.2 By Type
6.1.3.3 By Material
6.1.3.4 By Application
6.1.4 Market Attractiveness Analysis
6.1.4.1 By Geographical Area
6.1.4.2 By Type
6.1.4.3 By Material
6.1.4.4 By Application
6.1.5 Market Share Analysis
6.1.5.1 By Geographical Area
6.1.5.2 By Type
6.1.5.3 By Material
6.1.5.4 By Application
6.2 North America
6.1.1 Introduction
6.1.2 United States
6.1.3 Canada
6.3 Europe
6.2.1 Introduction
6.2.2 U.K
6.2.3 Spain
6.2.4 Germany
6.2.5 Italy
6.2.6 France
6.4 Asia-Pacific
6.3.1 Introduction
6.3.2 China
6.3.3 India
6.3.4 Japan
6.3.5 Australia
6.3.6 South Korea
6.5 Latin America
6.4.1 Introduction
6.4.2 Brazil
6.4.3 Argentina
6.4.4 Mexico
6.4.5 Rest of Latin America
6.6 Middle East & Africa
6.5.1 Introduction
6.5.2 Middle-East
6.5.3 Africa
7.Strategic Analysis
7.1 PESTLE analysis
7.1.1 Political
7.1.2 Economic
7.1.3 Social
7.1.4 Technological
7.1.5 Legal
7.1.6 Environmental
7.2 Porter's Five analysis
7.2.1 Bargaining Power of Suppliers
7.2.2 Bargaining Power of Consumers
7.2.3 Threat of New Entrants
7.2.4 Threat of Substitute Products and Services
7.2.5 Competitive Rivalry within the Industry
8.Market Leaders' Analysis
8.1 Saint-Gobain S.A.
8.1.1 Overview
8.1.2 Product Analysis
8.1.3 Financial analysis
8.1.4 Recent Developments
8.1.5 SWOT analysis
8.1.6 Analyst View
8.2 Tetra Laval International S.A.
8.3 Stora Enso Oyj
8.4 Owens-Illinois, Inc.
8.5 Crown Holdings, Inc.
8.6 Rexam PLC
8.7 Ball Corporation
8.8 Mondi PLC
8.9 Amcor Limited
8.10 Reynolds Group Holdings Limited
8.11 Alcoa Inc.
9.Competitive Landscape
9.1 Market share analysis
9.2 Merger and Acquisition Analysis
9.3 Agreements, collaborations and Joint Ventures
9.4 New Product Launches
10.Market Outlook and Investment Opportunities
Appendix
a) List of Tables
b) List of Figures
Global, regional and country-level analysis and forecasts of the study market; providing Insights on the major countries/regions in which this industry is blooming and to also identify the regions that are still untapped

The Segment-level analysis in terms of By Technology, Application, Form and along with market size forecasts and estimations to detect key areas of industry growth in detail

Identification of key drivers, restraints, opportunities, and challenges (DROC) in the market and their impact on shifting market dynamics

Study of the effect of exogenous and endogenous factors that affect the global market; which includes broadly demographic, economics, and political, among other macro-environmental factors presented in an extensive PESTLE Analysis

Study the micro environment factors that determine the overall profitability of an Industry, using Porter's five forces analysis for analysing the level of competition and business strategy development

A comprehensive list of key market players along with their product portfolio, current strategic interests, key financial information, legal issues, SWOT analysis and analyst overview to study and sustain the market environment

Competitive landscape analysis listing out the mergers, acquisitions, collaborations in the field along with new product launches, comparative financial studies and recent developments in the market by the major companies

An executive summary, abridging the entire report in such a way that decision-making personnel can rapidly become acquainted with background information, concise analysis and main conclusions

Expertly devised analyst overview along with Investment opportunities to provide both individuals and organizations a strong financial foothold in the market
Global Beverage Packaging Market By Region, From 2021-2026 ( USD Billion )

Global Beverage Packaging Market By Type, From 2021-2026 ( USD Billion )

Global Bottle Market By Region, From 2021-2026 ( USD Billion )

Global Can Market By Region, From 2021-2026 ( USD Billion )

Global Pouch Market By Region, From 2021-2026 ( USD Billion )

Global Carton Market By Region, From 2021-2026 ( USD Billion )

Global Beverage Packaging Market By Material, From 2021-2026 ( USD Billion )

Global Glass Market By Region, From 2021-2026 ( USD Billion )

Global Plastic Market By Region, From 2021-2026 ( USD Billion )

Global Metal Market By Region, From 2021-2026 ( USD Billion )

Global Paperboard Market By Region, From 2021-2026 ( USD Billion )

Global Beverage Packaging Market By Application, From 2021-2026 ( USD Billion )

Global Alcoholic Market By Region, From 2021-2026 ( USD Billion )

Global Non-Alcoholic Market By Region, From 2021-2026 ( USD Billion )

Global Dairy Market By Region, From 2021-2026 ( USD Billion )

North America Beverage Packaging Market By Type, From 2021-2026 ( USD Billion )

North America Bottle Market By Region, From 2021-2026 ( USD Billion )

North America Can Market By Region, From 2021-2026 ( USD Billion )

North America Pouch Market By Region, From 2021-2026 ( USD Billion )

North America Carton Market By Region, From 2021-2026 ( USD Billion )

North America Beverage Packaging Market By Material, From 2021-2026 ( USD Billion )

North America Glass Market By Region, From 2021-2026 ( USD Billion )

North America Plastic Market By Region, From 2021-2026 ( USD Billion )

North America Metal Market By Region, From 2021-2026 ( USD Billion )

North America Paperboard Market By Region, From 2021-2026 ( USD Billion )

North America Beverage Packaging Market By Application, From 2021-2026 ( USD Billion )

North America Alcoholic Market By Region, From 2021-2026 ( USD Billion )

North America Non-Alcoholic Market By Region, From 2021-2026 ( USD Billion )

North America Dairy Market By Region, From 2021-2026 ( USD Billion )

United States Beverage Packaging Market By Type, From 2021-2026 ( USD Billion )

United States Beverage Packaging Market By Material, From 2021-2026 ( USD Billion )

United States Beverage Packaging Market By Application, From 2021-2026 ( USD Billion )

Canada Beverage Packaging Market By Type, From 2021-2026 ( USD Billion )

Canada Beverage Packaging Market By Material, From 2021-2026 ( USD Billion )

Canada Beverage Packaging Market By Application, From 2021-2026 ( USD Billion )

Europe Beverage Packaging Market By Type, From 2021-2026 ( USD Billion )

Europe Bottle Market By Region, From 2021-2026 ( USD Billion )

Europe Can Market By Region, From 2021-2026 ( USD Billion )

Europe Pouch Market By Region, From 2021-2026 ( USD Billion )

Europe Carton Market By Region, From 2021-2026 ( USD Billion )

Europe Beverage Packaging Market By Material, From 2021-2026 ( USD Billion )

Europe Glass Market By Region, From 2021-2026 ( USD Billion )

Europe Plastic Market By Region, From 2021-2026 ( USD Billion )

Europe Metal Market By Region, From 2021-2026 ( USD Billion )

Europe Paperboard Market By Region, From 2021-2026 ( USD Billion )

Europe Beverage Packaging Market By Application, From 2021-2026 ( USD Billion )

Europe Alcoholic Market By Region, From 2021-2026 ( USD Billion )

Europe Non-Alcoholic Market By Region, From 2021-2026 ( USD Billion )

Europe Dairy Market By Region, From 2021-2026 ( USD Billion )

U.K. Beverage Packaging Market By Type, From 2021-2026 ( USD Billion )

U.K. Beverage Packaging Market By Material, From 2021-2026 ( USD Billion )

U.K. Beverage Packaging Market By Application, From 2021-2026 ( USD Billion )

Germany Beverage Packaging Market By Type, From 2021-2026 ( USD Billion )

Germany Beverage Packaging Market By Material, From 2021-2026 ( USD Billion )

Germany Beverage Packaging Market By Application, From 2021-2026 ( USD Billion )

France Beverage Packaging Market By Type, From 2021-2026 ( USD Billion )

France Beverage Packaging Market By Material, From 2021-2026 ( USD Billion )

France Beverage Packaging Market By Application, From 2021-2026 ( USD Billion )

Italy Beverage Packaging Market By Type, From 2021-2026 ( USD Billion )

Italy Beverage Packaging Market By Material, From 2021-2026 ( USD Billion )

Italy Beverage Packaging Market By Application, From 2021-2026 ( USD Billion )

Spain Beverage Packaging Market By Type, From 2021-2026 ( USD Billion )

Spain Beverage Packaging Market By Material, From 2021-2026 ( USD Billion )

Spain Beverage Packaging Market By Application, From 2021-2026 ( USD Billion )

Asia-Pacific Beverage Packaging Market By Type, From 2021-2026 ( USD Billion )

Asia-Pacific Bottle Market By Region, From 2021-2026 ( USD Billion )

Asia-Pacific Can Market By Region, From 2021-2026 ( USD Billion )

Asia-Pacific Pouch Market By Region, From 2021-2026 ( USD Billion )

Asia-Pacific Carton Market By Region, From 2021-2026 ( USD Billion )

Asia-Pacific Beverage Packaging Market By Material, From 2021-2026 ( USD Billion )

Asia-Pacific Glass Market By Region, From 2021-2026 ( USD Billion )

Asia-Pacific Plastic Market By Region, From 2021-2026 ( USD Billion )

Asia-Pacific Metal Market By Region, From 2021-2026 ( USD Billion )

Asia-Pacific Paperboard Market By Region, From 2021-2026 ( USD Billion )

Asia-Pacific Beverage Packaging Market By Application, From 2021-2026 ( USD Billion )

Asia-Pacific Alcoholic Market By Region, From 2021-2026 ( USD Billion )

Asia-Pacific Non-Alcoholic Market By Region, From 2021-2026 ( USD Billion )

Asia-Pacific Dairy Market By Region, From 2021-2026 ( USD Billion )

Japan Beverage Packaging Market By Type, From 2021-2026 ( USD Billion )

Japan Beverage Packaging Market By Material, From 2021-2026 ( USD Billion )

Japan Beverage Packaging Market By Application, From 2021-2026 ( USD Billion )

China Beverage Packaging Market By Type, From 2021-2026 ( USD Billion )

China Beverage Packaging Market By Material, From 2021-2026 ( USD Billion )

China Beverage Packaging Market By Application, From 2021-2026 ( USD Billion )

India Beverage Packaging Market By Type, From 2021-2026 ( USD Billion )

India Beverage Packaging Market By Material, From 2021-2026 ( USD Billion )

India Beverage Packaging Market By Application, From 2021-2026 ( USD Billion )

Australia Beverage Packaging Market By Type, From 2021-2026 ( USD Billion )

Australia Beverage Packaging Market By Material, From 2021-2026 ( USD Billion )

Australia Beverage Packaging Market By Application, From 2021-2026 ( USD Billion )

South Korea Beverage Packaging Market By Type, From 2021-2026 ( USD Billion )

South Korea Beverage Packaging Market By Material, From 2021-2026 ( USD Billion )

South Korea Beverage Packaging Market By Application, From 2021-2026 ( USD Billion )

Latin America Beverage Packaging Market By Type, From 2021-2026 ( USD Billion )

Latin America Bottle Market By Region, From 2021-2026 ( USD Billion )

Latin America Can Market By Region, From 2021-2026 ( USD Billion )

Latin America Pouch Market By Region, From 2021-2026 ( USD Billion )

Latin America Carton Market By Region, From 2021-2026 ( USD Billion )

Latin America Beverage Packaging Market By Material, From 2021-2026 ( USD Billion )

Latin America Glass Market By Region, From 2021-2026 ( USD Billion )

Latin America Plastic Market By Region, From 2021-2026 ( USD Billion )

Latin America Metal Market By Region, From 2021-2026 ( USD Billion )

Latin America Paperboard Market By Region, From 2021-2026 ( USD Billion )

Latin America Beverage Packaging Market By Application, From 2021-2026 ( USD Billion )

Latin America Alcoholic Market By Region, From 2021-2026 ( USD Billion )

Latin America Non-Alcoholic Market By Region, From 2021-2026 ( USD Billion )

Latin America Dairy Market By Region, From 2021-2026 ( USD Billion )

Brazil Beverage Packaging Market By Type, From 2021-2026 ( USD Billion )

Brazil Beverage Packaging Market By Material, From 2021-2026 ( USD Billion )

Brazil Beverage Packaging Market By Application, From 2021-2026 ( USD Billion )

Argentina Beverage Packaging Market By Type, From 2021-2026 ( USD Billion )

Argentina Beverage Packaging Market By Material, From 2021-2026 ( USD Billion )

Argentina Beverage Packaging Market By Application, From 2021-2026 ( USD Billion )

Mexico Beverage Packaging Market By Type, From 2021-2026 ( USD Billion )

Mexico Beverage Packaging Market By Material, From 2021-2026 ( USD Billion )

Mexico Beverage Packaging Market By Application, From 2021-2026 ( USD Billion )

Rest of Latin America Beverage Packaging Market By Type, From 2021-2026 ( USD Billion )

Rest of Latin America Beverage Packaging Market By Material, From 2021-2026 ( USD Billion )

Rest of Latin America Beverage Packaging Market By Application, From 2021-2026 ( USD Billion )

Middle East & Africa Beverage Packaging Market By Type, From 2021-2026 ( USD Billion )

Middle East & Africa Bottle Market By Region, From 2021-2026 ( USD Billion )

Middle East & Africa Can Market By Region, From 2021-2026 ( USD Billion )

Middle East & Africa Pouch Market By Region, From 2021-2026 ( USD Billion )

Middle East & Africa Carton Market By Region, From 2021-2026 ( USD Billion )

Middle East & Africa Beverage Packaging Market By Material, From 2021-2026 ( USD Billion )

Middle East & Africa Glass Market By Region, From 2021-2026 ( USD Billion )

Middle East & Africa Plastic Market By Region, From 2021-2026 ( USD Billion )

Middle East & Africa Metal Market By Region, From 2021-2026 ( USD Billion )

Middle East & Africa Paperboard Market By Region, From 2021-2026 ( USD Billion )

Middle East & Africa Beverage Packaging Market By Application, From 2021-2026 ( USD Billion )

Middle East & Africa Alcoholic Market By Region, From 2021-2026 ( USD Billion )

Middle East & Africa Non-Alcoholic Market By Region, From 2021-2026 ( USD Billion )

Middle East & Africa Dairy Market By Region, From 2021-2026 ( USD Billion )

Middle East Beverage Packaging Market By Type, From 2021-2026 ( USD Billion )

Middle East Beverage Packaging Market By Material, From 2021-2026 ( USD Billion )

Middle East Beverage Packaging Market By Application, From 2021-2026 ( USD Billion )

Africa Beverage Packaging Market By Type, From 2021-2026 ( USD Billion )

Africa Beverage Packaging Market By Material, From 2021-2026 ( USD Billion )

Africa Beverage Packaging Market By Application, From 2021-2026 ( USD Billion )