Gourmet Salt Market Growth and Forecast (2022 - 2027):
The global Gourmet Salt Market size was calculated to be USD 8 billion in 2021, and it is envisioned to reach USD 13 billion by the end of 2027 at a CAGR of 6.3% over the prediction time. The rapid urbanization of emerging economies and the changing lifestyle of consumers have increased the call for gourmet salt.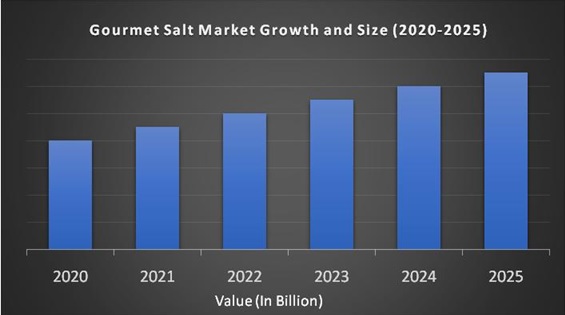 Market Overview:
Gourmet salt is a naturally harvested raw sea salt (primarily sea salt) that adds flavor and dressing to food. It also gives food an almost exotic flavor and moisture. It is a high-quality salt commonly used in cooking to improve the taste and attractiveness of food. Gourmet salt has a high mineral content and better solubility. It can be added to different types of spices and herbs to improve the aroma and color of the fragrance. Gourmet salt is not refined, but it is harvested naturally with relatively low sodium content and without additives. As exposure to global media and international trade rises, the awareness for a variety of dishes among consumers has risen. By using gourmet salt, chefs enhance their recipes by improvising and enhancing their sensual sensations, increasing their appeal. Gourmet salt is used in a variety of applications including seafood, bakery, confectionery, flavoring, and poultry. It is used to preserve canned foods to extend shelf life. 'Fleur de sel' is one of the most popular gourmet salts used in a variety of foods, such as grilled meat, vegetable dishes, and salads. Gourmet salt is also used to keep food longer to preserve canned food.
Recent Developments in Gourmet Salt Industry:
California Burbank has launched a new product called Double Salt Grinder and Pepper Mill to crush coarse salt to obtain the desired particle size.

May 2019 424 N.T. Salt announced that it would fire untreated salt into the Black Sea. Salt is rich in calcium and magnesium. Due to the low humidity of the Dead Sea, it is tasty, versatile and tasty.

Cargill Inc. recently started using a salt alternative for their soup and bread based processed foods.

True salt recently extended its product sale to other sea salts like cocktail Salts and Flake salts for commercial use.

South Korea based company Phyto Corporation Inc. recently launched a range of plant based salts made from the plant Salicornia which is an underwater plant.
REPORT COVERAGE:
| | |
| --- | --- |
| REPORT METRIC | DETAILS |
| Market Size Available | 2021 – 2027 |
| Base Year | 2021 |
| Forecast Period | 2022 - 2027 |
| CAGR | 6.3% |
| Segments Covered | By Type, Application and Region |
| Various Analyses Covered | Global, Regional & Country Level Analysis, Segment-Level Analysis, DROC, PESTLE Analysis, Porter's Five Forces Analysis, Competitive Landscape, Analyst Overview on Investment Opportunities |
| Regions Covered | North America, Europe, APAC, Latin America, Middle East & Africa |
| Market Leaders Profiled | Morton Salt, Inc, Saltworks, Inc, Murray River Gourmet Salt, Infosa, Alaska Pure, Cheetham Salt Ltd, Cargill Inc, Pyramid Salt Pty. Ltd, Maldon Crystal Salt Co, Amagansett Sea Salt Co and Others. |
Gourmet Salt Market Growth:
The global gourmet salt market has recorded a considerable growth rate in the last few years, and this development is supposed to rise over the determined period.
Drivers:
Growing demand in the food and beverage and foodservice industries is expected to lead the global gourmet salt market during the forecast period. They are unrefined sea salt that is harvested by hand and gives food a rich texture. Due to positive characteristics such as food flavor, color, unique taste, rich food shape and pleasant aroma, worldwide demand is supposed to show high growth in the coming years. They are widely used in canning and canned food applications as preservatives to increase shelf life. At the same time, it helps maintain the moisture content of the product. This use is expected to fuel the growth of the global gastronomic salt industry in the near future. Elevated health awareness and the onset of health disorders due to high levels of sodium in the body are assumed to spur market growth. Live cooking shows and other gourmet foods encourage the use of gourmet salt. The industry continues to seek innovative product launches and the adoption of new strategies to increase market profits.
Gourmet salt is seldom expensive and market availability is limited, limiting the market growth. Gourmet salt is also applied to dressings and condiments. International culture has created a demand for traditional cuisine in large cities, and as a result, the application of gourmet salt has increased. This is due to the special flavor that allows you to mix traditional flavors and flavors in your food. This salt also gained popularity among professional chefs in luxury hotels. Gourmet salt also has a high-yield margin for retailers due to its readily available and cost-effective mobile doorbell and acts as a market driver. As the number of gourmet restaurants increases over the past five years worldwide, it is having a positive impact on the gourmet salt market. The growing wave of westernization and the increasing popularity of natural or organic foods are key factors driving the gourmet market worldwide. As consumer tastes for specialty and artisanal foods develop, the increasing willingness of consumers to spend high prices on gourmet foods favors industrial growth. Emerging gourmet restaurants around the world are expected to become a key opportunity for global industrial growth. The growth of cooking and food programs is also presumed to set with growth prospects for the near future.
Restraints:
Compared to other sea salts, infusion, smoked, and fresh natural products are expected to reduce the shelf life of gourmet salt, limiting the growth of the gourmet salt market during the outlook period. Since these salts have a delicate flavor, they are expected to retain their aroma for a long time, thus inhibiting the growth of the gourmet salt business. Machinery and labor costs are also expected to hamper the expansion of the global gourmet salt market. Furthermore, a lack of awareness about the health benefits of gourmet salt in developing countries is estimated to hamper market growth during the projection period. Additionally, due to the high price, manufacturers are opting for the growth of the gourmet salt market by choosing existing salts that are expected to affect the demand for gourmet salt.
Impact of COVID-19 on Gourmet Salt Market:
The COVID-19 pandemic has affected almost all the markets across the world due to the travel restrictions, closing down of stores and shutting down of small businesses permanently. The major demand for gourmet salts was based on the bakery and confectionary businesses which consisted of a major part of small businesses. Unfortunately, due to the lockdown impositions in many countries, small businesses have closed down to cut their losses. Moreover, people across many countries have become more conscious about their dietary intake and have decided to opt for vegetarianism due to the ill-impact of meat that caused the pandemic. This has led to a decreased consumption of meat and poultry products especially in the Asia Pacific region. Since meat and poultry was also a major contributor to the gourmet salts market, this factor also lead to a major blow in the demand for gourmet salts. Additionally, the lockdown impositions led to temporary or major shut down of fine dining restaurants especially in Europe since the pandemic affected countries like France and Italy majorly. Since the food industry suffered a blow, its direct impacts can be seen on the gourmet salts market as well.
Gourmet Salt Market Segmentation Analysis:
By Type:
Fleur de Sel

Sel Gris

Himalayan Salt

Flake Salt

Specialty Salt
By Application:
Bakery & Confectionery

Meat & Poultry Products

Seafood Products

Sauces & Savory
Geographical Segmentation Analysis:
North America - the United States and Canada

Europe - United Kingdom, Spain, Germany, Italy, and France

The Asia Pacific - India, Japan, China, Australia, Singapore, Malaysia, South Korea, New Zealand, and Southeast Asia

Latin America - Brazil, Argentina, Mexico, and Rest of LATAM

The Middle East and Africa - Africa and Middle East (Saudi Arabia, UAE, Lebanon, Jordan, Cyprus)
Regional Analysis:
Europe was the largest consumer and manufacturer of products due to the demand for processed foods in European countries, including Germany, France, Spain and Italy. Western Europe is considered as the most abundant and fastest-growing market for gourmet salt. It is the largest producer and consumer of gourmet salt. The high demand for processed foods is driving the market mainly in countries such as Italy, Germany, Spain and France. North America is anticipated to witness growth in the near future due to the preferences of American consumers and strict regulatory changes in food. Key factors driving the market in the Asia Pacific region include better living standards, health-conscious behavior, emerging economies, and the food and beverage industry. Asia-Pacific is foreseen to grow significantly in the coming years due to emerging economies, rising living standards, an increase in demand for processed foods, and advances in the food and beverage industry, driven by health-conscious behavior.
Key Players in the Market:
Major Key Players in the Global Gourmet Salt Market are
Morton Salt, Inc

Saltworks, Inc

Murray River Gourmet Salt

Infosa

Alaska Pure

Cheetham Salt Ltd

Cargill Inc

Pyramid Salt Pty. Ltd

Maldon Crystal Salt Co

Amagansett Sea Salt Co
1. Introduction
1.1 Market Definition
1.2 Study Deliverables
1.3 Base Currency, Base Year and Forecast Periods
1.4 General Study Assumptions
2. Research Methodology
2.1 Introduction
2.2 Research Phases
2.2.1 Secondary Research
2.2.2 Primary Research
2.2.3 Econometric Modelling
2.2.4 Expert Validation
2.3 Analysis Design
2.4 Study Timeline
3. Overview
3.1 Executive Summary
3.2 Key Inferences
4. Drivers, Restraints, Opportunities, and Challenges Analysis (DROC)
4.1 Market Drivers
4.2 Market Restraints
4.3 Key Challenges
4.4 Current Opportunities in the Market
5. Market Segmentation
5.1 By type
5.1.1 Fleur de Sel
5.1.2 Sel Gris
5.1.3 Himalayan Salt
5.1.4 Flake Salt
5.1.5 Specialty Salt
5.2 By Application
5.2.1 Bakery & Confectionery
5.2.2 Meat & Poultry Products
5.2.3 Seafood Products
5.2.4 Sauces & Savory
6. Geographical Analysis
6.1 North America
6.1.1 Introduction
6.1.2 United States
6.1.3 Canada
6.2 Europe
6.2.1 Introduction
6.2.2 U.K
6.2.3 Spain
6.2.4 Germany
6.2.5 Italy
6.2.6 France
6.3 Asia-Pacific
6.3.1 Introduction
6.3.2 China
6.3.3 India
6.3.4 Japan
6.3.5 South Korea
6.4 Latin America
6.4.1 Introduction
6.4.2 Brazil
6.4.3 Mexico
6.4.4 Rest of Latin America
6.5 Middle East & Africa
6.5.1 Introduction
6.5.2 Middle-East
6.5.3 Africa
7. Strategic Analysis
7.1 PESTLE analysis
7.1.1 Political
7.1.2 Economic
7.1.3 Social
7.1.4 Technological
7.1.5 Legal
7.1.6 Environmental
7.2 Porter's Five analysis
7.2.1 Bargaining Power of Suppliers
7.2.2 Bargaining Power of Consumers
7.2.3 Threat of New Entrants
7.2.4 Threat of Substitute Products and Services
7.2.5 Competitive Rivalry within the Industry
8. Market Leaders' Analysis
8.1 Morton Salt, Inc.
8.1.1 Overview
8.1.2 Product Analysis
8.1.3 Strategic Evaluation and Operations
8.1.4 Financial analysis
8.1.5 Legal issues
8.1.6 Recent Developments
8.1.7 SWOT analysis
8.1.8 Analyst View
8.2 Saltworks, Inc.
8.3 Murray River Gourmet Salt
8.4 Infosa
8.5 Alaska Pure
8.6 Cheetham Salt Ltd.
8.7 Cargill Inc.
8.8 Pyramid Salt Pty. Ltd.
8.9 Maldon Crystal Salt Co.
8.10 Amagansett Sea Salt Co.
9. Competitive Landscape
9.1 Market share analysis
9.2 Merger and Acquisition Analysis
9.3 Agreements, collaborations and Joint Ventures
9.4 New Product Launches
10. Market Outlook & Investmment Oppurtunities
Appendix
a) List of Tables
b) List of Figures
Global Gourmet Salt Market By Region, From 2022 - 2027 (USD Million)

Global Gourmet Salt Market By Type, From 2022 - 2027 (USD Million)

Global Fleur de Sel Gourmet salt Market By Region, From 2022 - 2027 (USD Million)

Global Sel Gris Gourmet salt Market By Region, From 2022 - 2027 (USD Million)

Global Himalayan Salt Gourmet salt Market By Region, From 2022 - 2027 (USD Million)

Global Flake Salt Gourmet salt Market By Region, From 2022 - 2027 (USD Million)

Global Specialty Salt Gourmet salt Market By Region, From 2022 - 2027 (USD Million)

Global Gourmet Salt Market By Application, From 2022 - 2027 (USD Million)

Global Bakery & Confectionery Gourmet salt Market By Region, From 2022 - 2027 (USD Million)

Global Meat & Poultry Products Gourmet salt Market By Region, From 2022 - 2027 (USD Million)

Global Seafood Products Gourmet salt Market By Region, From 2022 - 2027 (USD Million)

Global Sauces & Savory Gourmet salt Market By Region, From 2022 - 2027 (USD Million)

North America Gourmet Salt Market By Region, From 2022 - 2027 (USD Million)

North America Gourmet Salt Market By Type, From 2022 - 2027 (USD Million)

North America Fleur de Sel Gourmet salt Market By Region, From 2022 - 2027 (USD Million)

North America Sel Gris Gourmet salt Market By Region, From 2022 - 2027 (USD Million)

North America Himalayan Salt Gourmet salt Market By Region, From 2022 - 2027 (USD Million)

North America Flake Salt Gourmet salt Market By Region, From 2022 - 2027 (USD Million)

North America Specialty Salt Gourmet salt Market By Region, From 2022 - 2027 (USD Million)

North America Gourmet Salt Market By Application, From 2022 - 2027 (USD Million)

North America Bakery & Confectionery Gourmet salt Market By Region, From 2022 - 2027 (USD Million)

North America Meat & Poultry Products Gourmet salt Market By Region, From 2022 - 2027 (USD Million)

North America Seafood Products Gourmet salt Market By Region, From 2022 - 2027 (USD Million)

North America Sauces & Savory Gourmet salt Market By Region, From 2022 - 2027 (USD Million)

Europe Gourmet Salt Market By Region, From 2022 - 2027 (USD Million)

Europe Gourmet Salt Market By Type, From 2022 - 2027 (USD Million)

Europe Fleur de Sel Gourmet salt Market By Region, From 2022 - 2027 (USD Million)

Europe Sel Gris Gourmet salt Market By Region, From 2022 - 2027 (USD Million)

Europe Himalayan Salt Gourmet salt Market By Region, From 2022 - 2027 (USD Million)

Europe Flake Salt Gourmet salt Market By Region, From 2022 - 2027 (USD Million)

Europe Specialty Salt Gourmet salt Market By Region, From 2022 - 2027 (USD Million)

Europe Gourmet Salt Market By Application, From 2022 - 2027 (USD Million)

Europe Bakery & Confectionery Gourmet salt Market By Region, From 2022 - 2027 (USD Million)

Europe Meat & Poultry Products Gourmet salt Market By Region, From 2022 - 2027 (USD Million)

Europe Seafood Products Gourmet salt Market By Region, From 2022 - 2027 (USD Million)

Europe Sauces & Savory Gourmet salt Market By Region, From 2022 - 2027 (USD Million)

Asia-Pacific Gourmet Salt Market By Region, From 2022 - 2027 (USD Million)

Asia-Pacific Gourmet Salt Market By Type, From 2022 - 2027 (USD Million)

Asia-Pacific Fleur de Sel Gourmet salt Market By Region, From 2022 - 2027 (USD Million)

Asia-Pacific Sel Gris Gourmet salt Market By Region, From 2022 - 2027 (USD Million)

Asia-Pacific Himalayan Salt Gourmet salt Market By Region, From 2022 - 2027 (USD Million)

Asia-Pacific Flake Salt Gourmet salt Market By Region, From 2022 - 2027 (USD Million)

Asia-Pacific Specialty Salt Gourmet salt Market By Region, From 2022 - 2027 (USD Million)

Asia-Pacific Gourmet Salt Market By Application, From 2022 - 2027 (USD Million)

Asia-Pacific Bakery & Confectionery Gourmet salt Market By Region, From 2022 - 2027 (USD Million)

Asia-Pacific Meat & Poultry Products Gourmet salt Market By Region, From 2022 - 2027 (USD Million)

Asia-Pacific Seafood Products Gourmet salt Market By Region, From 2022 - 2027 (USD Million)

Asia-Pacific Sauces & Savory Gourmet salt Market By Region, From 2022 - 2027 (USD Million)

Latin America Gourmet Salt Market By Region, From 2022 - 2027 (USD Million)

Latin America Gourmet Salt Market By Type, From 2022 - 2027 (USD Million)

Latin America Fleur de Sel Gourmet salt Market By Region, From 2022 - 2027 (USD Million)

Latin America Sel Gris Gourmet salt Market By Region, From 2022 - 2027 (USD Million)

Latin America Himalayan Salt Gourmet salt Market By Region, From 2022 - 2027 (USD Million)

Latin America Flake Salt Gourmet salt Market By Region, From 2022 - 2027 (USD Million)

Latin America Specialty Salt Gourmet salt Market By Region, From 2022 - 2027 (USD Million)

Latin America Gourmet Salt Market By Application, From 2022 - 2027 (USD Million)

Latin America Bakery & Confectionery Gourmet salt Market By Region, From 2022 - 2027 (USD Million)

Latin America Meat & Poultry Products Gourmet salt Market By Region, From 2022 - 2027 (USD Million)

Latin America Seafood Products Gourmet salt Market By Region, From 2022 - 2027 (USD Million)

Latin America Sauces & Savory Gourmet salt Market By Region, From 2022 - 2027 (USD Million)

Middle East & Africa Gourmet Salt Market By Region, From 2022 - 2027 (USD Million)

Middle East & Africa Gourmet Salt Market By Type, From 2022 - 2027 (USD Million)

Middle East & Africa Fleur de Sel Gourmet salt Market By Region, From 2022 - 2027 (USD Million)

Middle East & Africa Sel Gris Gourmet salt Market By Region, From 2022 - 2027 (USD Million)

Middle East & Africa Himalayan Salt Gourmet salt Market By Region, From 2022 - 2027 (USD Million)

Middle East & Africa Flake Salt Gourmet salt Market By Region, From 2022 - 2027 (USD Million)

Middle East & Africa Specialty Salt Gourmet salt Market By Region, From 2022 - 2027 (USD Million)

Middle East & Africa Gourmet Salt Market By Application, From 2022 - 2027 (USD Million)

Middle East & Africa Bakery & Confectionery Gourmet salt Market By Region, From 2022 - 2027 (USD Million)

Middle East & Africa Meat & Poultry Products Gourmet salt Market By Region, From 2022 - 2027 (USD Million)

Middle East & Africa Seafood Products Gourmet salt Market By Region, From 2022 - 2027 (USD Million)

Middle East & Africa Sauces & Savory Gourmet salt Market By Region, From 2022 - 2027 (USD Million)