Pea Protein Market Size, Growth, Forecast (2023-2028)
The Global Pea Protein Market Size was worth US$ 215.5 million in 2022, and it is estimated to reach a valuation of US$ 385.7 million by the end of 2028, recording an annual growth rate of 7.6% between 2023 and 2028.
Market Overview:
Protein powder is available in a variety of forms, such as whey protein, brown rice protein powder, soy protein, and pea protein. However, pea protein is becoming increasingly popular due to its high nutrient content and numerous applications in the food and beverage industry. Pea protein products can replace most other proteins in a wide range of foods without affecting the taste, color, or texture of the product, and in some cases can save money. Pea protein is preferred over others as it is gluten-free and daily. It is easy to digest and does not cause bloating. Pea protein is particularly useful for many medical applications, such as maintaining healthy muscles, controlling weight, strengthening metabolism, regulating blood sugar, improving blood circulation, and calcium absorption. As a result, it is gradually increasing as an essential alternative to other available forms of protein.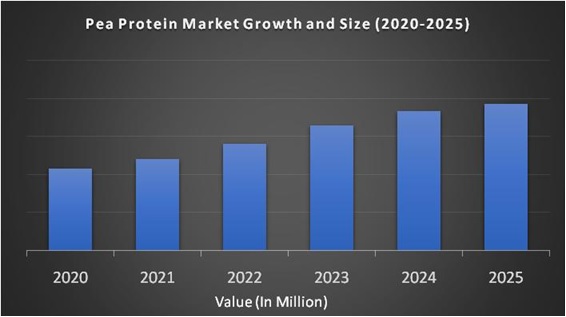 Recent Developments in Pea Protein Industry:
In January 2019, the ice cream brand Magnum announced the launch of vegan ice cream. Cocoa beans are purchased from the Rainforest Alliance Certified Farms. Ice cream is an alternative to dairy products, made only from pea protein.

In January 2019, Safe + Fair Foods Company launched a line of allergy-free pea protein chip products.

In October 2019, COSUCRA opened a second pea processing plant in Aarhus, Denmark. The opening is part of a € 60 million investment in Belgium and Denmark to strengthen COSUCRA's position in the fast-growing market as the European leader in premium pea protein and natural dietary fiber.

In December 2019, the Emsland Group (Germany) launched two new pea protein ingredients to suit food applications like beverages, ice cream, desserts and more. Two new protein isolates are designed to be incorporated into functional and healthy foods.

In January 2020, RouquetteFreres, France, signed a multi-year partnership with Beyond Meat (USA) to supply pea protein to Beyond Meat's line of vegetable meat products. The association is expected to increase the supply of RoquetteFreres' pea protein to partner company Beyond Meat.
REPORT COVERAGE:
| | |
| --- | --- |
| REPORT METRIC | DETAILS |
| Market Size Available | 2022 – 2028 |
| Base Year | 2022 |
| Forecast Period | 2023 - 2028 |
| CAGR | 7.6% |
| Segments Covered | By Type, Application and Region |
| Various Analyses Covered | Global, Regional & Country Level Analysis, Segment-Level Analysis, DROC, PESTLE Analysis, Porter's Five Forces Analysis, Competitive Landscape, Analyst Overview on Investment Opportunities |
| Regions Covered | North America, Europe, APAC, Latin America, Middle East & Africa |
| Market Leaders Profiled | A&B Ingredients, Consucra-Groupe Warcoing, Axiom Foods, Inc, Burcon NutraScience Ltd, Roquette Freres, Nutri-Pea Limited and Others. |
Pea Protein Market Growth:
Trends in spending on prepared foods in developing countries and the multifunctional nature of pea protein are vital factors that are supposed to drive growth in the global pea protein market during the projection period.
Drivers:
As meat substitutes become more popular, concerns about lactose intolerance in adults, along with increased demand for gluten-free products, are expected to drive demand for pea protein. As awareness of nutritional improvement increases, the importance of dietary supplements increases and is assumed to have a beneficial impact on the market. The demand for pea protein powder is likely to increase as the importance of protein intake for vegetarians increases. As concerns about dairy and meat allergies increase, the need for protein-fortified foods is presumed to grow in the near future. As concern about meat-related cardiovascular disease increases, the importance of a flexible diet in most of the areas is suspected of remaining a favorable factor in promoting the market growth. Also, as awareness of the side effects associated with foods containing gluten and lactose increases, it is likely to play an essential role in improving product demand.
Increased consumption of grains, including soybeans and canola, to produce biologically based chemicals is expected to reduce their solubility as a protein component. As a result, this product is scheduled to appear as a significant ingredient among food and beverage manufacturers, closely related to Canada, a producer of yellow peas. The increased application of frozen bread in the retail market is expected to play a decisive role in increasing the production of baking products that will fuel demand for products in the near future. A key factor driving global market demand for pea proteins is changes in the consumer's lifestyle. Demand for pea protein markets around the world is increasing by adopting a healthier lifestyle as consumers around the world become more interested in health and wellness.
Furthermore, as interest in lactose intolerance levels increases, the world market demand for pea protein increases. The expansion of the functional food industry and the growing demand for gluten-free products are driving the global pea protein market. Additionally, increased consumption of meat substitutes, increased interest in lactose intolerance levels, and an optimistic outlook for the sports nutrition market are some of the critical drivers of the global pea protein market.
Restraints:
Low consumer awareness of pea protein is an essential factor impeding the growth of the global pea protein market. Consumers are not yet aware of the positive effects of pea protein. Along with the growing demand for other vegetable proteins, the expensiveness in pea protein is also limiting the market. The high availability of different sources of plant-based protein, such as soy products with similar benefits, can be a problem for industrial profitability and impede the growth of the pea protein market.
Pea Protein Market Segmentation Analysis:
By Type:
Concentrated

Isolated

Textured
By Application:
Snacks and Bakery products

Meat extenders

Meat substitute

Food & Beverages

Other food application
Pea Protein Market Geographical Segmentation Analysis:
North America - the United States and Canada

Europe - United Kingdom, Spain, Germany, Italy, and France

The Asia Pacific - India, Japan, China, Australia, Singapore, Malaysia, South Korea, New Zealand, and Southeast Asia

Latin America - Brazil, Argentina, Mexico, and Rest of LATAM

The Middle East and Africa - Africa and Middle East (Saudi Arabia, UAE, Lebanon, Jordan, Cyprus)
Regional Analysis:
North America was the largest consumer, with 42.7% of the global share in 2019. The highest demand for gluten-free items in the United States, strong growth in the sports nutrition industry, and growing concern about cardiovascular disease caused meat consumption are essential factors that have a positive impact on growth. Significant increases in production in the food processing sector in Mexico are expected due to increased imports of machinery to facilitate the application of baked and processed meats, and consequently baked goods and meat products.
Europe was the second-largest consumer in 2019. It is supposed to lead the local market as concerns about lactose intolerance have increased along with changes in consumer orientation of plant products. However, stagnant growth in the food and beverage industry in key markets such as Germany, France and the UK will continue to be a deterrent during the forecast period due to rising utility costs coupled with stringent environmental regulations to limit the production.
The Asia Pacific region is assumed to show the fastest CAGR of 8.9% by volume during the forecast period. Significant gains from functional food imports from Japan, China and India, are expected to remain favorable factors for the forecast years. In addition, along with the expansion of the retail chain, hotel and restaurant industry arrangements, supermarkets are expected to play an essential role in promoting the growth of the food and beverage industry. As a result, positive prospects for the food and beverage industries in countries such as China and India are foreseen to increase demand for pea protein ingredients.
Latin America, the Middle East and Africa are likely to witness the growth of emerging markets in the coming years. The positive prospects for the sports nutrition sector in Brazil, Chile and Argentina are anticipated to provide a significant range for industrial improvement in Latin America during the forecast period.
Key Players in the Market:
Major Key Players in the Global Pea Protein Market are
A&B Ingredients

Consucra-Groupe Warcoing

Axiom Foods, Inc

Burcon NutraScience Ltd

Roquette Freres

Nutri-Pea Limited