Graph Analytics Market Size & Growth (2019 – 2026)
The global market size of the Graph Analytics reached US $660 million in 2018 and will reach US $3,731 million by 2026, with an average annual growth of 34.0% from 2019 to 2026.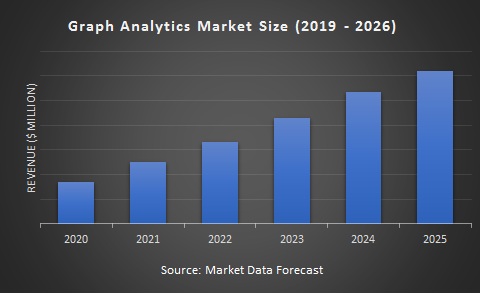 The increase in the adoption of Graph Analytics software in the health sector, the need for better response times and accuracy to discover new data correlations, and the rise in penetration of linked data to optimize marketing performance are the factors that promote growth in the global Graph Analytics market.
Graph Analytics is a type of NoSQL database that uses graphical hypotheses to store, guide and query relationships. The Graph Analytics collects nodes and borders by default. Each node represents a substance (for example, an individual or company), and each edge represents a connection or relationship between two nodes. Each node in the Graph Analytics has a unique identifier, an array of active borders and a set of properties that communicate through a set of incoming borders and key values.
REPORT COVERAGE:
| | |
| --- | --- |
| REPORT METRIC | DETAILS |
| Market Size Available | 2018 – 2026 |
| Base Year | 2018 |
| Forecast Period | 2019 - 2026 |
| Fastest Growing Market | Asia Pacific |
| Largest Market | North America |
| CAGR | 34.0% |
| Segments Covered | Component, Deployment Mode, Organization Size, Application, Vertical, and Region |
| Various Analyses Covered | Global, Regional & Country Level Analysis, Segment-Level Analysis, DROC, PESTLE Analysis, Porter's Five Forces Analysis, Competitive Landscape, Analyst Overview on Investment Opportunities |
| Regions Covered | North America, Europe, APAC, Latin America, Middle East & Africa |
| Market Leaders Profiled | IBM, Oracle Corporation, Neo Technology, Inc., DataStax, Inc., Franz Inc, Objectivity, Inc, ArangoDB GmbH, OrientDB LTD, Sparsity Technologies and Sirma AI |
Recent Developments and Trends
In September 2019, Amazon Web Services announced Amazon QuickSight, which is rich in new features. These new features configure the types of Word Cloud graphics to send email alerts for anomalies, better represent category fields and allow better asset organization.
In May 2019, Microsoft Corporation released the Microsoft Graph update. It is a service that combines commercial customer data with analytical data from a Microsoft Graph.
Market Drivers
The global graph analysis market is estimated to be driven by the growing demand for low-latency query analysis and the stricter integration of advanced technologies such as the Internet of things and artificial intelligence. In addition, graph analysis capabilities that represent relationships between real-time or near real-time data will benefit the global market. Graph analysis has become especially popular among sellers and has become an essential technology for data management in several companies. It offers many advantages over other complex and large data problems compared to other analytical solutions for relational databases. It helps a relational database handle complex sets that cannot be efficiently traversed between relationships.
Market Restraints
On the other hand, the lack of technology can hinder the expansion of the global graph analytics market. Also, the high upfront costs are estimated to curb the development of the worldwide marketplace.
This global market research report is segmented and sub-segmented into the following categories:
Graph Analytics Market - By Component:
Based on the component, the global graph analytics market is majorly divided into Solutions and Services. Of these two, the services segment is predicted to account for the leading share in the coming years. The rising demand for graph analytics software tools and platform plays a vital role in the growth of this segment. System integration, support and maintenance, consulting and others are some of the prominent services.
Graph Analytics Market - By Deployment Mode:
Based on the deployment mode, the global graph analytics market is bifurcated as On-Premise and Cloud. Of these, the cloud segment holds the dominant revenue share compared to the on-premise deployment. It is also expected to propel in the forecast period due to its humungous advantages like cost-efficiency, easy maintenance, remote access, scalability, reliability, and fewer expenses.
Graph Analytics Market - By Organization Size:
Based on the organization size, the global graph analytics market has been segmented as Large Enterprises and Small and Medium Enterprises (SMEs). Among these two, the large enterprise segment is anticipated to account for the leading portion in the world market due to the high volumes of data generated and the need for real-time graph analytics software tools. However, the SMEs segment is likely to expand at a noteworthy CAGR in the coming years, owing to the increasing investments in cloud deployment and maintenance services.
Graph Analytics Market - By Application:
Based on the applications, the global market is separated into Route Optimization and Fraud Detection. The fraud detection section has been witnessing huge demand from different end-user verticals like healthcare, information technology, banking, etc. However, the route optimization segment is likely to register more growth in the coming years due to rising demand from industries like transportation and logistics, retail and eCommerce, and others.
Graph Analytics Market - By Vertical:
Based on the vertical, the global market is divided as Healthcare and Lifesciences, Telecom, Government and Public Sector, Retail and E-Commerce, Transportation and Logistics, BFSI and Others. Among these, the healthcare and life science segment is predicted to witness the highest CAGR in the foreseen years because of the increasing preference for customized treatments, need for anomaly detection, and preference for better customer experience.
Regional Analysis
In the global graph analytics market, North America grabbed the largest market share due to the increasing use of big data technologies. Besides, real-time analysis of multiple companies and increasing investments in large amounts of data in all industries is expected to support market growth in this area.
Nevertheless, the Asia-Pacific region is projected to expand at the highest growth rate in the world market during the forecast period. This growth in APAC can be attributed to the increasing adoption of advanced technologies like AI, Big Data, etc., rising investments in economies like China, Japan, India, etc., shift towards digitalization, and favorable government initiatives.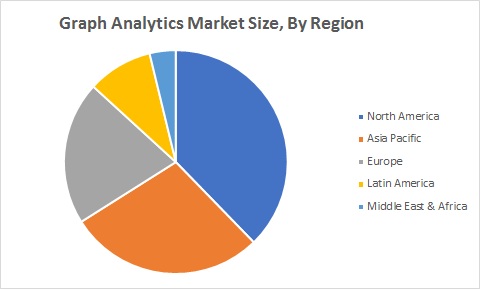 Key Players
Famous companies in the Graph Analytics market include IBM, Oracle Corporation, Neo Technology, Inc., DataStax, Inc., Franz Inc, Objectivity, Inc, ArangoDB GmbH, OrientDB LTD, Sparsity Technologies and Sirma AI.
1. Introduction
1.1 Market Definition
1.2 Scope of the report
1.3 Study Assumptions
1.4 Base Currency, Base Year and Forecast Periods
2. Research Methodology
2.1 Analysis Design
2.2 Research Phases
2.2.1 Secondary Research
2.2.2 Primary Research
2.2.3 Data Modelling
2.2.4 Expert Validation
2.3 Study Timeline
3. Report Overview
3.1 Executive Summary
3.2 Key Inferencees
4. Market Dynamics
4.1 Impact Analysis
4.1.1 Drivers
4.1.2 Restaints
4.1.3 Opportunities
4.2 Regulatory Environment
4.3 Technology Timeline & Recent Trends
5. Competitor Benchmarking Analysis
5.1 Key Player Benchmarking
5.1.1 Market share analysis
5.1.2 Products/Service
5.1.3 Regional Presence
5.2 Mergers & Acquistion Landscape
5.3 Joint Ventures & Collaborations
6. Market Segmentation
6.1 Graph Analytics Market, By Component
6.1.1 Solutions
6.1.2 Services
6.1.3 Market Size Estimations & Forecasts (2019-2024)
6.1.4 Y-o-Y Growth Rate Analysis
6.1.5 Market Attractiveness Index
6.2 Graph Analytics Market, By Deployment Mode
6.2.1 On-Premise
6.2.2 Cloud
6.2.3 Market Size Estimations & Forecasts (2019-2024)
6.2.4 Y-o-Y Growth Rate Analysis
6.2.5 Market Attractiveness Index
6.3 Graph Analytics Market, By Organization Size
6.3.1 Large Enterprises
6.3.2 Small and Medium Enterprises
6.3.3 Market Size Estimations & Forecasts (2019-2024)
6.3.4 Y-o-Y Growth Rate Analysis
6.3.5 Market Attractiveness Index
6.4 Graph Analytics Market, By Application
6.4.1 Route Optimization
6.4.2 Fraud Detection
6.4.3 Market Size Estimations & Forecasts (2019-2024)
6.4.4 Y-o-Y Growth Rate Analysis
6.4.5 Market Attractiveness Index
6.5 Graph Analytics Market, By Vertical
6.5.1 Healthcare and Lifesciences
6.5.2 BFSI
6.5.3 Transportation and Logistics
6.5.4 Government and Public Sector
6.5.5 Telecom
6.5.6 Retail and E-Commerce
6.5.7 Market Size Estimations & Forecasts (2019-2024)
6.5.8 Y-o-Y Growth Rate Analysis
6.5.9 Market Attractiveness Index
7. Geographical Landscape
7.1 Global Identity Governance and Administration Market, by Region
7.2 North America - Market Analysis (2018 - 2024)
7.2.1 By Country
7.2.1.1 USA
7.2.1.2 Canada
7.2.2 By Component
7.2.3 By Deployment Mode
7.2.4 By Organization Size
7.2.5 By Application
7.2.6 By Vertical
7.3 Europe
7.3.1 By Country
7.3.1.1 UK
7.3.1.2 France
7.3.1.3 Germany
7.3.1.4 Spain
7.3.1.5 Italy
7.3.1.6 Rest of Europe
7.3.2 By Component
7.3.3 By Deployment Mode
7.3.4 By Organization Size
7.3.5 By Application
7.3.6 By Vertical
7.4 Asia Pacific
7.4.1 By Country
7.4.1.1 China
7.4.1.2 India
7.4.1.3 Japan
7.4.1.4 South Korea
7.4.1.5 South East Asia
7.4.1.6 Australia & NZ
7.4.1.7 Rest of Asia-Pacific
7.4.2 By Component
7.4.3 By Deployment Mode
7.4.4 By Organization Size
7.4.5 By Application
7.4.6 By Vertical
7.5 Latin America
7.5.1 By Country
7.5.1.1 Brazil
7.5.1.2 Argentina
7.5.1.3 Mexico
7.5.1.4 Rest of Latin America
7.5.2 By Component
7.5.3 By Deployment Mode
7.5.4 By Organization Size
7.5.5 By Application
7.5.6 By Vertical
7.6 Middle East and Africa
7.6.1 By Country
7.6.1.1 Middle East
7.6.1.2 Africa
7.6.2 By Component
7.6.3 By Deployment Mode
7.6.4 By Organization Size
7.6.5 By Application
7.6.6 By Vertical
8. Key Player Analysis
8.1 IBM
8.1.1 Business Description
8.1.2 Products/Service
8.1.3 Financials
8.1.4 SWOT Analysis
8.1.5 Recent Developments
8.1.6 Analyst Overview
8.2 Oracle Corporation
8.3 Neo Technology, Inc.
8.4 DataStax, Inc.
8.5 Franz Inc.
8.6 Objectivity, Inc.
8.7 ArangoDB GmbH
8.8 OrientDB Ltd
8.9 Sparsity Technologies
8.10 Sirma AI
9. Market Outlook & Investment Opportunities
Appendix
List of Tables
List of Figures
Global, regional, and country-level analysis and forecasts of the study market; providing Insights on the major countries/regions in which this industry is blooming and to also identify the regions that are still untapped
The segment-level analysis in terms of Component, Deployment Mode, Organization Size, Application, Vertical along with market size forecasts and estimations to detect key areas of industry growth in detail
Identification of key drivers, restraints, opportunities, and challenges (DROC) in the market and their impact on shifting market dynamics
Study of the effect of exogenous and endogenous factors that affect the global market; which includes broadly demographics, economics, and political, among other macro-environmental factors presented in an extensive PESTLE Analysis
Study the microenvironment factors that determine the overall profitability of an Industry, using Porter's five forces analysis for analyzing the level of competition and business strategy development
A comprehensive list of key market players along with with their product portfolio, current strategic interests, key financial information, legal issues, SWOT analysis and analyst overview to study and sustain the market environment
Competitive landscape analysis listing out the mergers, acquisitions, collaborations in the field along with new product launches, comparative financial studies and recent developments in the market by the major companies
An executive summary, abridging the entire report in such a way that decision-making personnel can rapidly become acquainted with background information, concise analysis and main conclusions
Expertly devised analyst overview along with Investment opportunities to provide both individuals and organizations a strong financial foothold in the market
Global Graph Analytics Market By Region, From 2019-2026 ( USD Billion )

Global Graph Analytics Market By Component, From 2019-2026 ( USD Billion )

Global Solutions Market By Region, From 2019-2026 ( USD Billion )

Global Services Market By Region, From 2019-2026 ( USD Billion )

Global Graph Analytics Market By Deployment Mode, From 2019-2026 ( USD Billion )

Global On-Premise Market By Region, From 2019-2026 ( USD Billion )

Global Cloud Market By Region, From 2019-2026 ( USD Billion )

Global Graph Analytics Market By Organization Size, From 2019-2026 ( USD Billion )

Global Large Enterprises Market By Region, From 2019-2026 ( USD Billion )

Global Small and Medium Enterprises Market By Region, From 2019-2026 ( USD Billion )

Global Graph Analytics Market By Application, From 2019-2026 ( USD Billion )

Global Route Optimization Market By Region, From 2019-2026 ( USD Billion )

Global Fraud Detection Market By Region, From 2019-2026 ( USD Billion )

Global Graph Analytics Market By Vertical, From 2019-2026 ( USD Billion )

Global Healthcare and LifeSciences Market By Region, From 2019-2026 ( USD Billion )

Global BFSI Market By Region, From 2019-2026 ( USD Billion )

Global Transportation and Logistics Market By Region, From 2019-2026 ( USD Billion )

Global Government and Public Sector Market By Region, From 2019-2026 ( USD Billion )

Global Telecom Market By Region, From 2019-2026 ( USD Billion )

Global Retail and E-Commerce Market By Region, From 2019-2026 ( USD Billion )