Guarana Seed Extract Market Size, Growth (2023-2028)
The global Guarana Seed Extract Market size that was calculated at USD xx billion in 2022 is predicted to reach a valuation of USD xx billion by 2028 at a CAGR of 7.4% over the conjecture period. Due to increased consumer demand for guarana seed extract beverages, the beverage industry is extensively using these extracts.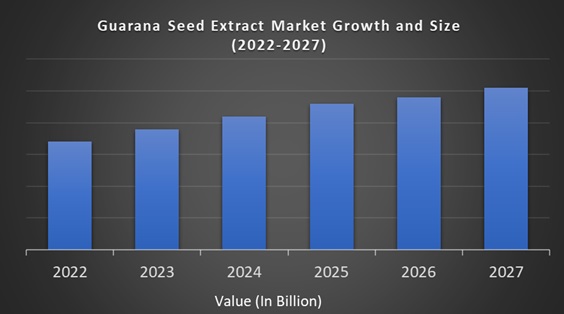 Market Overview:
Guarana is scientifically known as Paullina Cuptana that is indigenous to Latin American countries. Guarana seed extract contains approximately twice the concentration of caffeine present in coffee seeds. Compared to other caffeine-producing plants, guarana seed extract contains high concentrations of caffeine, which acts as a protective herbivore-resistant toxin in the seeds. Guarana seed extract is widely used in various stimulant drinks. Most of the guarana seed extract is extensively used for medicinal purposes. Guarana seed extract is a collection of essential raw mixtures, which are extracted with a solvent such as ethanol. They contain desirable properties that have been found to increase and are widely used in various industries, such as pharmaceuticals for herbal medicine, cosmetics, food and beverage. Guarana seed extracts can be used in both liquid and powder form.
Recent Developments in Guarana Seed Extract Industry:
2017: British beverage brand Brain Füd has launched a new line of 'smart energy drinks' as an alternative to coffee and drinks with high sugar content.

2017: Coca Cola Company Brazil launched Guarana Soda Fanta, a healthier alternative to soft drinks. Fanta is one of the best soft drink products in Brazil, so it focus on bringing new flavors to the existing product line.
Guarana Seed Extract Market Growth:
The health benefits provided by Guarana seed extract are expected to stimulate market growth during the outlook period. In addition to the health benefits associated with guarana seed extract, the expansion of the retail market also facilitates the buying process for consumers, revitalizing the global guarana seed extract market.
REPORT COVERAGE:
| | |
| --- | --- |
| REPORT METRIC | DETAILS |
| Market Size Available | 2022 – 2028 |
| Base Year | 2022 |
| Forecast Period | 2023 - 2028 |
| CAGR | 7.4% |
| Segments Covered | By Form, Distribution, Application and Region |
| Various Analyses Covered | Global, Regional & Country Level Analysis, Segment-Level Analysis, DROC, PESTLE Analysis, Porter's Five Forces Analysis, Competitive Landscape, Analyst Overview on Investment Opportunities |
| Regions Covered | North America, Europe, APAC, Latin America, Middle East & Africa |
| Market Leaders Profiled | Nutra Green Biotechnology Co. Ltd, Mountain Rose Herbs, Xián Pincredit Bio-Tech Co. Ltd, The Green Labs LLC, Nexira, Indena S.P.A and Others. |
Drivers:
The main factor in the worldwide guarana seed remove advertise is the expanding requirement for normal fixings in guarana seed extricates from different beauty care products, and individual consideration items are a central point. In the current market scenario, the main reason for the increased demand for guarana seed extract is its stimulating properties. Today, consumers have a high-quality nature, which mainly affects healthy and wholesome products, and the world economic growth rate is increasing. On the other hand, guarana seed extract powder has been widely applied in food and beverage products, making it popular in the market. The factors driving the market are increased demand for these extracts as a natural ingredient in various products in the personal care and cosmetic sectors, increased callfrom the world population due to the nature of the stimulus, rising demand and adoption of natural products, and increased need for these extracts by the food and beverage sector and others. Various natural properties and health with increasing utilization rates the lifestyle of the world urban population is faster than the lifestyle of the rural population.
Urban populations are more aware of their health, which is a major problem in moving forward with natural energy drinks and fruit juices. Increased health concerns among consumers and changes in the propensity for unhealthy dietary supplements are expected to significantly increase demand for guarana in the near future. The global guarana seed extract market is expected to register a significant value during the anticipated period due to the rising consumption of energy drinks per capita worldwide. Health and wellness trends are also expected to support the global guarana seed extract market to improve the nutritional profile of guarana and foster innovation throughout the supply chain. The growth of the guarana seed extract market is expected to increase significantly among consumers worldwide as the demand for natural and herbal cosmetic products such as guarana in sensitizers, conditioners and shampoos, increases. In addition, increased disposable income and consumer preferences for healthy, nutritious and convenient beverages are expected to stimulate demand for guarana seed extract.
Restraints:
The limiting factor in the market may be strict government rules and regulations regarding the production of these extracts. One of the main restrictions is that the price of guarana seed extract is high. Therefore, the high price of guarana seed extract is an important factor that is expected to hinder the growth of the guarana seed extract market during the forecast period.
Guarana Seed Extract Market Segmentation Analysis:
By Form:
By Distribution:
Health Stores

Drug Stores

Online Retailing

Other Channels
By Application:
Pharmaceuticals

Dietary Supplements

Cosmetics

Personalised Medicine

Foods and Beverages

Other
Impact of Covid-19 on the Global Guarana Seed Extract Market:
The Covid-19 pandemic has encouraged customers to focus on more their health and improve immunity. This is supposed to act as a positive factor for health drinks, dietary supplements and other nutrient-related products demand across the globe. With the increasing need for healthy lifestyle, the call for guarana seed extracts is also touted to accelerate in the coming years.
Geographical Segmentation Analysis:
North America - the United States and Canada

Europe - United Kingdom, Spain, Germany, Italy, and France

The Asia Pacific - India, Japan, China, Australia, Singapore, Malaysia, South Korea, New Zealand, and Southeast Asia

Latin America - Brazil, Argentina, Mexico, and Rest of LATAM

The Middle East and Africa - Africa and Middle East (Saudi Arabia, UAE, Lebanon, Jordan, Cyprus)
Regional Analysis:
By region, North America is expected to have the largest share of the global guarana seed extract market due to higher per capita consumption, along with increased awareness of the benefits of guarana. The increase in the consumption of energy drinks along with the growth of healthy drinks is expected to support sales growth in the North American market during the forecast period. North America was a major contributor to the market and is expected to remain dominant during the outlook period. The use of guarana seeds in the pharmaceutical industry complements the growth of the market. Alongside the bustling way of life of buyers, the hefty populace of the USA is making an expanded interest for guarana-based items. Additionally, the health benefits associated with guarana in the form of dietary supplements have increased consumption.
Europe, led by Germany, the United Kingdom and France, is expected to show significant growth rates due to increased disposable income, and more women are expected to use the labor force to contribute to local demand for products. In addition, consumers' propensity for organic skin care ingredients over cosmetic chemicals will favor the growth of the local market. The Asia-Pacific region is one of the emerging regions in terms of guarana consumption, as China, India and Australia offer potential opportunities for the guarana materials market. New product launches in interesting flavors are among the crucial strategies adopted by manufacturers to improve their position in this market. Additionally, strong market growth is expected to drive market growth during the forecast period, along with increased demand for clean label natural ingredients. The Latin American market is also supposed to develop with a substantial CAGR over the conjecture period because of the rising production of guarana seeds in Brazil.
Key Players in the Market:
Major key players in the Global Guarana Seed Extract Market are
Nutra Green Biotechnology Co. Ltd

Mountain Rose Herbs

Xián Pincredit Bio-Tech Co. Ltd.

The Green Labs LLC

Nexira

Indena S.P.A.