Rapeseed Oil Market Size, Growth, Forecast (2023-2028)
The Global Rapeseed Oil Market size was worth US$ 34.9 million in 2022, and it is estimated to reach a valuation of US$ 48.1 million by the end of 2028, rising at an annual growth rate of 4.7% between 2023 and 2028. Rapeseed oil is widely applied in the food industry and is followed by personal care products due to its nutritional benefits.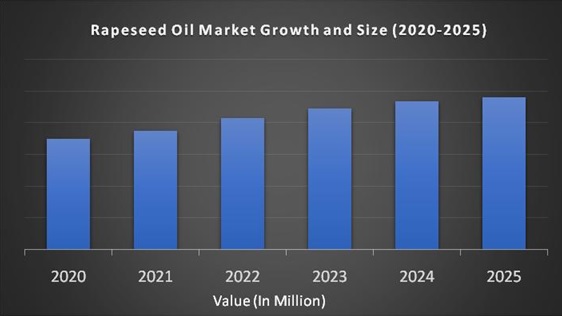 Market Overview:
Rapeseed, also known as Brassica napus (scientific name), is a bright yellow flower that is grown mainly for orange seeds and is the third-largest source of vegetable oil. Rapeseed oil is an oil extract derived from black seeds of light yellow plants, commonly known as rapeseed flower plants. Rapeseed plants are widely cultivated worldwide for oil-rich seeds and offer several beneficial benefits. Rapeseed oil is extracted from the black and red seeds of rapeseed plants. Rapeseeds are widely cultivated as oil-rich seeds that provide many health benefits when used in food processing. Rapeseed has a variety of industrial applications, such as those used in the manufacture of biodiesel and cosmetics and personal care products.
Copra, cottonseed, palm kernels, peanuts, soybeans, sunflower seeds and rapeseed are the main oilseeds used for the extraction of vegetable oil. Rapeseeds have a higher oil content than other oilseeds, so vegetable oils are extracted for domestic and industrial purposes and cultivated as raw material for biofuel production. Rapeseed contains 40% oil and is generally obtained by pre-pressing or solvent extraction. The presence of vitamin E and antioxidants in rapeseed oil reduces scar tissue and restores damaged hair and skin conditions, such as itching, eczema, and acne, which is applied in the manufacture of a variety of cosmetic and personal care products.
Recent Developments in Rapeseed Oil Industry:
Rotam, a Hong Kong-based company, produces sulfonylurea herbicide-resistant rapeseed in China to meet the demand for high-quality, unprocessed rapeseed oil.

In May 2019, The UK-based The Butterworks began offering butter spread made from cold-pressed extra virgin rapeseed oil. This product has gained popularity due to its reduced cholesterol and more robust immune system credentials.

Larchwood Foods, a UK-based food manufacturer, advertises products under the Hue's Rapeseed Oil brand. The company intends to convert consumers of extra virgin olive oil into cold-pressed rapeseed oil through a marketing campaign.

In April 2017, NCDEX (National Commodity and Derivatives Exchange Ltd.) announced the mustard and rapeseed oil cake deal. This agreement aims to open several growth opportunities for new players that want to enter the market in the coming years.
REPORT COVERAGE:
| | |
| --- | --- |
| REPORT METRIC | DETAILS |
| Market Size Available | 2022 – 2028 |
| Base Year | 2022 |
| Forecast Period | 2023 - 2028 |
| CAGR | 4.7% |
| Segments Covered | By Extraction Process, Application and Region |
| Various Analyses Covered | Global, Regional & Country Level Analysis, Segment-Level Analysis, DROC, PESTLE Analysis, Porter's Five Forces Analysis, Competitive Landscape, Analyst Overview on Investment Opportunities |
| Regions Covered | North America, Europe, APAC, Latin America, Middle East & Africa |
| Market Leaders Profiled | ConAgra Foods Inc, Cargill Incorporated, Mackintosh of Glendaveny, Ola Oils, Folba Oil Limited SDN, Bunge Limited, Marico Limited, Louis Dreyfus Company, Yorkshire Rapeseed Oil, Pacific Coast Canola, The Archer Daniels Midland Company and Others. |
Rapeseed Oil Market Growth:
The global rapeseed oil market is expected to grow significantly during the forecast period due to changes in the use of vegetable oil by consumers.
Drivers:
Changes in eating habits increased health awareness, and taste preferences have fueled market demand and production of rapeseed oil worldwide. Rapeseed oil has proven to be the healthiest oil that has contributed to the growing market demand for rapeseed oil. It is assumed to gain popularity because it is a source of antioxidant vitamin E and monounsaturated fats. Consumers are increasing the expense of consuming healthy eating habits and appearance. As a result, rapeseed oil is expected to act as a key functional ingredient in the formulations of various foods and cosmetics due to the benefits of maintaining human body hygiene and nutritional strengthening.
In recent years, consumer awareness of the harmful effects associated with saturated fat content in finished products and beverages has increased. Saturated fat accumulates cholesterol in the arteries and increases LDL cholesterol, which increases the incidence of heart disease and stroke. Rapeseed oil finds immense applications in skincare products like soaps, moisturizers, anti-aging creams, shampoos, conditioners, body cleansers, sunscreens, bay solvents and others.
Additionally, consumers are presumed to prefer the use of mustard-based soaps to treat skin conditions and reduce the incidence of various allergies.
As demand for dietary fats and oils increases, health awareness increased, and the marked change in food patterns consumed by animals from plant products has fueled the global market for rapeseed oil. Consumers who need to curb health problems like cardiovascular disease and cancer are another critical factor driving the growth of the global rapeseed oil market by increasing the consumption of rapeseed oil. The growth of the food industry and the goal of producing healthy foods for consumers are also anticipated to lead the rapeseed oil market.
Restraints:
Rapeseed oil prices in these countries are not competitive in the production of biodiesel. Furthermore, uncertainty in weather conditions can cause fluctuations in rapeseed prices, reduce national output and increase the compression of other seeds, such as soybeans and palm kernels, to produce vegetable oil, limiting the market growth. Rapeseed oil lacks minerals and other vitamins that significantly suppress the market demand for rapeseed oil. Despite having nutritional benefits, rapeseed oil is considered the food with the lowest nutritional value if consumed as an essential part of the general diet.
Rapeseed Oil Market Segmentation Analysis:
By Extraction Process:
Aqueous Process

Enzyme based process
By Application:
Food Processing

Vegetable recipes

Meat Recipes

Oil Cakes

Bio-Fuel

Cosmetics and Personal Care Products

Lotions

Creams

Oils

Others
Geographical Segmentation Analysis:
North America - the United States and Canada

Europe - United Kingdom, Spain, Germany, Italy, and France

The Asia Pacific - India, Japan, China, Australia, Singapore, Malaysia, South Korea, New Zealand, and Southeast Asia

Latin America - Brazil, Argentina, Mexico, and Rest of LATAM

The Middle East and Africa - Africa and Middle East (Saudi Arabia, UAE, Lebanon, Jordan, Cyprus)
Regional Analysis:
The Asia Pacific region represented more than 40.0% of overall sales. Many consumers in the area use rapeseed oil in their stocks. Additionally, many food processing companies use rapeseed oil in their products. In particular, in developing countries like China and India, increased consumer awareness of healthy lifestyles and increased disposable income is expected to benefit industrial growth in the coming years. North America is supposed to expand at 6.7% CAGR, the fastest in terms of revenue from 2020 to 2025. Rapeseed oil consumption has been observed to be increasing in residential and industrial applications.
The United States is anticipated to experience significant growth in the coming years as food processing equipment is firmly established nationwide. Furthermore, the increasing acceptance of natural oilseeds as a functional ingredient in the manufacture of personal care products in the United States is foreseen to have a significant impact on market growth in the near future. The markets of North America and Europe are the main contributors of income to the world rapeseed market, followed by Latin America and the Middle East and Africa, respectively. The European market is expected to register the fastest growth in terms of income due to the presence of prominent players in the countries of this area.
Key Players in the Market:
Major Key Players in the Global Rapeseed Oil Market are
ConAgra Foods Inc

Cargill Incorporated

Mackintosh of Glendaveny

Ola Oils

Folba Oil Limited SDN

Bunge Limited

Marico Limited

Louis Dreyfus Company

Yorkshire Rapeseed Oil

Pacific Coast Canola

The Archer Daniels Midland Company