Olive Oil Market Size, Growth, Forecast (2023-2028)
The global Olive Oil Market size was calculated to be USD 7.97 billion in 2022, and it is foreseen to reach a value of USD 12.78 billion by 2028 at a growth rate of 6.05% over the evaluated period. The olive oil industry has witnessed significant growth in recent years due to an increase in health-conscious consumers across the world.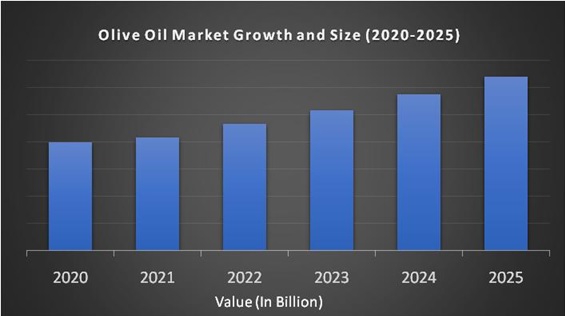 Market Overview:
As cooking oil, olive oil is being increasingly consumed worldwide. Given its nutritional value and flavor, olive oil is consumed in large pools of the world population. The market offers various types of olive oil, such as extra virgin olive oil, light olive oil, pure olive oil, virgin olive oil, olive residue oil, and refined olive oil. Currently, extra virgin olive oil is the highest quality olive oil consumed by most health-conscious people. Extra olive oil has less than 1% acidity, which makes it popular worldwide. Olive oil is a viscous liquid that is extracted from the fruits of the olive tree by pressing whole olives. It has a low smoke point of 240C, so it can be consumed as a raw material. Consuming olive oil is often considered healthy because it has a lower risk of heart disease and is associated with certain types of cancer, such as colorectal and breast cancer. It is also a good source of monounsaturated fatty acids and antioxidants, such as polyphenols, vitamin E and K, chlorophyll, and carotenoids.
Recent Developments in Olive Oil Industry:
In 2017, Landec Corporation, a diverse health and wellness solutions company, announced the acquisition of O Olive Oil, Inc., a specialized producer of California olive oil and wine vinegar.

In April 2018, DEOLEO changed the packaging of the Bertolli brand, making it a brand with a rich heritage and roots.

In 2018, the acquisition of a 5.0% stake in the Portuguese company Maçarico SA strengthened the presence of Dcoop S.Coop.Y. in the market.

The world's leading distributor Colavita USA recently launched the Dixon site to support the processing and bottling of 100% extra virgin olive oil produced exclusively in California.
REPORT COVERAGE:
| | |
| --- | --- |
| REPORT METRIC | DETAILS |
| Market Size Available | 2022 – 2028 |
| Base Year | 2022 |
| Forecast Period | 2023 - 2028 |
| CAGR | 6.05% |
| Segments Covered | By Type, Application, Distribution Channel and Region |
| Various Analyses Covered | Global, Regional & Country Level Analysis, Segment-Level Analysis, DROC, PESTLE Analysis, Porter's Five Forces Analysis, Competitive Landscape, Analyst Overview on Investment Opportunities |
| Regions Covered | North America, Europe, APAC, Latin America, Middle East & Africa |
| Market Leaders Profiled | Del Monte Food, Cargill, Deoleo, Ybarra, Gruppo Salov, Sovena Group, Jaencoop, Macario SA, Maeva Group, Lamasia and Others. |
Olive Oil Market Growth:
The global olive oil market is experiencing significant growth as consumer awareness of this oil consumption and the many benefits of strong economic growth increase.
Drivers:
The nutritional value and flavor associated with olive oil has increased demand among consumers. Additionally, the health benefits associated with olive oil have also increased market demand, which is supposed to further increase in the coming years. Virgin olive oil has gained great traction due to its chemical additive-free processing technology along with higher nutritional content. Furthermore, as acceptance of olive oil for cooking increases, market demand in the food and beverage sector is expected to increase. The consistent demand for olive oil in the end-use industry is assumed to drive the global market throughout the outlook period. Olive oil is applied in the food and beverage industry, the cosmetics and beauty care industry and the pharmaceutical industry. The constant growth of these industries is likely to increase the demand for olive oil. Western lifestyles are increasingly being adopted by populations in developed countries. This is one of the main factors driving the world olive oil market. The increasing adoption of olive oil in a variety of applications in various industries, such as the cosmetic, pharmaceutical, food and beverage industries worldwide, is a key factor that is presumed to accelerate the growth of the global olive oil market.
Furthermore, as people's perception of various health benefits increases, global demand for olive oil is another factor driving growth in the target market during the forecast period. Increased olive oil production, increased per capita income per person, and increased interpersonal health awareness are key factors estimated to accelerate world market growth during the projection period. Furthermore, personal care products are mixed with olive oil extracts and are recognized in the market due to skin-related benefits. Also, raise awareness of various health benefits, such as increased demand for olive oil worldwide, such as stroke prevention, rheumatoid arthritis treatment, healthy heart, depression and stress, is another factor that drives growth in the market. It is also anticipated to support the growth of the target market as the popularity of various types of olive oil increases, such as extra virgin, refined, virgin, etc. Another significant factor touted to accelerate global market growth in the near future is the launch of new, high-end olive oil products from leading manufacturers. Increased demand for cooking olive oil is foreseen to create a favorable market opportunity.
Restraints:
The high cost, along with the availability of olive oil alternatives such as mustard oil, coconut oil, palm oil, etc. in the market, it is a major impediment to the growth of the global market. Currently, the biggest challenge facing the olive oil market is a decrease in sales volume due to poor harvest conditions. Olive oil cultivation is challenging as the world warms up and it continues to have a warm climate throughout the year. On the other hand, the Greeks are trying to find other job opportunities in place of olive oil production. Greece, a major olive oil production region, cannot earn money due to the lack of an adequate packaging market. Italy, on the other hand, has earned its reputation in the global olive market by importing Greek products. A controlled environment for olive oil production and an improved market for packaging machines in a scarce country is an excellent way to solve these problems.
Olive Oil Market Segmentation Analysis:
By Type:
Virgin Olive Oil

Extra Virgin Olive Oil

Processed Olive oil
By Application:
Food & Beverages

Pharmaceuticals

Personal and Beauty Care
By Distribution Channel:
Geographical Segmentation Analysis:
North America - the United States and Canada

Europe - United Kingdom, Spain, Germany, Italy, and France

The Asia Pacific - India, Japan, China, Australia, Singapore, Malaysia, South Korea, New Zealand, and Southeast Asia

Latin America - Brazil, Argentina, Mexico, and Rest of LATAM

The Middle East and Africa - Africa and Middle East (Saudi Arabia, UAE, Lebanon, Jordan, Cyprus)
Regional Analysis:
Geographically, the global olive oil market is analyzed in North America, Europe, Asia Pacific and LAMEA. European countries such as Spain and Italy are the pioneers in olive oil. The European olive oil market has the highest sales share in the world market and is expected to dominate the target market during the prediction period. The presence of olive oil producers and the high consumption of olive oil in countries such as France, England, Italy and Germany in the region is driving its demand. Italy and Spain have dominated Japan's olive oil market over the years. The trade agreements between the EU and Japan will create a large open trading area that is expected to offer favorable opportunities for olive oil traders and exporters based in EU nations. European stakeholders in this market are ready to focus on capitalizing on the benefits of EU-Japan trade in the near future. Moreover, emerging countries like India, China and Japan have witnessed a sharp increase in demand for olive oil with domestic production. In addition, consistent government regulations that boost production in countries like Brazil are likely to boost the olive oil market. The Asia Pacific region is expected to be the fastest-growing region with an average annual growth rate of over 4.0% from 2019 to 2025. Consumption patterns in this area are changing. Consumers are health conscious and prefer low fat and healthy foods. In countries like China and India, per capita spending on healthy food has increased significantly and China has been considered as a major producer and exporter in this vicinity.
Key Players in the Market:
Major Key Players in the Global Olive Oil Market are
Del Monte Food, Inc.

Cargill, Inc.

Deoleo

Ybarra

Gruppo Salov

Sovena Group

Jaencoop

Macario SA

Maeva Group

Lamasia