Fats and Oils Market Size, Growth, Forecast (2023-2028)
Global Fats and Oils Market size was worth US$ 209.85 billion in 2022, and it is estimated to reach a valuation of US$ 247.78 billion by the end of 2028, expanding at an annual compound rate of 4.4% between 2023 and 2028. The demand for fats and oils is increasing as interest in biofuels such as biodiesel from vegetable oils and animal fats increases.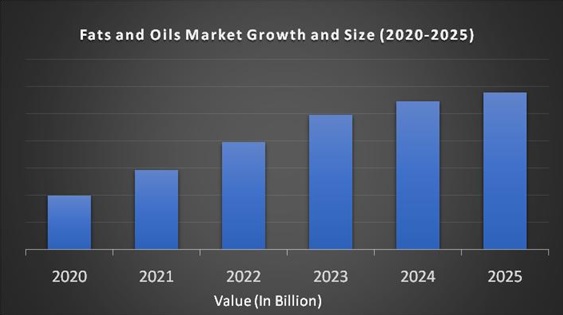 Global Fats and Oils Market Overview Analysis:
Fats and oils are very crucial elements in the diet widely used in various industries. They are only organic substances, fats in solid form and oil in liquid form at room temperature. Fats and oils are foods that have more energy and more energy than proteins and carbohydrates. Cooking oil is mainly used for soap production and other purposes. Most of the oils and fats are produced from fatty acid esters. They are used mostly in butter, salad oil, margarine and cooking oil, along with animal feed, fatty acids, personal care products like soaps, alkyd resins based paints, biodiesel, engine oils, and greases. The roots of fats and oils comprise edible vegetable oils, palm oil, industrial oils, animal fats, and marine oils. Food applications represent a significant part (approximately 3/4) of the consumption of fats and oils worldwide. However, there has been a continuous transition from food consumption to industrial use, especially biodiesel.
Recent Developments in Fats and Oils Market:
In 2019 Cargill launched the latest range of premium filler greases, CremoFLEX, on the European market. The new variety of fats can be used in many applications, including filled biscuits and sandwich biscuits, wafers, filled chocolate bars and pralines.

Bunge Agribusiness Singapore Pt Ltd., a wholly-owned subsidiary of Bunge Ltd., and Oleo-Fats, Inc., a wholly-owned subsidiary of D & L Industries has made a distribution contract for food services, retail and food processing sector in the Asia Pacific region.

Cargill has introduced the world's lowest oleic high saturated fat and oleic canola oil, which is made from hybrid canola cones with a saturated fat content of 4.5% or less that maintains high frying performance and shelf life, freshness and flavor. It can limit saturated fat content by up to 35% over previous canola oil products.
REPORT COVERAGE:
| | |
| --- | --- |
| REPORT METRIC | DETAILS |
| Market Size Available | 2022 – 2028 |
| Base Year | 2022 |
| Forecast Period | 2023 - 2028 |
| CAGR | 4.4% |
| Segments Covered | By Product Type, Application, Form, Source, and Region |
| Various Analyses Covered | Global, Regional & Country Level Analysis, Segment-Level Analysis, DROC, PESTLE Analysis, Porter's Five Forces Analysis, Competitive Landscape, Analyst Overview on Investment Opportunities |
| Regions Covered | North America, Europe, APAC, Latin America, Middle East & Africa |
| Market Leaders Profiled | Cargill, Corteva, Archer Daniels Midland Company, Arista Industries, Unilever, Conagra Foods, Bunje Limited, Ajinomoto, British Foods, Wilmar International, United Plantations Berhad and Others. |
Global Fats and Oils Market Growth Drivers, and Restraints:
Growth:
Due to a surge in living standards and population growth, the demand for each food sector in these countries is the driving force behind the fats and oils market.
Drivers:
The global fats and oils market is expected to have positive growth during the forecast period due to changes in consumer eating habits. The increase in consumption of processed foods along with the demand for high-quality cooking oil is supposed to have a positive impact on the global market. Increased health awareness and increased disposable income in emerging markets are estimated to strengthen the global market further. Fast food and convenience food consumption are assumed to fuel the demand for fat and oil during the outlook period. The food industry dominated fat and oil applications, and the transition to industrial, chemical, personal care, animal feed and pharmaceutical applications is expected to gain momentum in the future. There was a high demand for fats and oils in the food and beverage industry. Changing consumer eating habits are driving demand in local and oil markets. Other prominent industries that find applications of fats and oils are chemical, pharmaceutical, animal feed, industrial and personal care products.
Market demand is growing as demand for alternative biodiesel fuels increases in the transportation sector. Increased health problems and rising raw material prices may hinder future market growth. Consumers around the world have learned more about the difference between healthy and unhealthy fats and oils. Most of these consumers now show a greater willingness to consider and test fats and oils extracted from non-traditional sources and the perceived benefits of being sustainable, organic or non-biotech. Today, foods that are free of genetically modified organisms (GMOs) and that contain minimally processed fats and natural oils are increasingly favored by young consumers around the world.
The Millennium generation and young consumers prefer to avoid overly processed ingredients and foods, which intensifies the demand for unrefined natural oils. As health awareness increases, most consumers around the world readily adapt and search for certain animal and vegetable fats, such as butter, eggs, olive oil, and avocado fat. The adoption of butter-based fats is reviving by providing excellent performance in promoting clean and straightforward ingredient labels. This is because clean, simple labels are the new standard for Gen Z and Millennial consumers. An increase in R&D to develop innovative applications such as trans-fat substitute development and biodiesel production promise ample opportunities for local and oil market participants.
Restraints:
The increase in health problems caused by excessive consumption of fats and oils is anticipated to hinder the growth of the global fats and oils market. Regulations regulating food safety and labeling issues are believed to further slow market growth. High raw material prices are expected to affect the market's growth prospects adversely.
Global Fats and Oils Market Segmentation Analysis:
By Product Type:
Olive Oil

Soybean Oil

Coconut Oil

Sunflower Seed Oil

Palm Oil
By Application:
Food & Beverages

Pharmaceuticals

Personal Care

Animal Feed

Industrial Uses
By Form:
By Source:
Geographical Segmentation Analysis:
North America - the United States and Canada

Europe - United Kingdom, Spain, Germany, Italy, and France

The Asia Pacific - India, Japan, China, Australia, Singapore, Malaysia, South Korea, New Zealand, and Southeast Asia

Latin America - Brazil, Argentina, Mexico, and Rest of LATAM

The Middle East and Africa - Africa and Middle East (Saudi Arabia, UAE, Lebanon, Jordan, Cyprus)
Regional Insights:
The global fats and oils market is diversified into Asia Pacific, Europe, North America, and other countries.
The Asia Pacific region dominates the worldwide business. Emerging economies like India, Malaysia, China, and Indonesia have a significant market share in oil and fats markets worldwide. Contributing factors to this growth are increased consumer awareness of health, higher disposable income for people, and high consumption of processed foods and cooking oil. Growth in local and oil markets in the Asia-Pacific region is presumed to accelerate, especially in Asian countries such as China and India, where fat and oil consumption is likely to increase. Population growth in the Asia-Pacific region and the development of the food and non-food industries require more fat and oil than any other end-use sector in the world. Latin America and North America also have a significant share in the fat and oil market due to higher application in the industry. Biodiesel production, along with other pharmaceutical applications in countries such as Argentina, Brazil, and the United States, has contributed to the growth of the local market.
Key Players in the Market:
Major Key Players in the Global Fats and Oils Market are
Cargill, Inc.

Corteva, Inc.

Archer Daniels Midland Company

Arista Industries

Unilever Plc

Conagra Foods

Bunje Limited

Ajinomoto Co. Inc.

British Foods Plc

Wilmar International

United Plantations Berhad