Lactoferrin Market Size, Growth, Forecast (2023-2028)
The Global Lactoferrin Market size was worth US$ 203.7 million in 2022, and it is estimated to reach a valuation of US$ 379.5 million by the end of 2028, rising at an annual compound rate of 8.1% between 2023 and 2028. The lactoferrin market is expected to show stable growth due to increased demand in emerging businesses.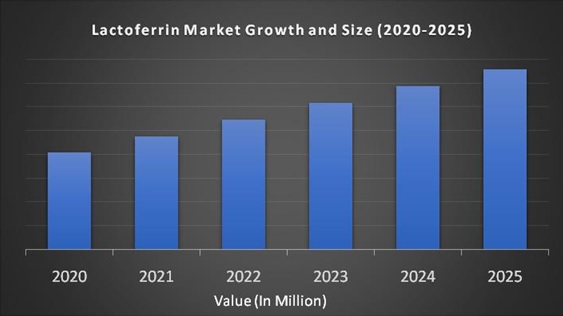 Market Overview:
Lactoferrin also provides anti-inflammatory properties. Quiet inflammation can prevent the formation of Zits and larger cysts. Lactoferrin also stimulates connective tissue and epidermal cells to regenerate skin cells, helping to heal wounds and helping to treat skin lesions. Furthermore, evidence of the neuroprotective effect of lactoferrin is increasing. These include synaptic connections, which are essential processes in the proliferation, differentiation, migration, and cognitive development of neuronal cells. Due to its many functions, lactoferrin has been used in clinical trials and industrial applications.
Lactoferrin provides a stimulating effect on the immune system, prevents cellular damage caused by aging, promotes the cultivation of beneficial bacteria in the intestine and regulates viruses, bacteria and fungi as regulators of iron metabolism. Lactoferrin has been found to be effective in treating hepatitis C infection by inhibiting viral replication at the intracellular level. Therefore, the strong applicability of lactoferrin in the functional food, pharmaceutical, and personal care industries are supposed to drive demand during the forecast period.
Recent Developments in Lactoferrin Industry:
Freedom Foods of Australia in 2019 confirmed its plans to start a new plant in Shepparton to initiate the production of Lactoferrin. The company is active in the production of infant formulas, functional foods and drinks.

In February 2019, Bega Cheese Ltd announced plans to expand its Coroit plant in Australia. The proposed expansion is estimated at $ 34 million and will double Bega Cheese Ltd's capacity to produce lactoferrin.

In 2018, Synlait Ltd announced the capacity expansion at the New Zealand Dusandel plant under a new multi-year lactoferrin supply contract. This expansion is foreseen to double the company's current bovine lactoferrin production capacity.
REPORT COVERAGE:
| | |
| --- | --- |
| REPORT METRIC | DETAILS |
| Market Size Available | 2022 – 2028 |
| Base Year | 2022 |
| Forecast Period | 2023 - 2028 |
| CAGR | 8.1% |
| Segments Covered | By Function, Application and Region |
| Various Analyses Covered | Global, Regional & Country Level Analysis, Segment-Level Analysis, DROC, PESTLE Analysis, Porter's Five Forces Analysis, Competitive Landscape, Analyst Overview on Investment Opportunities |
| Regions Covered | North America, Europe, APAC, Latin America, Middle East & Africa |
| Market Leaders Profiled | Glanbia Nutritionals, Westland Co-operative Dairy Co. Ltd, Fonterra Co-Operative Group Ltd, MP Biomedicals, Synlait Milk Ltd, Ingredia SA, Vitalus Nutrition Inc, ProHealth, Metagenics and Others. |
Lactoferrin Market Growth:
Increasing household disposable income along with strengthening buyer power will support the growth of the lactoferrin market.
Drivers:
With the proliferation of skin-related health problems, increased awareness among consumers about health and diet is assumed to increase demand. The excellent features of Lactoferrin, such as, antiviral, antiparasitic, antiallergic, and antibacterial, are predicted to extend its applications in the sectors like personal care and pharmaceutical. The acne treatment market is also suspected of witnessing steady growth during the forecast period. Various clinical trials have demonstrated the ability of lactoferrin to treat acne and other skin conditions effectively. Due to its anti-inflammatory properties, lactoferrin neutralizes taxpayers by eliminating the primary source of pathogens.
The global personal care market is a multi-billion dollar industry that moves from traditional brick and mortar stores to specialty and online stores. Consumers of all ages around the world prefer a multi-channel shopping approach by visiting online portals to understand their products while shopping at offline retail stores. Product marketing initiatives taken by brand owners and consumer awareness due to the propensity for high-efficiency organic products with minimal side effects are likely to strengthen demand further. Lactoferrin is widely applied to reduce the skin's immune response and wound healing by regenerating the skin and stimulating connective tissue with epidermal cells. The calming effect on inflammation prevents the formation of Zits and larger cysts. Many clinical trials have shown that lactoferrin can be used effectively for the treatment and prevention of cases of gastrointestinal inflammation. As consumer awareness of intestinal health increases, bloating, along with increased demand for lactoferrin to prevent irritable bowel movements and less intestinal inflammation, are deemed to increase demand for this segment during the outlook period.
Manufacturers are focusing on understanding consumer purchasing patterns to meet the ever-changing demands of the millennium generation. The company began investing in packaging and material improvements depending on whether the point of purchase is a specialty store, club warehouse, or online shopping portal. Consumers naturally prefer organic products with less carbon footprint. Research and innovative applications are estimated to enhance further the benefits that lactoferrin offers in a variety of applications, driving demand in the coming years.
Restraints:
High materials development costs and strict government regulations are factors that hinder the market growth. Increased intake of Lactoferrin also has some serious side-effects like rashes, loss of hunger, constipation. Therefore, the need to understand the consumption and dosage levels of this supplement can act as a restraint for the development of this target business.
Lactoferrin Market Segmentation Analysis:
By Function:
Anti-inflammatory

Iron Absorption

Antibacterial

Intestinal Flora Protection

Antioxidant

Immune Cell Stimulation

Others
By Application:
Food and Beverages

Infant Formula

Sports and Functional Foods

Animal Feed

Pharmaceuticals

Personal care Products

Others
Geographical Segmentation Analysis:
North America - the United States and Canada

Europe - United Kingdom, Spain, Germany, Italy, and France

The Asia Pacific - India, Japan, China, Australia, Singapore, Malaysia, South Korea, New Zealand, and Southeast Asia

Latin America - Brazil, Argentina, Mexico, and Rest of LATAM

The Middle East and Africa - Africa and Middle East (Saudi Arabia, UAE, Lebanon, Jordan, Cyprus)
Regional Analysis:
The Asia-Pacific lactoferrin market emerged as the largest regional segment in 2019, the size of which is supposed to maintain its position during the forecast period with a market share of almost 30.96% in the same year. India, China and Japan have been found to be the most important local markets for this product. Asia-Pacific's share is due to increased consumer consumption capacity. The presence of a large consumer base in these countries and the increase in the birth rate among the population are anticipated to create growth opportunities. The Asia Pacific, unlike most other regions, has a large number of small businesses. Additionally, consumer propensity for organic products is expected to increase as consumer awareness of child nutrition, personal care, and pharmaceuticals increases and literacy rates increase.
North America became the second-largest market in 2019, with a 22.7% share of sales in the lactoferrin market. The United States has become the largest market. As the incidence of indigestion increased, the demand for products across the country increased. Furthermore, local demand for commodities is supposed to grow in the coming years as the number of specialty stores, hypermarkets, supermarkets and incentive marketing systems adopted by brand owners to expand sales increases.
Due to the strong performance of Germany and the United Kingdom, Europe has generated considerable revenue during the review period. Germany's most innovative food and industrial sectors include the dairy industry with milk production of around 313 million tonnes in 2017. This, in turn, provided lactoferrin manufacturers with an excellent opportunity for further application to various products, such as organic yogurt. The demand for performance nutrition is driving the market. Consumers begin to choose healthier beverages than carbonated or soft drinks.
Key Players in the Market:
Major Key Players in the Global Lactoferrin Market are
Glanbia Nutritionals

Westland Co-Operative Dairy Co. Ltd

Fonterra Co-Operative Group Ltd

MP Biomedicals

Synlait Milk Ltd.

Ingredia SA

Vitalus Nutrition Inc

ProHealth

Metagenics