Smart Agriculture Market Growth and Forecast (2021-2026):
The Global Smart Agriculture Market size was at US$ 13.7 billion in 2021, and it is determined to reach a valuation of US$ 22.0 billion by the end of 2026 with an annual expansion rate (CAGR) of 9.8% between 2021 and 2026.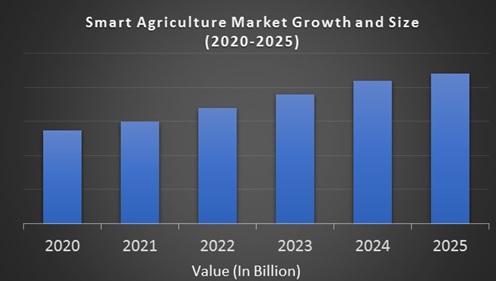 Market Overview:
Smart agriculture can be defined as the process of conducting agricultural activities using advanced technology. It is an innovative way of doing agricultural activities by reducing human effort and making the most of available resources. Precision agriculture includes automation systems and detection devices. The application and feasibility of smart farming devices will depend on the economic conditions and scale of the farmland. The high-tech products used in smart agriculture have a wide range of applications including yield monitoring, field mapping, crop recognition, as well as milk collection, irrigation management, and more. Smart farming is the process of using advanced technology to carry out agricultural activities. It is an innovative way to carry out agricultural activities by reducing human effort and making the most of available resources. Smart farming includes agricultural activities that use the Internet of Things (IoT), sensors to increase farm productivity.
Recent Developments in Smart Agriculture Industry:
DeLaval, in cooperation with the Swedish University of Agricultural Sciences (SLU), installed the DeLaval VMS V300 at the Lövsta Research and Education Center (Sweden).
Smart Agriculture Market Growth:
Increased investment in the agricultural technology sector has fueled the growth of the global smart agriculture market.
PET FOOD PROCESSING MARKET REPORT COVERAGE:
| | |
| --- | --- |
| REPORT METRIC | DETAILS |
| Market Size Available | 2020 – 2026 |
| Base Year | 2020 |
| Forecast Period | 2021 - 2026 |
| CAGR | 9.8% |
| Segments Covered | By Agriculture Type, Offering, Application and Region |
| Various Analyses Covered | Global, Regional & Country Level Analysis, Segment-Level Analysis, DROC, PESTLE Analysis, Porter's Five Forces Analysis, Competitive Landscape, Analyst Overview on Investment Opportunities |
| Regions Covered | North America, Europe, APAC, Latin America, Middle East & Africa |
| Market Leaders Profiled | AGCO Corporation, AG Leader Technology, Inc, Raven Industries Inc, SemiosBio Technologies Inc, Precision Planting LLC, GEA Group, The Climate Corporation, SST Development Group, Inc, Trimble Inc, TOPCON and Others. |
Drivers:
The increasing pressure on the food supply system is driven by the rising use of modern technology, the rapid growth of agricultural product populations, and the growing interest of farmers in monitoring livestock and detecting diseases for facilitating the growth of smart irrigation systems. Smart farming targets large-scale conventional farming and other agricultural trends like family farming, organic farming, etc. The introduction of IoT, GPS, and wireless connectivity is driving the global smart agriculture market. In direct proportion to population growth, the demand for food is also supposed to increase exponentially during the conjecture period. Most livestock is susceptible to viral infections and attacks, which can increase livestock mortality. Various types of RFID tags, readers and sensors are implemented to monitor livestock health and activity. In view of the growing demand for food, farmers must increase crop production by increasing the amount of agricultural land or adopting advanced agricultural methods such as precision farming. The key factors driving the market growth are the rising demand for food around the world, the growing need for control of livestock health and performance, and increased government support for the adoption of modern agricultural technologies. Market demand is increasing again as the use of smart technologies to monitor livestock, reduce labor costs, and increase yields increases. The market is growing rapidly due to favorable government support for adopting modern agricultural technologies to increase product production. The growing world population with a growing demand for agricultural yields to meet world demand is accelerating market growth. Governments around the world are partnering with a variety of food and beverage manufacturers, agricultural processing organizations, and financial institutions to develop sustainable agriculture initiatives. These initiatives aim to increase the efficiency and productivity of farmers and provide more food security.
Furthermore, public-private partnerships in developing countries such as India, China and Brazil will create more income opportunities for farmers, promoting the growth of the smart agricultural market. Smart farming can ensure high returns for your agribusiness once you get used to its full potential. It collects geospatial data from livestock, soil and plants, as well as other internal and interfield information, which can help farmers combat the negative effects of nature on their crops. Precision agriculture also reduces agricultural costs by providing information on the required amount of liquid fertilizer, irrigation water, herbicides, nutrients, and pesticides, reducing wasted resources. Improving business efficiency by automating processes and improving production by reducing agricultural costs are two important factors driving the deployment of smart agricultural tools. With precision agricultural technology, your agricultural business will be more profitable than ever. Additionally, various agricultural industries are working with various European governments to implement advanced technologies such as IoT and machine learning to help farmers efficiently plan and execute a variety of agricultural tasks. Therefore, it provides a favorable opportunity for market growth. Smart farming also uses a variety of methods to deliver manual media and nutrient solutions to plant roots, which are more expensive than other farming methods.
Restraints:
Some of the factors limiting the growth of the global smart farming market size are the high cost of the devices used in smart farming and the lack of awareness of farmers. Compatible devices and better-quality network connections can disrupt the market in some developing countries, as well as in remote areas with network problems. The high costs incurred in manufacturing smart farming devices are likely to drive up the price of the final product, restricting market growth during the envisioned period. The main factor slowing the growth of the global smart agriculture market is the high demand for initial investment. Currently, smart farming tools are expensive, which is uneconomical for small farmers in developed regions and most farmers in emerging economies. Therefore, the latest technology is only accessible on large, industrialized farms due to the high technical cost.
Market Segmentation Analysis:
Smart Agriculture Market By type of agriculture:
The market is segmented into livestock, aquaculture, precision agriculture, and greenhouses. Of these, precision agriculture had the largest market share in 2019 at over 49% and is supposed to grow at the highest CAGR of around 13% during the foreseen period.
Smart Agriculture Market Based on offering:
The smart agriculture market is divided into hardware, software, and services. On a software basis, Cloud-based software had the largest market share at around 58% in 2019. It is expected to grow at a CAGR of around 12% over the forecast period. Cloud-based software is gaining ground due to the growing number of applications. By service, systems integration and consulting recorded the largest market share with around 31.50% in 2019. It is foreseen to grow at a CAGR of around 13.10% during the envisioned period. The demand from the consulting and systems integration sector is increasing with the rising application and adoption of advanced devices in agriculture.
Smart Agriculture Market By application:
The livestock monitoring segment accounted for the largest share in the global smart agriculture market in 2019. It is one of the first smart farming applications implemented.
Impact of COVID-19 on the Smart Agriculture Market:
The smart agriculture market is expected to decline slightly in 2020 due to the coronavirus pandemic, as supply chains are disrupted due to movement restrictions and closures, but the use of remote monitoring technology and software tools. Farm management has been adopted more after COVID-19. The pandemic has disrupted the supply chain of smart agricultural markets in a variety of sectors, including livestock monitoring, precision agriculture, greenhouses, aquaculture, and forestry. The demand for smart farming has increased due to a lack of labor, a greater need to improve yields, and the closure of agricultural operations due to social distancing regulations. The coronavirus pandemic has encouraged the digitization of farms and the incorporation of the Internet of Things (IoT) into agricultural activities to keep crops healthy and monitor livestock without a laboratory.
Geographical Segmentation Analysis:
North America - the United States and Canada

Europe - United Kingdom, Spain, Germany, Italy, and France

The Asia Pacific - India, Japan, China, Australia, Singapore, Malaysia, South Korea, New Zealand, and Southeast Asia

Latin America - Brazil, Argentina, Mexico, and Rest of LATAM

The Middle East and Africa - Africa and Middle East (Saudi Arabia, UAE, Lebanon, Jordan, Cyprus)
Regional Analysis:
North America has led the global smart agriculture market and is foreseen to maintain its leadership position for years to come. Increased government investment in research activities to minimize human intervention and increase crop yields is determined to boost smart agricultural markets in North America in the near future. Europe is expected to come in second place thanks to the great contribution of the UK. Asia Pacific has been leading the global smart agriculture market and is estimated to continue to occupy a dominant position in the future. The growing call for food and other dairy products is a major factor behind the dominance of the Asia Pacific smart agriculture market. The dominance may be due to rapid population growth in countries like India and China and augmented demand for food in the region. In addition to this, the rural economies of the countries of the APAC region are based on agriculture, which will further increase the need for advanced technologies in agriculture for a higher crop harvest, supporting the trends of the smart agricultural market.
Key Players in the Market:
Major Key Players in the Global Smart Agriculture Market are
AGCO Corporation

AG Leader Technology, Inc

Raven Industries Inc

SemiosBio Technologies Inc

Precision Planting LLC

GEA Group

The Climate Corporation

SST Development Group, Inc

Trimble Inc

TOPCON

Auroras srl

Agribotix LLC

DeLaval

Deere & Company

Grownetics, Inc. Etc
1. Introduction
1.1 Market Definition
1.2 Scope of the report
1.3 Study Assumptions
1.4 Base Currency, Base Year and Forecast Periods
2. Research Methodology
2.1 Analysis Design
2.2 Research Phases
2.2.1 Secondary Research
2.2.2 Primary Research
2.2.3 Data Modelling
2.2.4 Expert Validation
2.3 Study Timeline
3. Report Overview
3.1 Executive Summary
3.2 Key Inferencees
4. Market Dynamics
4.1 Impact Analysis
4.1.1 Drivers
4.1.2 Restaints
4.1.3 Opportunities
4.2 Regulatory Environment
4.3 Technology Timeline & Recent Trends
5. Competitor Benchmarking Analysis
5.1 Key Player Benchmarking
5.1.1 Market share analysis
5.1.2 Products/Service
5.1.3 Regional Presence
5.2 Mergers & Acquistion Landscape
5.3 Joint Ventures & Collaborations
6. Market Segmentation
6.1 Smart Agriculture Market, By Agriculture Type
6.1.1 Livestock
6.1.2 Aquaculture
6.1.3 Precision Farming
6.1.4 Greenhouse
6.1.5 Market Size Estimations & Forecasts (2021-2026)
6.1.6 Y-o-Y Growth Rate Analysis
6.1.7 Market Attractiveness Index
6.2 Smart Agriculture Market, By Application
6.2.1 Precision Farming
6.2.2 Precision Forestry
6.2.3 Livestock Monitoring
6.2.4 Precision Aquaculture
6.2.5 Smart Greenhouse
6.2.6 Market Size Estimations & Forecasts (2021-2026)
6.2.7 Y-o-Y Growth Rate Analysis
6.2.8 Market Attractiveness Index
6.3 Smart Agriculture Market, By Offering
6.3.1 Hardware
6.3.2 Software
6.3.3 Services
6.3.4 Market Size Estimations & Forecasts (2021-2026)
6.3.5 Y-o-Y Growth Rate Analysis
6.3.6 Market Attractiveness Index
7. Geographical Landscape
7.1 Global Identity Governance and Administration Market, by Region
7.2 North America - Market Analysis (2021-2026)
7.2.1 By Country
7.2.1.1 USA
7.2.1.2 Canada
7.2.2 By Agriculture Type
7.2.3 By Application
7.2.4 By Offering
7.3 Europe
7.3.1 By Country
7.3.1.1 UK
7.3.1.2 France
7.3.1.3 Germany
7.3.1.4 Spain
7.3.1.5 Italy
7.3.1.6 Rest of Europe
7.3.2 By Agriculture Type
7.3.3 By Application
7.3.4 By Offering
7.4 Asia Pacific
7.4.1 By Country
7.4.1.1 China
7.4.1.2 India
7.4.1.3 Japan
7.4.1.4 South Korea
7.4.1.5 South East Asia
7.4.1.6 Australia & NZ
7.4.1.7 Rest of Asia-Pacific
7.4.2 By Agriculture Type
7.4.3 By Application
7.4.4 By Offering
7.5 Latin America
7.5.1 By Country
7.5.1.1 Brazil
7.5.1.2 Argentina
7.5.1.3 Mexico
7.5.1.4 Rest of Latin America
7.5.2 By Agriculture Type
7.5.3 By Application
7.5.4 By Offering
7.6 Middle East and Africa
7.6.1 By Country
7.6.1.1 Middle East
7.6.1.2 Africa
7.6.2 By Agriculture Type
7.6.3 By Application
7.6.4 By Offering
8. Key Player Analysis
8.1 AGCO Corporation
8.1.1 Business Description
8.1.2 Products/Service
8.1.3 Financials
8.1.4 SWOT Analysis
8.1.5 Recent Developments
8.1.6 Analyst Overview
8.2 AG Leader Technology, Inc
8.3 Raven Industries Inc
8.4 SemiosBio Technologies Inc
8.5 Precision Planting LLC
8.6 GEA Group
8.7 The Climate Corporation
8.8 SST Development Group, Inc
8.9 Trimble Inc
8.10 Deere & Company
9. Market Outlook & Investment Opportunities
Appendix
List of Tables
List of Figures
Global, regional and country-level analysis and forecasts of the study market; providing Insights on the major countries/regions in which this industry is blooming and to also identify the regions that are still untapped

The Segment-level analysis in terms of By Agriculture Type, Offering, Application and along with market size forecasts and estimations to detect key areas of industry growth in detail

Identification of key drivers, restraints, opportunities, and challenges (DROC) in the market and their impact on shifting market dynamics

Study of the effect of exogenous and endogenous factors that affect the global market; which includes broadly demographic, economics, and political, among other macro-environmental factors presented in an extensive PESTLE Analysis

Study the micro environment factors that determine the overall profitability of an Industry, using Porter's five forces analysis for analysing the level of competition and business strategy development

A comprehensive list of key market players along with their product portfolio, current strategic interests, key financial information, legal issues, SWOT analysis and analyst overview to study and sustain the market environment

Competitive landscape analysis listing out the mergers, acquisitions, collaborations in the field along with new product launches, comparative financial studies and recent developments in the market by the major companies

An executive summary, abridging the entire report in such a way that decision-making personnel can rapidly become acquainted with background information, concise analysis and main conclusions

Expertly devised analyst overview along with Investment opportunities to provide both individuals and organizations a strong financial foothold in the market
Global Smart Agriculture Market By Region, From 2021-2026 ( USD Billion )

Global Smart Agriculture Market By Agriculture Type, From 2021-2026 ( USD Billion )

Global Livestock Market By Region, From 2021-2026 ( USD Billion )

Global Aquaculture Market By Region, From 2021-2026 ( USD Billion )

Global Precision Farming Market By Region, From 2021-2026 ( USD Billion )

Global Greenhouse Market By Region, From 2021-2026 ( USD Billion )

Global Smart Agriculture Market By Application, From 2021-2026 ( USD Billion )

Global Precision Farming Market By Region, From 2021-2026 ( USD Billion )

Global Precision Forestry Market By Region, From 2021-2026 ( USD Billion )

Global Livestock Monitoring Market By Region, From 2021-2026 ( USD Billion )

Global Precision Aquaculture Market By Region, From 2021-2026 ( USD Billion )

Global Smart Greenhouse Market By Region, From 2021-2026 ( USD Billion )

Global Smart Agriculture Market By Offering, From 2021-2026 ( USD Billion )

Global Hardware Market By Region, From 2021-2026 ( USD Billion )

Global Software Market By Region, From 2021-2026 ( USD Billion )

Global Services Market By Region, From 2021-2026 ( USD Billion )