United States Protein Supplements Market Size, Value, and expected growth Rate:
Unites States Protein Supplements Market size is projected to grow at a CAGR of around 7.3% during the forecast period. The global US Protein Supplements market is expected to reach USD 25.5 billion by 2026, from USD 16.7 billion in 2021.
The increased adoption of preventive personal health care through individual ownership of self-medicine and wellness is also expected to drive market development as medical services are highly certified, and public health systems are increasingly concerned. Consumer awareness of the benefits of a healthy diet will contribute further to market growth.
The industry has been extremely aggressive in relation to organizations carrying out a series of activities, including M&A, capital expansion and strategic alliances with established provincial companies. Founded companies are focusing on increasing their productivity and market share by innovating technology.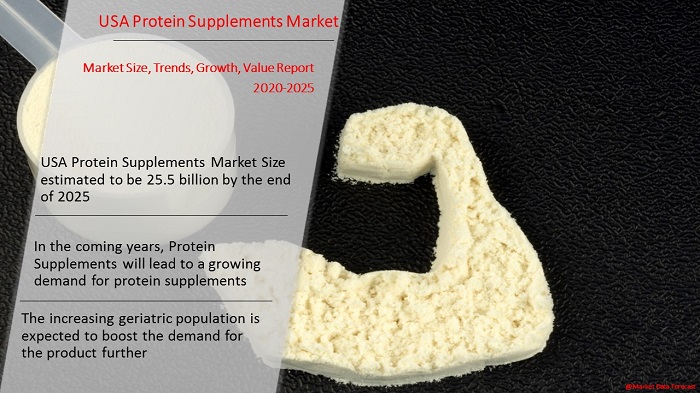 United States (US) Protein Supplements Market Overview:
US Protein Supplements Market is expected to be driven by increased consciousness of wellbeing and concern of living an active way of life. In addition, growing concerns over chronic non-communicable diseases like cancer, cardiac disorders or diabetes have forced consumers to adopt healthier nutrient-rich diets.
In the coming years, this will lead to a growing demand for protein supplements. The market for alternatives to whey and casein products in the country will be driven by increasing cases of gluten allergies and lactose intolerance in the world. As a result, soy and pea-based plant nutritional supplements are projected to continue to grow fastest.
The advent of new products such as a protein with a wide variety of amino acids and targeted functions like energy balance, weight loss, and muscle recovery is expected in the coming years to fuel market growth. The rising demand for products by women is also likely to contribute to consumer growth because of the growing popularity of the slim trend. Furthermore, the increasing geriatric population is expected to boost the demand for the product further.
United States (US) Protein Supplements Market Segmentation:
By Product:
Ready-to-Drink

Powder

Bars
The most popular product segment was powder, and its dominance is expected to remain over the forecast period. The market for powdered goods is expected to increase online sales and mass distribution networks through various businesses, including Glanbia, NBTY and IOVATE. During the estimated period, protein bars will also be expected to show significant growth. The demand for bars is projected to drive the consumer preference for tasty snacks and the increasing popularity of the on-the-go. Also, the market is expected to boost the segment's growth in products that contribute to weight loss, fat loss and the promotion of lean muscles.
By Raw Material:
The US market can be divided into whey, casein, pea, soy and more on the basis of raw material. The predominance of wheat protein was in the past due to its superior properties, such as high muscle-tissue absorption rates, capacity to promote fat loss, mild muscle development, good metabolization and cardiovascular support. The whey is the byproduct produced by curdling and straining of milk for cheese or casein manufacture.
Whey products include lactalbumin, lactoglobulin, serum albumin, immunoglobulin, and protease peptones. Produces contain different compounds. It is available in various types, such as concentrate, isolates and hydrolysates. This performs different functions, including regeneration and muscle building and rehabilitation from hard workouts. Soy protein is derived from soybeans, one of the very few sources of plants that have a full package of nutrients comprising all nine essential amino acids. Soy products, including concentrate and isolates, are available in various forms.
The former becomes more prominent as a vegetarian nutrient source; it has different compounds like glutamine, arginine and BCAA to help muscle rehabilitation and faster absorption.
By Source:
Based on the source, the US market is divided into animal-based and plant-based. The primary origin in the past has been animal-based protein. It includes whey, casein, egg, beef, poultry and fish protein, and consists of milky and meat proteins. Pet foods have all the essential amino acids and are total solutions. The most consumed animal products were milk and egg product types.
Moreover, there are various nutrients, including vitamin B12, vitamin D, docosahexaenoic acid (DHA), hemiron and zinc, making it the preferred source of nutrients. The segments' growth will, however, be hindered by health problems related to animal sources such as CVDs. Some cancer types, kidney failure, autism, premature puberty and women's infertility.
Plant-based products are predicted to be the fastest-growing on a CAGR of 6.5 percent over the forecast period because of rising market demand. Such products come from diverse sources such as soy, corn, hemp, wheat, quinoa, canola, pumpkin, squash, flax, and oat. The commodity is also available from various sources. Some of these products do, however, lack some essential amino acids and are thus often mixed. However, different health advantages such as the reduced risk of heart and type 2 diabetes, together with protection against weight gain, are expected to raise the market for protein from plants.
By Application:
Sports Nutrition

Functional Foods
The dominant application segment was sports nutrition and in 2016 accounted for around 78.2 percent of the US market revenues. The section is expected to drive by increasing demand for sport nutritional supplements from heart, strength and stamina athletes, weekend warriors, fitness enthusiasts, and professional athletes. In addition, the need for sport nutritional additives is expected to encourage lean muscle development, improve strength and increase weight loss in conjunction with an increasing number of gym-goers.
United States (US) Protein Supplements Market Key Players:
Glanbia PLC

Nature's Bounty Co

Iovate Health Sciences International, Inc

NOW Foods

CytoSports, Inc
By updating different development techniques, organizations are focused on business development. Companies integrate the value chain to gain further access to global and regional markets.
U.S. Protein Supplements Market Report Key Highlights:
The evaluation of the current product and services market and the future implications of the market.

Address the matter by better understanding the market through size estimates and CAGR analysis to forecast the future market.

More extensive segmentation to better understand the dynamics of the market at a minimal level by dividing the market to smaller segments.

Address the key market challenges, drivers and restraints to provide insights for gaining market share.

Porter's Five Forces are used to analyze the factors responsible for the shaping of the industry as it is as a result of the competitive environment.
1.Introduction
1.1 Market Definition
1.2 Study Deliverables
1.3 Base Currency, Base Year and Forecast Periods
1.4 General Study Assumptions
2. Research Methodology
2.1 Introduction
2.2 Research Phases
2.2.1 Secondary Research
2.2.2 Primary Research
2.2.3 Econometric Modelling
2.2.4 Expert Validation
2.3 Analysis Design
2.4 Study Timeline
3. Overview
3.1 Executive Summary
3.2 Key Inferences
3.3 Epidemology
4. Drivers, Restraints, Opportunities, and Challenges Analysis (DROC)
4.1 Market Drivers
4.2 Market Restraints
4.3 Key Challenges
4.4 Current Opportunities in the Market
5. Market Segmentation
5.1 Product
5.1.1 Introduction
5.1.2 Ready-to-Drink
5.1.3 Powder
5.1.4 Bars
5.1.5 Y-o-Y Growth Analysis, By Product
5.1.6 Market Attractiveness Analysis, By Product
5.1.7 Market Share Analysis, By Product
5.2 Raw Material
5.2.1 Introduction
5.2.2 Whey
5.2.3 Casein
5.2.4 Soy
5.2.5 Pea
5.2.6 Y-o-Y Growth Analysis, By Raw Material
5.2.7 Market Attractiveness Analysis, By Raw Material
5.2.8 Market Share Analysis, By Raw Mayterial
5.3 Source
5.3.1 Introduction
5.3.2 Animal
5.3.3 Plant
5.3.4 Y-o-Y Growth Analysis, By Source
5.3.5 Market Attractiveness Analysis, By Source
5.3.6 Market Share Analysis, By Source
5.4 Application
5.4.1 Introduction
5.4.2 Sports Nutrition
5.4.3 Functional Foods
5.4.4 Y-o-Y Growth Analysis, By Application
5.4.5 Market Attractiveness Analysis, By Application
5.4.6 Market Share Analysis, By Application
6. Geographical Analysis
6.1 Introduction
6.1.1 Regional Trends
6.1.2 Impact Analysis
6.1.3 Y-o-Y Growth Analysis
6.1.3.1 By Geographical Area
6.1.3.2 By Product
6.1.3.3 By Raw Material
6.1.3.4 By Source
6.1.3.5 By Application
6.1.4 Market Attractiveness Analysis
6.1.4.1 By Geographical Area
6.1.4.2 By Product
6.1.4.3 By Raw Material
6.1.4.4 By Source
6.1.4.5 By Application
6.1.5 Market Share Analysis
6.1.5.1 By Geographical Area
6.1.5.2 By Product
6.1.5.3 By Raw Material
6.1.5.4 By Source
6.1.5.5 By Application
6.2 United States
6.3 Canada
7. Strategic Analysis
7.1 PESTLE analysis
7.1.1 Political
7.1.2 Economic
7.1.3 Social
7.1.4 Technological
7.1.5 Legal
7.1.6 Environmental
7.2 Porter's Five analysis
7.2.1 Bargaining Power of Suppliers
7.2.2 Bargaining Power of Consumers
7.2.3 Threat of New Entrants
7.2.4 Threat of Substitute Products and Services
7.2.5 Competitive Rivalry within the Industry
8. Market Leaders' Analysis
8.1 Glanbia PLC
8.1.1 Overview
8.1.2 Product Analysis
8.1.3 Financial analysis
8.1.4 Recent Developments
8.1.5 SWOT analysis
8.1.6 Analyst View
8.2 Nature's Bounty Co.
8.3 Health Sciences International, Inc.
8.4 NOW Foods
8.5 CytoSports, Inc.
9. Competitive Landscape
9.1 Market share analysis
9.2 Merger and Acquisition Analysis
9.3 Agreements, collaborations and Joint Ventures
9.4 New Product Launches
10. Market Outlook and Investment Opportunities
Appendix
a) List of Tables
b) List of Figures
Global, regional and country-level analysis and forecasts of the study market; providing Insights on the major countries/regions in which this industry is blooming and to also identify the regions that are still untapped

Segment-level analysis in terms of By Product, By Raw material, by Source, By Application, and along with market size forecasts and estimations to detect key areas of industry growth in detail

Identification of key drivers, restraints, opportunities, and challenges (DROC) in the market and their impact on shifting market dynamics

Study of the effect of exogenous and endogenous factors that affect the global market; which includes broadly demographic, economics, and political, among other macro-environmental factors presented in an extensive PESTLE Analysis

Study the micro environment factors that determine the overall profitability of an Industry, using Porter's five forces analysis for analyzing the level of competition and business strategy development

A comprehensive list of key market players along with their product portfolio, current strategic interests, key financial information, legal issues, SWOT analysis and analyst overview to study and sustain the market environment

Competitive landscape analysis listing out the mergers, acquisitions, collaborations in the field along with new product launches, comparative financial studies and recent developments in the market by the major companies

An executive summary, abridging the entire report in such a way that decision-making personnel can rapidly become acquainted with background information, concise analysis and main conclusions

Expertly devised analyst overview along with Investment opportunities to provide both individuals and organizations a strong financial foothold in the market
United States Protein Supplements Market By Product, From 2021-2026 ( USD Billion )

United States Protein Supplements Market By Raw Materials, From 2021-2026 ( USD Billion )

United States Protein Supplements Market By Source, From 2021-2026 ( USD Billion )

United States Protein Supplements Market By Application, From 2021-2026 ( USD Billion )