Almond Butter Market Size, Growth, Forecast (2023-2028)
The global Almond Butter Market size was assessed to be USD 719.8 million in 2022, and it is predicted that this will touch USD 1.27 billion by 2028 at a CAGR of above 8.2% during the conjecture period.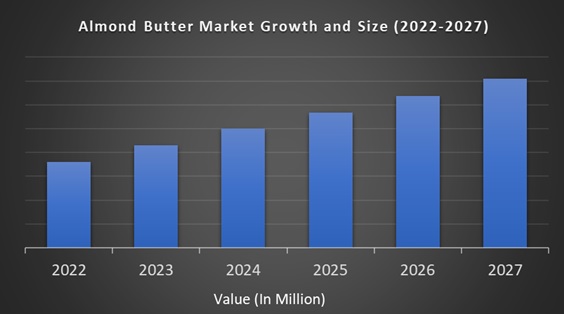 Market Overview:
Almond butter is a food paste made from raw or baked almonds. It is a rich source of unsaturated fats that are good for the heart. It also contains many proteins, vitamins, and minerals. Along with these properties, almond butter contains omega-3 fatty acids that make this a complete health product. Almond butter is most often used as a bread or snack sauce. It is used for breakfast in many recipes, such as granola and pancakes. Almond butter is ideal for use in natural moisturizing, emollient massages, and blends easily with essential oils, which are expected to increase the profitability of the global almond butter market. The flavor of almond butter is a bit sweet and smooth, and some manufacturers make almond butter with blanched almonds to give it a peanut butter flavor that's easy to digest. It is also available in different textures around the world.
Almond Butter Market Growth:
The wide application of products to health and wellness products is a key factor in accelerating market growth over the calculated period.
REPORT COVERAGE:
| | |
| --- | --- |
| REPORT METRIC | DETAILS |
| Market Size Available | 2022 – 2028 |
| Base Year | 2022 |
| Forecast Period | 2023 - 2028 |
| CAGR | 8.2% |
| Segments Covered | By Type, Application, Distribution Channel and Region |
| Various Analyses Covered | Global, Regional & Country Level Analysis, Segment-Level Analysis, DROC, PESTLE Analysis, Porter's Five Forces Analysis, Competitive Landscape, Analyst Overview on Investment Opportunities |
| Regions Covered | North America, Europe, APAC, Latin America, Middle East & Africa |
| Market Leaders Profiled | Barney Butter, Maranatha, Futter's Nut Butters, Once Again Nut Butter, Cache Creek Foods, Justin's, Sokol & Company, Dakini Health Foods, Edennuts, The J.M. Smucker Company, Nuts'n More, California Almonds, Zinke Orchards, Premier Organics, Solstice Canyon, Prana and Others. |
Drivers:
The high nutritional value and other health benefits of almond butter are some of the factors driving the growth of the global almond butter market in the food industry. Almond butter is in great demand in many fields and on the world market.
The main factors driving the global market are the continued increase in demand for peanut butter replacement products due to consumer indulgence, the availability of cheaper alternatives, and the speed of different options. Growing market demand for natural-based cosmetics and skin care products is another market driver for almond butter.
In addition, increased demand for low-cost peanut butter substitutes is another key driver of target market growth. Almond butter has a high dietary benefit, for example, a lot of potassium, iron, monounsaturated fats, manganese, and calcium, and is useful for wellbeing. Almond butter is also rich in copper, riboflavin, phosphorous, magnesium, vitamin E, and fiber. In addition, the increasing demand for natural products in cosmetics and skin care products is expected to accelerate the growth of the global almond butter market. The availability of vitamins in almond butters, such as vitamins A, B, and E, which are essential for the manufacture of lotions and creams, is expected to increase mitigation and drive growth in the target market by adding additional almond butter to body care products.
Almond butter is a food paste made from almonds. Almond butter can be crisp or smooth and is generally "shaken" (oil separable) or "not shaken" (oil paint). Almond butter can be cooked or roasted and describes the almond itself before grinding. It is recommended to refrigerate the almond butter when it is opened to avoid deterioration and oil separation. Almond butter is an option in contrast to different spreads and is a filling for chocolate, oat bars, ice cream parlor and bread kitchen. American almond butter is primarily produced in California. This is because most of the raw almonds are produced here. Consumers around the world are embracing a healthy lifestyle and seeking a health-conscious food source, further accelerating the global market for almond butter. Almond ingredients are added to other food applications and offer numerous nutritional benefits, including vitamins, proteins, carbohydrates, fiber, fats, minerals, and others. The added benefit of almond butter suggests the growth of the global almond butter market. Almond butter has a wide range of applications in a variety of food applications, making it a favorable choice for health-conscious consumers, offering better growth opportunities for almond butter manufacturing. Additionally, the Southeast Asia region is rapidly embracing new lifestyles and additional consumption of bakery snacks, and dairy products are growing, which can help global almond butter market participants to manufacture and sell ingredients.
Restraints:
The high cost of almonds and the availability of high fat and alternatives are factors that are expected to hinder the growth of the worldwide almond butter market. Fluctuations in almond prices worldwide are one of the deterrent factors affecting the almond butter market. Almond prices are increasing worldwide as the demand for almonds increases sharply due to the increased demand for almonds. Furthermore, increasing almond allergy or consumer intolerance is one of the challenges of the global almond butter market that must be addressed in the future.
Almond Butter Market Segmentation Analysis:
By Application:
Food Industry

Cosmetics Industry

Other Applications
By Type:
Raw Almond Butter

Roasted Almond Butter
By Distribution Channel:
Online Retail

Hypermarkets and Supermarkets

Departmental Stores

Convenience Stores
Geographical Segmentation Analysis:
North America - the United States and Canada

Europe - United Kingdom, Spain, Germany, Italy, and France

The Asia Pacific - India, Japan, China, Australia, Singapore, Malaysia, South Korea, New Zealand, and Southeast Asia

Latin America - Brazil, Argentina, Mexico, and Rest of LATAM

The Middle East and Africa - Africa and Middle East (Saudi Arabia, UAE, Lebanon, Jordan, Cyprus)
Regional Analysis:
By region, the global almond butter market is divided into North America, Western Europe and Eastern Europe, Asia Pacific and the Middle East and Africa. North America has a significant share of the worldwide almond butter market and is expected to grow at a steady rate. Western European markets are supposed to grow at a relatively high rate over the evaluation period. The North American market is likely to occupy a moderate part of sales in the global market. The Asia Pacific market is estimated to record the fastest revenue growth. Expanded utilization of almond spread and expanded appropriation in the restorative business in nations, for example, India and China are relied upon to drive development in the Asia Pacific market. Furthermore, increasing investment in the food industry by some major players is another factor driving growth in the region's target market. However, Southeast Asia has the highest growth rate in the world market for almond ingredients, primarily due to increase per capita income and increased consumption of bakery and snacks. Europe leads the world almond market, which has the highest market value as the adoption of healthy foods increases.
Impact of Covid-19 on Global Almond Butter Market:
The Covid-19 pandemic has altogether changed the conscience of consumers around the world about the intake of healthy and nutritious content to increase immunity and disease resistivity. This element is likely to increase the sales of products like almond butter in the coming days as they offer the required portion of protein and nutrients.
Key Players in the Market:
Major key players in the Global Almond Butter Market are
Barney Butter

Maranatha

Futter's Nut Butters

Once Again Nut Butter

Cache Creek Foods

Justin's, Sokol & Company

Dakini Health Foods

Edennuts

The J.M. Smucker Company

Nuts'n More

California Almonds

Zinke Orchards

Premier Organics

Solstice Canyon

Prana