Cyber Security Market Size and Growth (2021–2026)
Global Cyber Security market expected to reach $287 billion by 2026, growing at a CAGR of 11.54% during the forecast period. IT security and cyber risk defense are becoming more critical in today's changing digital environment. This has become important within the company due to rapidly increasing fraud, cyber threats, risks, and vulnerabilities.
Disruptive information security technology has brought the banking, retail, IT, security and aviation industries a new level of ability and ease of use in recent years. Nevertheless, these strategies were also a dominant factor in the global threat of abuse, vulnerability and the development of malware. The rising risk climate is being witnessed by an increasing number of cyber-crime operations worldwide.
Product Description
When numerical popularity grew, organizations were forced to rely extensively on the information. The exchange of a large amount of information in an outside, domestic and world-active environment has resulted from various kinds of attacks.
The business and its products can suffer from cyber threats. This could lead to a lack of competitive advantage and massive economic harm. After breaches or theft of high-profile information, a company needs to identify potential threats and to enable them to improve their cybersecurity status. It turns cybersecurity into an organization's strategic need because of the emphasis on cybercrime prevention that may interfere with the company's development.
Technologies like IoT and fresh company designs are mostly dependent on global digitization to develop them. The exposure to an attacking area is complex, connected and controlled when exposing safety issues in the company.
REPORT COVERAGE:
| | |
| --- | --- |
| REPORT METRIC | DETAILS |
| Market Size Available | 2020 – 2026 |
| Base Year | 2020 |
| Forecast Period | 2021 - 2026 |
| Segments Covered | By Component, Deployment Type, User type, Industry and Region |
| Various Analyses Covered | Global, Regional & Country Level Analysis, Segment-Level Analysis, DROC, PESTLE Analysis, Porter's Five Forces Analysis, Competitive Landscape, Analyst Overview on Investment Opportunities |
| Regions Covered | North America, Europe, APAC, Latin America, Middle East & Africa |
| Market Leaders Profiled | IBM, Check Point, Cisco, CyberArk, F5 Networks, FireEye, Forcepoint, Fortinet, Amazon Web Services, Oracle, Palo Alto Networks, Imperva, and Qualys among others |
Recent developments:
In April 2018,

Symantec announced the implementation of a robust risk detection system in its world-class teams. The Symantec Targeted Attack Analytics (TAA) system supports ATP, which enables customers to use a sumptuous computer to identify attacks.

In April 2018,

the IBM Security and McAfee group grew to include both IBM and Data Exchange Layer (DXL) in the IBM IRP, as well as to increase security through ISD and automation.

In April 2018,

Palo Alto Network acquired Secdo, an Israeli supplier of incident responses. With this acquisition, the Secdo Endpoint Detection and Reaction Capability are incorporated in its working security system, enabling rapid detection and response.
Research Methodology:
Market research involves studying market trends, growth patterns, and understanding the influence of variables like macro and microeconomic conditions, geopolitical and demographic conditions on the market value and market dynamics.
The research methodology used to calculate and forecast the Cyber Security market began by collecting information on the market key players' sales using multiple sources via secondary research. In order to identify market segmentation, supplier offers have been considered.
Market Segmentation
By Technology
Inductive

Capacitive

Photoelectric

Magnetic
By End-User Industry
Aerospace & defense

Automotive

Industrial
By Component
In 2018, internet security was dominated by the utility market, with the highest CAGR of 11.8 percent projected over the forecast period. Organizations use third-party vendors for their software projects and thus improve the production of security (SaaS). In addition, third-party suppliers provide the business with a reliable, cheaper alternative, expected to lead the segment during the forecast period.
By Type of Service
The business sector dominated cyber safety in 2018 and accounted for 50.1% of overall sales. With the worldwide rise in cyber-attacks, the decrease of casualties caused by these incidents has become a severe problem in all sectors. Increased cyber-attacks on SMEs will exacerbate the need for safer alternatives for businesses. However, an increasing number of international public laws on information security and privacy and compliance should be a critical factor in the development of the field.
By Deployment
Organizations tend to maintain private information in-house instead of turning it over to a cloud provider. Also, on-site solutions allow realistic security monitoring and control, offering an innovative and multi-faceted safety program. In the forecast period, there will be a higher demand for on-site cybersecurity implementation.
Drivers and Market Limitations
The Cyber Security market size is expanding due to the following:
Increased cases of cyber threats.

Emerging innovations like IoT across different verticals.

Strict information safety and data protection rules.
Restraints of the market can be
Budget constraints in small and medium enterprises.

Use of cybersecurity alternatives pirated and open source.
Opportunities of market can be
Use of AI, machine learning and blockchain in various industries.

Need for Cloud-based safety alternatives in small and medium-sized enterprises.
In 2018 the cybersecurity industry dominated by North America, accounting for 38.3 percent of total revenue. The growth stems from the presence of leading competitors that provide sophisticated alternatives and facilities to all industries in the region. In addition, over the forecast period, there is increased awareness of cybersecurity demand among small and medium enterprises.
It is expected that Asia Pacific Market is 18.2 percent higher than the lowest CAGR estimate. The increased financial value for the safety of Asia Pacific has improved regional cybersecurity initiatives. Countries like India and China are increasingly digitizing in all sectors, with cybercrime activities in the sector expected to increase. Therefore, Chinese and Indian governments work together on a robust and reliable cybersecurity policy and action plan to reduce the cybercrime effect in these regions.
Key cyber security companies in the market:
IBM (US), Check Point, Cisco (US), CyberArk (Israel), F5 Networks (US), FireEye (US), Forcepoint (US), Fortinet (US), Amazon Web Services (US), Oracle (US), Palo Alto Networks (US), Imperva (US), and Qualys (US), among others are the key competitors on the worldwide Cybersecurity market.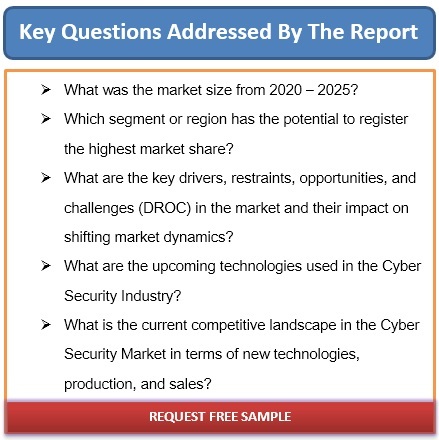 1. Introduction
1.1 Market Definition
1.2 Study Deliverables
1.3 Base Currency, Base Year and Forecast Periods
1.4 General Study Assumptions
2. Research Methodology
2.1 Introduction
2.2 Research Phases
2.2.1 Secondary Research
2.2.2 Primary Research
2.2.3 Econometric Modelling
2.2.4 Expert Validation
2.3 Analysis Design
2.4 Study Timeline
3. Overview
3.1 Executive Summary
3.2 Key Inferences
3.3 Epidemology
4. Drivers, Restraints, Opportunities, and Challenges Analysis (DROC)
4.1 Market Drivers
4.2 Market Restraints
4.3 Key Challenges
4.4 Current Opportunities in the Market
5. Market Segmentation
5.1 Technology
5.1.1 Introduction
5.1.2 Inductive
5.1.3 Capacitive
5.1.4 Photoelectric
5.1.5 Magnetic
5.1.6 Y-o-Y Growth Analysis, By Technology
5.1.7 Market Attractiveness Analysis, By Technology
5.1.8 Market Share Analysis, By Technology
5.2 End User Industry
5.2.1 Introduction
5.2.2 Aerospace & Defense
5.2.3 Automotive
5.2.4 Industrial
5.2.5 Y-o-Y Growth Analysis, By End User Industry
5.2.6 Market Attractiveness Analysis, By End User Industry
5.2.7 Market Share Analysis, By End User Industry
6. Geographical Analysis
6.1 Introduction
6.1.1 Regional Trends
6.1.2 Impact Analysis
6.1.3 Y-o-Y Growth Analysis
6.1.3.1 By Geographical Area
6.1.3.2 By Technology
6.1.3.3 By End User Industry
6.1.4 Market Attractiveness Analysis
6.1.4.1 By Geographical Area
6.1.4.2 By Technology
6.1.4.3 By End User Industry
6.1.5 Market Share Analysis
6.1.5.1 By Geographical Area
6.1.5.2 By Technology
6.1.5.3 By End User Industry
6.2 North America
6.1.1 Introduction
6.1.2 United States
6.1.3 Canada
6.3 Europe
6.2.1 Introduction
6.2.2 U.K
6.2.3 Spain
6.2.4 Germany
6.2.5 Italy
6.2.6 France
6.4 Asia-Pacific
6.3.1 Introduction
6.3.2 China
6.3.3 India
6.3.4 Japan
6.3.5 Australia
6.3.6 South Korea
6.5 Latin America
6.4.1 Introduction
6.4.2 Brazil
6.4.3 Argentina
6.4.4 Mexico
6.4.5 Rest of Latin America
6.6 Middle East & Africa
6.5.1 Introduction
6.5.2 Middle-East
6.5.3 Africa
7. Strategic Analysis
7.1 PESTLE analysis
7.1.1 Political
7.1.2 Economic
7.1.3 Social
7.1.4 Technological
7.1.5 Legal
7.1.6 Environmental
7.2 Porter's Five analysis
7.2.1 Bargaining Power of Suppliers
7.2.2 Bargaining Power of Consumers
7.2.3 Threat of New Entrants
7.2.4 Threat of Substitute Products and Services
7.2.5 Competitive Rivalry within the Industry
8. Market Leaders' Analysis
8.1 IBM (US)
8.1.1 Overview
8.1.2 Product Analysis
8.1.3 Financial analysis
8.1.4 Recent Developments
8.1.5 SWOT analysis
8.1.6 Analyst View
8.2 Check Point (US)
8.3 Cisco (US)
8.4 Cyber Ark (Israel)
8.5 F5 Networks (US)
8.6 Fire Eye (US)
8.7 Force Point (US)
8.8 Imperva (US)
8.9 Qualys (US)
9. Competitive Landscape
9.1 Market share analysis
9.2 Merger and Acquisition Analysis
9.3 Agreements, collaborations and Joint Ventures
9.4 New Product Launches
10. Market Outlook and Investment Opportunities
Appendix
a) List of Tables
b) List of Figures
Global, regional and country-level analysis and forecasts of the study market; providing Insights on the major countries/regions in which this industry is blooming and to also identify the regions that are still untapped

Segment-level analysis in terms of By Product, By Raw material, by Source, By Application, and along with market size forecasts and estimations to detect key areas of industry growth in detail

Identification of key drivers, restraints, opportunities, and challenges (DROC) in the market and their impact on shifting market dynamics

Study of the effect of exogenous and endogenous factors that affect the global market; which includes broadly demographic, economics, and political, among other macro-environmental factors presented in an extensive PESTLE Analysis

Study the micro environment factors that determine the overall profitability of an Industry, using Porter's five forces analysis for analyzing the level of competition and business strategy development

A comprehensive list of key market players along with their product portfolio, current strategic interests, key financial information, legal issues, SWOT analysis and analyst overview to study and sustain the market environment

Competitive landscape analysis listing out the mergers, acquisitions, collaborations in the field along with new product launches, comparative financial studies and recent developments in the market by the major companies

An executive summary, abridging the entire report in such a way that decision-making personnel can rapidly become acquainted with background information, concise analysis and main conclusions

Expertly devised analyst overview along with Investment opportunities to provide both individuals and organizations a strong financial foothold in the market
Global Cyber Security Market By Region, From 2021-2026 ( USD Billion )

Global Cyber Security Market By Component, From 2021-2026 ( USD Billion )

Global Solutions Market By Region, From 2021-2026 ( USD Billion )

Global Services Market By Region, From 2021-2026 ( USD Billion )

Global Cyber Security Market By Deployment type, From 2021-2026 ( USD Billion )

Global Cloud Market By Region, From 2021-2026 ( USD Billion )

Global On-Premises Market By Region, From 2021-2026 ( USD Billion )

Global Cyber Security Market By User type, From 2021-2026 ( USD Billion )

Global Large enterprises Market By Region, From 2021-2026 ( USD Billion )

Global Small & Medium enterprises Market By Region, From 2021-2026 ( USD Billion )

Global Cyber Security Market By Industry Verticals, From 2021-2026 ( USD Billion )

Global Aerospace and Defense Market By Region, From 2021-2026 ( USD Billion )

Global Healthcare Market By Region, From 2021-2026 ( USD Billion )

Global IT and Telecom Market By Region, From 2021-2026 ( USD Billion )

Global Energy and Manufacturing Market By Region, From 2021-2026 ( USD Billion )