Europe Digital Pathology Market Size (2023 to 2028)
The Europe digital pathology market size is estimated to grow to USD 97.08 billion by 2028 from USD 60.22 million in 2023, registering a 10.8% CAGR from 2023 to 2028.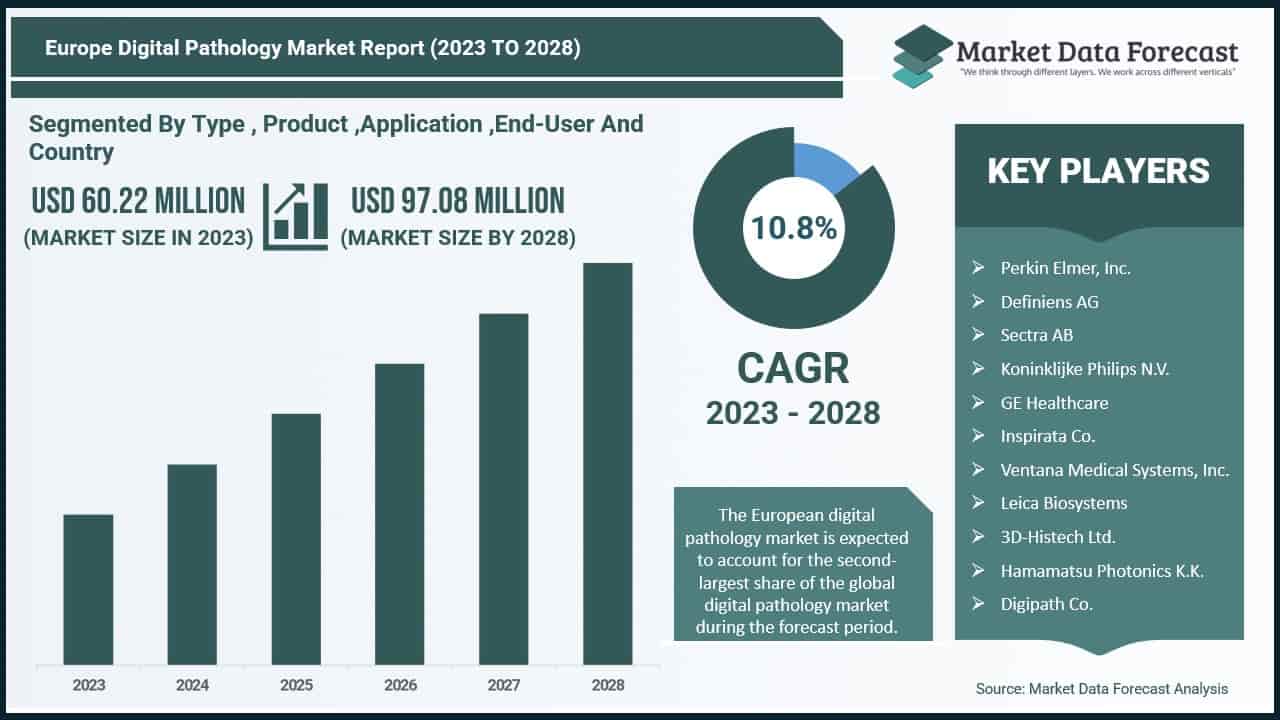 Digital pathology is defined as an image-based information environment for managing, analyzing, and interpreting the information achieved from a digital slide. In short, the digitalization of conventional pathology labs is referred to as digital pathology. This technology has gained momentum in the medical and healthcare industry. The improvements it brings in several applications include drug discoveries and their development, multi-functionalities in instruments, diagnostic tests, and other research applications.
An increasing number of cancer cases, the growing presence of teleconsultations, the high efficacy of digital pathology systems with increased adoption rate, and more initiatives undertaken by the government and private companies are majorly driving the European digital pathology market growth. According to the World Health Organization, in 2018, Europe accounted for around 23.4% of global cases in Europe, and deaths are 20.3%, which is estimated to favor the European digital pathology market. It can boost cancer diagnosis fast. U.S. Food & Drug Administration approved the first digital pathology platform. It led to the rapid expansion of pathology tools with the application of digital pathology medicine. The mounting requirement for sophisticated healthcare facilities, which can be met through establishing digital pathology systems, would offer lucrative opportunities for the service providers in the future if they can overcome threats like the high cost of installing new technology or building new infrastructure.
On the other hand, barriers such as strict regulatory concerns for primary diagnosis, lack of standard guidelines for digital pathology, the nonexistence of reimbursement, and deficiency in skilled personnel are significant factors that are constraining the market.
This research report on the European digital pathology market has been segmented and sub-segmented into the following categories:
Europe Digital Pathology Market - By Type:
Human Digital Pathology
Animal Digital Pathology
Europe Digital Pathology Market - By Product:
Scanners
Software
Communication Systems
Storage Systems
Europe Digital Pathology Market - By Application:
Teleconsultation
Diseases Diagnosis
Drug Discovery
Training
Education
Europe Digital Pathology Market - By End User:
Pharmaceutical Companies
Hospitals
Academic Institutions
Europe Digital Pathology Market - By Country:
UK
France
Spain
Germany
Italy
Russia
Sweden
Denmark
Switzerland
Netherlands
Turkey
Czech Republic
Rest of Europe
Regionally, the European digital pathology market is expected to account for the second-largest share of the global digital pathology market during the forecast period. Primarily, the development is concentrated around western countries of the region where technological advancements can counter the temporary restraints, resulting in a well-prospered market. Germany is the leading market in this geography, with a significant share in the forecast period.
The German digital pathology market is expected to play a leading role in the European market from 2023 to 2028. Germany is the third-largest market of healthcare devices worldwide. In Germany, there are guidelines set by the Professional Association of German Pathologists. It focuses on IT experts, Pathologists, and researchers about digital pathology to diagnosis. Germany owes digital pathology and conventional pathology treatments for market growth. The IBM Corporation provides network services for the absolute result. It identifies the disease's pattern & stores that information, and this information helps the researcher innovate the new drug in the market. In addition, the German government provides funding for healthcare policies for healthcare devices.
KEY MARKET PLAYERS:
A few of the prominent companies operating in the European digital pathology market profiled in this report are Perkin Elmer, Inc., Definiens AG, Sectra AB, Koninklijke Philips N.V., GE Healthcare, Inspirata Co., Ventana Medical Systems, Inc., Leica Biosystems, 3D-Histech Ltd., Hamamatsu Photonics K.K., Digipath Co., ZEISS, Olympus Corporation, Yokogawa Electronics Corporation, and Quorum Technologies Inc.
Inspirata, Inc. acquired the digital pathology company Omnyx. The company delivered the primary diagnosis in Canada & Europe. This digital pathology improves cancer diagnosis. Omnyx is a software company. It provides software to pathology departments around the world. Ibex Medical Analytics and Medipath engage in strategic partnerships using artificial intelligence. The Medipath is the largest network of private pathology in France. It empowers the accurate diagnosis. Alverno Laboratories has fully implemented digital pathology in clinical laboratories. Alverno laboratories network will use Phillips Intellisite Pathology solution.