Global Femtech Market Size (2022 to 2027)
The global femtech market is expected to grow at a CAGR of 17.44% from 2022 to 2027, and the market size was valued at USD 23.65 billion in 2021. This value is estimated to grow to USD 62.05 billion by 2027 from USD 27.77 billion in 2022.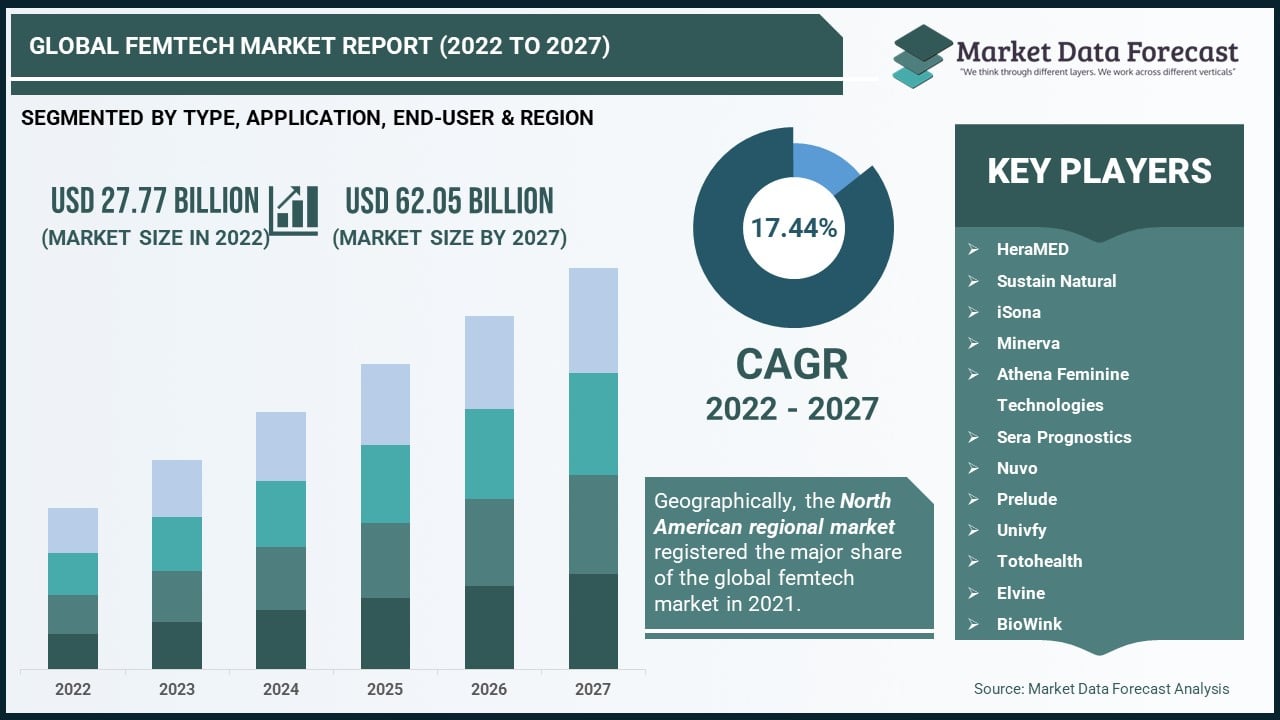 One of the fastest-growing and most financially supported subcategories of digital health is women's health technology or Femtech. Femtech generally refers to a variety of digital health applications and service providers who use technology to address the unique biological requirements of women. These demands vary from overall health and wellness to reproductive health, including fertility, pregnancy, and nursing care. Femtech industries mainly deal with invasive reproductive health through biomedical devices and applications, maternal and child-care, family planning, fertility, and menstrual cycles.
Impact of COVID-19 on the global femtech market:
Women's health suffered throughout the pandemic, particularly regarding mental health problems, a surge in both intended and unwanted pregnancies, and stillbirths. About 7 million unwanted pregnancies and an unusually high number of stillbirths occurred due to the epidemic. This reason is primarily to blame for the need for Femtech diagnostic services and increased maternal and neonatal care knowledge. The COVID-19 problem also left service providers with a shortage of supplies. This helped Femtech services gain customer favor, which increased demand for digital solutions. For instance, the global adoption rate of digital services increased by 10% due to the epidemic. This growth included the use of telemedicine, wearable technology, and the tracking of digital health metrics.
MARKET DRIVERS:
The growth of the global femtech market can be attributed to government programs to raise awareness of women's health issues and cutting-edge technical solutions for proper treatment.
As a result, the creation of a product pipeline using digital technologies is a focus for significant players in the healthcare industry. Additionally, expanding businesses are heavily spending on R&D to create cutting-edge items that will better serve women. The effectiveness of new women's health products and the rising need for reproductive health will increase the growth of the global femtech market.
Access to rural places for women's health and an increased burden on lifestyle diseases is also anticipated to promote the growth of the femtech market.
As various lifestyle disorders affect women's health, COVID-19 significantly impacted the femtech market. However, women's health concerns during the pandemic have increased due to altered living habits, mental health, and a greater chance of developing metabolic syndrome and other chronic diseases. Therefore, industry leaders developed cutting-edge software, services, and solutions using digital technology to reach remote locations worldwide in response to growing health concerns paired with stringent rules during the epidemic. As a result, the new generation of services offers remote healthcare to individuals and medical staff at diagnostic centers, hospitals, and fertility clinics.
MARKET RESTRAINTS:
Lack of knowledge and competition are a hurdle in the femtech market.
In poor economies, the expansion of the femtech market may be hampered by women users' lack of knowledge about femtech goods and applications. In addition, the increasing competition in the market due to start-ups is also expected to obstruct market growth.
REPORT COVERAGE:
| | |
| --- | --- |
| REPORT METRIC | DETAILS |
| Market Size Available | 2021 to 2027 |
| Base Year | 2021 |
| Forecast Period | 2022 to 2027 |
| Segments Covered | By Type, Application, End-User & Region |
| Various Analyses Covered | Global, Regional & Country Level Analysis, Segment-Level Analysis, DROC, PESTLE Analysis, Porter's Five Forces Analysis, Competitive Landscape, Analyst Overview on Investment Opportunities |
| Regions Covered | North America, Europe, APAC, Latin America, Middle East & Africa |
This report on the global femtech market has been segmented and sub-segmented into type, application, end-user, and region.
Global Femtech Market - By Type:
Products

Software

Services
In terms of share for the femtech market in 2021, the products segment is dominated by more than 50%. This dominance is because the increased frequency of infectious and chronic diseases among women fuels the demand for goods that enable accurate diagnosis and treatment. In addition, improvements will influence the development of the business in women's health products like fitness trackers, wearables, exercise equipment, and feminine hygiene items, among others. The market value is being driven by innovation in intelligent medical products. The businesses mainly concentrate on creating ground-breaking remedies for female wellbeing and health. The items improve women's health throughout pregnancy by applying technology methods. Market leaders investing in technology offer various products for critical applications.
Global Femtech Market - By Application:
Pelvic & Uterine Healthcare

Pregnancy And Nurse Care

General Healthcare & Wellness

Reproductive Health

Others
A growing awareness of reproductive health in majority economies let the reproductive health category take 24.5 percent of the femtech market share in 2020. The innovative software-enabled services and products help treat various illnesses, including infections, diseases, and sexual and gynecological health issues.
The participants in the market are embracing developmental activities, resulting in an expansion of offerings and a product pipeline for female reproductive health. Additionally, many emerging businesses provide a range of goods to manage reproductive health. As a result, the female population in emerging regions is adopting products for sustaining reproductive health with more awareness and expanding access to feminine products, which will ultimately drive market growth.
Global Femtech Market - By End-User:
Fertility Clinics

Hospitals

Direct To Customer

Diagnostic Centers

Surgical Centers

Others
The diagnostic centers segment is expected to record a significant share of the global femtech market based on the end-user during the forecast period and grow at a CAGR of 16%. These diagnostic centers provide various specialty diagnosis alternatives for various chronic and infectious diseases. The development of digital health, particularly telehealth systems, has quickened the pace of patient care. Even during the pandemic, this has made it possible to reduce patient visits. In addition, by facilitating patient diagnostics and consultations remotely, telehealth technologies help.
Global Femtech Market - By Region:
North America

Europe

Asia Pacific

Latin America

Middle East and Africa
Geographically, the North American region was the leader in the global market in 2021 and accounted for approximately 40%. Due to several variables, including the increasing use of smartphones and the desire for intelligent health solutions, North America has seen a rapid digitalization of healthcare. Estimates from Mobile Economy North America 2021 indicate that there were 296 million mobile internet users in North America in 2020, and that figure will rise to 323 million by 2025. The North American femtech market is anticipated to expand due to growing preventative care use, increasing health consciousness & awareness, and rising usage of smart wearable devices and mobile health applications for health tracking. This regional market is also driven by supportive government initiatives, rising healthcare IT spending, and developing digital health infrastructure.
Over the coming years, Asia Pacific is expected to grow fastest. The growth of the digital infrastructure, the uptake of smartphones and wearable technologies, the expansion of internet access, and rising health consciousness are all factors driving the Asia Pacific femtech industry. By the end of 2019, there were 2.8 billion unique mobile subscribers in the Asia Pacific, and 3.0 billion are anticipated by 2025, according to The Mobile Economy 2020 by GSMA. Furthermore, according to predictions, there will be 2.7 billion mobile internet users in the Asia Pacific region by 2025, up from 2 billion in 2019. Government organizations are working to advance digital health technology and 3G and 4G network infrastructure, and mobile health technology, by developing investment-friendly policies and roadmaps.
KEY MARKET PLAYERS:
HeraMED, Sustain Natural, iSona, Minerva, Athena Feminine Technologies, Sera Prognostics, Nuvo, Prelude, Univfy, Totohealth, Elvine and BioWink are a few of the promising companies in the global femtech market and profiled in this report.
RECENT MARKET DEVELOPMENTS:
In June 2022, eight companies have been innovating new Femtech and revolutionizing the market to counter the increasing number of problems relating to infertility in women. the companies mentioned are Aura Fertility and Carrot Fertility, Hertility, Mojo, Proov, ScreenMe, and Selectivity Life.

In May 2022, a virtual fertility center called Apricity, based in London, acquired a period tracing app from a Madrid-based company called Woom. The app will allow the company to extend its business for women and record-keeping for women's period dates.
1. Introduction
1.1 Market Definition
1.2 Scope of the report
1.3 Study Assumptions
1.4 Base Currency, Base Year and Forecast Periods
2. Research Methodology
2.1 Analysis Design
2.2 Research Phases
2.2.1 Secondary Research
2.2.2 Primary Research
2.2.3 Data Modelling
2.2.4 Expert Validation
2.3 Study Timeline
3. Report Overview
3.1 Executive Summary
3.2 Key Inferencees
4. Market Dynamics
4.1 Impact Analysis
4.1.1 Drivers
4.1.2 Restaints
4.1.3 Opportunities
4.2 Regulatory Environment
4.3 Technology Timeline & Recent Trends
5. Competitor Benchmarking Analysis
5.1 Key Player Benchmarking
5.1.1 Market share analysis
5.1.2 Products/Service
5.1.3 Regional Presence
5.2 Mergers & Acquistion Landscape
5.3 Joint Ventures & Collaborations
6. Market Segmentation
6.1 Femtech Market , By Type
6.1.1 Products
6.1.2 Software
6.1.3 Services
6.1.4 Market Size Estimations & Forecasts (2022 to 2027)
6.1.5 Y-o-Y Growth Rate Analysis
6.1.6 Market Attractiveness Index
6.2 Femtech Market , By Application
6.2.1 Pelvic & Uterine Healthcare
6.2.2 Pregnancy And Nurse Care
6.2.3 General Healthcare & Wellness
6.2.4 Reproductive Health
6.2.5 Others
6.2.6 Market Size Estimations & Forecasts (2022 to 2027)
6.2.7 Y-o-Y Growth Rate Analysis
6.2.8 Market Attractiveness Index
6.3 Femtech Market , By End-User
6.3.1 Fertility Clinics
6.3.2 Hospitals
6.3.3 Direct To Customer
6.3.4 Diagnostic Centers
6.3.5 Surgical Centers
6.3.6 Others
6.3.7 Market Size Estimations & Forecasts (2022 to 2027)
6.3.8 Y-o-Y Growth Rate Analysis
6.3.9 Market Attractiveness Index
7. Geographical Landscape
7.1 Global Femtech Market , by Region
7.2 North America - Market Analysis (2022 to 2027)
7.2.1 By Country
7.2.1.1 USA
7.2.1.2 Canada
7.2.2 By Type
7.2.3 By Application
7.2.4 By End-User
7.3 Europe
7.3.1 By Country
7.3.1.1 UK
7.3.1.2 France
7.3.1.3 Germany
7.3.1.4 Spain
7.3.1.5 Italy
7.3.1.6 Rest of Europe
7.3.2 By Type
7.3.3 By Application
7.3.4 By End-User
7.4 Asia Pacific
7.4.1 By Country
7.4.1.1 China
7.4.1.2 India
7.4.1.3 Japan
7.4.1.4 South Korea
7.4.1.5 South East Asia
7.4.1.6 Australia & NZ
7.4.1.7 Rest of Asia-Pacific
7.4.2 By Type
7.4.3 By Application
7.4.4 By End-User
7.5 Latin America
7.5.1 By Country
7.5.1.1 Brazil
7.5.1.2 Argentina
7.5.1.3 Mexico
7.5.1.4 Rest of Latin America
7.5.2 By Type
7.5.3 By Application
7.5.4 By End-User
7.6 Middle East and Africa
7.6.1 By Country
7.6.1.1 Middle East
7.6.1.2 Africa
7.6.2 By Type
7.6.3 By Application
7.6.4 By End-User
8. Key Player Analysis
8.1 HeraMED
8.1.1 Business Description
8.1.2 Products/Service
8.1.3 Financials
8.1.4 SWOT Analysis
8.1.5 Recent Developments
8.1.6 Analyst Overview
8.2 Sustain Natural
8.3 ISona
8.4 Minerva
8.5 Athena Feminine Technologies
8.6 Sera Prognostics
8.7 Nuvo
8.8 Prelude
8.9 Univfy
8.10 Totohealth
8.11 Elvine
8.12 BioWink
9. Market Outlook & Investment Opportunities
Appendix
List of Tables
List of Figures