Food Glazing Agents Market Size, Growth, Forecast (2023-2028)
The global Food Glazing Agents Market size was valued to be USD 2.56 billion in 2022, and it is estimated to reach a valuation of USD 5.24 billion by the end of 2028, rising at a CAGR of 8.4% during the forecast period. Increased consumption of processed and convenient items is suspected of leading the industry in the near future.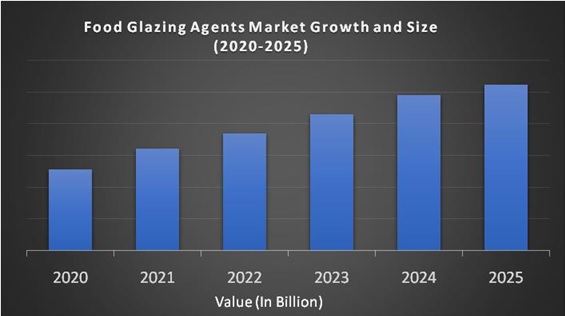 Market Overview:
Glazing comes in two forms: natural and synthetic. This material provides a waxy, homogeneous coating on food to prevent loss of moisture from the surface and to provide additional protection. The glazing agents provided for food applications are used to enhance bonding and coating capabilities while providing film build with a bright and inviting visual appeal. In the confectionery industry, the enamel is used primarily to coat boiled sweets and many other types of desserts. Food enamel is a synthetic or natural substance that is added to or applied to food, providing a similar waxy enamel texture to limit water loss and provide protection. Food glaze materials are food additives that provide bonding ability, compatibility and enhance visual appeal. This agent is applied as a food coating to various pastry and bakery products to improve the appearance and texture of cookies, biscuits, cakes, chocolates and other products. Food glaze is used as a coating on fruits and vegetables to preserve its value and freshness, helping to export fruits and vegetables to many countries.
Recent Developments in Food Glazing Agents Industry:
In October 2017, Capol GmbH announced the acquisition of Colarôme Inc., which expands Capol's product portfolio to help meet customer needs in terms of food icing agents and become a leading player. It helps coatings in the confectionery industry provide customers with better service experience and expand their presence worldwide.

Mantrose-Haeuser Co., Inc. (USA) has launched a new product under the trade name Crystalac ORG for confectionery products.

Capol GmbH (Germany) has launched two new organic products for candy applications. With the launch of this product, the company strengthened its portfolio of Capol Glaze's brands.

Freudenberg Group acquired a stake in Capol GmbH. This acquisition makes Capol a division of the Freudenberg Chemical Specialties (FCS) group of companies.
REPORT COVERAGE:
| | |
| --- | --- |
| REPORT METRIC | DETAILS |
| Market Size Available | 2022 – 2028 |
| Base Year | 2022 |
| Forecast Period | 2023 - 2028 |
| CAGR | 8.4% |
| Segments Covered | By Ingredient Type, Ingredient Function, Application and Region |
| Various Analyses Covered | Global, Regional & Country Level Analysis, Segment-Level Analysis, DROC, PESTLE Analysis, Porter's Five Forces Analysis, Competitive Landscape, Analyst Overview on Investment Opportunities |
| Regions Covered | North America, Europe, APAC, Latin America, Middle East & Africa |
| Market Leaders Profiled | Mantrose-Haeuser, Capol GmbH, Kerry Ingredients, Entemann's Inc, Arla Foods, The Riverside Company, Masterol Foods, Wuhu Deli Foods Co, Avatar Corporation, Strahl and Pitsch and Others. |
Food Glazing Agents Market Growth:
Foods with perfect colorful textures and attractive appearance are expected to accelerate industrial growth during the forecast period.
Drivers:
As consumer interest in Food Glazing Agents and appearance increases and demand for enamel in the food industry increases, market demand is supposed to increase during the projection period. Increased demand for processed meats, fish and poultry, and functional foods is assumed to drive overall demand. As the preference for personalized foods increases, the application of food icing agents to bakery and confectionery products is expected to affect the industrial market in the near future. The segment growth is presumed to accelerate during the forecast period as health concerns increase interest in organic foods. It has multiple uses in the food and is also called Brazilian or palm wax. Food glaze is a food supplement that, when applied to food, provides a shiny, glossy and protective coating for food, especially fruit, bakery and confectionery products. Food glaze agents are made from natural and artificial sources. As interest in health increases, organic products are in demand. Improved product properties such as coating ability, anti-adhesion, bonding, and film formation are expected to create new opportunities for market growth during the outlook period. Palm oil-based release agents are the latest technological innovations that are important worldwide.
The global market for food glazing agents is anticipated to grow significantly during the forecast period. This is due to increased consumption of pastry and bakery products and increased consumer awareness of the benefits of consuming healthy foods. The demand for food glaze is highly influenced by two specific factors: increased consumption of bakery and confectionery and increased customer awareness of various food products. In Europe and the United States, this effect is especially widespread. Furthermore, the growth of high-income urbanized people in the region is cited as the leading cause of related factors. For bakery and confectionery products, customers are more concerned with attractiveness. This enamel is also used as a food protection coating. Due to the rise in the food and beverage industry, the demand for food glaze is expected to increase.
The growing consumer trend toward food emergence is increasing market demand for food glaze agents. Urbanization and high consumer energy consumption in various regions are other vital factors that will drive the growth of the global market for food glazing agents during the forecast period. The trend toward the consumption of ready-to-eat foods is foreseen to provide opportunities for active players in the global market for food icing agents. The choice of food glazing products comes from aspects such as the sustainability and convenience of packaging solutions, the prices of raw materials and the aesthetic appeal of packaging. Target customers in the global market for food glazing agents include industry associations, manufacturers, food glazing agent dealers, suppliers, distributors, institutions government and research, industries, associations, raw material suppliers, food distributors and others.
Restraints:
Lack of supplies or raw materials for production is expected to play a critical role in slowing market growth. Changes in the price of food icing agents will also inhibit their growth. In addition, strict regulations regarding the use of food enamel limit this market.
Food Glazing Agents Market Segmentation Analysis:
By Ingredient Type:
Stearic Acid

Beeswax

Carnauba Wax

Candelilla Wax

Shellac

Paraffin Wax

Others
By Ingredient Function:
Coating Agent

Surface Finishing Agents

Firming Agents

Film Formers

Others
By Application:
Bakery

Confectionary

Processed meat, poultry and fish

Fruits and Vegetables

Others
Geographical Segmentation Analysis:
North America - the United States and Canada

Europe - United Kingdom, Spain, Germany, Italy, and France

The Asia Pacific - India, Japan, China, Australia, Singapore, Malaysia, South Korea, New Zealand, and Southeast Asia

Latin America - Brazil, Argentina, Mexico, and Rest of LATAM

The Middle East and Africa - Africa and Middle East (Saudi Arabia, UAE, Lebanon, Jordan, Cyprus)
Regional Analysis:
Europe has become a leader in the food glazing agent industry due to the high price and high demand for pastry and bakery applications combined with a strict regulatory framework. Furthermore, market demand is estimated to increase as the number of food processing units increases and the development of existing units in the region. The primary consumers of this regional market are France, Italy, the United Kingdom and Germany, which have an essential part of the industry in general. The Asia Pacific has been recorded as the second largest region, accounting for 26.5% of total sales. Developing countries in the Asia-Pacific region, including China and India, are expected to lead the industry at a faster rate as consumer preferences shift from unhealthy lifestyles to nutritional and healthy diets. Growth in the Asia-Pacific food and beverage industry is likely to revitalize the region's markets. This can be credited to the accelerated industrialization of India and China and is expected to increase purchasing power, positively affecting the sale of bakery and confectionery products.
Confectionery food products have always been in demand due to high purchasing power in developed countries, including North America and Europe. However, in some developing countries, including the Asia Pacific and Latin America, per capita purchasing power is deemed to increase, and demand for confectionery food is anticipated to grow significantly during the forecast period. South America represents a growing market, with countries like Argentina and Brazil becoming leading exporters of raw materials. Although it occupies a small market share during the forecast period, Africa is foreseen to perform well in the future as the country moves towards industrialization.
Key Players in the Market:
Major Key Players in the Global Food Glazing Agents Market are
Mantrose-Haeuser

Capol GmbH

Kerry Ingredients

Entemann's Inc

Arla Foods

The Riverside Company

Masterol Foods

Wuhu Deli Foods Co.

Avatar Corporation

Strahl and Pitsch