Carbohydrase Market Size, Growth, Forecast (2023-2028)
The global Carbohydrase Market size was assessed at USD 3.2 billion in 2022, and it is foreseen to reach a valuation of USD 5.4 billion by the end of 2028 at a CAGR of almost 7% over the emphasized period.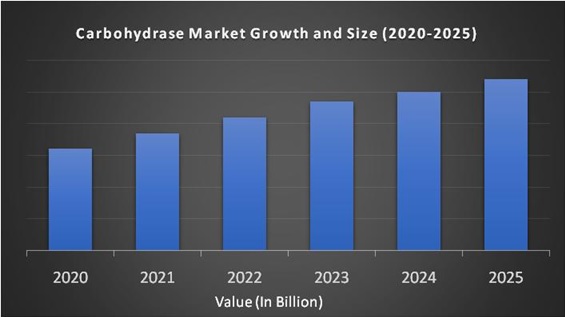 Market Overview:
Carbohydrates Enzymes play a crucial part in breaking large, insoluble food components into small, soluble molecules, which are essential in the human digestive system. The divided small soluble molecules are easily absorbed by the digestive tract. These digestive enzymes can be classified as carbohydrates, lipases, and proteases. Proteases allow the breakdown of protein molecules to improve protein digestion. Similarly, lipase breaks down bulky molecules into smaller lipids to speed up digestion. Also, carbohydrase breaks carbohydrates into simpler sugars to aid digestion. Basically, carbohydrates are found in the pancreas, but they generally occur in the stomach process. Carbohydrates help produce various types of syrup like reverse sugar syrup, glucose syrup, and fructose syrup. In addition, isomaltose and prebiotics are also formed with the help of carbohydrates. Carbohydrase is applied to feed, pharmaceuticals, and food and beverages.
Recent Developments in Carbohydrase Industry:
The DSM and Novozymes partnership aim to better digest pig and poultry feed for a wide range of grains using carbohydrate enzymes.
REPORT COVERAGE:
| | |
| --- | --- |
| REPORT METRIC | DETAILS |
| Market Size Available | 2022 – 2028 |
| Base Year | 2022 |
| Forecast Period | 2023 - 2028 |
| CAGR | 7% |
| Segments Covered | By Source, Type, End-Use and Region |
| Various Analyses Covered | Global, Regional & Country Level Analysis, Segment-Level Analysis, DROC, PESTLE Analysis, Porter's Five Forces Analysis, Competitive Landscape, Analyst Overview on Investment Opportunities |
| Regions Covered | North America, Europe, APAC, Latin America, Middle East & Africa |
| Market Leaders Profiled | Amano Enzyme Inc., AB Enzymes Gmbh, Dyadic International, Novozymes, Royal DSM, Advanced Enzymes, CHR Gansen Holding A/S, Speciality Enzymes, Verenium, Dupont De Nemours & Co. and Others. |
Carbohydrase Market Growth:
Carbohydrase finds numerous applications in several industrial processes and products, particularly in the food sector. Widely used in the food and beverage industry, pharmaceutical industry and animal feed industry, it is expected to lead the world market during the forecast period. They are also a considerable part in sports beverages.
Drivers:
The significant growth of the carbohydrate market can be attributed to the growth of applied industries such as pharmaceuticals, food and beverage and pet food. Furthermore, technological advances in enzyme engineering are accelerating market growth in the global carbohydrase market. Furthermore, the expansion of market players in the feed and pharmaceutical industry in Asia Pacific is another determining factor driving the growth of the carbohydrate market. The global Carbohydrase market is supposed to increase profitability in the coming period due to continued R&D, biomass production, and increased enzyme application to biorefining. The rising intake of sports drinks is considered to positively impact the global carbohydrase business in the future. Carbohydrates are widely used in detergents due to their cleaning properties. The increase in the use of detergents in industrial and domestic applications is assumed to lead the future market. Potential applications of carbohydrate-derived enzymes extracted from chestnuts to treat diabetes and obesity are presumed to provide ample opportunities for market participants. Carbohydrase is widely used as a component and processing aid in individual industries such as food and beverage and pharmaceuticals. Two main variants of the carbohydrate enzyme include cellulase and amylase. Cellulase is extensively employed for catalyzing the breakdown process of cellulose, while amylase is utilized to support hydrolyzing starch into sugars.
The expansion of the global market is promoted by the development of novel technologies like enzyme engineering. Through enzymatic engineering, carbohydrates can be produced chemically, not through animals or plants. Furthermore, with the development of the global pharmaceutical industry, carbohydrate consumption by various pharmaceutical companies is expected to accelerate further, accelerating market growth. According to a recent study by the company, the global food carbohydrate market is estimated to experience single-digit growth rates in developing and developing countries during the outlook period. Cellulase Food Carbohydrase is a food carbohydrate widely used worldwide. However, pectinase and amylase dietary carbohydrates are also gaining great traction in a variety of applications. The growing demand for confectionery products reflects the high market adoption of cape hydra food. Food carbohydrates are foreseen to garner a remarkable demand in bakeries and confectioneries in the projection time. Dietary carbohydrates are also deemed to register substantial development rates over the evaluated period. With increasing demand from untapped market segments and growing concerns about a number of benefits, health awareness has been regularly used to drive growth in the global food carbohydrate market.
Restraints:
The main obstacles to Carbohydrase market growth are high production costs and technical limitations of various enzymes. Carbohydrase are known to showcase unstable pH and temperature levels. These enzyme problems are expected to drive demand for potential alternatives that can challenge the market. Inefficiencies in terms of action at high pH can make it difficult to adopt carbohydrates.
Geographical Segmentation Analysis:
North America - the United States and Canada

Europe - United Kingdom, Spain, Germany, Italy, and France

The Asia Pacific - India, Japan, China, Australia, Singapore, Malaysia, South Korea, New Zealand, and Southeast Asia

Latin America - Brazil, Argentina, Mexico, and Rest of LATAM

The Middle East and Africa - Africa and Middle East (Saudi Arabia, UAE, Lebanon, Jordan, Cyprus)
Carbohydrase Market Segmentation Analysis:
By Source:
Animal

Plant

Microbial

Others
By Type:
Amylases

Cellulases

Pectinases

Lactase

Others
By End-Use:
Baking &Confectionary

Dairy

Pharmaceuticals

Animal Feed

Others
Regional Analysis:
The food sector in the Asia Pacific region is one of the fastest-growing industries and is likely to occupy the largest share in the global food and beverage market. This trend is expected to lead the Asia Pacific carbohydrate market over the projection period. Proteases and lipases are being extensively employed in dairy products. As the intake of milk related products in APAC countries like China and India increases, the rise in local markets is touted to be strengthened further. As demand for baked goods increases in the United States, demand in the North American market is expected to increase. The United States is a leading region in the global pharmaceutical industry. The Carbohydrasemarket is deemed to expand further as demand for drugs increases due to the increase in the elderly population. The extension in the processed food industry is further anticipated to fuel the call for carbohydrate hydrolysis in North America. Europe followed North America as a major consumer of processed foods. This is expected to boost the European carbohydrate market.
Established markets in regions such as North America and APEJ are expected to dominate the food carbohydrase market by value while developing countries such as MEA and Latin America support rise in the global food carbohydrase business over the expectation period. In addition, the global food carbohydrate market is expected to witness growth factors such as increased demand for processed bakery and confectionery foods along with health awareness, leading to higher per capita spending on other regions. The availability and use of alternatives to dietary carbohydrase are likely to hinder the growth of the dietary carbohydrase market. This trend may adversely affect the growth of the food carbohydrase market during the calculated period.
Key Players in the market:
Major Key Players in the Global Carbohydrase Market are
Amano Enzyme Inc.

AB Enzymes Gmbh

Dyadic International

Novozymes

Royal DSM

Advanced Enzymes

CHR Gansen Holding A/S

Speciality Enzymes

Verenium

Dupont De Nemours & Co.